Grilled coconut lime chicken thighs come off the grill with crispy, caramelized skin and just the right amount of tang, sweetness, and spicy heat. Whether you're hosting a Labor Day cookout for neighbors or just close family, you can prep these chicken thighs ahead so all you need to do in the moment is fire up the grill! This post was created in partnership with Farmer Focus.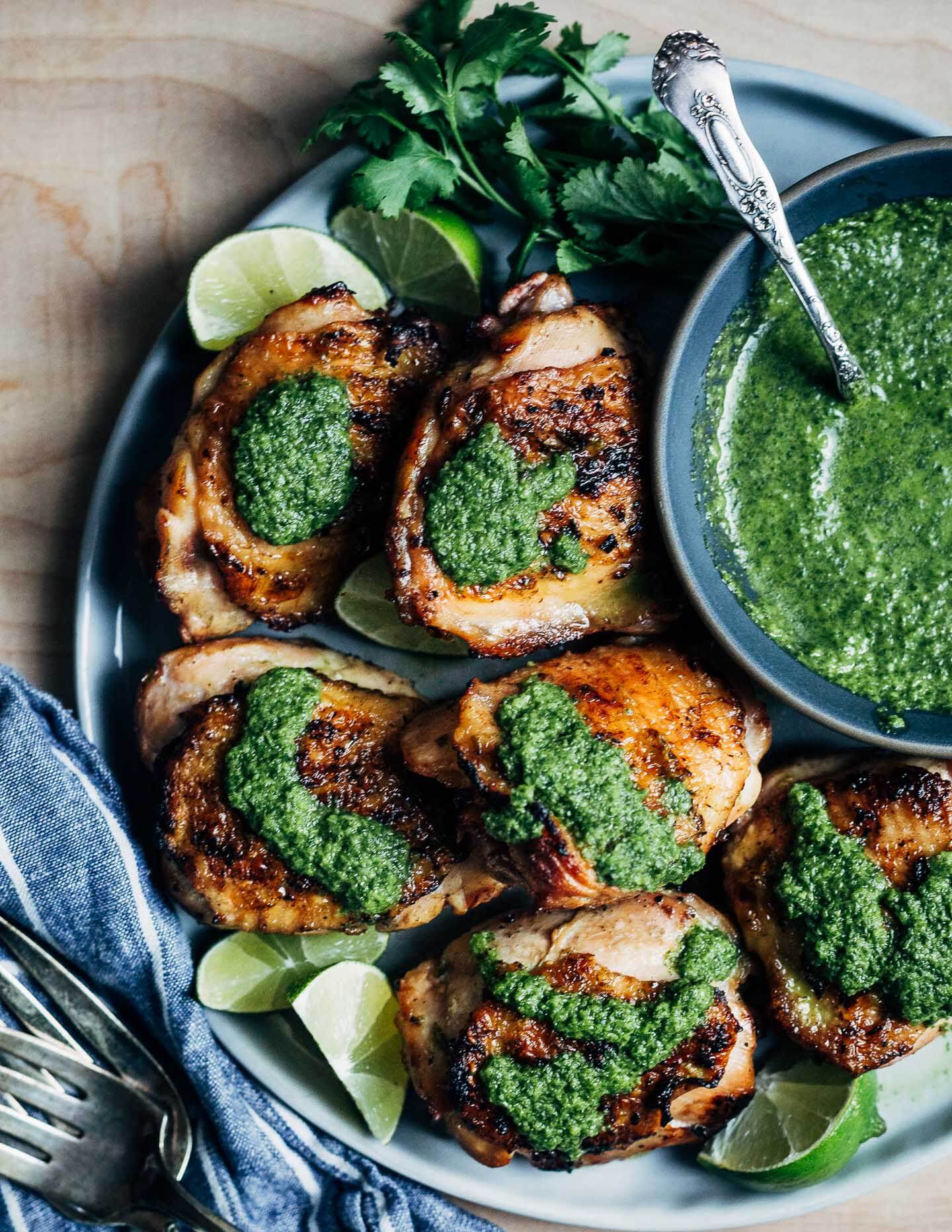 This summer, I significantly expanded my backyard garden. Instead of baskets of produce, I've got bushels. I've been cooking, freezing, and canning my way through this sometimes overwhelming stretch. It's been a lot of work but I've felt a deeper connection to my garden plot.
I think I won't go as big next year. Instead, I'll shop my farmers market and grocer with renewed thanks for the small farmers who get nourishing food to my table.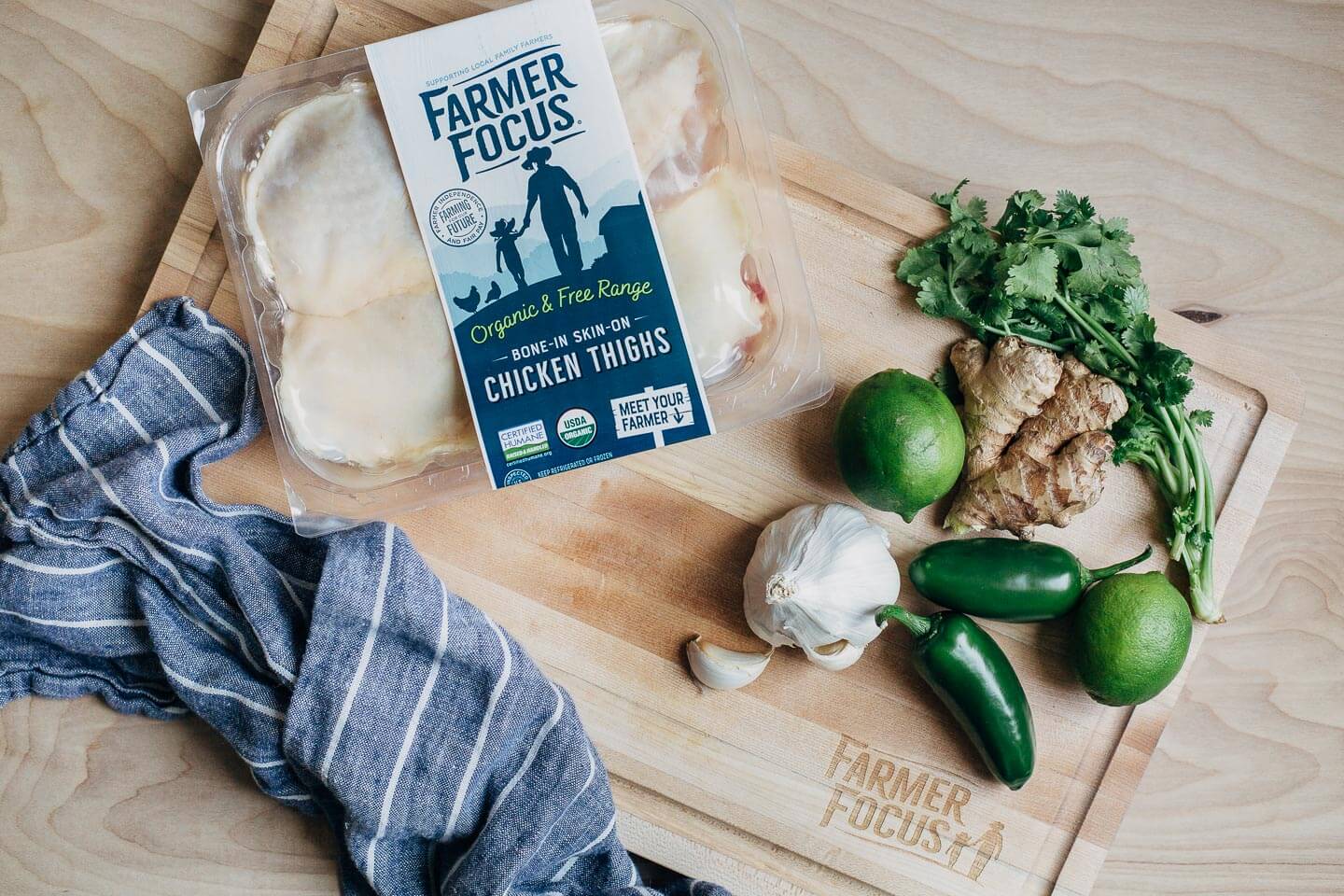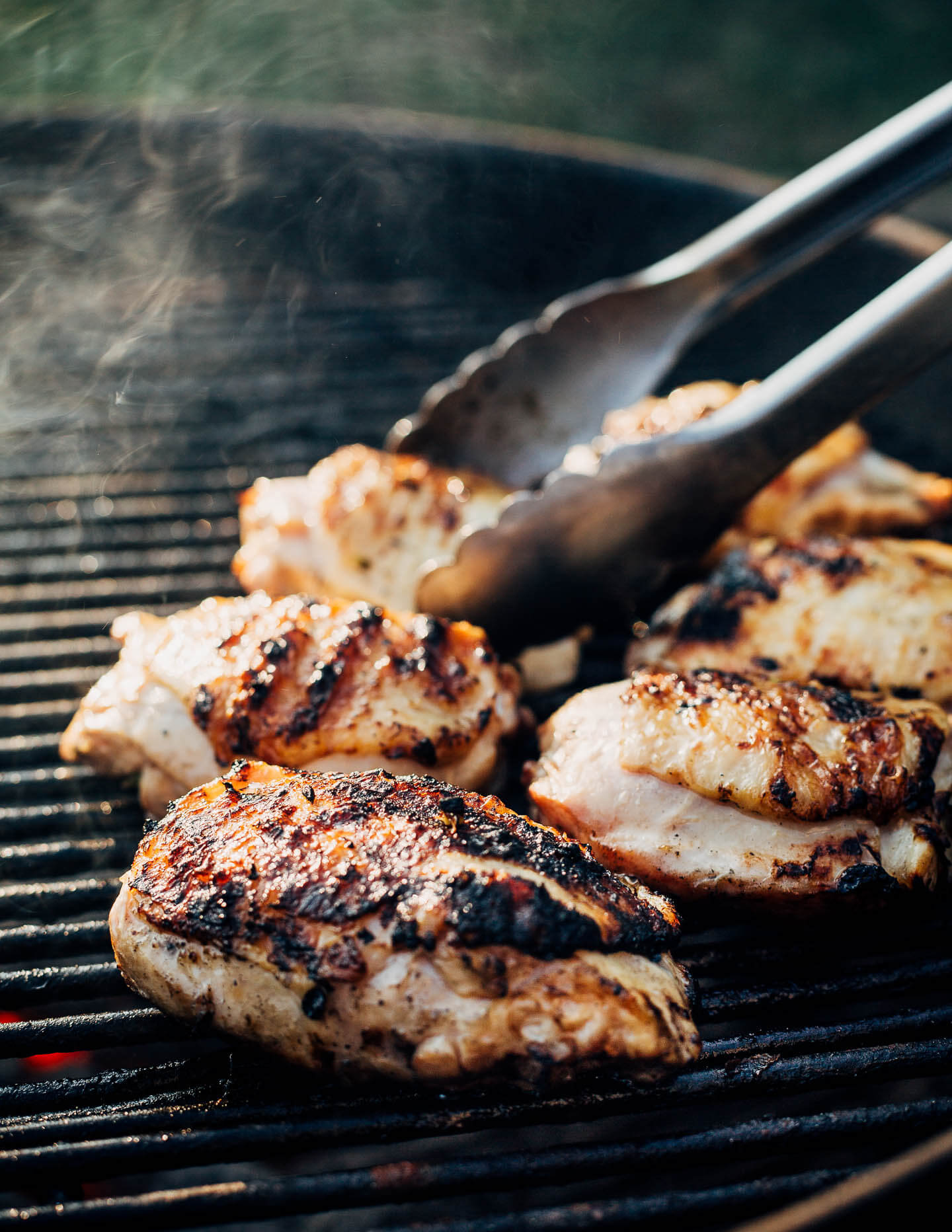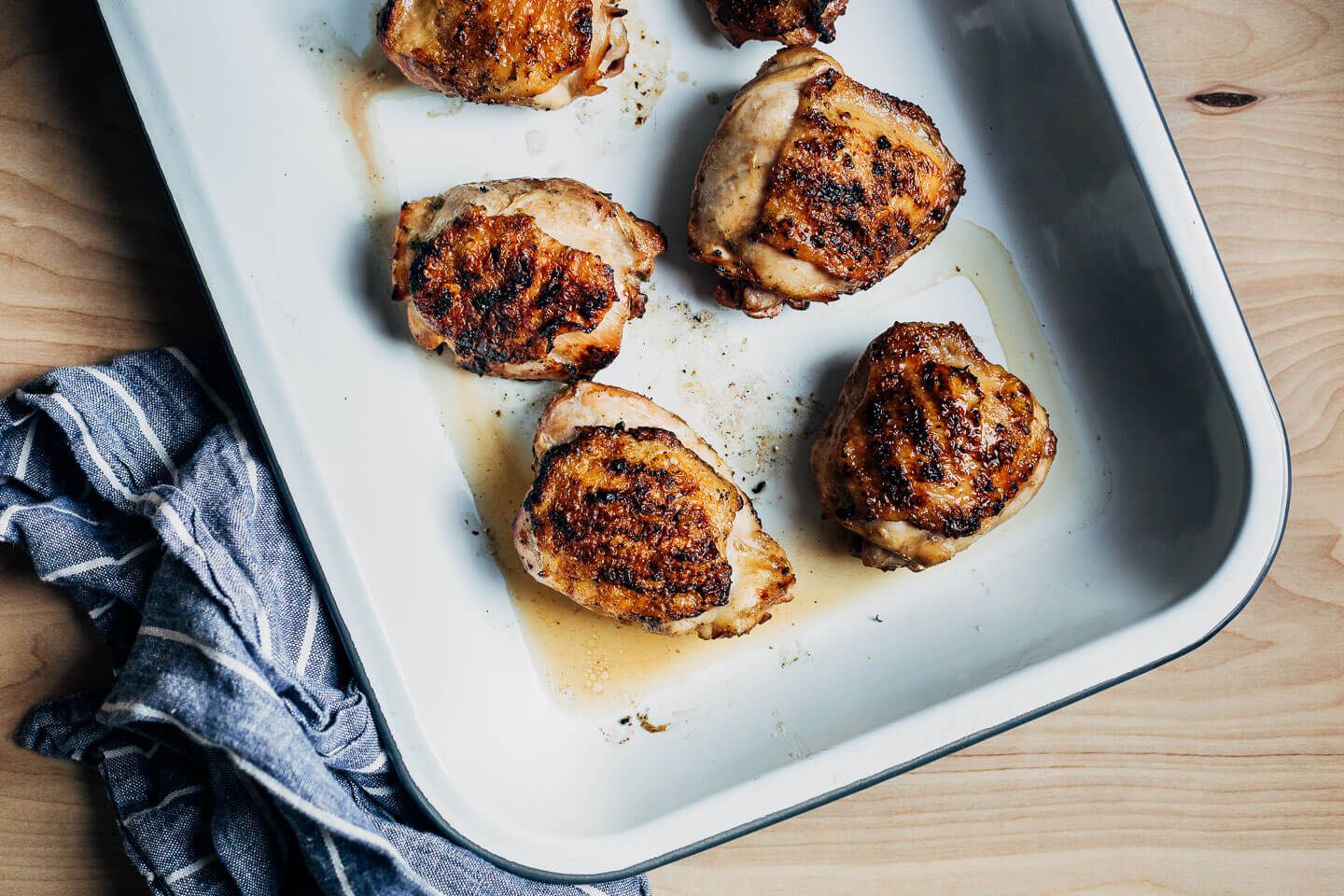 Farmer Focus: Centering Small, Independent Farmers
Gratitude for small farms and their bounty is one of this blog's founding principles. So I'm glad to have Farmer Focus as one of my long-time sponsors. Even as they expand into groceries and online retailers near you, I love that Farmer Focus keeps the family farmer at its core while still producing the freshest, best tasting chicken possible. Farmer Focus chicken is fully traceable, certified organic and Non-GMO verified, and centers the humane treatment of flocks with outdoor access, natural light, and plenty of space.
If that sounds like the kind of chicken you want to serve your family, check out the Farmer Focus store locator right here.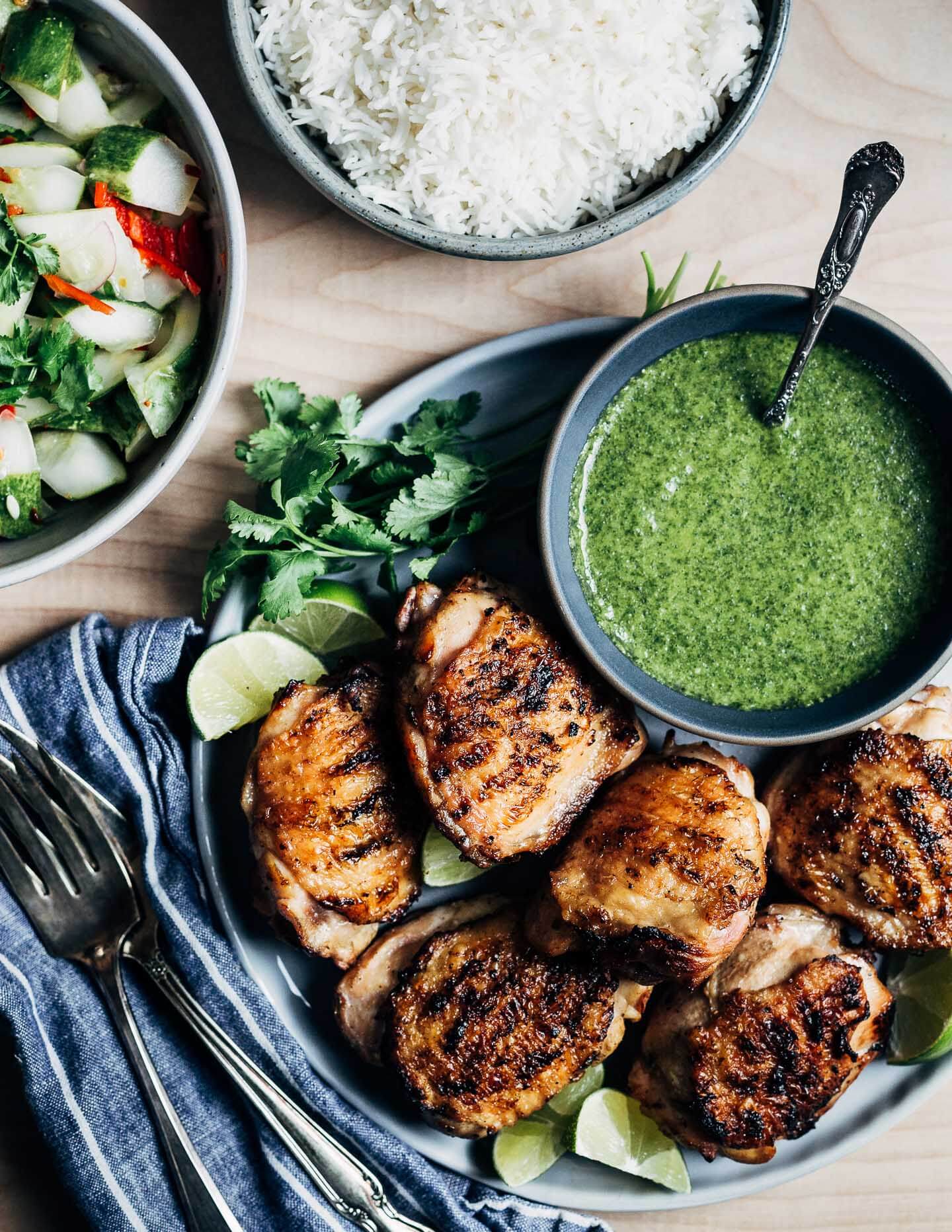 Vibrant Flavors from the Grill: Coconut Lime Chicken Thighs
Now, let's grill some chicken.
Smoke and char have a way of transforming chicken. These grilled coconut lime chicken thighs perfectly demonstrate the vibrant flavors great grilled chicken can capture. Delicious grilled chicken doesn't have to be complicated, but a simple marinade can really bring out the flavor, especially over an open flame.
This marinade starts with fresh lime juice, garlic, ginger, brown sugar, and coconut milk. Much like a yogurt or buttermilk marinade would, the combination of lime juice and coconut milk infuses and tenderizes the meat, imparting it with lots of flavor. When the coconut and lime-marinated chicken hits the grill, the flames caramelize the skin, leaving it deep golden, crispy, and slightly sweet.
The rich flavor of grilled chicken is complemented by a quick cilantro sauce made with green onions, jalapeño, garlic, and lime juice. It's spicy and bright, and a zippy counterpoint to the smoky chicken.
The rest of the meal is a breeze – just serve with tender rice, cilantro leaves, lime wedges, and a simple salad.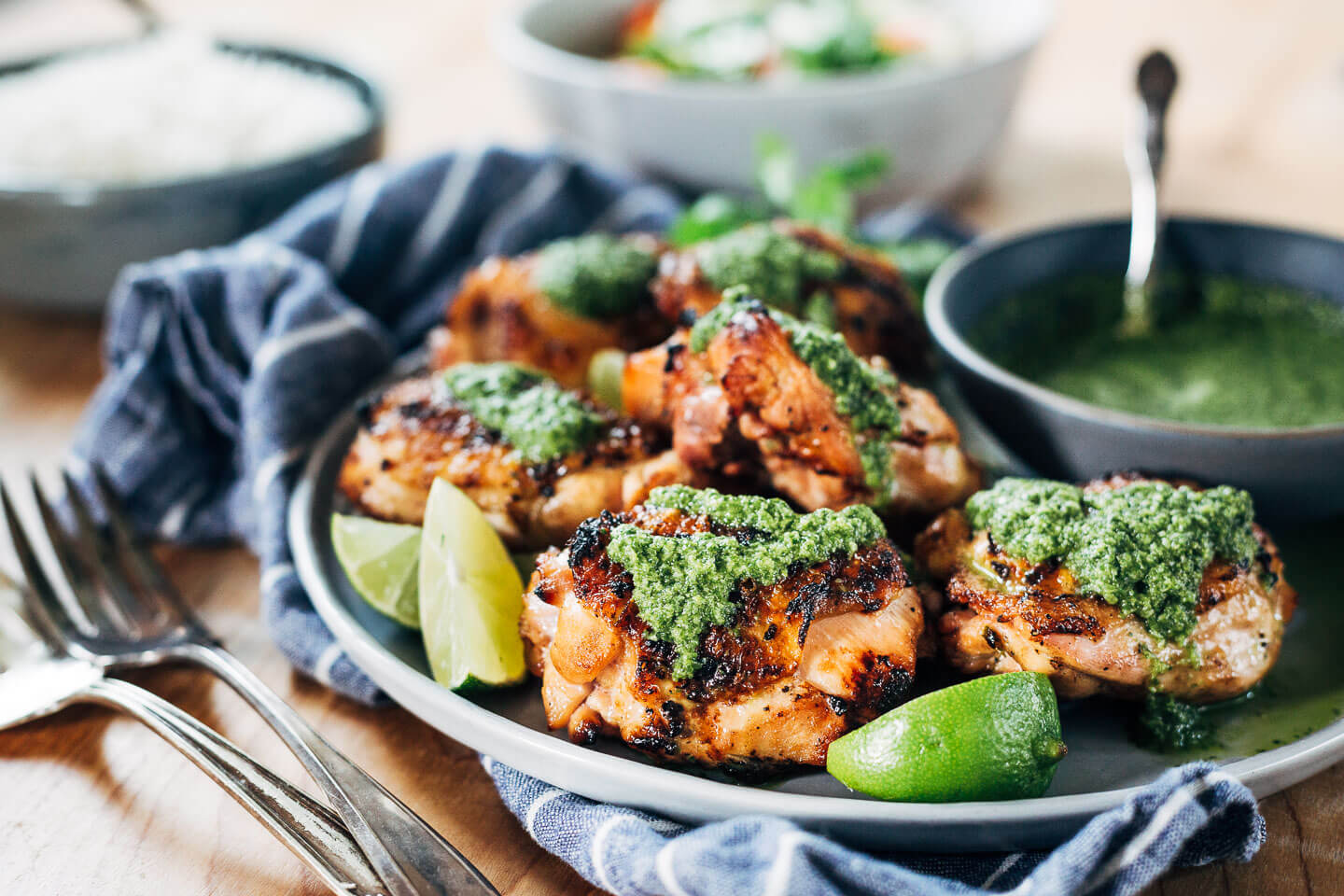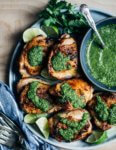 Coconut Lime Grilled Chicken Thighs
Grilled coconut lime chicken thighs come off the grill with crispy, caramelized skin and just the right amount of tang, sweetness, and spicy heat. For best results, prep the marinade the day before and let the chicken marinate overnight.
Keyword:
coconut lime chicken
Ingredients
Marinade
1

teaspoon

sea salt,

divided

¼

cup

fresh squeezed lime juice

1 - 2

jalapeños,

seeded and minced

2

tablespoons

grated ginger

2

tablespoons

brown sugar

2

cloves

garlic,

smashed, peeled and minced

1 16-

ounce

can coconut milk,

use light or full-fat, shaken
Cilantro Sauce
1

bunch cilantro,

stems and all, chopped

2

green onions,

ends trimmed, chopped

1

jalapeño,

seeded and minced

1

clove

garlic,

smashed, peeled and minced

2

tablespoons

lime juice

2

tablespoons

olive oil

1/4

teaspoon

sea salt

2 - 4

tablespoons

water,

as needed
To serve
Basmati rice

2

limes,

cut into wedges
Instructions
The night before, or at least 6 hours ahead of time, prep the chicken and the marinade. Set the chicken thighs in a rectangular dish (just big enough to accommodate the thighs). Sprinkle thighs on both sides with ½ teaspoon sea salt.

In a medium mixing bowl, combine the lime juice, jalapeños, ginger, brown sugar, and garlic. Stir, then fold in the coconut milk. Carefully pour over the chicken thighs, cover, and refrigerate.

When ready to make the chicken, start a hot grill. Bank the hot coals to one side to create zones of direct and indirect heat. Place marinated chicken, skin side down over the hot coals. Cook 2 - 3 minutes, flip, and cook 2 - 3 minutes more, until both sides are nicely browned. Use long tongs and be careful of flare ups. Move chicken, skin side up, over indirect heat, cover the grill, and cook until the temperature of the chicken reaches 165 degrees F.

To make the sauce, pulse to combine the cilantro, green onions, jalapeño, garlic, lime juice, olive oil, and sea salt. Then switch the food processor on and process until smooth. Add water as needed until the mixture is smooth enough to drip off a spoon. Taste and add sea salt as needed.

Serve chicken topped with sauce, plus more on the side. Garnish with lime wedges.