A recipe for a simple and flavorful herbed coconut yogurt curry with tender zucchini from Chitra Agrawal's beautiful debut cookbook Vibrant India.  Jump to recipe.  
I've started challenging my daughters with more assertive flavors at the dinner table. They're old enough, I think, for aggressive amounts of garlic and other alliums (my fave), not-so-sweet smoothies (we refer to these as dirt-flavored smoothies), and spicy dishes. I know spicy food is the norm for younger kids in many cultures, but I've tended to cook milder meals for for the girls after seeing spicier meals go completely uneaten. But as they've grown more adventurous, I'm giving their palates a little push.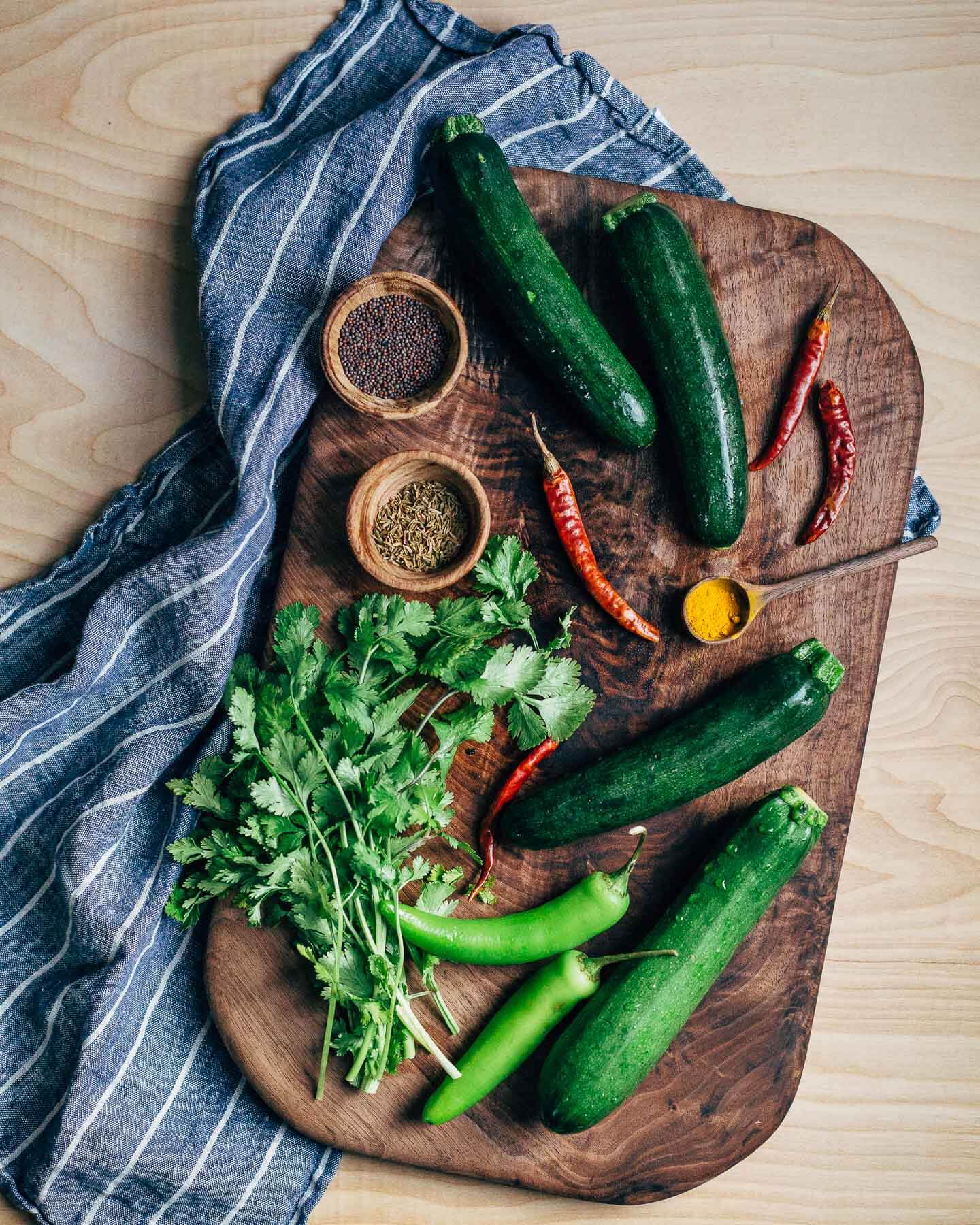 So when Chita Agarwal's book, Vibrant India: Fresh Vegetarian Recipes from Bangalore to Brooklyn arrived in the mail, the inspiration was welcome. As the title promises, Chitra's book is bursting with vibrant flavors. But almost as important, she synthesizes the complex flavors and layered ingredients of Southern Indian cuisine in a way that's approachable and weeknight-friendly. To make the most of the recipes, you'll want to find an Indian grocer and properly stock your pantry, but after, you'll have everything you need to turn simple ingredients into wonderfully flavorful, satisfying vegetarian meals.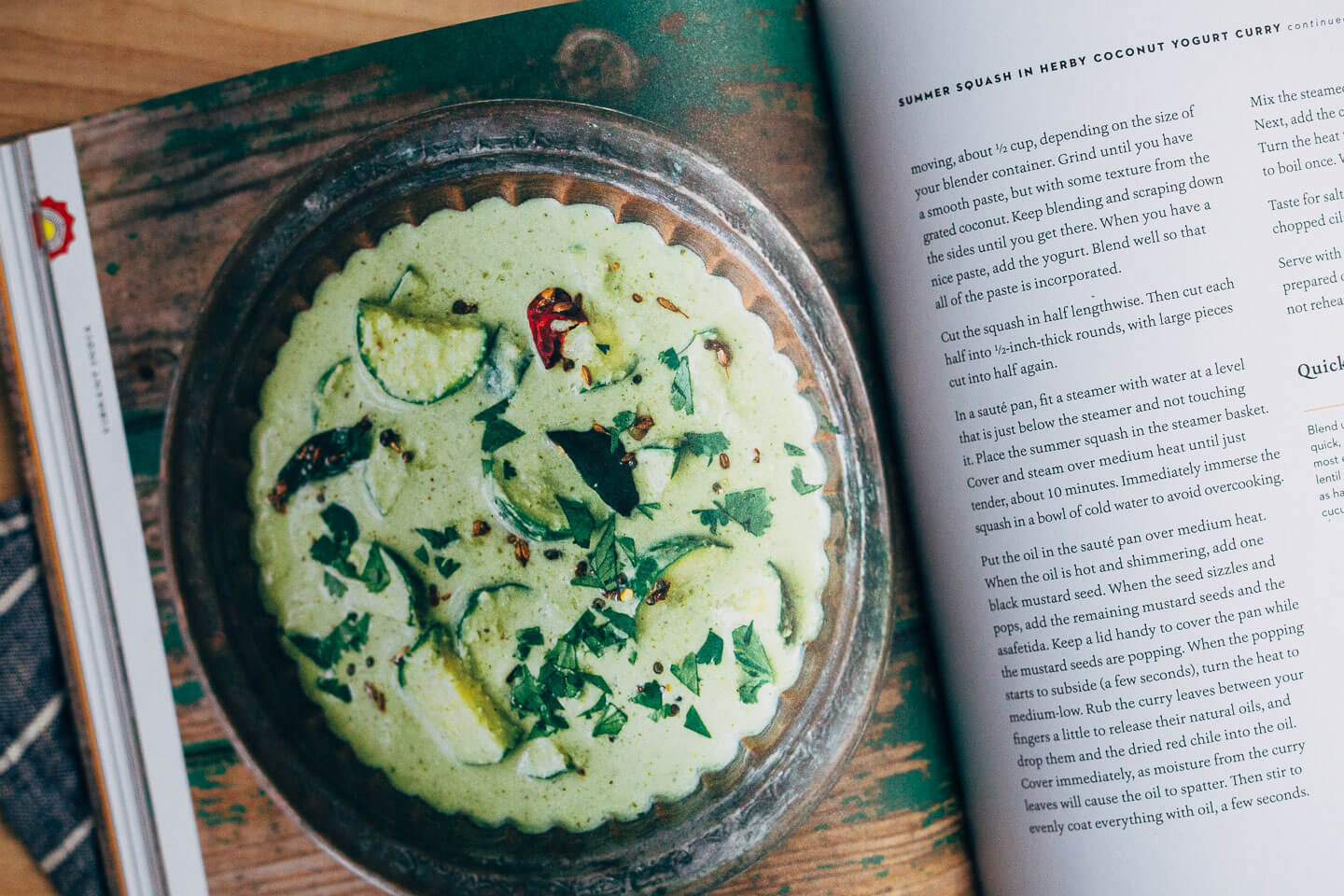 Even if you're not a vegetarian, Chitra's book is a must-have. The lively dishes offer interesting takes on familiar vegetables and beautiful flavors. And if you're unfamiliar with Indian cooking, it's a great introduction with its array of quick and simple curries, rice dishes, dal and lentil recipes, and a host of bright chutneys and inspired pickles. Taken as a whole, it's an excellent source of inspiration for creative vegetables and sating pantry meals.
I'm giving away a copy of Vibrant India to a reader! To enter, leave a comment below sharing your favorite vegetarian meal. Giveaway open to US residents only. Giveaway closes May 2 at noon EDT.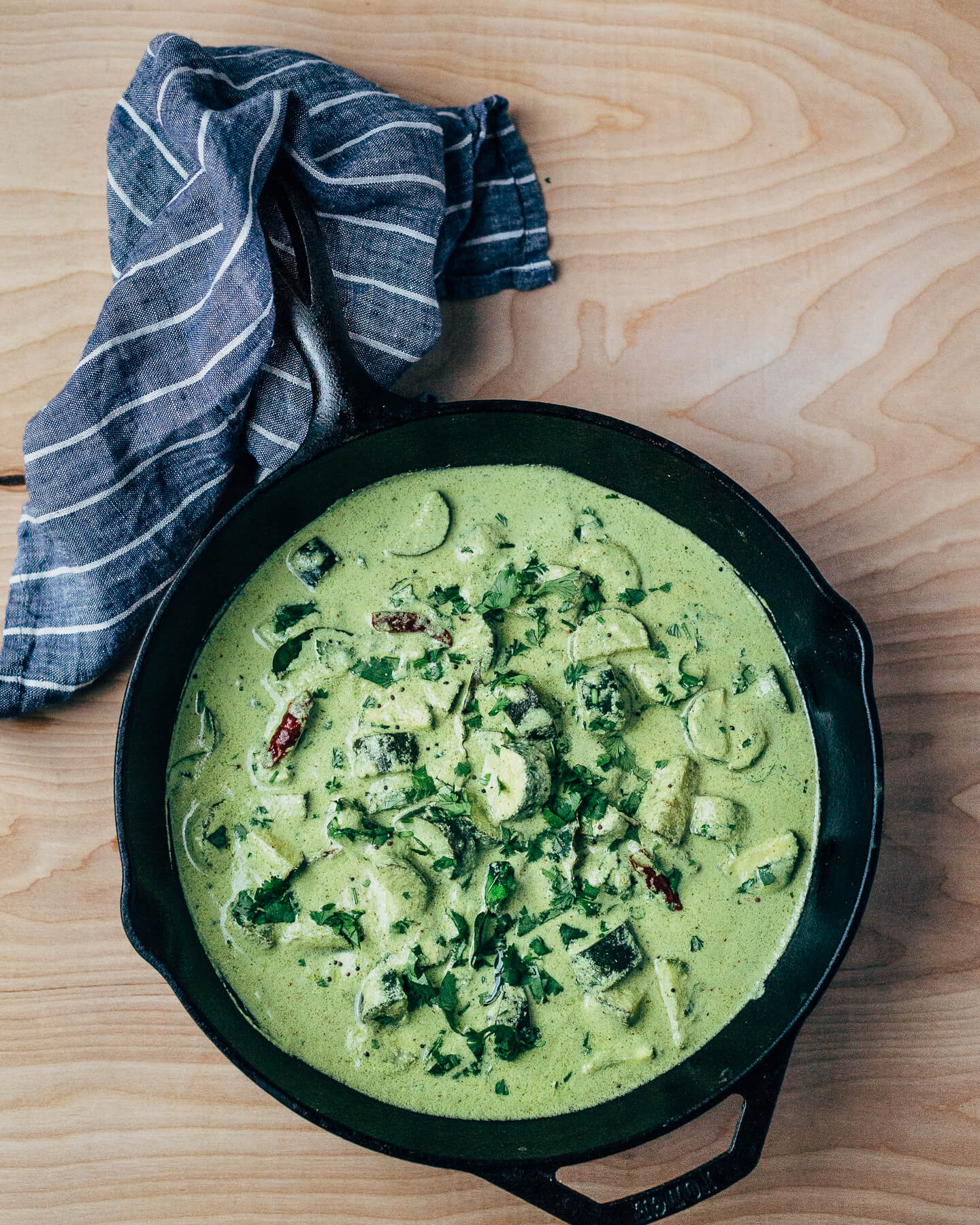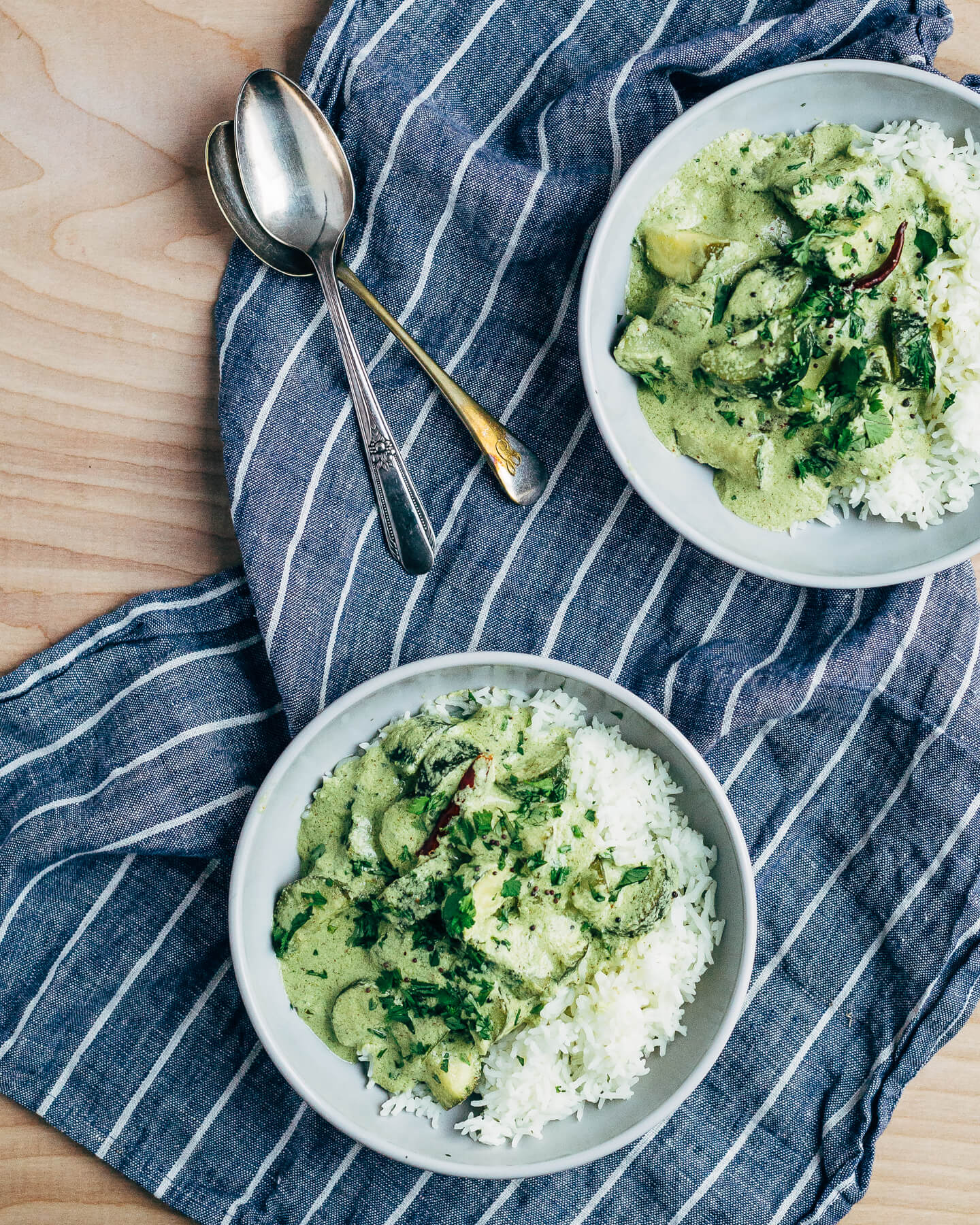 Chitra's Summer Squash in Herby Coconut Yogurt Curry, Majjige Huli, is a dish I know I'll go to again and again as the abundance of my CSA share hits full force. The dish is meant to showcase a single vegetable; here, tender zucchini are the focus, though Chitra suggests that many summer vegetables will work well. The dish is a wonderful mix of creamy and punchy. The vegetables are cooked in a deceptively simple creamy yogurt curry sauce made with coconut, black mustard seed and cumin, green chiles, cilantro, and yogurt. The zucchini are tossed with toasted black mustard, curry leaves, and asafetida powder, and then just simmered in the yogurt coconut curry and served over rice.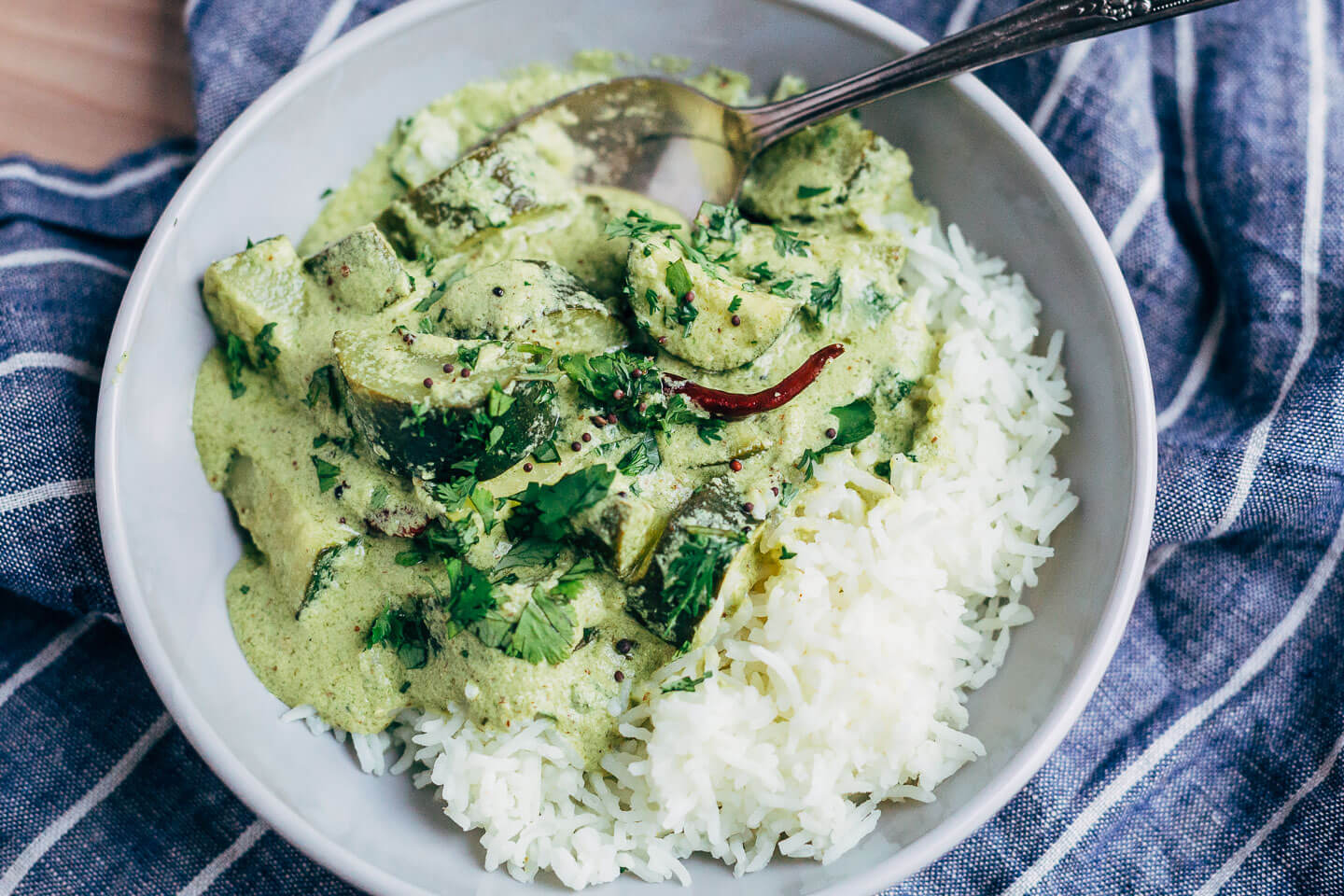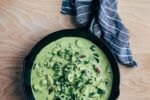 Zucchini in Herbed Coconut Yogurt Curry
Recipe reprinted with permission from Vibrant India by Chitra Agrawal.
"Summer is when my refrigerator is stocked to the brim with zucchini, pattypans, and yellow squash from the farm share. One year I applied my bounty to my mother's recipe for majjige huli, a green yogurt curry that she often makes with watery squash such as ash gourd and chayote squash. This dish is traditionally made with just one type of vegetable at a time and also works well with eggplant, spinach, cucumber, potatoes, green bell peppers, okra, and green tomatoes.
In Kannada, majjige means "buttermilk" and huli means sour. Traditionally majjige huli is prepared with buttermilk, but it can be made with yogurt too. The dish is flavored with a paste of ground coconut, green chilies, cilantro, and spices. Roasted chana dal, which are roasted, skinned, and split black chickpeas, are also ground and used in this recipe as a thickener, but you could substitute blanched almonds for this purpose."
Ingredients
Curry Sauce
1/2

cup

unsweetened grated coconut

(fresh, frozen, or dried)

1

tablespoon

roasted chana dal

(chana dalia)*

1/2

teaspoon

cumin seed

1 1/2

teaspoons

black mustard seeds

1/4

teaspoon

turmeric powder

2

or 3 Indian green chiles or serrano chiles

1

cup

cilantro leaves and tender stems

2

cups

plain yogurt

, lightly beaten by hand
Squash
1

pound

summer squash

(2 or 3 small yellow or green zucchini)

2

teaspoons

mild-flavored oil such as canola

1/2

teaspoon

black mustard seeds

pinch of asafetida

(hing) powder

1

sprig curry leaves

(about 20 leaves)

1

dried red chile

, broken in half

salt

cooked rice

, for serving

chopped cilantro leaves

, for garnish
Instructions
To make the curry sauce: Thaw frozen coconut or place dried coconut in a little hot water to plump it up.

In a blender, grind the roasted chana dal to a powder. Add the cumin seeds, black mustard seeds, and turmeric powder and grind. Have about 1 cup of water by the blender. Next, grind the coconut and green chiles, adding a little water to help the blades along. Then add the cilantro and slowly add just enough water to keep the blender blades moving, about 1/2 cup, depending on the size of your blender container. Grind until you have a smooth paste, add the yogurt. Blend well so that all of the paste is incorporated.

Cut the squash in half lengthwise. Then cut each half into 1/2-inch-thick rounds, with large pieces cut into half again.

In a sauté pan, fit a steamer with water at a level that is just below the steamer and not touching it. Place the summer squash in the steamer basket. Cover and steam over medium heat until just tender, about 10 minutes. Immediately immerse the squash in a bowl of cold water to avoid overcooking.

Put the oil in the sauté pan over medium heat. When the oil is hot and shimmering, add one black mustard seed. When the seed sizzles and pops, add the remaining mustard seeds and the asafetida. Keep a lid handy to cover the pan while the mustard seeds are popping. When the popping starts to subside (a few seconds), turn the heat to medium-low. Rub the curry leaves between your fingers a little to release their natural oils, and drop them and the dried red chile into the oil. Cover immediately, as moisture from the curry leaves will cause the oil to spatter. Then stir to evenly coat everything with oil, a few seconds.

Mix the steamed summer squash into the pan. Next, add the curry sauce and 1 teaspoon salt. Turn the heat to medium. You want the mixture to boil once. When it does, turn it off.

Taste for salt and adjust as needed. Garnish with cilantro leaves. 

Serve with rice. The dish is served either just prepared or chilled. If eating the next day, do not reheat before serving.
Recipe Notes
*If you have chana dal that is not roasted, soak it in hot water for 15 minutes. Otherwise, use blanched almonds or almond flour or leave it out.