This hearty cod and corn chowder with celery, young potatoes, sweet peppers, and fresh herbs is a delicious way to bridge the seasons.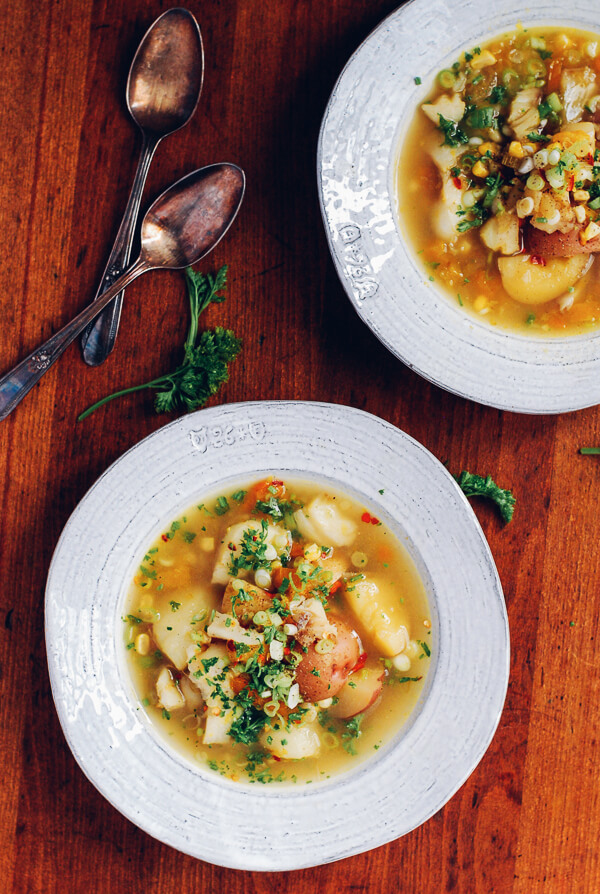 Family Dinner
Even on the busiest nights, we almost always serve up a family dinner – in part because we believe in sitting down as a family and in part because it's just easier to only cook once. It sounds so simple here on the screen, but in reality, finding a meal to suit the shifting tastes girls age 3 and 7 is not easy. Or at least, it wasn't, until I realized the power of a good soup.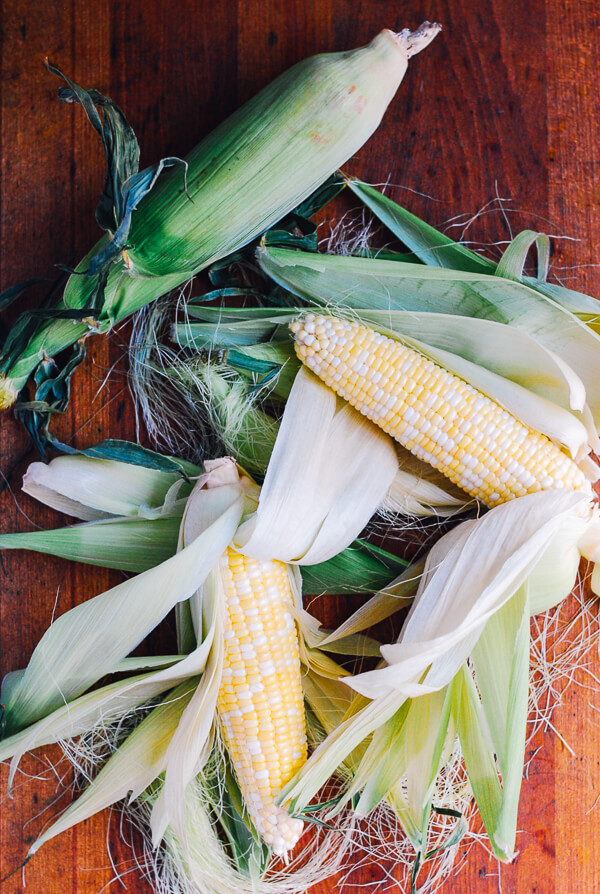 Like many of the best dishes, this one started with M.F.K. Fisher. I love the style of simple eating she advocates, and at the center of her frugal and delicious universe, is soup.
Contemporary cooks tend to make a big deal about soup. You know, the kind with lots of pork, sausage, and other layers of protein, along with stock and a host of vegetables. And you know, that kind is really good! But the soup I'm into these days is a little less polished. It's adding leftover chicken and water to yesterday's tomato sauce for a hearty lunch. Or combining these stems and those with a generous pat of butter for a robust vegetable broth. Soup is the way to fill in the gaps, use the odds and ends, and stretch whatever ingredients linger in the fridge.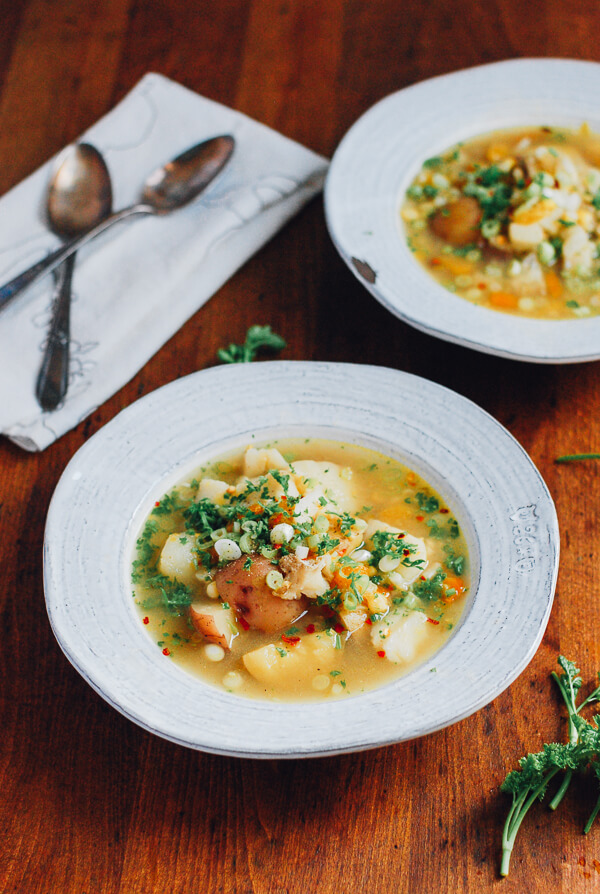 A Simple Cod and Corn Chowder to Bridge the Seasons
Making the most of the in-between season we're in, this creation is more stew than chowder. It's layered with onion, peppers, and celery, plus big hunks of potatoes, the last of the summer corn, and tender pieces of wild caught Pacific cod. And though it's a relatively quick and easy dinner (one that can be made in 40 minutes or maybe less), the rich flavors improve after a night in the fridge. Equal parts ease and deliciousness, we made a big double batch, and I think you should too.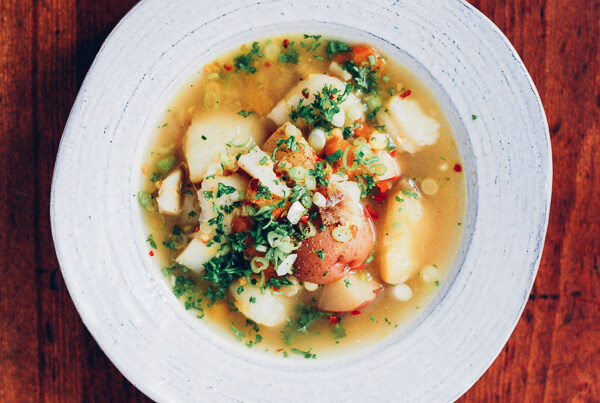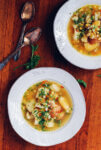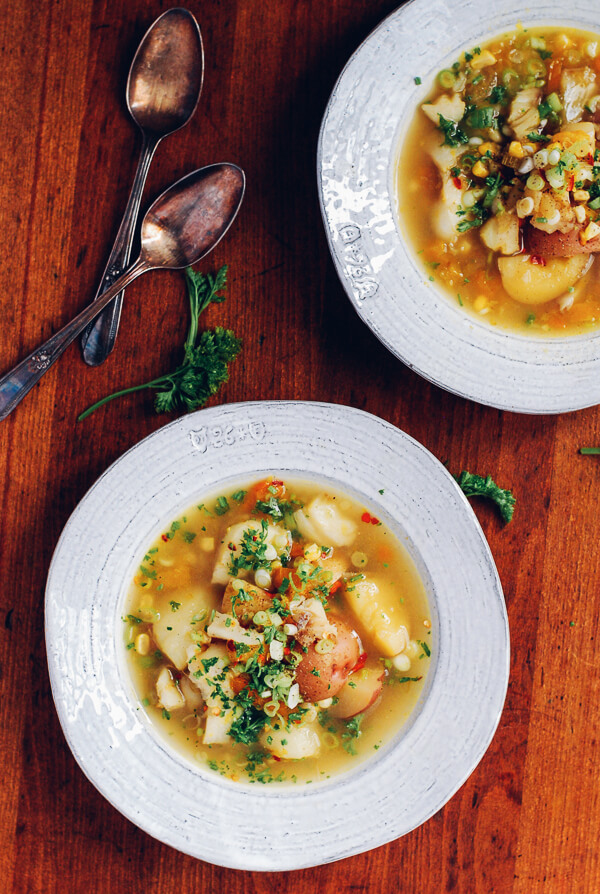 Cod and Corn Chowder
Keyword:
cod and corn chowder
Ingredients
2

tablespoons

butter

1

medium yellow onion,

chopped

4

stalks celery,

chopped

1

sweet bell pepper,

seeded and chopped

4

cups

rich vegetable or chicken broth –

low-sodium stock gives you the flexibility to season to taste

sea salt to taste

1/4

teaspoon

red pepper flakes

2

cups

quartered young red and yellow potatoes

2

ears corn,

kernels cut off with cobs reserved*

1 1/2

pounds

cod,

cut into 1 inch pieces

1/4

cup

apple cider vinegar

ground pepper to taste

4

scallions

minced

2

tablespoons

parsley

minced
Instructions
In a large pot or Dutch oven, heat butter over medium-high heat. Add the onion, celery, and pepper. Stirring often, cook for 10 minutes, or until the vegetables begin to brown. Pour in a splash of stock and scrape up any brown bits.

Add the remaining stock, a generous pinch or two of sea salt, and the potatoes. Bring mixture to a boil and then turn down to a bubbling simmer. Cook for 15 minutes, or until potatoes are tender.

Add corn and cod, and cook for 10 minutes more. 

Finally, stir in the apple cider vinegar and adjust seasoning to taste. Finish with scallions and parsley.

*I halved the cobs and added them to the broth while it simmered. This can give thinner broth some added flavor, but it's not a necessary step. You can add the cobs with the stock and then remove just before you add the kernels and fish.