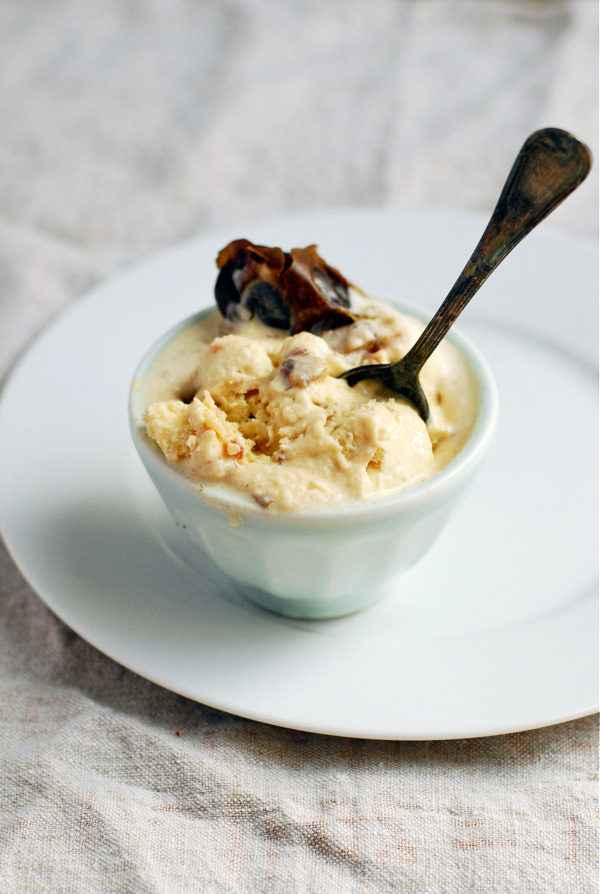 A very boozy, completely delicious Cognac and Medjool date ice cream recipe. Jump to recipe.
Brooklyn Supper's focus is on local, seasonal foods, but we've never been averse to seasonal foods that come from afar, especially in the winter. As east coasters, we have non-local foods on hand like coffee, chocolate, and lemons. And when it gets cold out, you can be sure we have pounds and pounds of oranges on the counter and a couple containers of dates in the fridge.
Date season peaks in the late fall, and so now is the time to get your hands on some if you haven't already. Look for a box of delicate Medjool dates, which are almost overwhelmingly sweet. They're sticky and yielding, with a hint of smokiness and a depth that's surprising for fruit. After eating several straight out of the box, that intense sweet and smoky flavor got me thinking that dates would be an excellent addition to some boozy ice cream. I was totally right.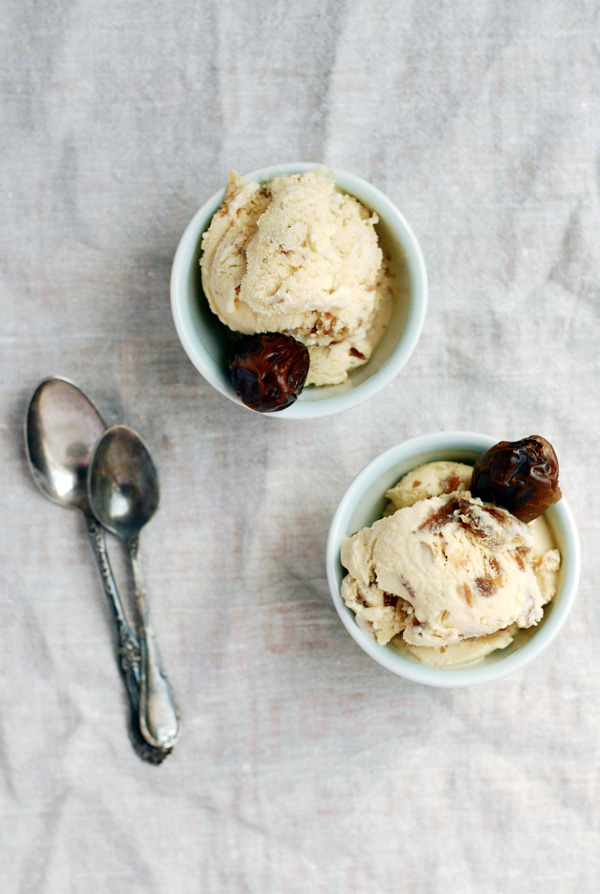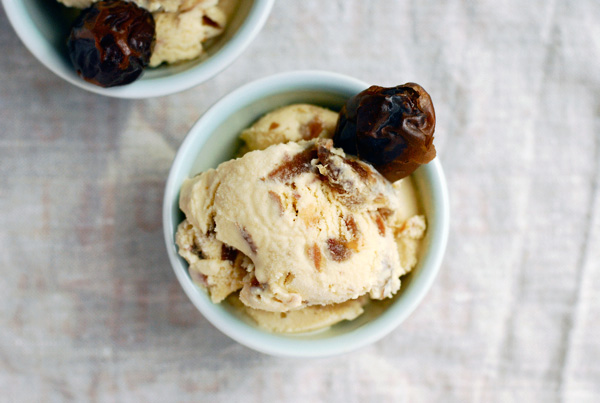 To make this delightfully boozy Cognac and Medjool date ice cream, I started by halving and pitting the dates, and then mincing them as well as I could (things at this point were almost hilariously sticky). I then poured some Cognac over the dates, covered them, and stuck them in the fridge. It had been my intention to make the ice cream the next day, but it ended up being a few. I finally whipped up a simple custard base, chilled it, and folded the booze-soaked dates into the ice cream at the last minute. The resulting ice cream is boozy enough to be a grown-ups only kind of thing. It's rich, like really rich, and the cognac is an excellent counterpoint to the intense honeyed sweetness of the dates.
This ice cream is rich enough that it benefits from a little mediation, either from an austere cookie or a finger of brown liquor. The natural sugars in the dates are easily overwhelmed, so whatever you serve with the ice cream, make sure it's not too sweet or it will drown out the quiet intensity of the dates.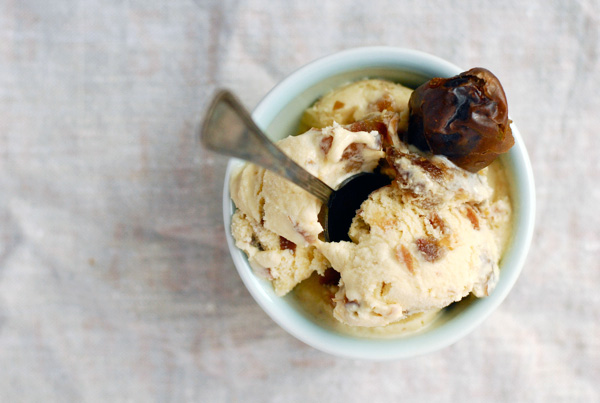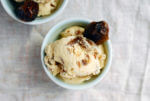 Cognac Medjool Date Ice Cream
A boozy, completely delicious Cognac and medjool date ice cream recipe.
Ingredients
20

Medjool dates,

pitted and finely minced

1/2

cup

Cognac

1 1/2

cups

whole milk

1/4

cup

sugar

1/2

teaspoon

sea salt

6

egg yolks

2

cups

heavy cream

1/4

teaspoon

cinnamon

1/4

teaspoon

ground nutmeg

2

tablespoons

vanilla extract
Instructions
Place minced dates in container with a tight-fitting lid or a quart jar, and pour Cognac over them. Stir so that Cognac is well-dispersed. Cover and refrigerate for up to 3 days. Stir mixture daily.

When you're ready to make the ice cream, place egg yolks in a medium-sized bowl and set aside.

Heat a heavy-bottomed sauce pan over medium heat. Add milk, sugar, and sea salt. Stir often, edging heat down a bit if needed. When milk is just steamy, remove from heat. Whisk a quarter cup of the hot milk mixture into egg yolks to temper them. Whisk a few more ladlefuls of warm milk into yolks, until they are warm. Pour milk and yolk mixture back into sauce pan. Stir over medium-low heat about 5 minutes, until mixture has thickened enough to coat the back of a wooden spoon.

Remove from heat and stir in cream, spices, and vanilla. Set mixture in fridge to chill at least 3 hours or over an ice bath if you're in a hurry.

Process custard base according to your ice cream maker's instructions. When mixture has a little body but is still runny, spoon in the boozy dates. Continue processing, keeping in mind that things will be nearly liquid even when done. Spoon into containers and cure ice cream in the freezer 5 hours or more.

Even with so much Cognac, this ice cream set up nicely. But keep in mind that, owing to the high level of alcohol, it will get melty after about five minutes out of the freezer.
SaveSave