Rustic cornmeal-crusted fish tacos with lime crema and a zesty cabbage slaw. Jump to recipe.
I spent my teen years outside of San Diego during what may have been a fish taco renaissance. But, because I was a vegetarian in those days, I've never actually had a legendary Baja or Baja-style fish taco. Instead, my first best fish taco happened years later at the Bonita on Bedford Ave. Everyone insisted you get the fish tacos. And so you did, and then you were indoctrinated and went on to only order the fish tacos pretty much every time. Even when you didn't, the decision not to was excruciating.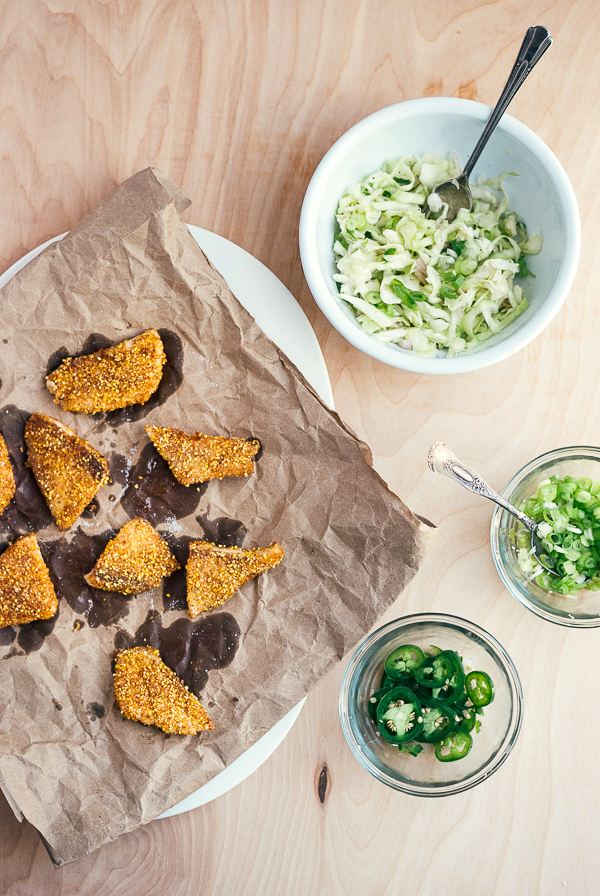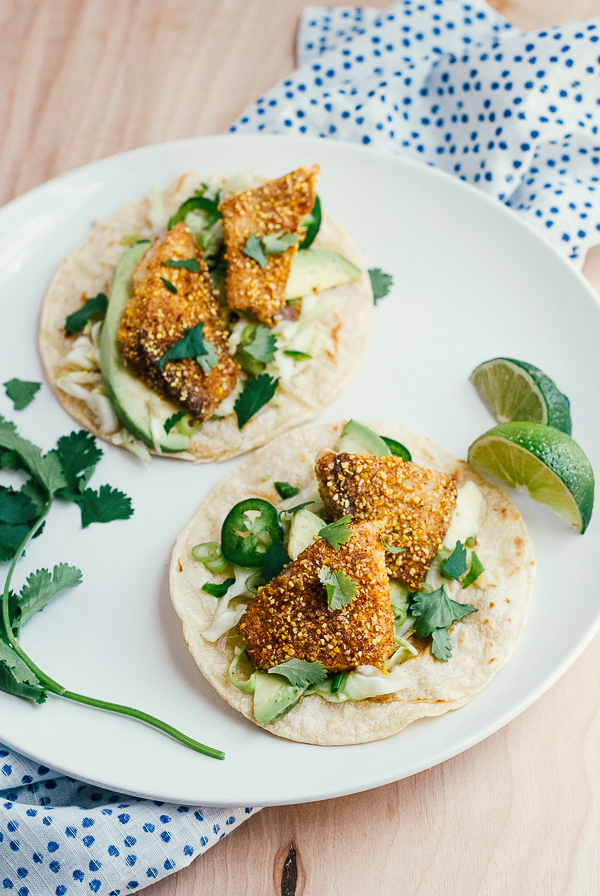 Right now, I'm in Virginia and it's winter and I need to eat something's that's not a root. So, even though I never ate them when I lived in San Diego and cannot boast any kind of fish taco expertise, I decided to make fish tacos. As a nod to my southern side, I crusted the fish with cornmeal, but all the other flavors and textures are strictly Southern California.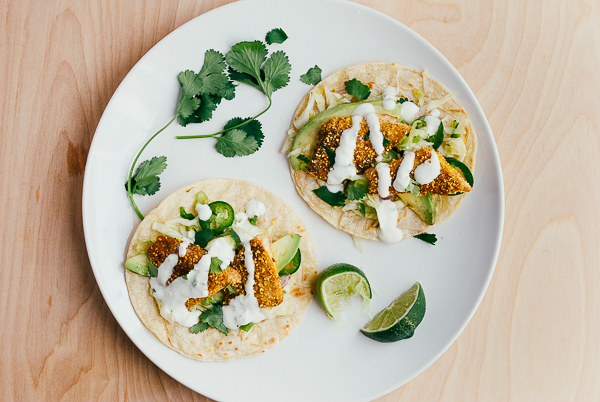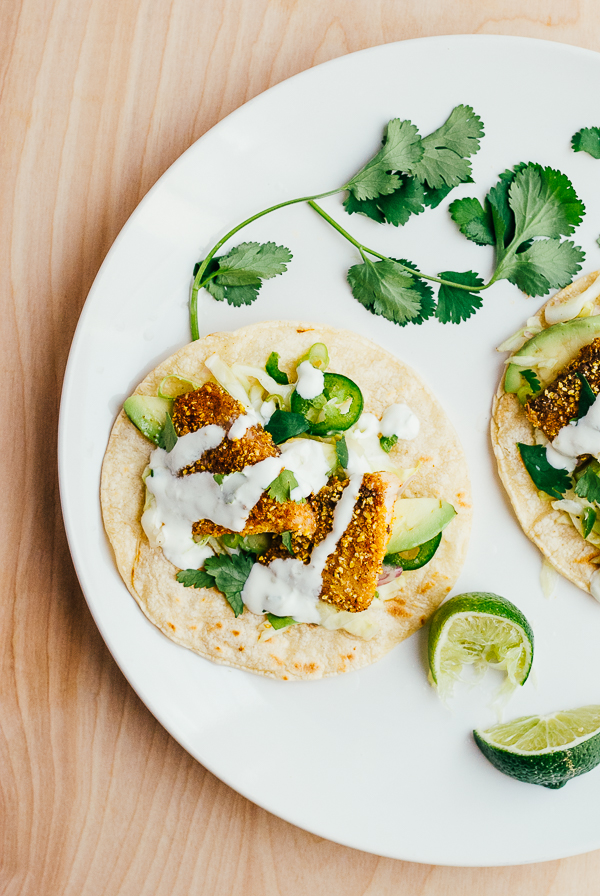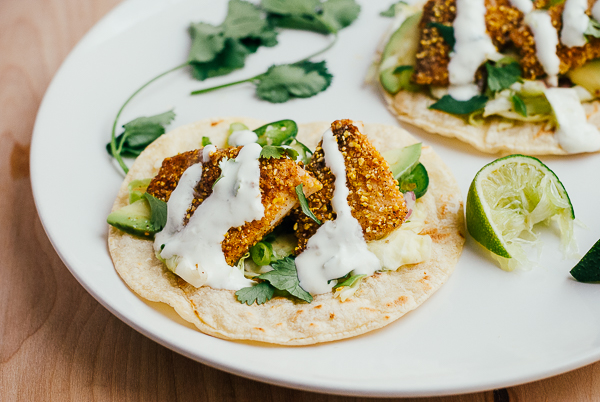 The tilapia fillets are dredged in a mixture of medium-grind cornmeal, chili powder, and sea salt and then fried to a deep golden brown. The fish was served on lightly toasted corn tortillas with jalapeños and avocados, and just a touch of seasonal flair in the form of limes, cabbage, and green onions. Slicing into the jalapeño is a treat all by itself – it's crispy, fragrant, and smells like summer. The slaw is simple, meant to highlight the quiet spice of jalapeño and delicate green onions. There's also my take on a lime crema and plenty of other lime anyway. These cornmeal-crusted fish tacos are just a good, optimistic kind of thing to eat on a bone cold winter night.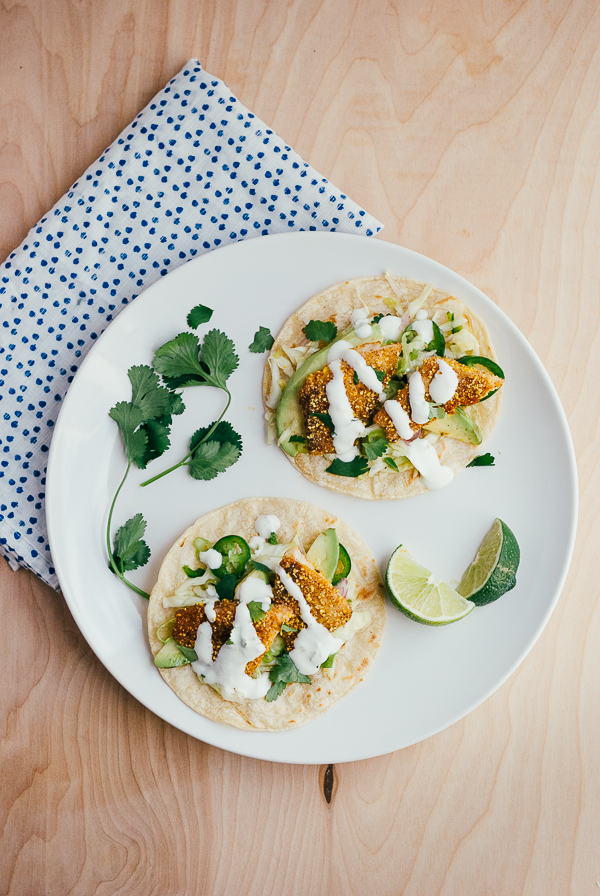 A note on the fish – tilapia is typically farm-raised and can be problematic – check out this site for some of the best options. Any firm, flavorful white fish should work well here, too.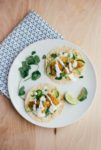 Cornmeal-Crusted Fish Tacos with Lime Crema and Cabbage Slaw
Rustic cornmeal-crusted fish tacos with lime crema and a zesty cabbage slaw.
Ingredients
For the Crema
1/3

cup

sour cream

3

tablespoons

lime juice

pinch sea salt

1 - 2

tablespoons water

, as needed
For the fish
2

pounds

tilapia fillets

1/2

cup

medium-grind cornmeal

2

tablespoons

chili powder

(use a flavorful variety)

1/2

teaspoon

sea salt

1/2

teaspoon

garlic powder

2 - 4

tablespoons heat tolerant vegetable oil

, lard, or ghee for frying
For the Slaw
4

cups

thinly sliced cabbage

sea salt

2

tablespoons

lime juice

1

tablespoon

extra virgin olive oil

1/2

teaspoon

apple cider vinegar

1/2

teaspoon

honey

2

tablespoons

minced jalapeño

2

tablespoon

minced shallot

2

tablespoon

minced green onion

ground black pepper
For the tacos
8

corn tortillas

, warmed or toasted over medium heat in a skillet

1

avocado

, sliced

jalapeno

, sliced thin

green onion

, minced

cilantro leaves

, torn into small pieces

lime wedges
Instructions
For the Crema
In a small bowl or jar, stir lime juice and sea salt into the sour cream. Add water as needed so that crema just drizzles off the tip of a spoon.


For the Fish
Combine the cornmeal, chili powder, garlic powder, and sea salt on a small tray.

Rinse tilapia, pat dry, and slice into 2-inch sections.

Heat a large skillet over medium-high heat. Dredge both sides of 4 – 5 pieces tilapia in the cornmeal mixture. Add oil to skillet, and when hot and the tilapia. Cook until golden brown, 2 – 3 minutes, flip, and cook other side 2 – 3 minutes longer or until fish is cooked through. Set cooked tilapia pieces on a plate lined with a brown paper bag and scatter a pinch or two of sea salt over the fish. Working in batches cook the remaining fish in the same way. Add more oil to the pan as needed. Keep an eye on the temp, being sure to adjust temperature to avoid smoking oil.


For the Slaw
Set sliced cabbage in a large bowl and toss with sea salt. In a small bowl, use a fork to whisk together the lime juice, olive oil, apple cider vinegar, and honey. Stir in jalapeño, green onion, shallot, and several twists black pepper. Pour mixture over the cabbage, and toss.


For the Tacos
Add several spoonfuls of slaw and a few avocado slices to each tortilla. Add 2 or 3 pieces of fish, drizzle on the crema, and finish with jalapeño slices, cilantro leaves, and green onions, plus a big squeeze of lime.