A wintry breakfast of toothsome cornmeal pancakes and tangy honey-orange syrup.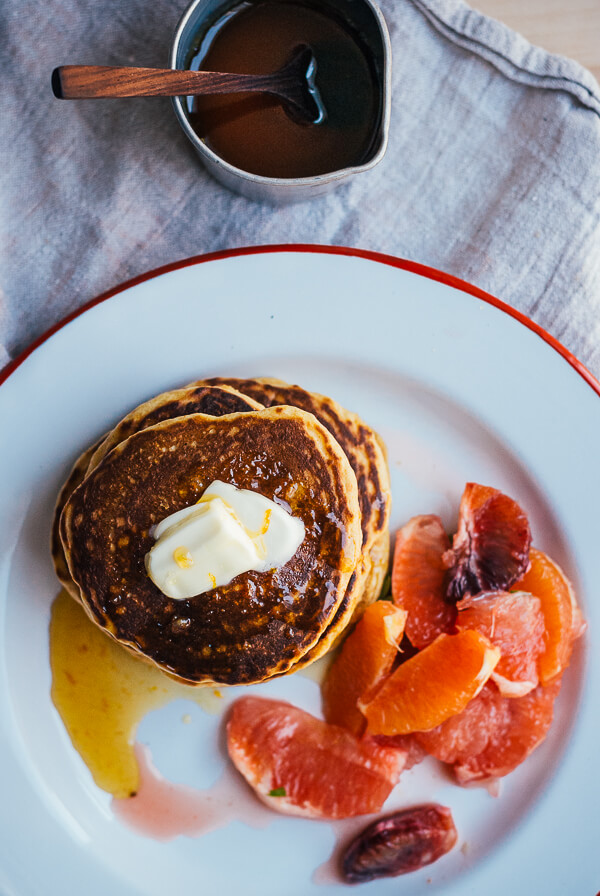 Jump to recipe.
Looking Toward Spring
When I began this blog, summer was without a doubt my favorite season for food. I looked forward to summer highlights like piles of stone fruit, ripe tomatoes, and sweet corn all year long. But lately, I find spring is my favorite season. I love the anticipation and finding a new ingredient available each week, especially after so many months of the same roots and hardy greens. First there are chives, followed by green garlic, then ramps, lettuce, asparagus, and finally, strawberries. For years now, as I've savored these moments at my own farmer's market or in my garden, I've also enjoyed experiencing the spring awakening through my friend Aimée.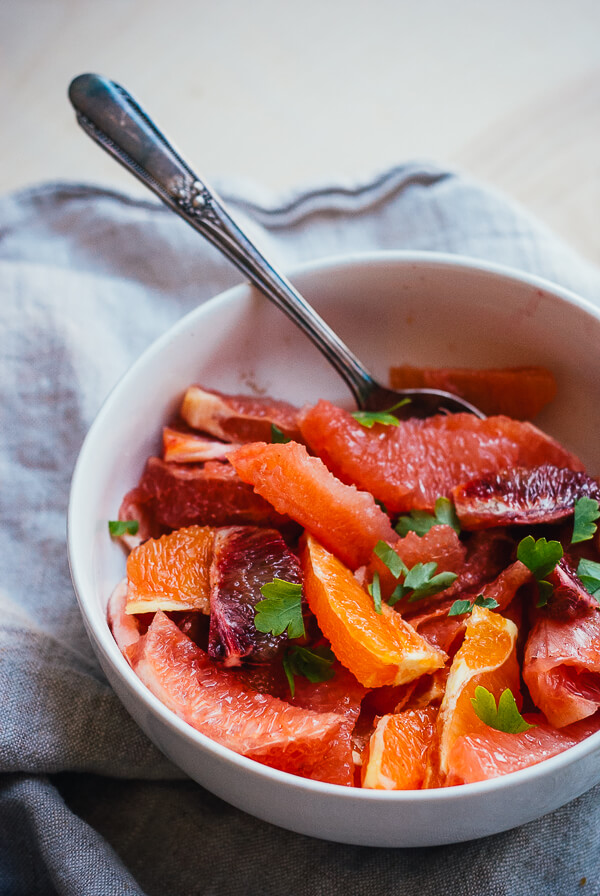 Aimée lives on an urban homestead outside Montréal, and I so enjoy her posts about tapping the maple trees, foraging for ramps, and prepping her garden. I love how Aimée and her family celebrate each season through food and ritual, and often look to her for inspiration in including children in this annual rhythm. I also love her food, and have come to rely on her flawless recipes time and again in my kitchen.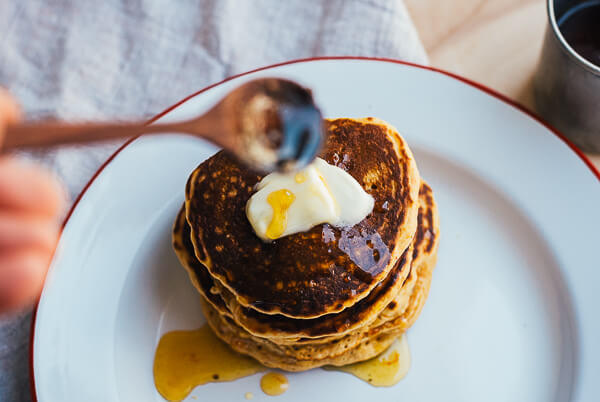 Brown Eggs and Jam Jars
Now, Aimée has written a beautiful cookbook celebrating seasonal ingredients and wholesome family meals. Through the pages of her inspiring book, I've gotten to know Aimée and have even more respect for her seasonal approach to just about everything. Brown Eggs and Jam Jars is full of healthful, comforting recipes made with vibrant ingredients. It's such a pleasure to have her book in hand just as we prepare for spring and all the ingredients that come with it. Among others, I've bookmarked Aimée's recipes for marinated golden beets, smoked salmon and arugula gougeres, and maple marshmallow s'mores.
Besides an abundance of gorgeous food, Brown Eggs and Jam Jars is dotted with bits of wisdom for fostering independent, helpful children. Whether they're helping in the kitchen, garden, or even helping to build a fire, Aimée's book is filled with ways to involve and educate little ones. It's the rare cookbook that inspires us to be both better cooks and better parents.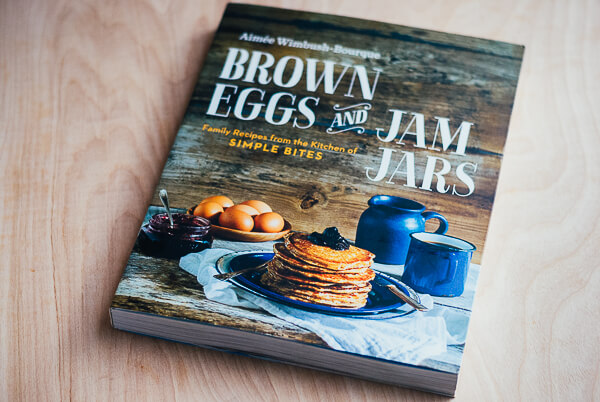 Crispy-Edged Cornmeal Pancakes
Last weekend, we made a double batch of these crispy cornmeal pancakes with fragrant honey orange syrup, along with an herbed citrus salad inspired by a table scene pictured in the book. As cold winds literally howled around our home, this intensely cozy breakfast was perfect. I hope it brings that same warmth to your home.
You can find the citrus salad recipe over on Yahoo Food. For this take, I also added 1/4 teaspoon chili powder, black pepper, and 1 tablespoon minced parsley.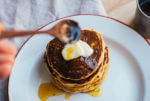 Crispy Cornmeal Pancakes with Honey-Orange Syrup
A wintry breakfast of toothsome cornmeal pancakes and tangy honey-orange syrup.
Makes
:
9
( 6-inch) pancakes and 1 cup syrup
Ingredients
For the Honey-Orange Syrup
1

cup

organic golden honey

zest and juice of 1 large orange

(use a microplane for zesting)
For the Pancakes
1/2

cup

whole wheat flour

1/2

cup

all-purpose flour

1/2

cup

fine cornmeal

1

teaspoon

baking soda

1/4

cup

salted butter

3

tablespoons

honey

1

cup

buttermilk

2

large eggs

vegetable oil

, for frying
Instructions
In a small pot, whisk together honey and the freshly squeezed orange juice over medium heat. Continue stirring until mixture comes to a boil and the orange juice is completely incorporated. Remove from heat and stir in orange zest. Allow syrup to cool slightly before serving. It will thicken as it cools. Transfer to a jug for serving or a glass jar for keeping. (Syrup may be made up to 1 week ahead.)

In a large bowl, whisk together whole wheat flour, all-purpose flour, cornmeal and baking soda. In a large cast-iron skillet (the same one that you will use for cooking the pancakes), melt the butter. Add honey and stir with a heat-resistant spatula until honey is dissolved and the two ingredients are incorporated. Set aside to cool slightly.

Measure buttermilk into a large glass measuring cup. Crack in eggs and beat with a fork. Add liquid to flour mixture and stir to combine. Add melted butter mixture and beat batter very well.

Reheat the skillet over medium heat and lightly brush with oil. Pour batter into the middle of the pan and cook until small bubbles start to form and edges are brown and crisp. Flip pancake and cook for another minute or so. Wrap pancakes in a clean tea towel to keep warm. Repeat with remaining batter. Serve pancakes hot with Honey-Orange Syrup.
Recipe Notes
Honey-Orange Syrup will keep in an airtight container in the refrigerator for up to 1 week.
Along with the orange juice, add 1 tablespoon Grand Marnier to the honey syrup. Serve to grown-ups.
Disclosure: I was provided with a copy of Brown Eggs and Jam Jars, but all opinions are my own.