A wintry Dungeness crab chowder made with leeks, rutabagas, turnips, fresh herbs, and Imagine® Organic Free Range Chicken Broth, created in partnership with Imagine®.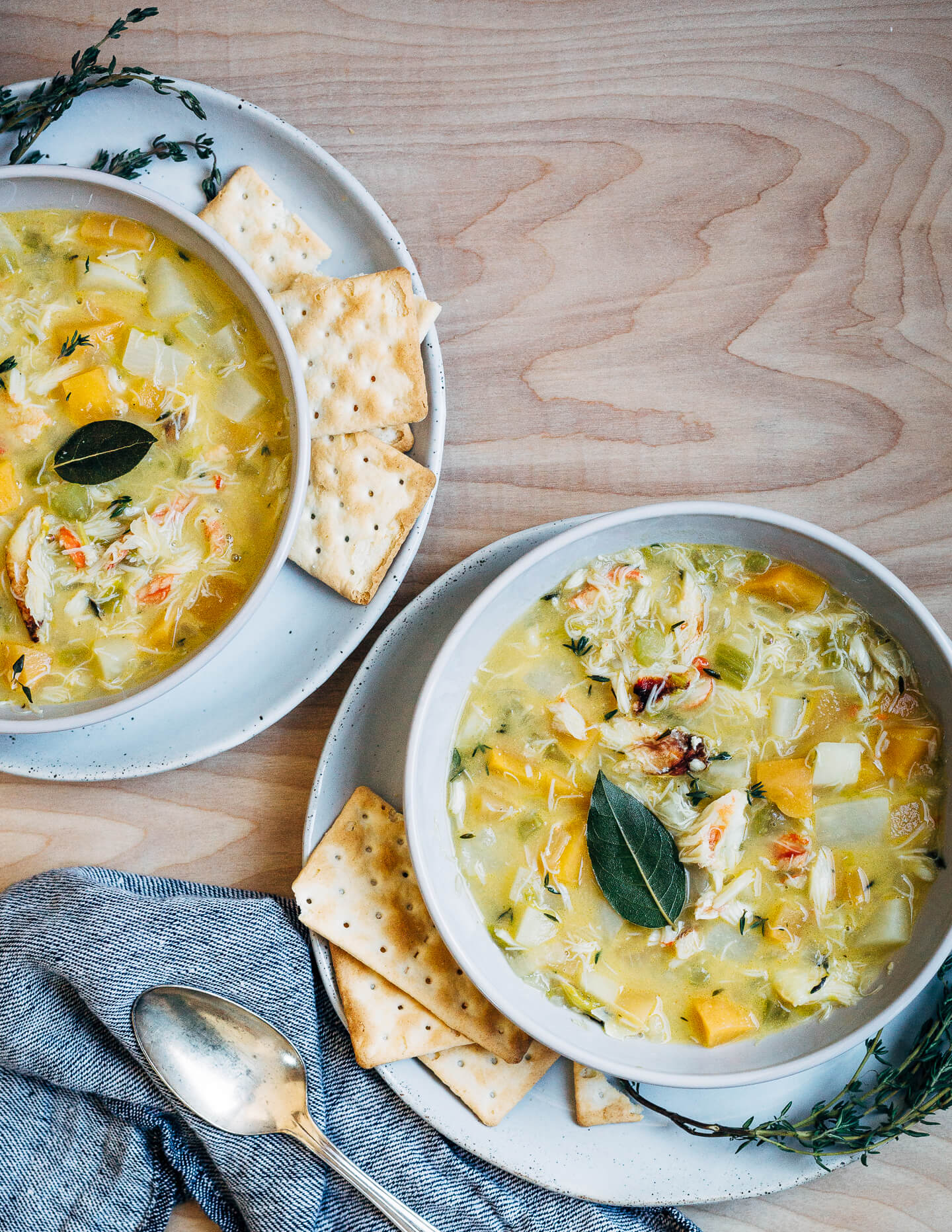 I've long pined from afar as my friends on the West Coast made the most of Dungeness crab season, which opens in mid-November. While I like to stay connected to my local food network, I give myself a little leeway to experiment with and enjoy ingredients from a little farther afield, especially in winter. And Dungeness crabs are the perfect winter splurge. Happily, I was able to source cooked, frozen Dungeness from a local grocer, and though I'll still hope for a fresh Dungeness feast in San Francisco someday, I was thrilled to cook up a little West Coast crab magic in my East Coast kitchen.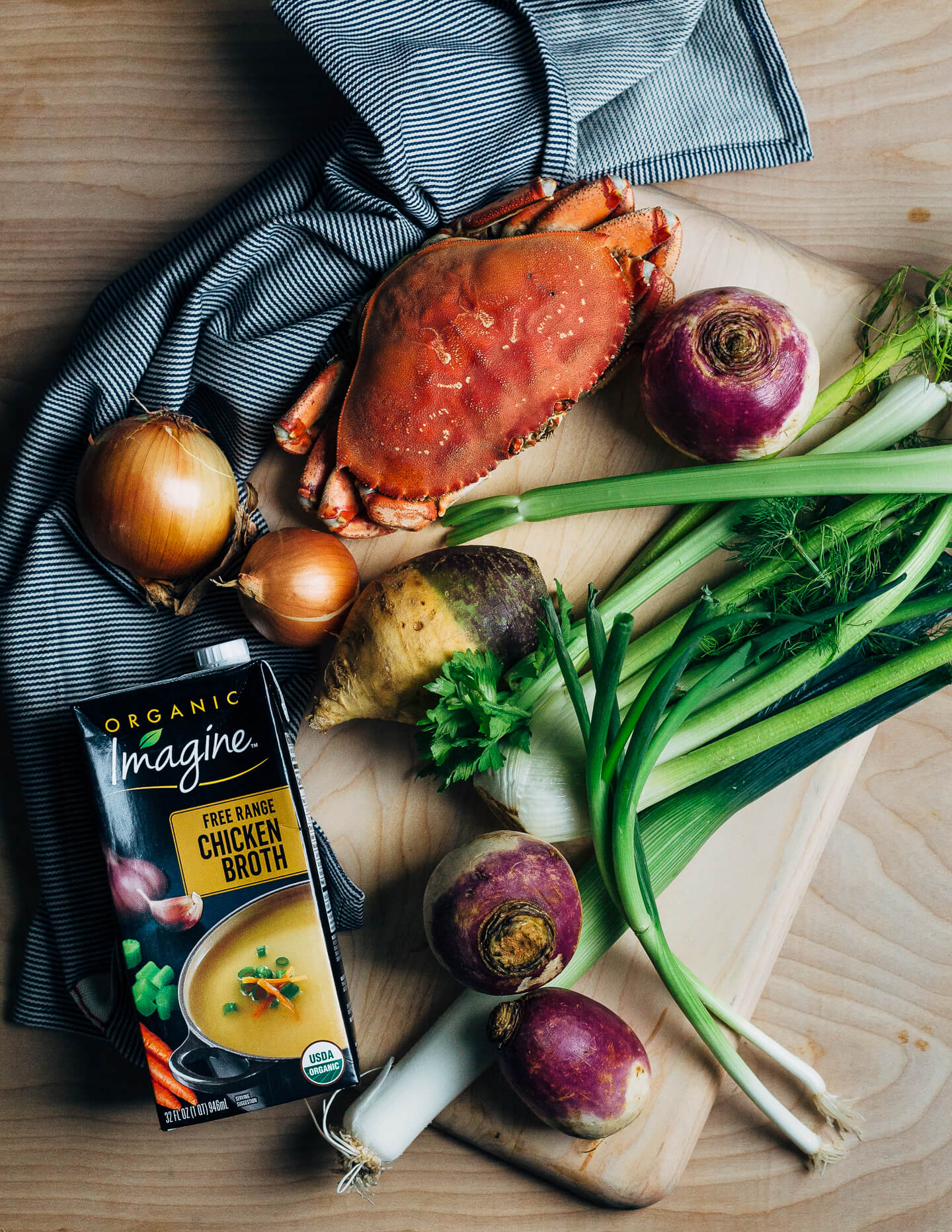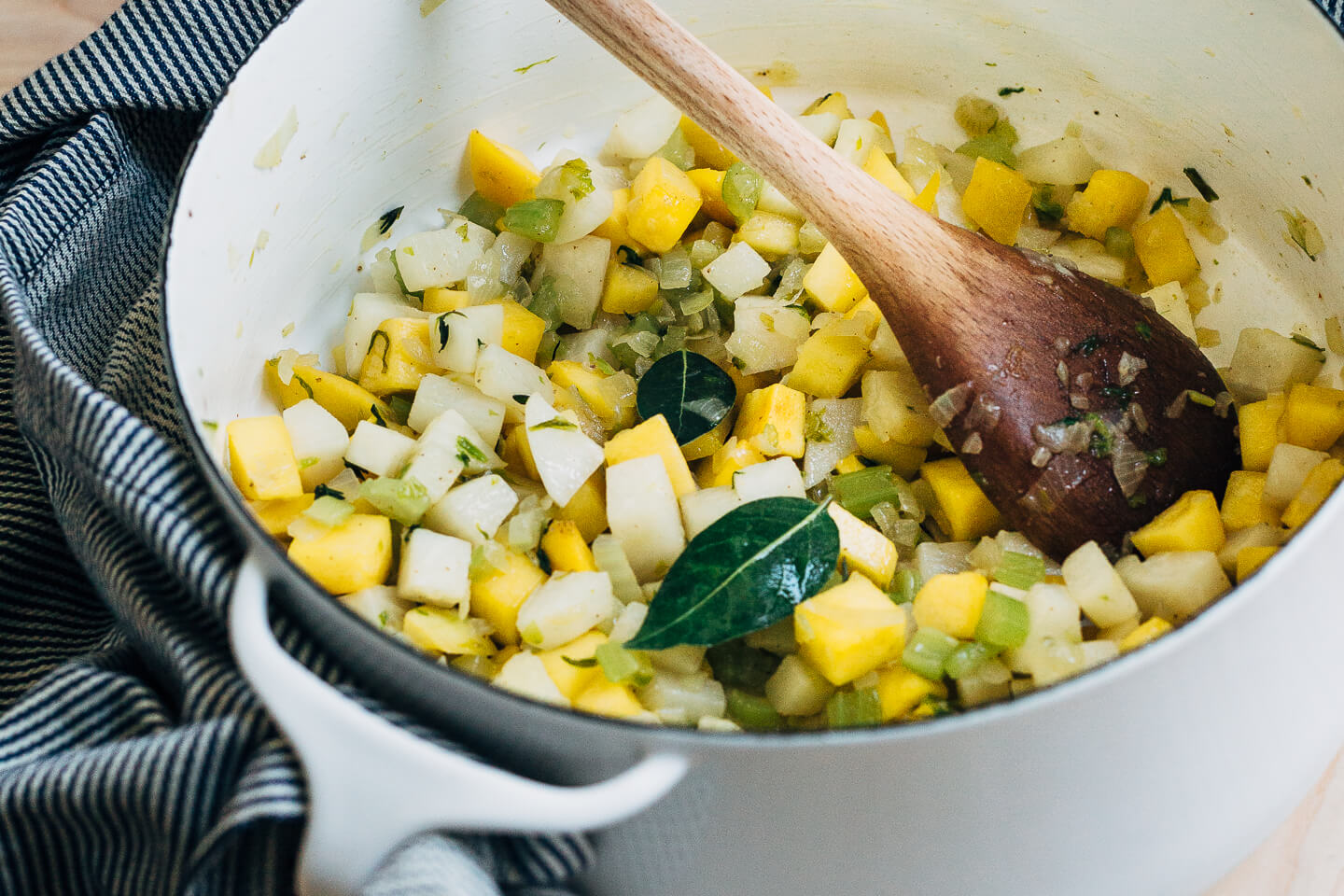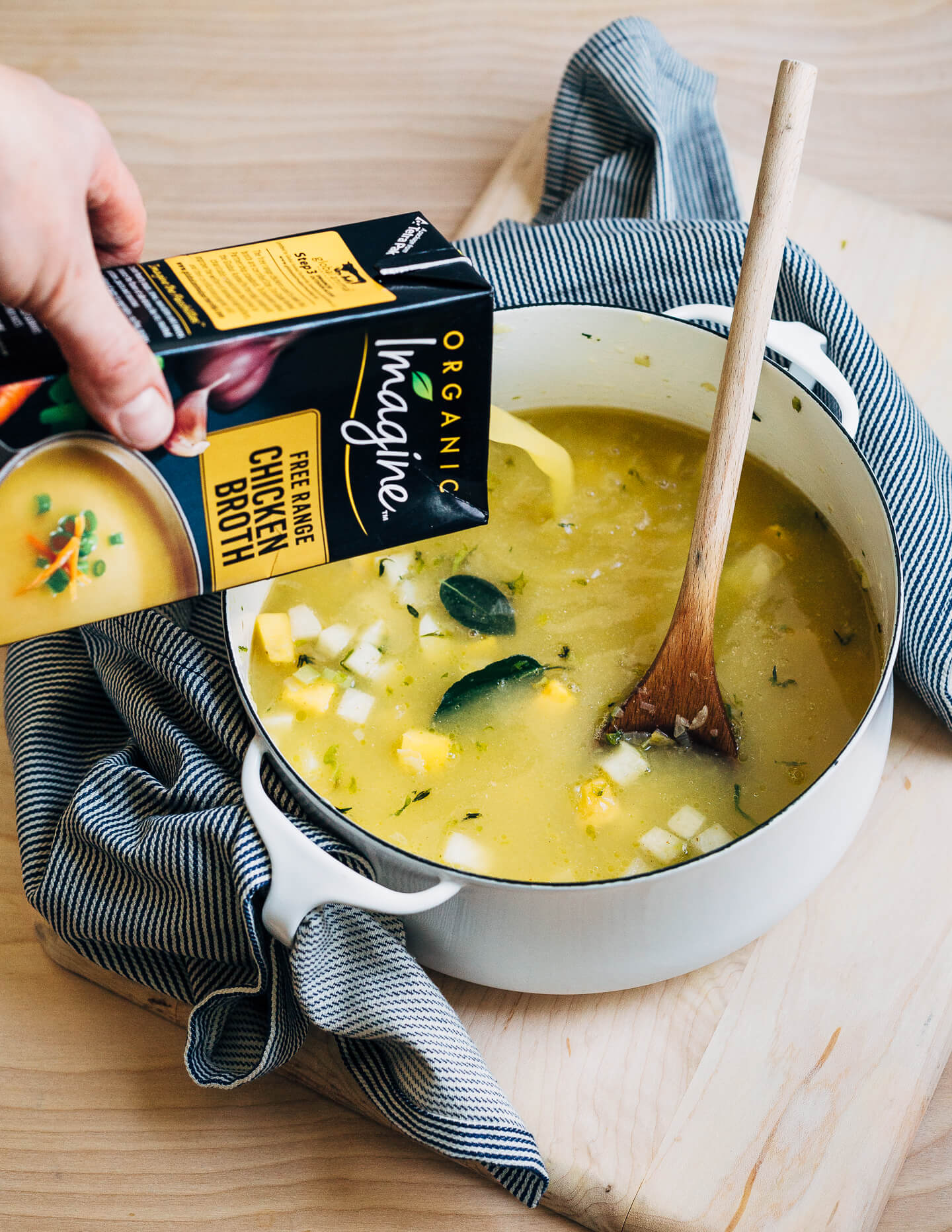 Dungeness crabs have a delicate texture and a pleasantly sweet profile that complements the earthy sweetness of winter vegetables. Simple, healthful Dungeness crab chowder seemed the ideal way to showcase both the crab and the flavors of the season. Root vegetables frequently get short shrift, but – especially in the throes of January – it's worth exploring the range of flavors they offer. While turnips have a peppery bite that softens with cooking, rutabagas have a pronounced sweetness. Together, the two vegetables balance each other and provide a perfect backdrop for the crab.
Carrying the flavors of these carefully sourced seasonal ingredients, was a quart of Imagine® Organic Free Range Chicken Broth. Imagine® broth lends its incredible depth to soups of all kinds, and here, the rich flavors of free-range chicken and fresh vegetables shine through beautifully without overwhelming the delicate flavors of the Dungeness crab. I love that Imagine® sources its ingredients as carefully as I do, and especially value the fact that Imagine® Organic Free Range Chicken Broth scores a Global Animal Partnership Step 3 animal welfare rating. A good broth is the essential foundation of a good soup and Imagine® fills that role wonderfully.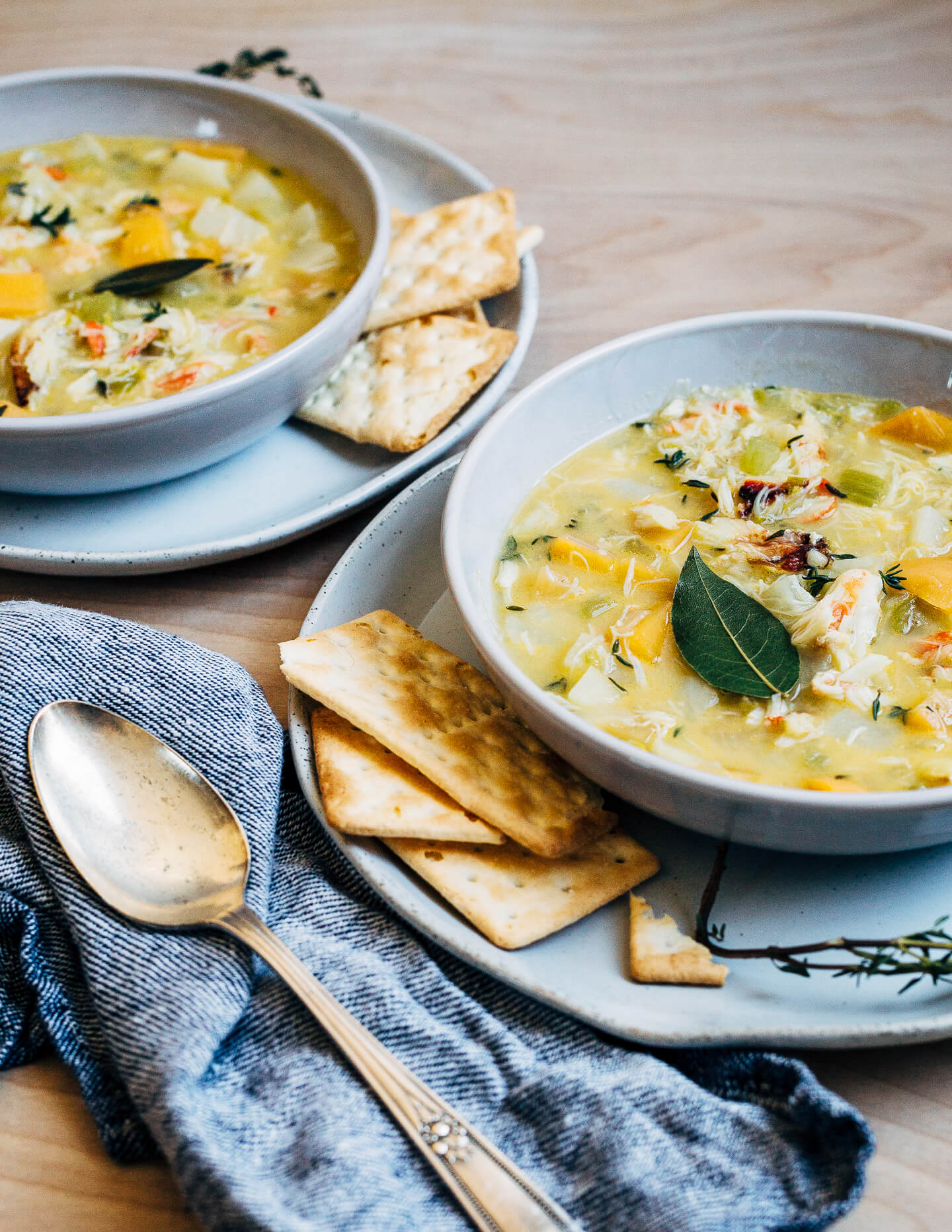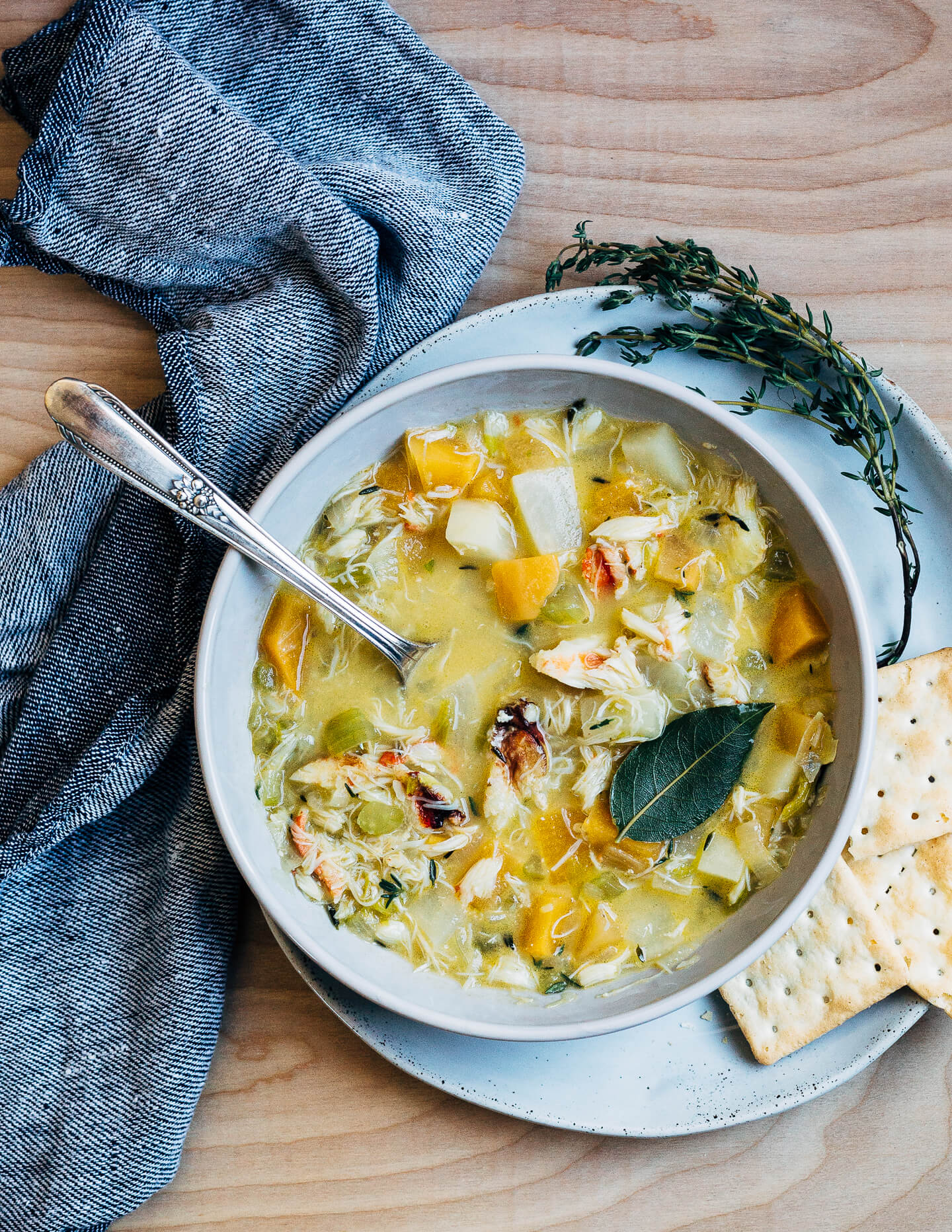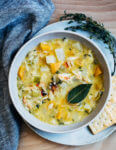 Winter Vegetable Dungeness Crab Chowder
A Dungeness crab chowder that highlights winter vegetables and celebrates the flavors of the season. Though this chowder is made with Dungeness crab meat, King or Snow crab meat would be a fine substitution. Some delicacy of flavor is lost in pre-packaged crab meat, but it can definitely be used here if you need to save a little time.
Makes
:
4
generous servings
Ingredients
2

pounds

Dungeness crab meat

from 2 - 3 whole crabs

4

tablespoons

unsalted butter

1

yellow onion,

diced

1

leek

cleaned well and finely chopped

1/2

teaspoon

sea salt,

plus more to taste

1/2

teaspoon

fresh ground white pepper,

plus more to taste

2

small rutabagas,

cut into a 1/2-inch dice

2

small turnips,

cut into a 1/2-inch dice

2

bay leaves,

preferably fresh

2

tablespoons

thyme leaves

1/2

cup

dry white wine

1

quart

Imagine® Organic Free Range Chicken Broth

(32-ounces)

2

tablespoons

sherry vinegar

1/2

cup

cream or half and half
Instructions
First, steam Dungeness crab according to these instructions. If using pre-cooked, frozen crab, store on ice in the fridge and cook within 1 day of purchase. Break crab apart and remove all of the meat. Set aside in the fridge while you prep the rest of the soup.

Melt butter in a large soup pot or Dutch oven over medium heat. Add onion, leek, and celery, along with 1/2 teaspoon each sea salt and pepper. Cook, stirring often, 7 - 10 minutes. Make sure vegetables don't brown; adjust heat as needed. Add rutabagas and turnips, and cook, stirring often, 10 minutes more. Add herbs and white wine; cook 3 minutes, stirring to dislodge any brown bits. Stir in broth, bring mixture to a gentle boil, and then turn heat down to a simmer. Cook 15 minutes. Add crab meat and cook 5 minutes more. Finally, stir in sherry vinegar and cream or half and half. Warm over low heat. Taste, and add sea salt or pepper as needed. You may also want to add an extra splash of wine or sherry vinegar to balance sweetness.

Ladle into bowls and serve immediately.

If reheating, warm soup slowly over medium-low heat so as not to overcook the crab.
SaveSave
SaveSave
SaveSave
SaveSave
SaveSave
SaveSave
SaveSave
SaveSave
SaveSave
SaveSave
SaveSave
SaveSaveSaveSave
SaveSave