A sweet and tangy cranberry apple pie recipe with a beautiful decorative leaf crust.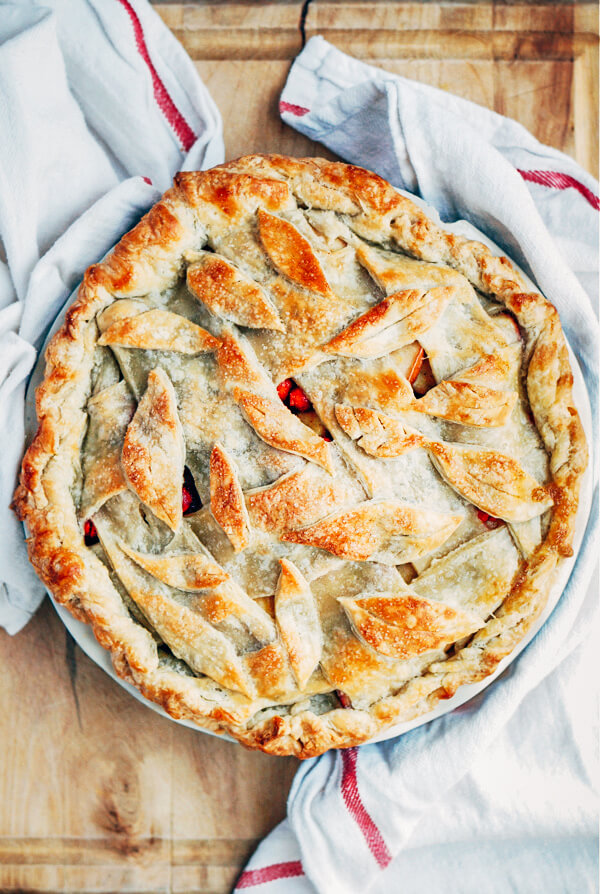 Jump to recipe.
As a kid, I won only two trophies and both were for speech contests. Then, as a full-fledged adult, I doubled my lifetime trophy count with a couple of winning apple pies at the Enid's apple pie contest. (You can read about Brian's experience judging the following year's contest here.) So, yes, I am exactly as nerdy and uncoordinated as you've always suspected. But I make up for it by having some real pie cred.
Good homemade pies start with good homemade dough, and luckily, making your own dough is easier than it seems. For ease of use, I make my all-butter pie dough in the food processor and keep things on the wet side. If I'm trying to win a pie contest or really impress someone, I'll sweat it out trying to turn a pile of buttery crumbs into a crust, but otherwise, I add plenty of water and am able to quickly get the dough into shape. The idea, which came to me through my friend Joe, is that by having a wetter dough, you're working it less and creating less gluten overall. Mostly, though, this helps me maintain my sanity and get the dough made and chilled quickly.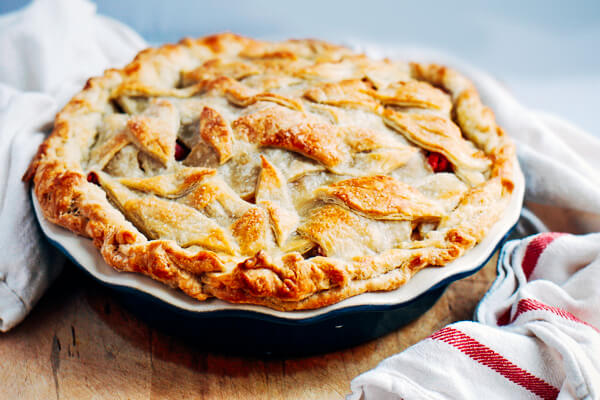 Next is the filling. Forget Granny Smith (too grassy!) and go with whatever apple are fresh, crisp, and flavorful. For this pie I used tangy sweet Crimsoncrisps and Black Twigs. Apples like Empire, MacIntosh, Northern Spy, and Idared are also some of my pie favorites. I don't peel my apples, except on very special occasions. I cut my apples into thick slices so they maintain their firmness. I also add a bit of salt, because I like my sweets a little salty. Frequently, I'll ease way back on the sugar, though this pie got some extra sugar to do battle with the tartness of fresh cranberries. I also usually keep the cinnamon to a minimum, mostly because I find it dampens the brightness of the apples and citrus zest, but here, I found it bridged the flavor of the apples and cranberries nicely.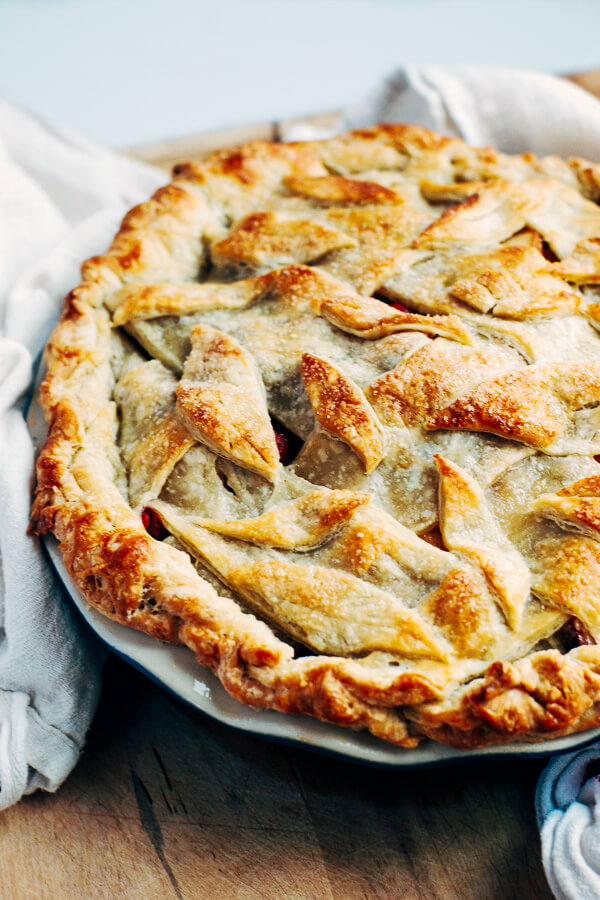 My final words of pie wisdom are this: preheat your baking sheet. A hot baking sheet will help the bottom crust to set up nicely before the fruit sog can get to it.
So, there you have it. My apple pie, explained.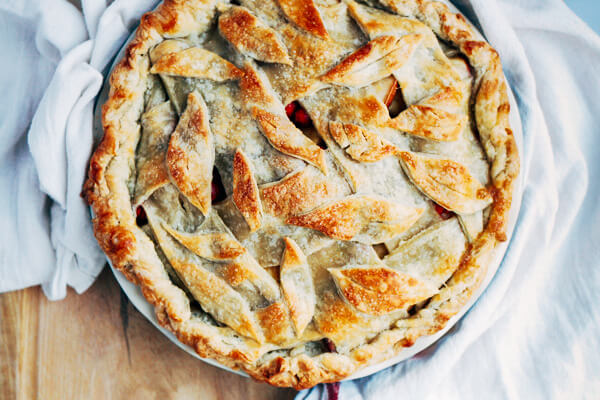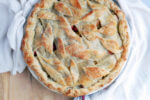 Cranberry Apple Pie
A sweet and tangy cranberry apple pie recipe with a beautiful decorative leaf crust.
Ingredients
Crust
2 1/2

cups

unbleached all-purpose flour

1

teaspoon

salt

1

tablespoon

sugar

16

tablespoons

unsalted cold butter,

rough chopped

2/3

cup

ice water
Filling
6

large heirloom apples,

cored and cut into 1/2 inch thick slices (see notes above for varieties)

1

cup

fresh cranberries,

picked over and rinsed

3/4

cup

turbinado sugar

1/4

cup

flour

zest of 1 lemon

zest of 1 orange

2

tablespoons

fresh squeezed orange juice

1

teaspoon

sea salt

1

teaspoon

fresh ground cinnamon

1/2

teaspoon

nutmeg

1/2

teaspoon

allspice
To Assemble
1

egg white,

beaten

1

tablespoon

sugar
Instructions
First, make and chill crust. In the bowl of your food processor, pulse to combine flour, salt, and sugar. Add butter and pulse 6 -7 times, or until mixture appears crumbly. Drizzle in water and pulse just until dough begins to hold together. Turn out onto a floured surface and gather dough into two equal balls. Flatten into discs, cover with plastic wrap, and chill for at least 30 minutes, or as long as five days.

Preheat oven to 425 degrees F, slide a rimmed baking sheet into the oven, and let that get nice and hot too. Butter a 9-inch pie pan and set aside.

On a lightly floured surface, roll out bottom crust to a 14-inch circle. Press into buttered pie pan and trim all but 1-inch of overhanging dough. Set pie pan into the fridge while you prepare the filling.

In a large bowl, toss together all filling ingredients and set aside.

Next, roll out top crust into a 14-inch circle. For my pie, I created a wide lattice and added leaves. To do this, cut the circle of dough into 2-inch wide strips. If you'd also like to add leaves, use a sharp knife to cut 12 or so leaf shapes out of excess dough, lightly score each down the center, and add lines on the sides to mimic veins. 

Once you have your dough all ready to go, pull the pie pan with bottom crust out of fridge. Spoon apple mixture into crust (leaving out juices at the bottom will help to avoid a soggy bottom crust). Next,

weave lattice according to these instructions

, and crimp edges. Working quickly, bush lattice with egg white and sprinkle with sugar. Add leaves, and then brush each with egg white and sprinkle with sugar.

Place pie on preheated baking sheet and slide into the oven. Bake for 25 minutes at 425 degrees F. Next, rotate pie and turn heat down to 350 degrees F. Bake another 30 - 35 minutes, or until pie is golden and filling is hot and bubbly. If crust seems to be baking too quickly, shield edges with tin foil.

For a cohesive filling and solid presentation, cool pie for 5 hours. If you can't wait that long, be ready for the filling to seep a bit.
SaveSave
SaveSave
SaveSave
SaveSave