A creamy chicken and wild rice soup recipe with kale ribbons and fresh herbs. Comforting and delicious, chicken and wild rice soup is the perfect one-bowl dinner.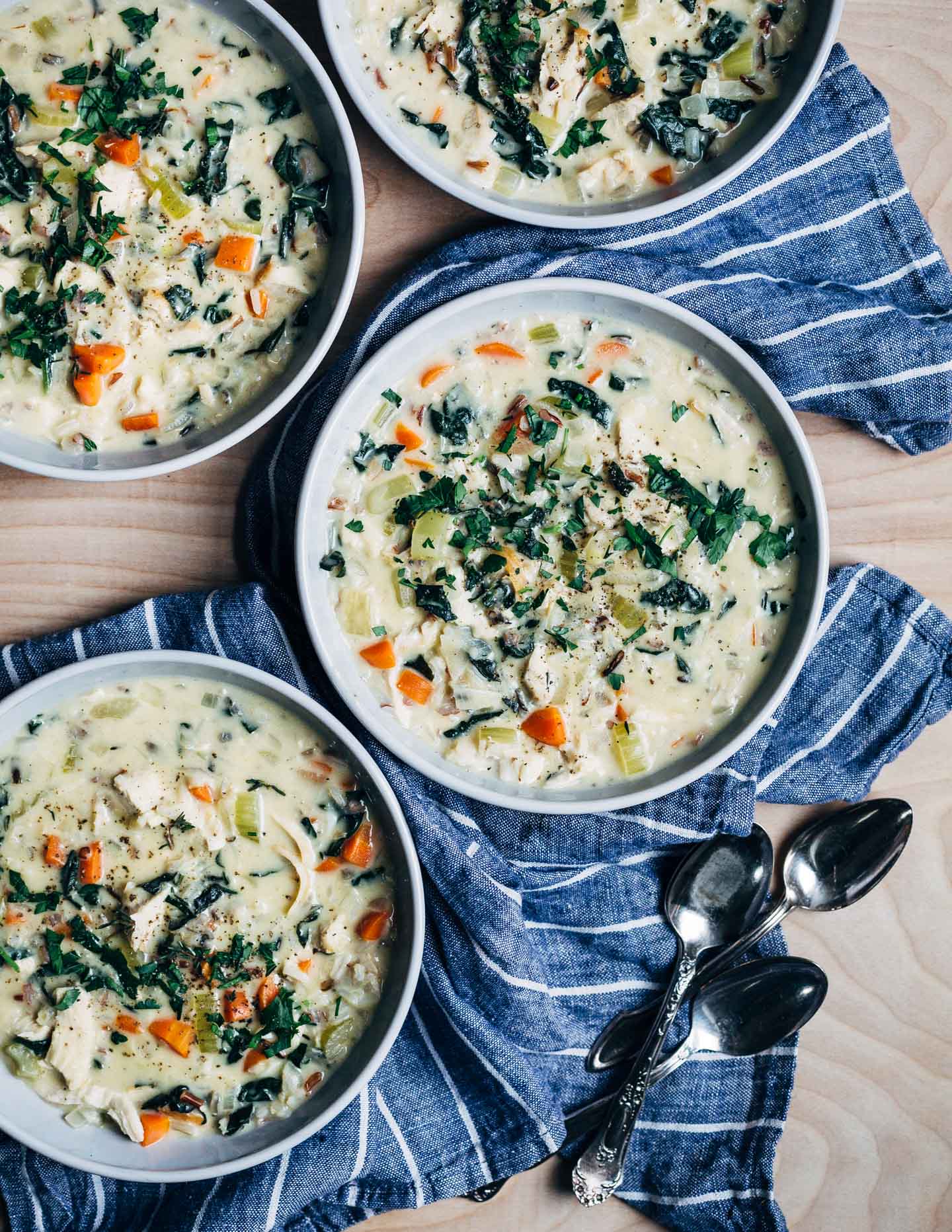 A note to my West Coast readers: watching the wildfire devastation from afar is gut-wrenching. I hope you and your families are safe. It's impossible to imagine the scale of the devastation. My thoughts are with you.
Folks in San Francisco are organizing to help get unhoused folks into vacant hotel rooms so they're not outside under these dangerous conditions. If you can, consider donating here.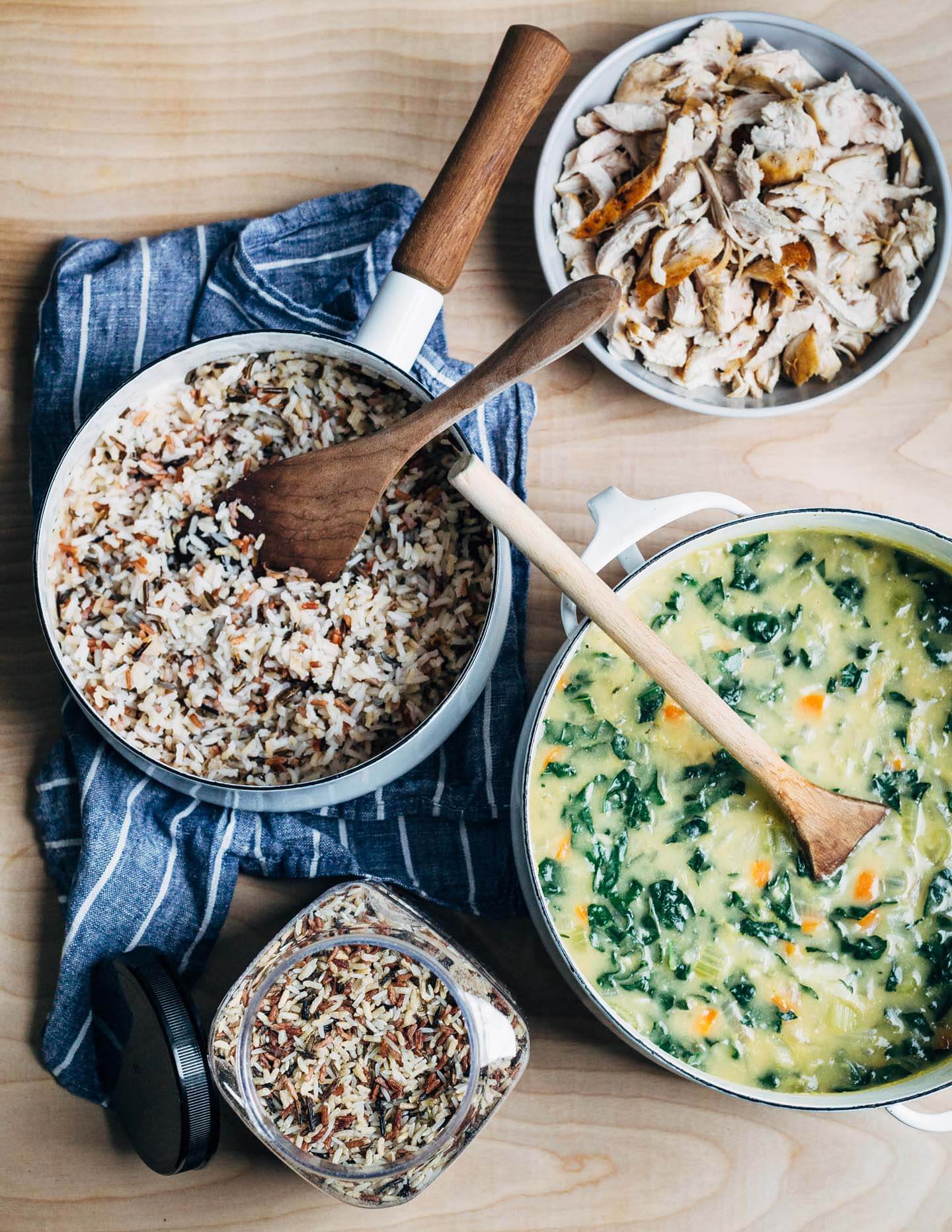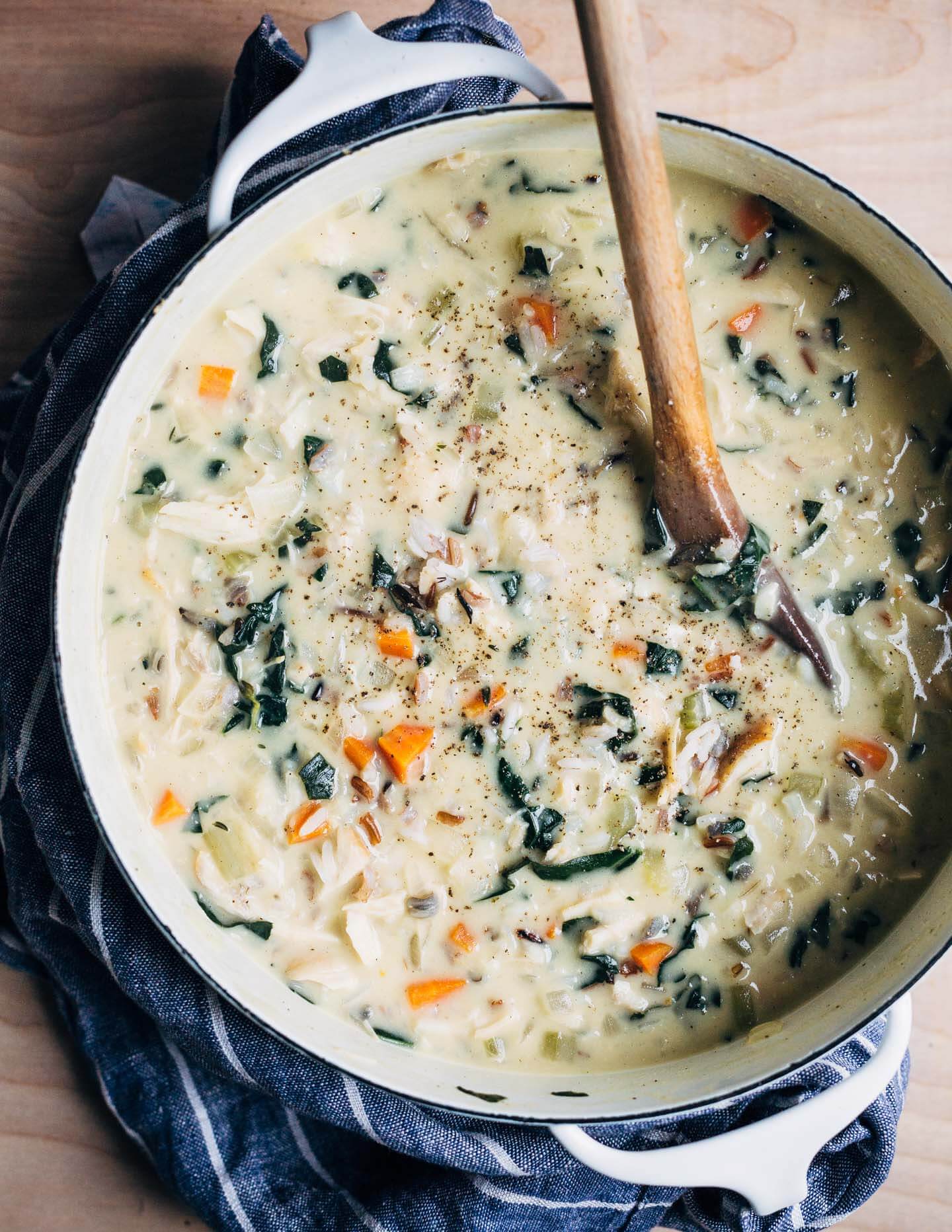 Right now, the house is quiet. My kids are cozied up in front of laptops in their rooms and it seems like they are actually being educated there. There's occasional panic when the technology doesn't do what it's supposed to, but so far, it's going really well. For the first time in six months, I have the quiet and space I need to really get to work. And that's a good thing, because I'm currently swamped.
Swamped enough that getting dinner to the table each night feels like a major accomplishment. But this simple chicken and rice soup is the kind of dish that makes putting a wholesome dinner on the table feel achievable. It starts with essentials like carrots and celery, but there's also kale and fresh herbs. The chicken lends a hearty edge, while the wild rice (I used a blend here) adds texture.
Chicken and Wild Rice Soup: A One Bowl Dinner
To make the soup, start with chicken sautéed in butter until golden and crisp (I used white meat here and loved the delicate flavor it lent the soup). Next onion, celery, and carrots are sautéed in (even more) butter and wine until tender. Then you add some flour, broth, and kale ribbons, and let the soup simmer until it's creamy and thick. Just before serving, fold in the wild rice blend, shredded chicken, and a drizzle of cream, and then tuck into a soup that's complex and rich and comforting. Finish with lots of black pepper and minced parsley.
Gently reheated, this soup is even better the next day.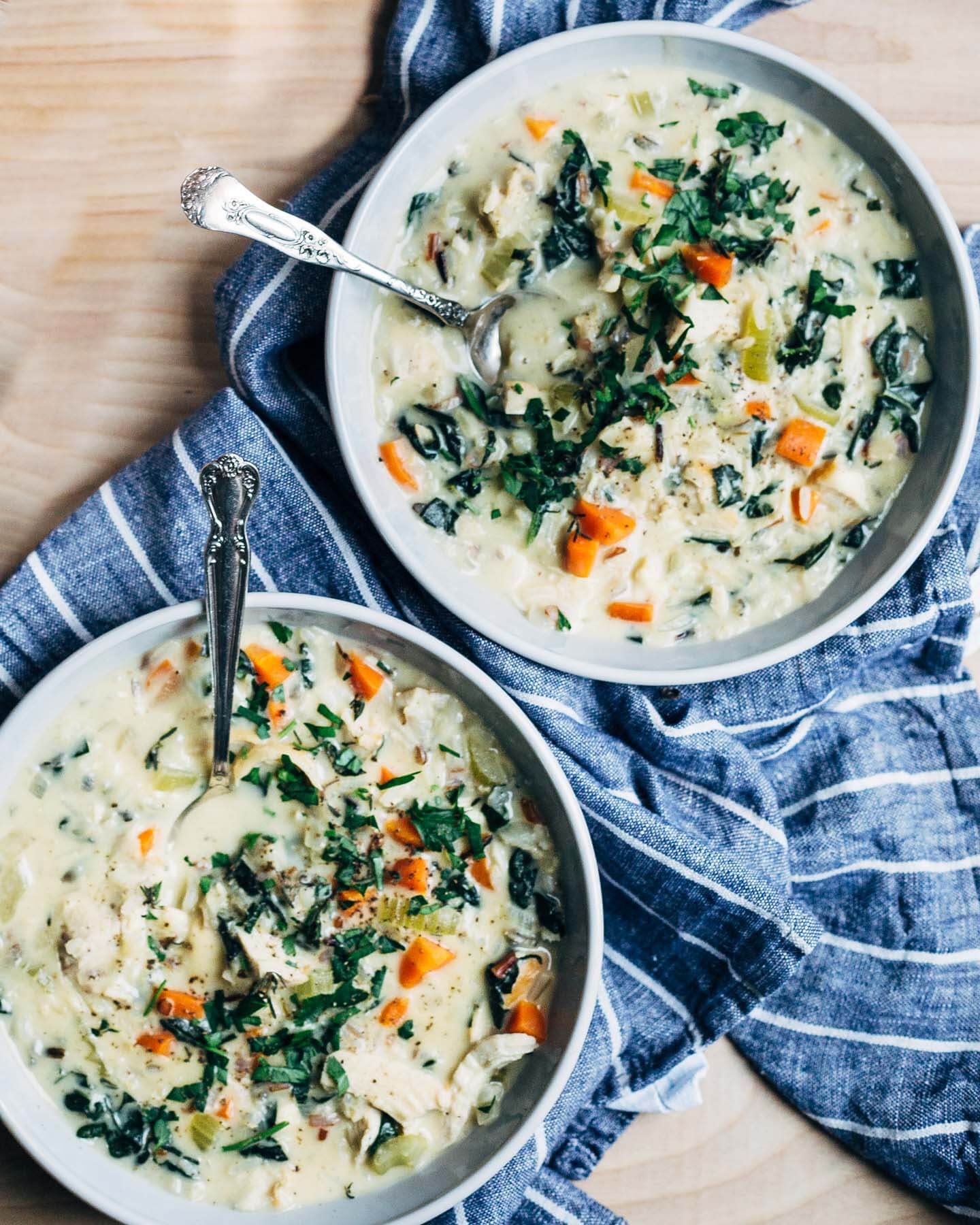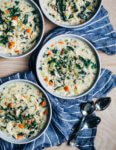 Creamy Chicken and Wild Rice Soup
A creamy chicken and wild rice soup recipe with kale ribbons and fresh herbs. Comforting and delicious, this chicken and wild rice soup is the perfect one-bowl dinner.
Keyword:
chicken and wild rice soup
Makes
:
6
generous servings
Ingredients
1

cup

dry wild rice or a wild rice blend,

cooked to al dente

4

tablespoons

unsalted butter,

divided

2

split skinless,

boneless chicken breasts or the chicken of your choice (about 1 1/2 pounds total)

1

teaspoon

sea salt, divided,

plus more to taste

1/2

teaspoon

fresh ground pepper,

plus more to taste (I like a lot of pepper!)

1/2

cup

white wine

1

medium yellow onion,

diced

2

carrots,

diced

2

celery stalks,

diced

4

cloves

garlic,

smashed, peeled, and minced

1/4

cup

all-purpose flour

5 - 6

cups

low-sodium chicken broth

(reduce added salt if not using low-sodium broth)

1

bunch kale or spinach,

rough chopped

1/2

cup

heavy cream

4

fresh thyme sprigs,

optional

1/4

cup

parsley,

for garnish
Instructions
In a medium saucepan, cook rice according to package instructions with sea salt and butter.

Meanwhile, melt 2 tablespoons butter in a large Dutch oven or braising pot over medium/medium-high heat. Salt chicken on both sides with 1/2 teaspoon sea salt, then sear in butter until golden with an internal temperature of 165 degrees F, 5 - 7 minutes per side. Set cooked chicken breasts on a rimmed plate and set aside. When cool enough to handle, use two forks to gently shred chicken.

In the same Dutch oven, add wine and use a wooden spoon to scrape up any brown bits. Add remaining 2 tablespoons butter, and when melted, add the onion, celery, and carrots. Sprinkle with a 1/2 teaspoon sea salt and the pepper, and cook, stirring often, until tender, about 6 minutes. Add the garlic and cook one minute more. Fold in flour and allow it to brown slightly. Drizzle in broth, adding a total of 5 cups. Fold in kale ribbons and add 2 sprigs thyme (stem and all, if using). Gently simmer soup over medium-low heat and cook 20 minutes. Be sure to stir frequently – soup may stick to the bottom as it cooks. As soup cooks and thickens, add up to 1 more cup broth as needed.

Fold in cream, cooked wild rice blend, and chicken. Add sea salt and pepper to taste. Turn heat to the lowest setting and stir gently until heated through. Ladle into bowls, garnish with parsley and thyme leaves, a few turns of black pepper, and serve.