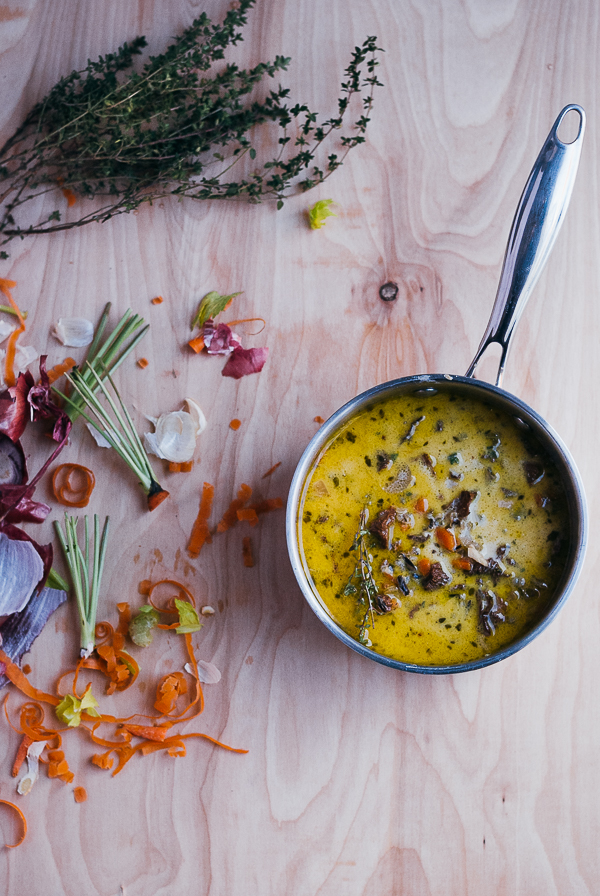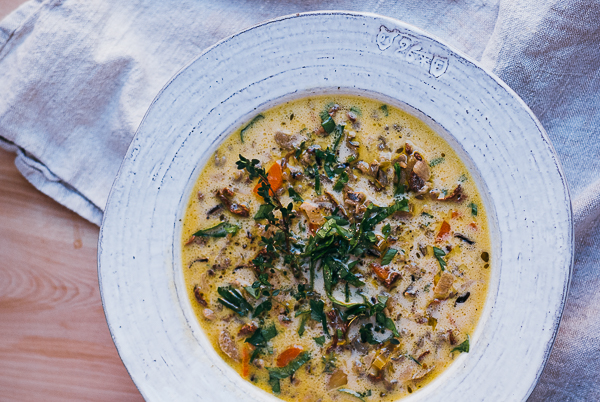 A rich and creamy wild rice and mushroom soup recipe. Jump to recipe.
Last Saturday, we picked up our Christmas tree. Brian wanted to drive to the nice in-town place where we got a tree last year, but heading out to the country to chop down our own was very high on my things-to-do-now-that-we-don't-live-Brooklyn wish list, and because he could see I had my heart set on it, we drove south to a tree farm. As we crossed the county line south of town, I realized that the "just over the river" place I'd picked was actually 30 miles past the river – over winding backcountry roads of varying degrees of pavedness through the rain-soaked Virginia hills and forests shrouded in fog. We arrived, were given instructions by a kind older man with a very specific central Virginia accent that is best described as Southern meets Canadian. We set out to find our tree and after some slogging through wet fields selected a Norway spruce. Instead of chopping, Brian sawed it down with a dull hacksaw. After we carted it back, paid, and tied it to the car, we happily made our way home, stopping at our favorite rural pizza place (our favorite pizza in Virginia!) on the way back.
In the backdrop of all this merriment, there are a few stressors.
I've been waking with the red lines on my forehead that indicate another night of restless, furrowed-brow sleep. But lately, especially with the holiday season fully underway, I'm cultivating an attitude of not worrying about the things I have no power over (which I guess is working, except when I sleep). It's also a good time to count my blessings – we have our health, two sweet girls, a roof over our head, and a big Norway spruce in the living room with just one strand blinking, because that's how I like my trees.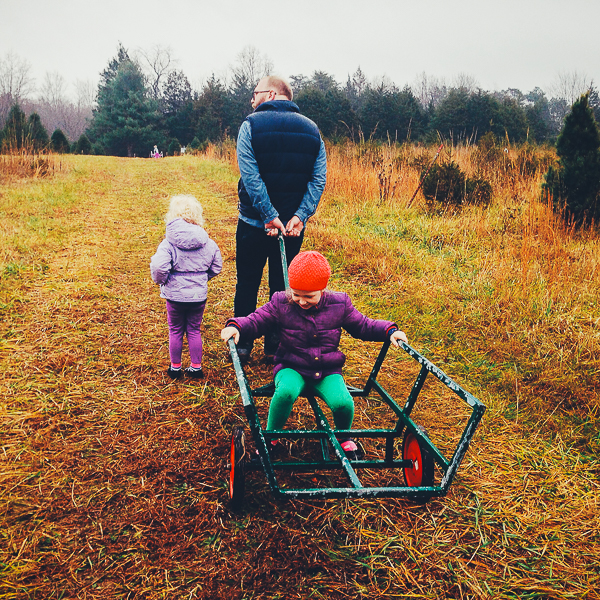 And while I continue to embrace the sprit of the season, I'm taking a break from the confections that go with it. Yesterday, as I sat at my desk, racing through another deadline, it occurred to me that I just can't eat any more cookies. I've been testing recipes all week and had some insane caramel, tahini, chocolate sandwich thing planned, but I just couldn't go through with it.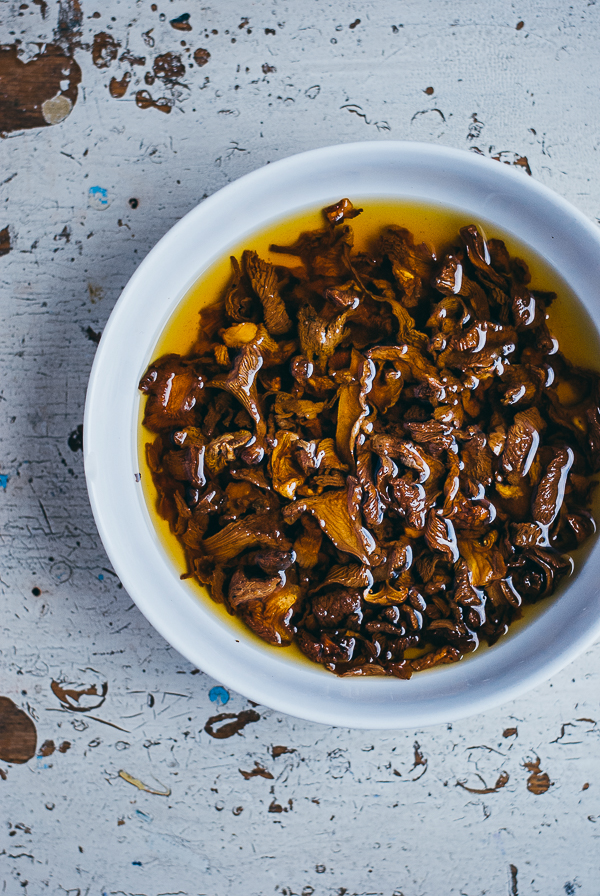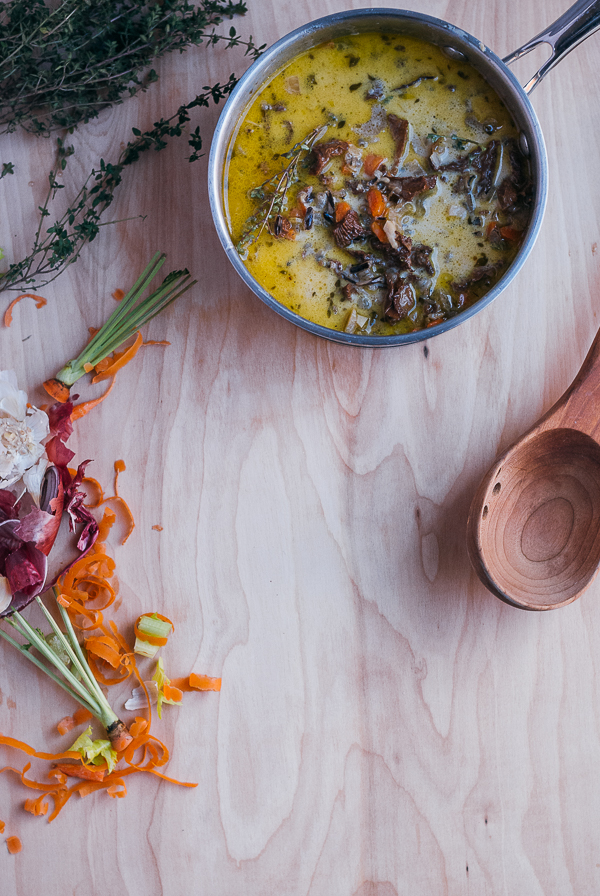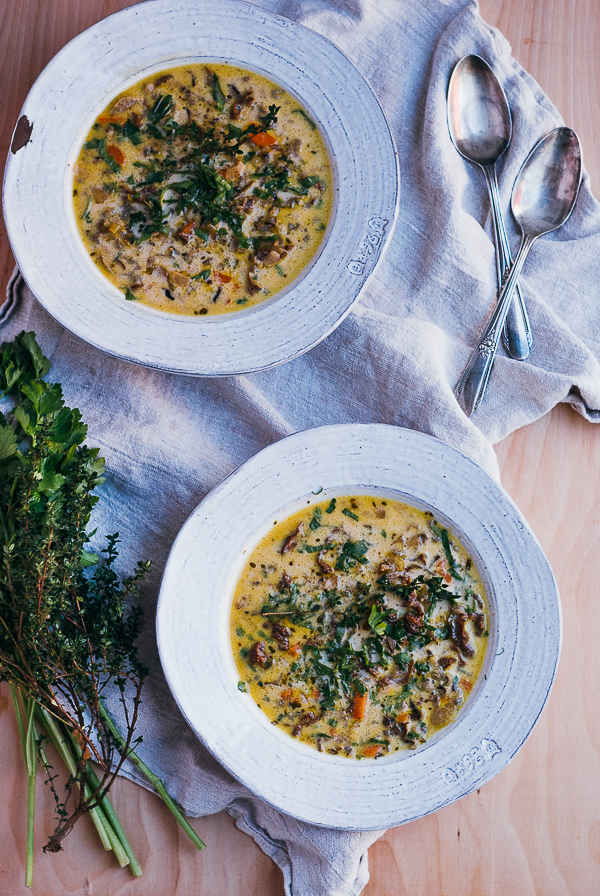 Instead, I went to the freezer and pulled a jar of broth. And then I drank a quart of it. It was perfect. Today, even on a sunny, mild December day, weather forecasts from New York to San Francisco tell me that we could all use a little soup. This wild rice and mushroom soup is cobbled together from my pantry, making use of a bag of dried mushrooms and a half bag of wild rice. A deeply savory, soul-soothing break just before we launch back into the saccharine thrills of the season.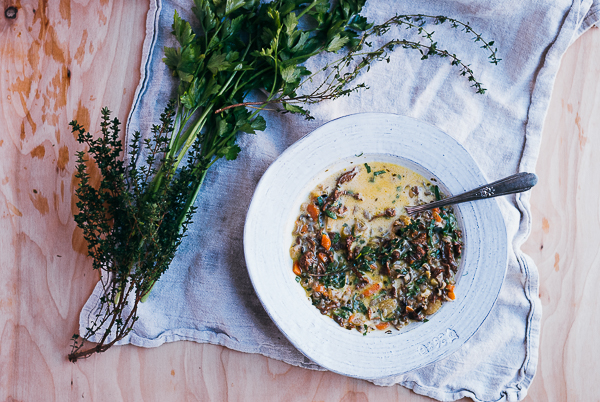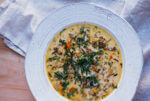 Creamy Wild Rice and Mushroom Soup
A rich and creamy wild rice and mushroom soup recipe.
Ingredients
1

cup

dried mushrooms

(I used a mix of oyster and shiitake)

1/2

cup

dry wild rice

, rinsed

3

cups

plus 2 tablespoons boiling water

, divided

sea salt and black pepper to taste

4

tablespoons

unsalted butter

1

large onion

, diced

1

cup

diced celery

1

cup

diced carrot

4

large cloves garlic

, smashed, peeled, and minced

1/2

cup

white wine

3 1/2

cups

low-sodium chicken or vegetable broth

4

thyme sprigs

, plus more for garnish

4

tablespoons

minced parsley leaves

1/2

cup

heavy cream
Instructions
In a medium saucepan with a lid, bring all the water to a boil. Pour 2 cups over dried mushrooms and set aside. Stir wild rice into remaining water, add a sprinkle of sea salt, bring back up to a boil, cover, turn heat to low, and cook for 40 - 50 minutes, or until rice is al dente.

After 30 minutes, us a slotted spoon to pull mushrooms from soaking liquid and set aside. Strain mushroom soaking liquid through a cheesecloth or coffee filter, and reserve.

In a 4-quart, heavy bottomed soup pot, melt butter over medium-high heat. Add onion, sprinkle with sea salt and black pepper, and cook until the edges have browned nicely, about 10 minutes. If needed, edge heat down to medium to avoid burning. Stir in carrots, celery, and another sprinkle of sea salt, edge heat back up a bit, and cook for another 10 minutes, stirring occasionally. Add garlic and mushrooms and cook for 5 minutes longer.

Pour in white wine, being sure to scrape up any browned bits; cook for 2 minutes.

Add stock, mushroom soaking liquid, and thyme. Turn heat to high and bring soup to a boil, then turn heat to medium-low and simmer for 20 minutes. Add cooked rice so that it simmers in the soup for about 10 minutes. As soup simmers, check salt and pepper levels and adjust as needed.

Just before serving, stir in cream. Ladle into bowls and garnish with a sprig of thyme and minced parsley.
SaveSave