A recipe for simple canned crushed tomatoes.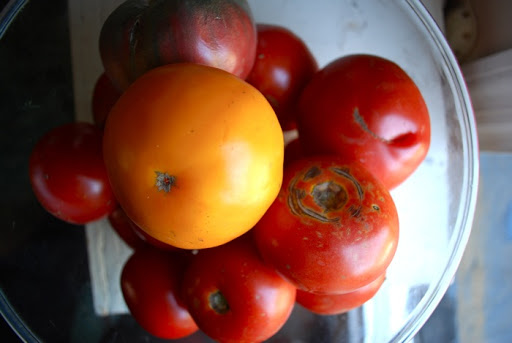 One of the downsides to eating seasonal and local is that around the middle of February, you start to feel really desperate for a tomato. Then you break down and buy some at the store and they're disgusting because they're tomatoes in February. We used to eat a lot of commercial canned tomatoes in the winter, but we cut back after BPA was found in tomato can liners.*
This year things will be different. Thanks to my slowly improving water bath canning skills, we are putting up many summer ingredients, especially tomatoes. It's going to be a little slice of tomato heaven and you can get in on this sweet action, too!
This recipe is straightforward and easy to follow; if you are new to canning, check out the Ball canning site for the basics of home canning and safety tips. All jars should be sparkling clean and well-inspected before use. Always use new sealing tops, but feel free to reuse the rings and jars as long as they are in good condition.
*Note: Ball jar lids are also lined with BPA, but if you're storing them upright, the contents won't come into too much contact with the lid. However, if you're worried about it, you can use the kind of jars with the glass lid and rubber seal.
This recipe has been updated and can be found here.