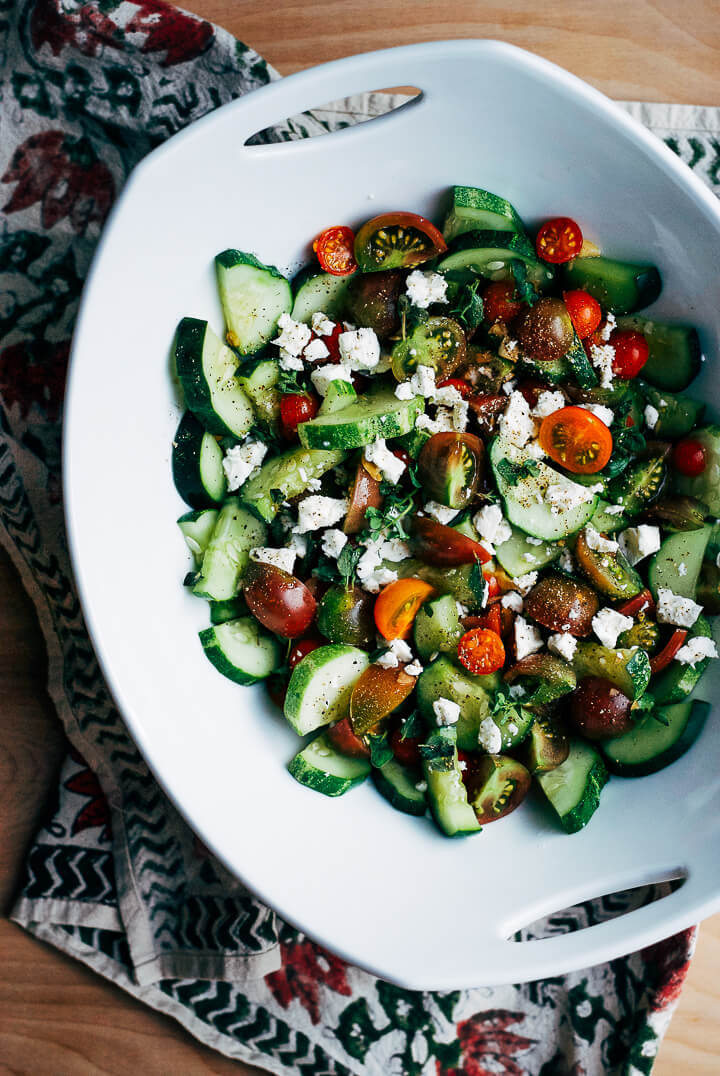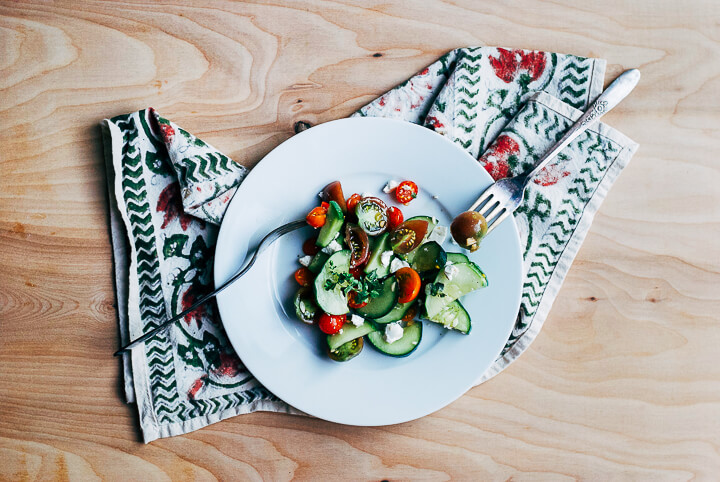 Enjoying all the simplicity of summer eating with an effortless cucumber-tomato salad recipe. Jump to recipe.
Watching the calendar turn over into August has been a huge relief. Summer has me feeling a little lost. Perhaps the chaos outside – tangled vines upon vines and teeming wildlife – can't help but creep in. Last night, I found myself imagining sipping a mug of tea on a cold, gray January day in a nearly silent house. And there's the truth of the matter – it's not the weather or the bugs or even the summer that's getting to me, it's the lack of quiet. There's no time to collect my thoughts or reflect.
But now, more than ever, I'm craving the space for reflection. Since spring, the long held dreams I've had for the blog in terms of audience and recognition have started to really happen. I've worked hard and wanted this, but if I'm being honest about things, part of me prefers working in obscurity. I sort of have a track record of squandering opportunities or backing off when success feels imminent. Opening up to a bigger audience, more eyeballs as they say, makes me worried I'm going to do it again. Don't mess this up, all those eyeballs and clicks seem to tell me.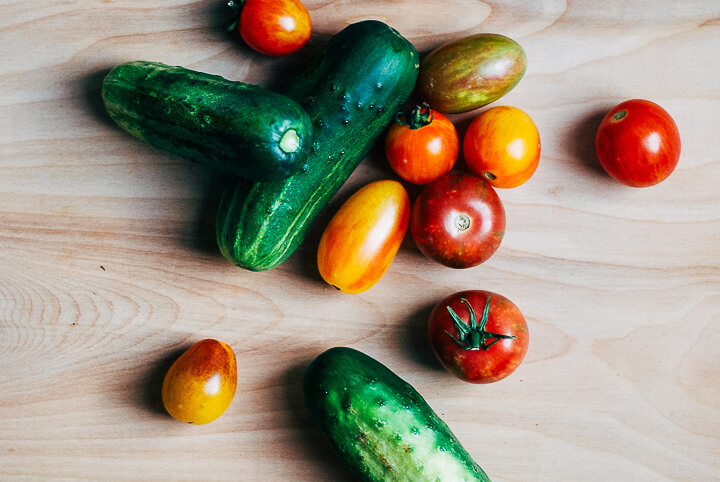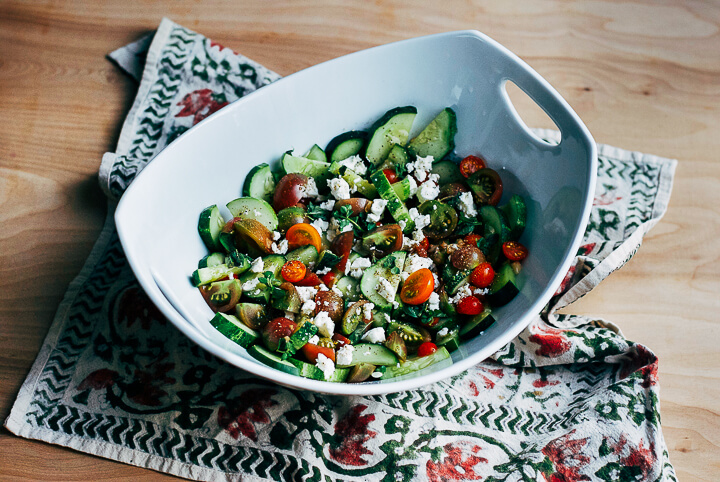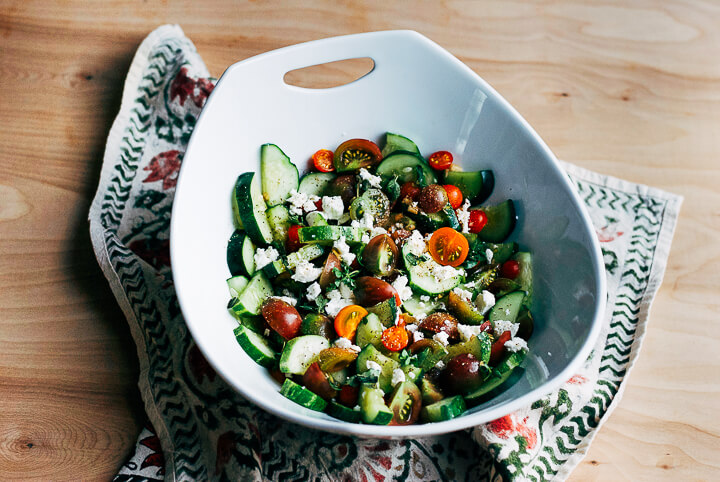 When I'm not trying to succeed, I can brush off accomplishments and failure equally. If you don't like me or my work, it's fine. "I'm doing this for myself," I can say. But expectations? They can't be shrugged off as easily. Owning my accomplishments, accepting the expectations, it's a way of putting myself on the line. The minute I say "I want this," or "I'm doing this," that's the same minute that failure becomes a possibility. And it's terrifying.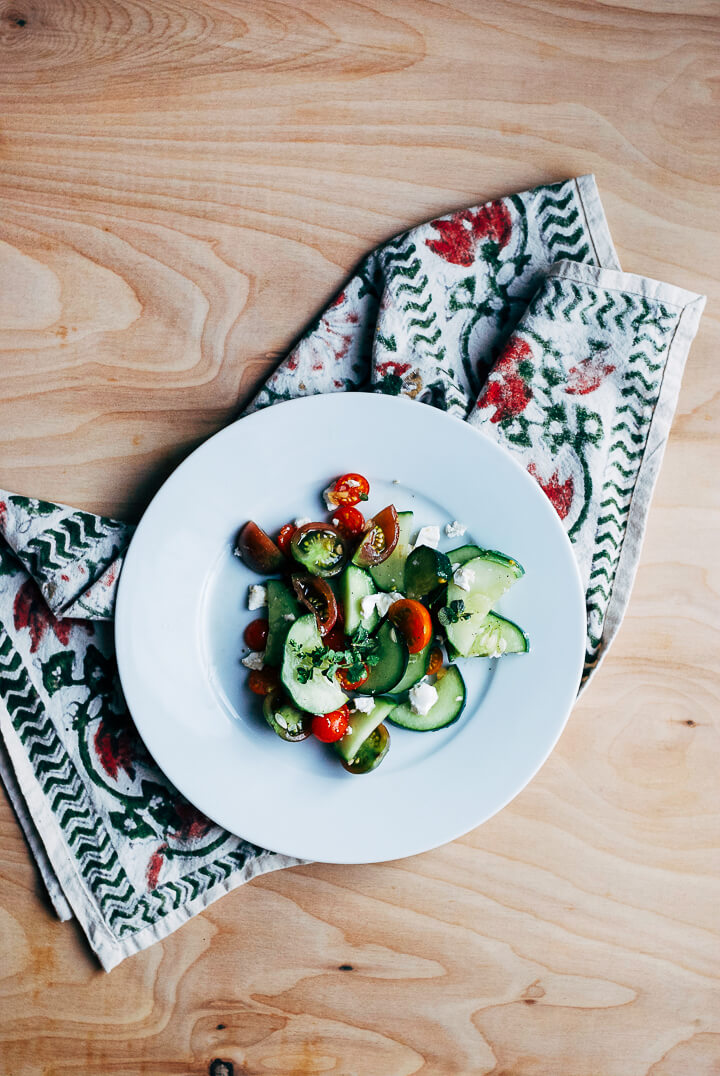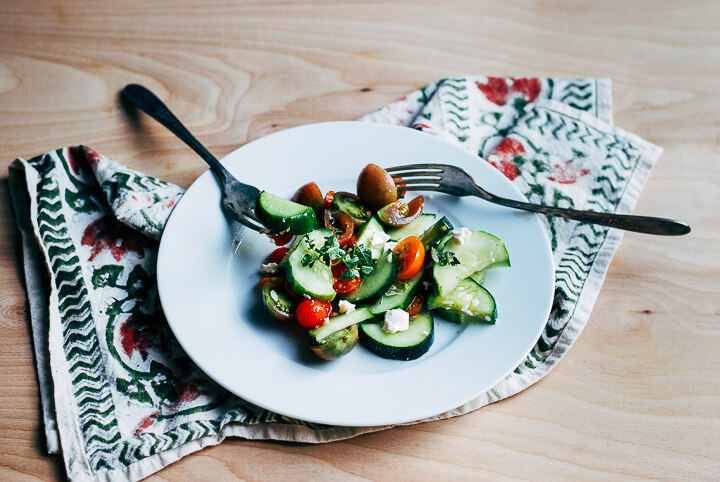 Chaos, the potential to fail, it's heavy stuff – no wonder I've been weird in the kitchen. At least it's the perfect time of year for simple food to save the day (or the dinner). This cucumber-tomato salad's been on the table more days than not lately. Lettuces don't do well at the height of the Virginia summer, so we make our salads from what we do have plenty of – cukes and tomatoes. Our CSA has been churning out piles of delicious, faintly sweet cucumbers and our garden, with only two tomato plants, is still putting out nearly a pint a day. To these perfect summer gems, I add only a few splashes of vinegar (I found a mix of sherry and balsamic provided just the right amount of umami) and a quick hit of olive oil, plus just a bit of minced garlic, fresh tarragon, and oregano.
Cucumbers have varying levels of cucurbitacin, which can cause the skin and outer flesh to be bitter. The only way to know if you have a bitter cucumber is to taste it. If it is bitter, remove the peel and cut slightly thicker slices – otherwise, serve your cukes up, peel and all. If I have the time, I like to salt and drain my cucumbers, I find it makes for a silkier, more concentrated cucumber flavor and leads to much less cucumber water collecting in the bottom of the bowl.
This makes wonderful leftovers – though the fresh oregano will turn black overnight, so it's best added just before eating.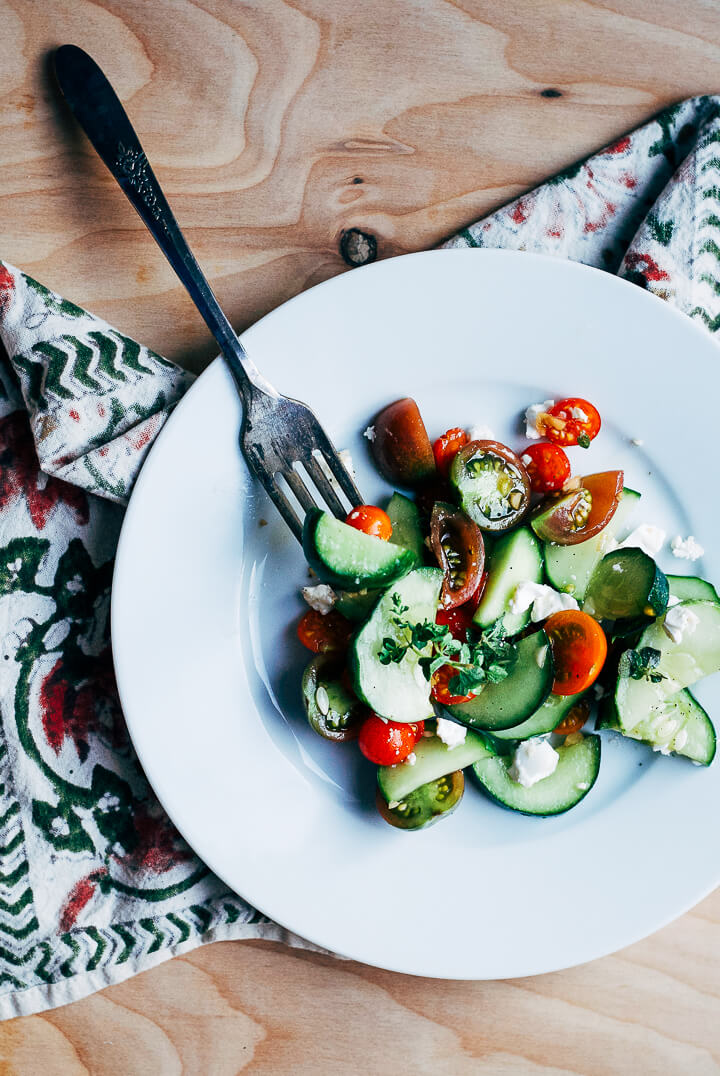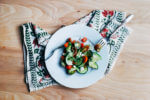 Cucumber-Tomato Salad with Garden Herbs
Enjoying all the simplicity of summer eating with an effortless cucumber-tomato salad recipe.
Ingredients
4

small cucumbers

, sliced into 1/4-inch thick half moons

sea salt

2

cloves

garlic

, smashed, peeled, and minced

2

tablespoons

sherry vinegar

1

teaspoon

balsamic vinegar

1

tablespoon

extra virgin olive oil

2

cups

halved cherry tomatoes

1 - 2

medium heirloom tomatoes

, cored, seeded and chopped

1

tablespoon

tarragon

1

tablespoon

fresh oregano leaves

1/2

cup

crumbled feta*

(goat's milk feta is my fave)

*optional
Instructions
Set cucumbers in a colander over the sink and toss with several pinches sea salt. Allow cukes to drain for at least 20 minutes; toss cucumbers and shake colander every so often.

Meanwhile, in a small bowl, use a fork to whisk together garlic, a good pinch of sea salt, sherry and balsamic vinegars, and olive oil.

In a large salad bowl, toss drained cucumbers with half the dressing. Add the tomatoes and drizzle with remaining dressing. Toss very gently. Adjust salt levels and add freshly ground black pepper to taste. Finally, finish with crumbled feta and fresh herbs.