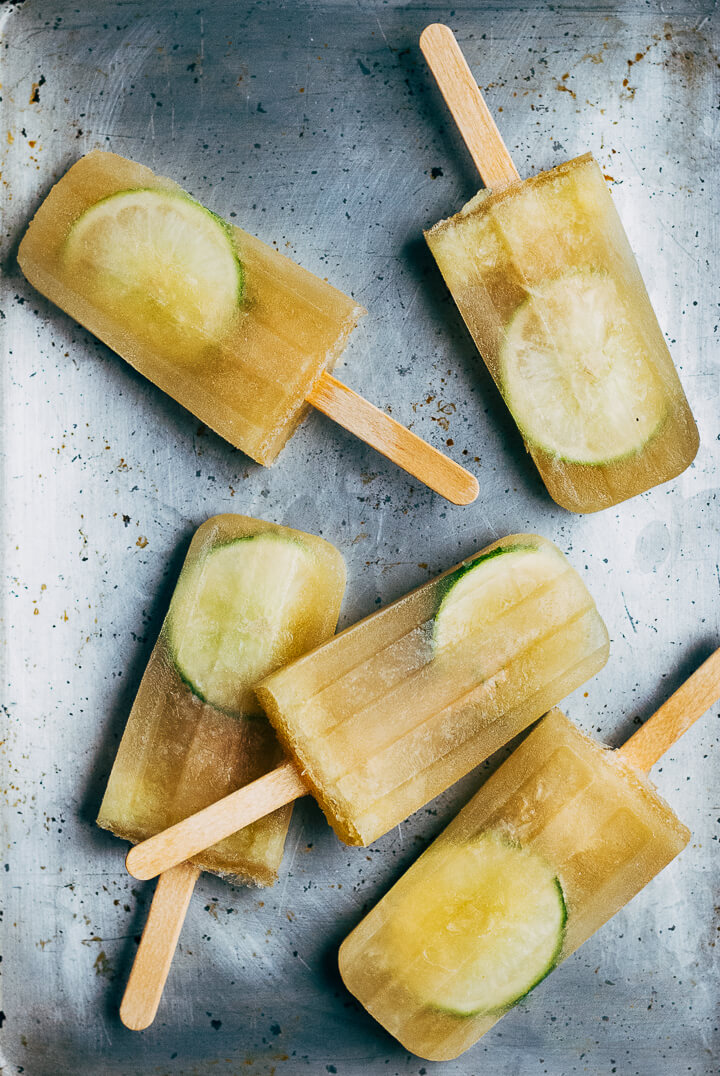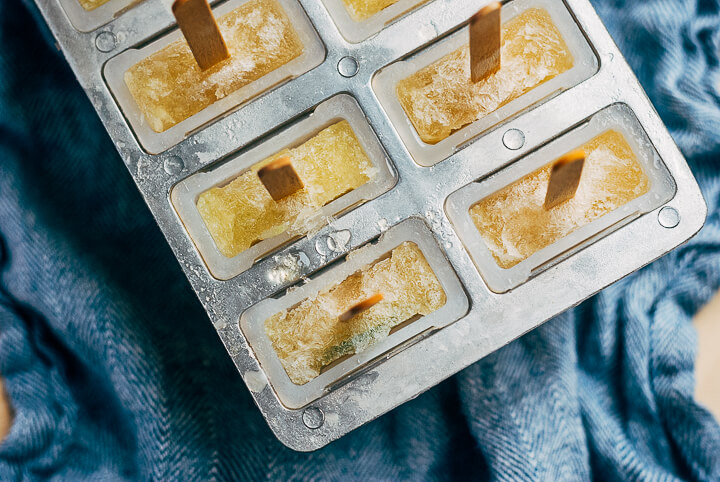 A simple recipe for refreshing, boozy Dark and Stormy popsicles. Jump to recipe. 
Grocery stores often label the popsicle aisle "Frozen Novelties." In a world of extreme buffalo chicken pockets and microwave breakfast sandwiches with waffles for bread, being singled out as a field of food notable for novelty is a big deal. Luckily for those of us who like to push limits, there's a vast expanse of popsicles entirely unexplored by the giants of ice pop manufacturing, probably due to their own uptightness and that of our legal system. We're talking about boozy popsicles.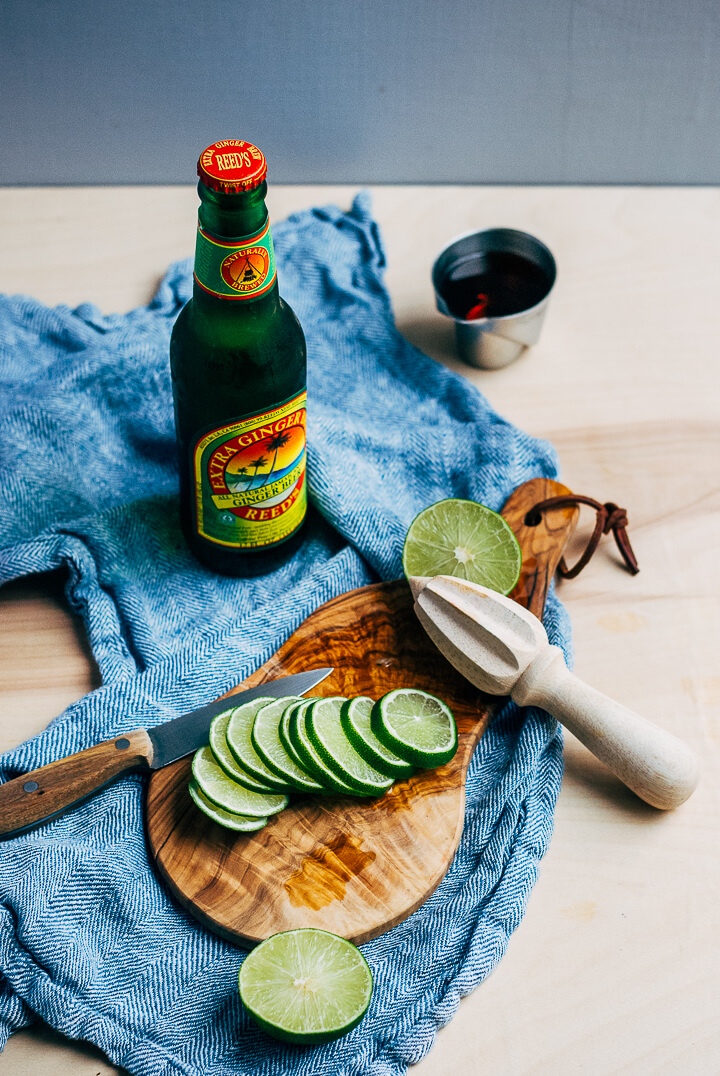 Even more luckily, the appeal of boozy pops extends far beyond the pursuit of novelty. An ice pop is cold and refreshing, a summer cocktail is likewise. Combining the two only enhances the effect of each. For these, I went with one of our favorite summer drinks, the Dark and Stormy. Rum drinks often play up rum's natural sweetness with a heavy dose of sweet fruits, I like how the Dark and Stormy goes the other direction, allowing the rum to complement the spiciness of a good ginger beer and the tartness of lime.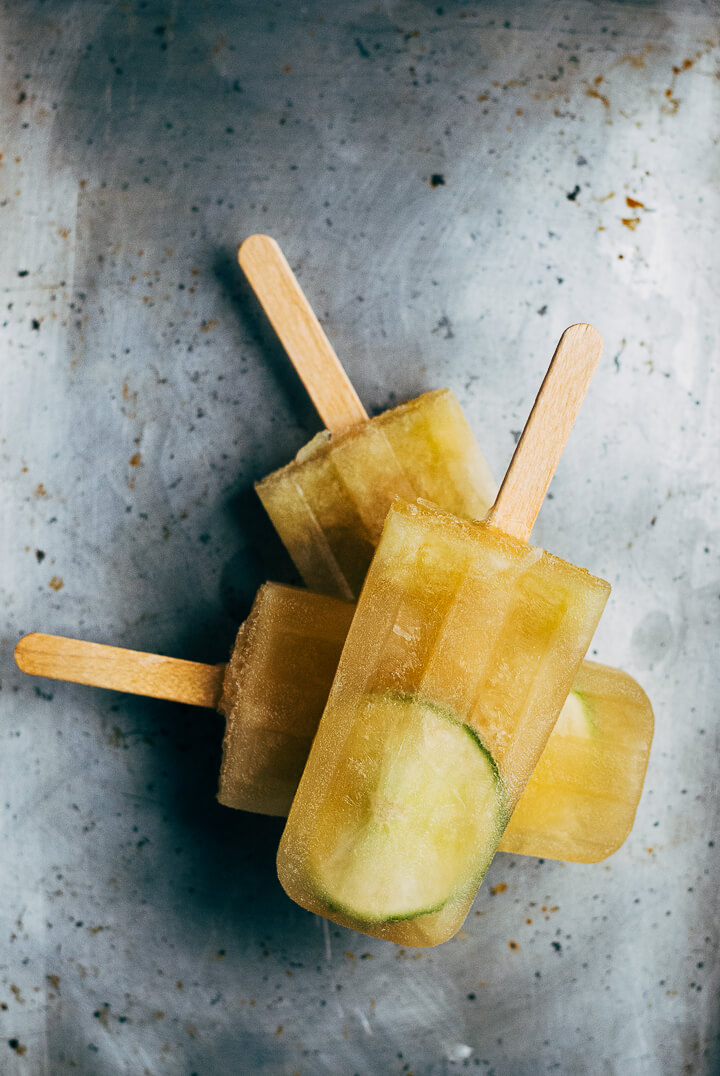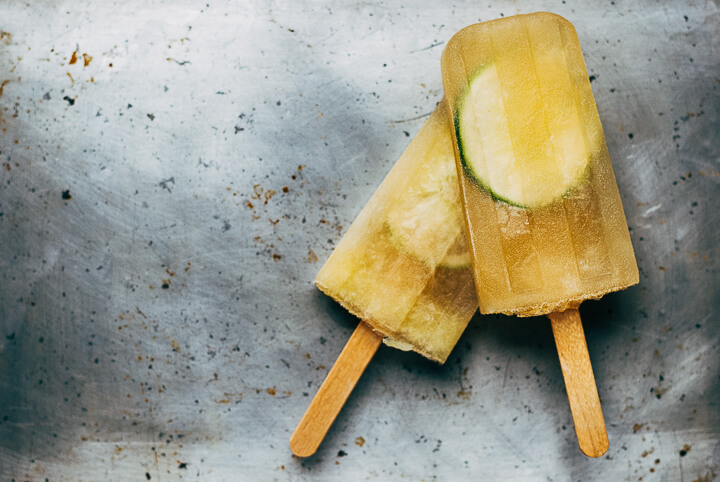 These pops play up the flavors of the Dark and Stormy by adding a little fresh ginger in the form of a homemade ginger simple syrup and adding some fresh lime juice, while still keeping it as a garnish of sorts. One word of advice is to get a good ginger beer like Reed's or even a spicy ginger ale like Blenheim. The standard grocery store two liter just doesn't have the piquancy that really makes these pops sing.
And hey, did you know it's officially (hashtag) Popsicle Week? Yep. Put together by the talented and hilarious Billy of Wit and Vinegar, this year's Popsicle Week madness features more than 100 recipes. Check out the popsicle week page throughout the week for all the popsicle inspiration you can handle. For last year's popsicle week, I made striped berry buttermilk popsicles – you should probably check those out, too.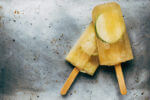 Dark and Stormy Popsicles
A simple recipe for refreshing, boozy Dark and Stormy popsicles.
Makes
:
10
(2-ounce) popsicles
Ingredients
1/2

cup

sugar

1/2

cup

water

4-

inch

knob of fresh ginger

, peeled and thinly sliced

1 12-

ounce

bottle of ginger beer

1/2

cup

dark rum

1/4

cup

freshly squeezed lime juice

(about 2 limes)

1

lime

, very thinly sliced
Instructions
Pour the ginger beer out in a large bowl and set aside. (The idea here is to let some of the carbonation fizz out of the popsicle so it doesn't overly expand while freezing.)

To make the ginger simple syrup, combine the sugar, water, and ginger slices in a small saucepan over medium heat. Stir until sugar dissolves, then set aside to steep for 10 minutes. Strain into a jar with a tight fitting lid.

To make the popsicles, combine the reserved ginger beer, 1/4 cup ginger simple syrup, dark rum, and lime juice, and pour into popsicle molds, leaving about 1/2-inch of space at the top to allow for lime addition and expansion as it freezes. Push a slice of lime into each mold, set sticks in place, and freeze. Since they're boozy, popsicles will cure best when frozen overnight.