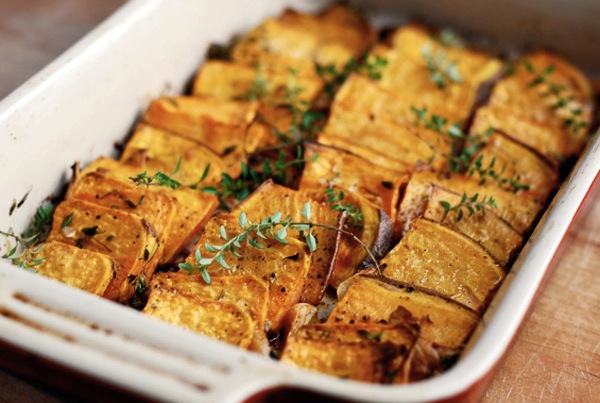 As we ease into the middle of November, Thanksgiving looms pretty large. Very slowly, we're gearing up. With a small group expected, we're planning to simplify things by skipping some of the tired Thanksgiving staples (Sweet potato casserole, I'm looking at you). But you know, you can't just ditch a holiday favorite without  a replacement waiting in the wings, so I've been trying out sweet potato recipes all week.
I started with this simple roasted sweet potato, oozing with butter and brown sugar. Somewhere between dinner and dessert, it's totally simple, but so, so delicious. And then I tried a version of these domino roasted potatoes with sweet potatoes and loved the results. Savory, a little sweet, caramelized tips––pretty much perfect, if not for Thanksgiving, then for a chilly night some time in the not-too-distant future.
Domino Roasted Sweet Potatoes
serves 6 – 8
4 large sweet potatoes, scrubbed
2 tablespoons olive oil
2 tablespoons butter, melted
8 cloves garlic, smashed and peeled
1 teaspoon sea salt
1/2 teaspoon fresh-ground black pepper
4 sprigs thyme, plus 2 tablespoons thyme leaves for garnish
Preheat the oven to 375 degrees. Melt the butter, and mix with the olive oil. Brush a bit of this along the inside of a 9 x 13″ baking dish. Cut the round edges off of the sweet potatoes, and cut them into long 1 1/2 – 2″ rectangles (aim for uniformity). Use a mandoline to cut rectangles into 1/8″ thick slices.
Fan rectangles in rows in the baking dish. Tuck the prepared garlic and thyme sprigs under the sweet potatoes so that they are evenly distributed. Drizzle on the remaining butter and olive oil mixture, and then sprinkle on the salt and pepper.
Place in the oven and bake for 60 – 70 minutes. Check on the sweet potatoes several times while they are baking. Tilt the baking dish, dip your brush in the butter mixture, and brush the tops of the sweet potatoes. Roast until sweet potatoes are cooked through and the edges are a rich golden brown. Sprinkle with fresh thyme leaves and serve.