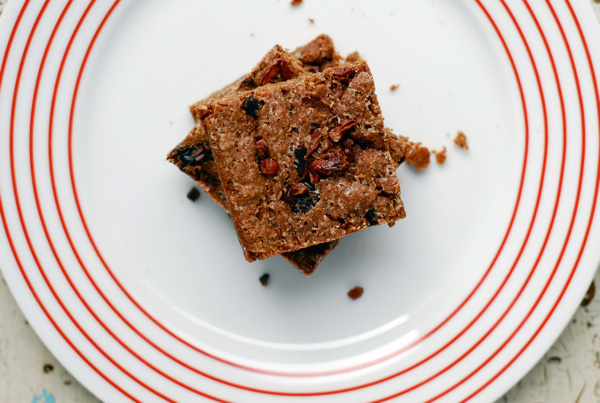 Every girl says this, I know, but I've never been one for Valentine's pomp. Years ago Brian and I swore off even trying to go out to dinner after a 9:30pm reservation at Prune had us actually sitting down at 11pm on a Tuesday night. Still, we usually exchange a record or two (the standard gift for all occasions) and he'll get me some Mast Brothers chocolate and flowers (I may be low key in other regards, but flowers are required.). In a gesture I adore, he also gets flowers for our daughters. And I like to surprise him with something sweet, since Valentine's Day is an excellent excuse to bake up a rich dessert.
Brownies seemed like a good place to begin my Valentine's baking, especially since, after weeks of healthful eating, treats were necessary. These brownies aren't anything crazy––just a simple one pot recipe that can be made in minutes. With tart bursts from dried cherries and pleasantly bitter crunchy moments from the cacao nibs, they're quietly delicious. I subbed in whole wheat pastry flour for all-purpose, and found that it makes for a delightfully wholesome bite. Purists may not like the scattered chunks and chewy bits, but a nod to heartiness seems just right for a cold winter day.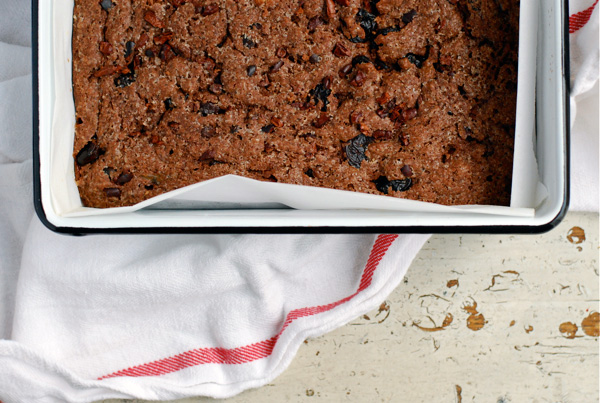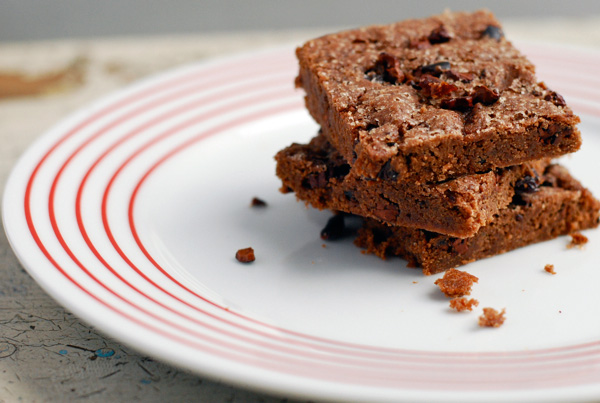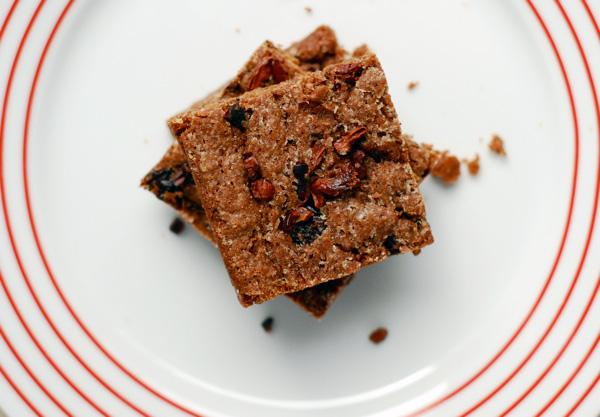 Dried Cherry and Cacao Nib Brownies (adapted from the brownie authority, Smitten Kitchen)
8 tablespoons unsalted butter, plus more for greasing the pan
3 ounces bittersweet chocolate, rough chopped
2/3 cup turbinado sugar
1/4 cup dried cherries
1/3 cup cacao nibs
2/3 cup whole wheat pastry flour
1/2 teaspoon sea salt
2 eggs, lightly beaten
Preheat the oven to 350 degrees F.
In a heavy-bottomed sauce pan, melt the butter over medium heat until bubbly and fragrant. Fold in the chocolate and stir constantly until melted. Remove from heat and set aside to cool.
Line an 8 x 8 inch baking pan with parchment paper (I used two sheets to cover all four sides), leaving a bit of overhang so you can pull the brownies out.
Once chocolate mixture has cooled off a bit, fold in the sugar and sea salt, then cherries and cacao nibs, and then the flour. Finally, fold in the eggs, mixing just until they are well incorporated.
Spoon mixture into the prepared pan. Slide into the oven and bake for 25 – 30 minutes, until a toothpick inserted in the center comes out with just a few crumbs attached. Keep a close eye after 20 minutes, since you want the brownies to be just set and not at all overcooked.
Cool for 20 minutes and serve.