A french classic, this wonderfully rich and crispy potatoes gratin recipe can made with duck fat or butter.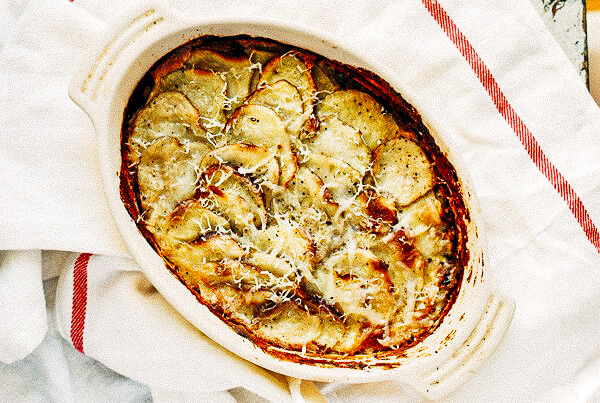 The fact is, I've never been big on Valentine's Day. When I was single and living in Boston, one Valentine's Day I stopped by the market to get a half pound of fish. The guys at the counter were like, "A half pound? Eating alone? (Awww, she's eating alone.)" But really I didn't mind. Even now, I think of it more as the fourth anniversary of our building's basement catching fire. So, though Brian and I are definitely meant for each other and I count myself lucky for finding such a great man, neither of us is particularly keen on the trappings of Valentine's Day. We're not that big on soul mates, chocolate, crafting, or candles.
There are a lot of desserts and heart-shaped confections out there. Funny desserts, easy ones, chocolaty ones. There are steaks and heart-shaped pizza and special lasagna recipes. But here, at our place tonight, we'll be roasting a chicken, and serving it with this savory duck fat potato gratin. For dessert, we'll make something understated and easy. And then, we'll put the girls to bed, clink glasses, and be grateful for the simple, wonderful life we lead. However you celebrate, happy Valentine's Day. Here's to love in all its forms.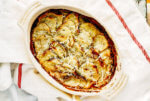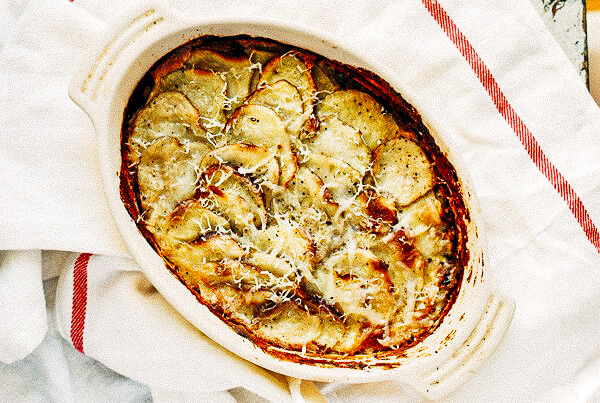 Classic French Potatoes Gratin
A french classic, this wonderfully rich and crispy potatoes gratin recipe can made with duck fat or butter. Recipe adapted from The Art of Simple Food by Alice Waters.
Ingredients
4

– 5 small Yukon gold potatoes

peeled

2/3

cup

whole milk

1/3

cup

Gruyere

finely grated

3

tablespoons

duck fat or butter
Instructions
Preheat oven to 350 degrees F. Generously butter a small 6 x 9 x 2-inch baking dish.

Using a mandoline, slice potatoes into paper-thin 1/16″ slices.

Layer slices, like shingles, along bottom of prepared baking dish. Sprinkle with 1/4 teaspoon sea salt and several twists fresh ground pepper. Sprinkle with 1/3 of the cheese.

Do the same for the second layer. For the third and final layer, arrange potato slices, carefully pour milk over mixture, scatter 3 tablespoons of duck fat or butter, and sprinkle with 1/4 teaspoon sea salt and fresh ground pepper.

Bake 45 minutes. Remove dish from oven and use a spatula to press potatoes down into the milk. Scatter remaining cheese over the top, and place back in oven. Bake 15 minutes more, or until the edges are golden brown and the filling is bubbling.

Cool 7 - 10 minutes, slice, and serve.
SaveSave