Vibrant greens, just-set eggs, and creamy mozzarella atop a thin but chewy pizza crust make this egg and greens pizza the perfect early spring recipe.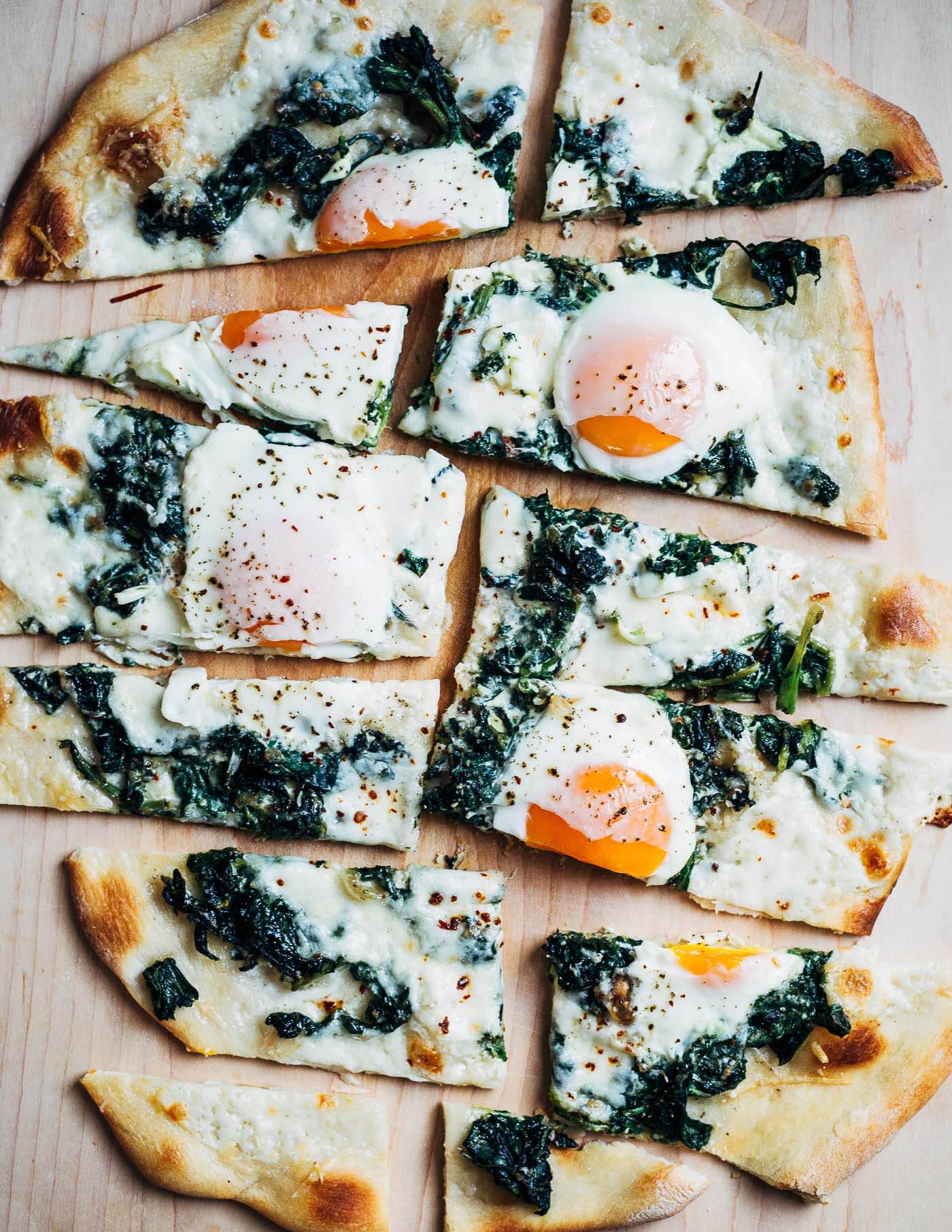 Spring Eggs
I always think of eggs as the first of spring's offerings. At a time when markets are still in winter mode, eggs are the first local food to really reflect the changing season. New shoots, bugs, and whatever other stuff chickens eat, shows up right away in those first bright orange yolks of the season. So if you're craving spring but the produce hasn't caught on yet, try a dozen farmers market eggs for instant springtime cheeriness.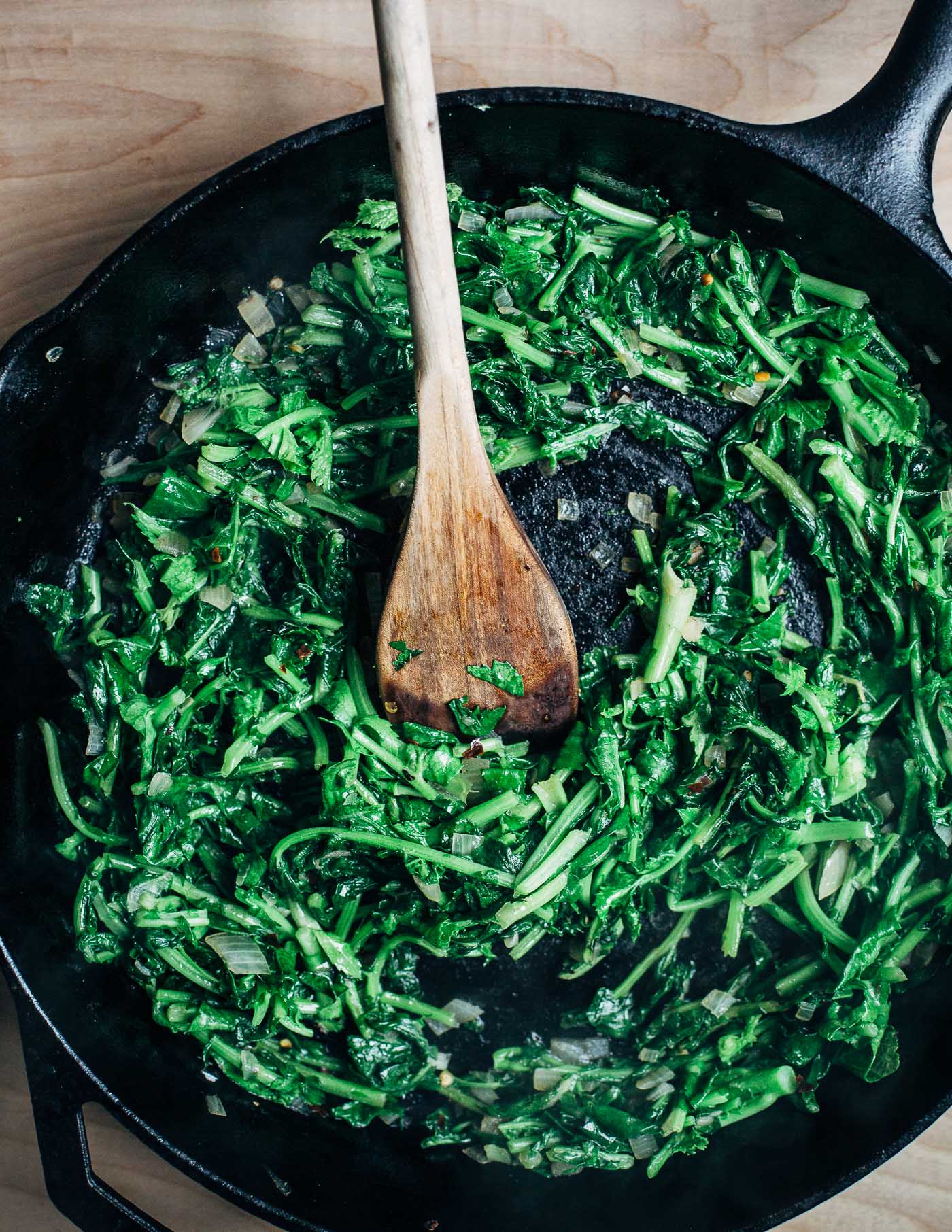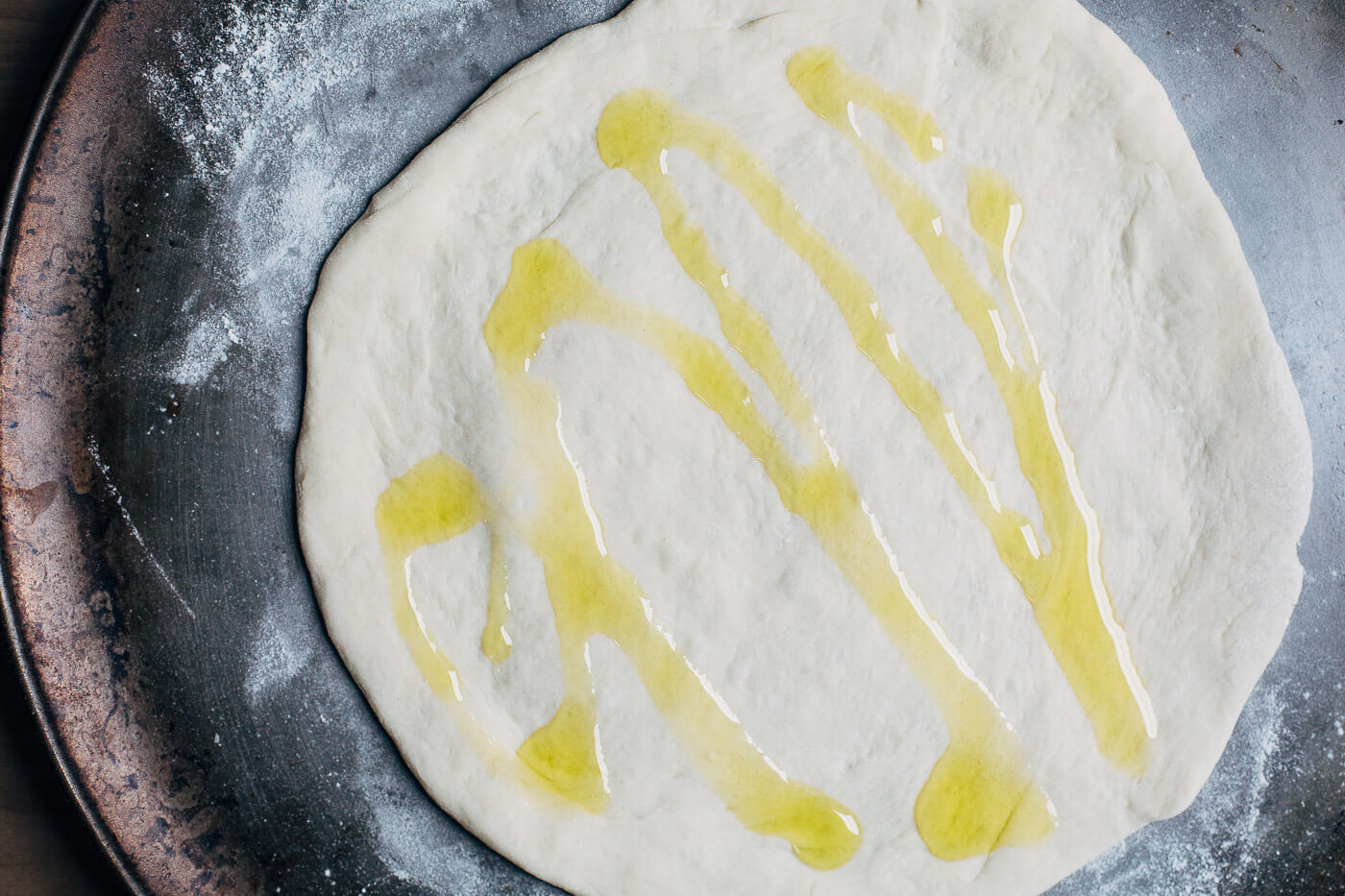 Egg and Greens Pizza
Eggs and greens might not be the most expected pizza ingredients, but they play off the creamy mozzarella and savory crust beautifully. And besides, these pizzas are really packed with greens, so they'll leave you feeling virtuous for getting your vitamins. A few pinches of chili flakes and lots of black pepper do a nice job of balancing out the rich flavors and adding a little heat.
The greens cook down with shallots, just a tiny bit of sea salt, and lots of olive oil. As they cook, the flavors concentrate and the tannins lose their edge. As to the type of greens, go with what you have. I tried radish greens and spinach, and they were both great (though I did need to use nearly double the spinach since it cooks down so much). Curly kale, chard, collards, dandelion, mustard, or other spicy greens would also work here. Just be sure to remove tough, woody stems before cooking them.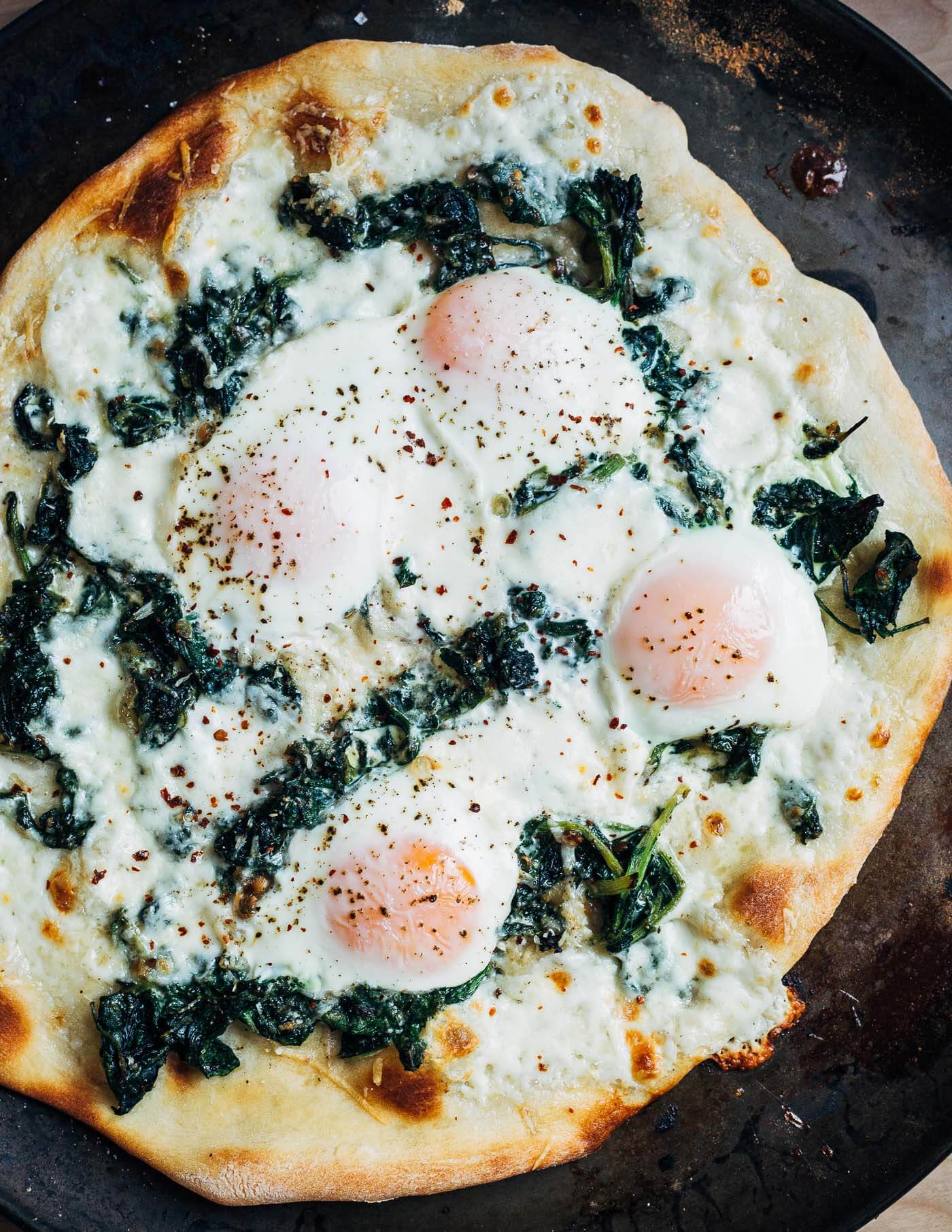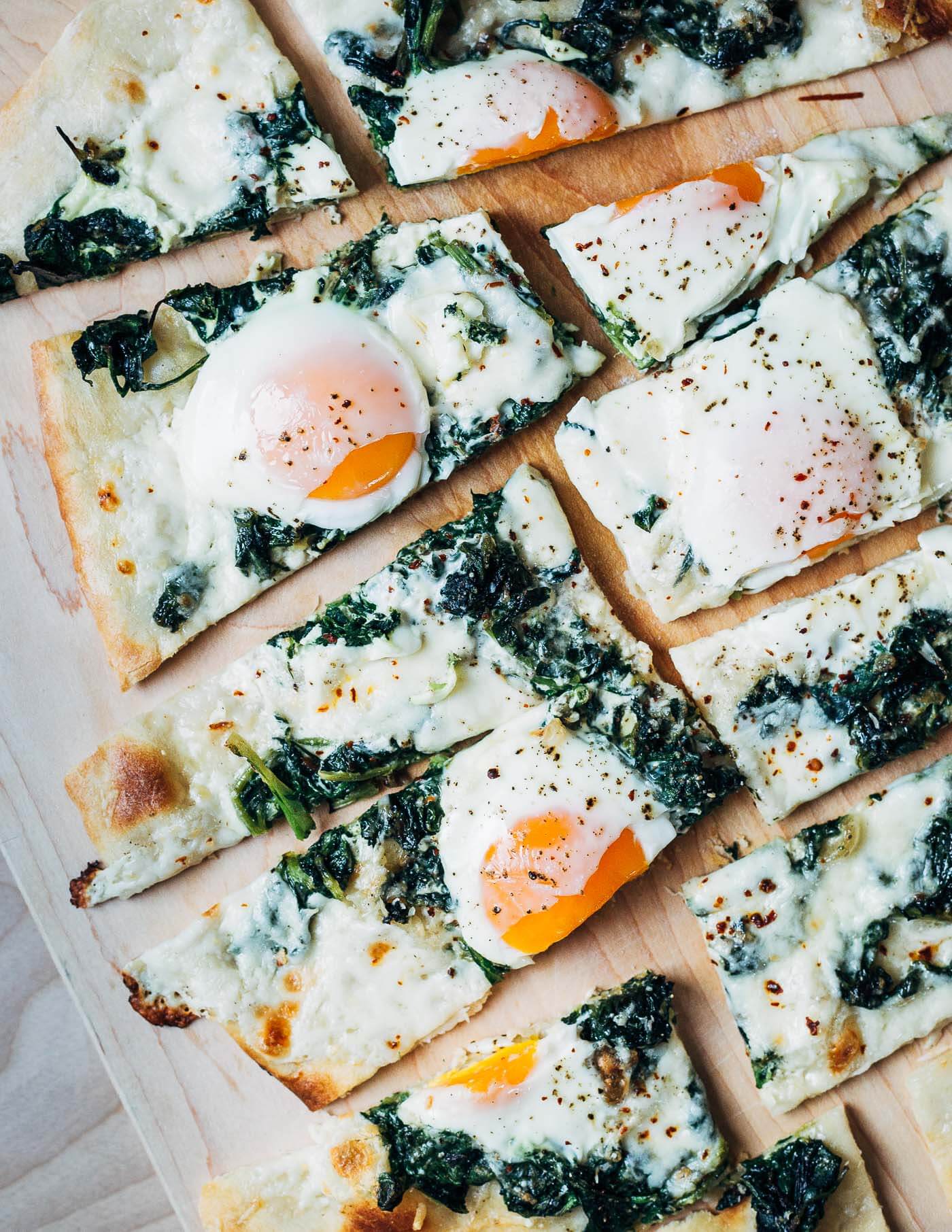 About the Pizza Dough
For any pizzas, I recommend making the dough a day or more ahead of time. Resting the dough in the fridge overnight yields better structure with more chew and stretch. I cook these pizzas in two steps, first just the olive oil-drizzled dough and a pinch of sea salt to give the dough time to set up. Then I add the toppings and cook until the eggs are set and the cheese is melty. Use whatever pizza recipe you like, or go with store-bought. I'm partial to this basic pizza dough recipe by Emma Christensen for the Kitchn.
Recipe Notes
These pizzas are vegetarian and quite filling as they are, but I imagine that seared sausage or cured pork would be an excellent addition.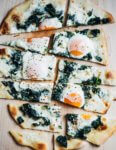 Egg and Greens Pizza
Vibrant greens, just-set eggs, and creamy mozzarella atop a thin but chewy pizza crust make this egg and greens pizza the perfect early spring recipe.
Keyword:
egg and greens pizza
Ingredients
1

pound

basic pizza dough,

homemade or store-bought

2

tablespoons

extra virgin olive oil,

plus more for drizzling

1/4

cup

minced shallot

8

ounces

chopped greens,

(about 4 cups packed), note: double amount if using spinach

Pinch

sea salt,

plus more to taste

1/4

teaspoon

black pepper,

plus more for finishing

8

ounces

fresh mozzarella,

torn into 2-inch pieces

6

eggs

1/2

cup

grated Parmesan

Red chili flakes or aleppo pepper
Instructions
If dough's been refrigerated set it on the counter for 1 - 2 hours to come to room temperature.

When ready to make pizzas, preheat oven to 475 degrees F.

Set a large skillet over medium heat. When hot, add 2 tablespoons olive oil and the shallots. Cook a couple minutes or until shallots are fragrant. Fold in half the greens and a pinch of sea salt and pepper (take care not to add too much as the greens cook down considerably). When the greens have cooked down, add the remaining greens. Cook until the greens are nice and tender, 10 - 15 minutes. Add sea salt and pepper to taste. Set aside to cool.

On a lightly floured surface, divide dough in half. Stretch and roll the dough into a thin 12 - 14-inch round. Let the dough rest if it gets tough to work with – I often stretch my dough into an 8-inch round, let it rest for 5 minutes, and then stretch it into it's final shape.

Place dough on a lightly floured pizza pan. Add a drizzle of olive oil and a pinch of sea salt. Bake for 4 minutes. Remove pizza from oven, scatter half the greens and half the mozzarella. Leave three spaces for the eggs and kind of build up the ingredients around that so the eggs don't run too far. Working quickly, crack 3 eggs, sprinkling each with sea salt, and add half the Parm. Cook pizza 7 - 10 minutes, until the eggs have just a little bit of jiggle (they'll continue the set outside the oven).

Repeat for the second pizza.

Sprinkle hot pizzas with chili flakes, pepper, and olive oil to taste, then slice and serve.