Decadent eggnog waffles make for an excellent holiday breakfast treat.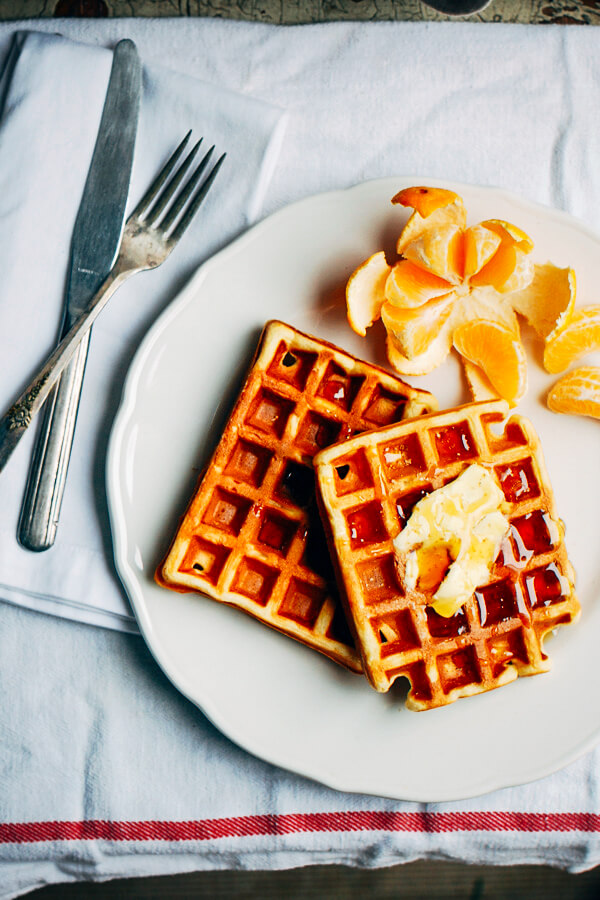 I've been feeling like a little bit of a mess lately – always disheveled and behind schedule. And the holidays add a little extra pressure to the mix. Besides all the things we actually have to do this time of year, there's also a pressure to HAVE FUN. We must enjoy, savor, each passing moment. And the house should look immaculate while you do it. I'm doing my best to shrug things off and just let everyone be themselves this holiday, but all those perfect Pinterest trees, magazine cookies, and epic holiday tables can be hard to shake.
So it was a welcome reprieve when two really nice things happened this past weekend.
The first was a lovely, laid-back Christmas potluck. The evening ended with us all gathered into a room singing Christmas songs for an hour. A bunch of adults, happily smushed into a room, singing joyfully as one of our hosts played each tune beautifully on the piano. It was a great reminder that even in adulthood, finding joy, be it silly or heartfelt, is essential.
Then on Sunday, a monster snow, sleet, and ice storm cancelled everything and we had no choice but to cozy up for a day inside. We were ready for it and spent the time hanging out and enjoying ourselves. Chill breakfasts used to be standard weekend protocol, but these days they're frustratingly rare. With the winter storm and all, we just went for it. As part of our storm preparation, we made sure to have plenty of eggnog on hand. (You know, the really good kind that comes in a glass bottle and appears to be made with straight-up cream.) And this top-notch eggnog made for excellent waffles. Rich and well-spiced, with a tender interior, and crisp, lightly browned edges. Holiday waffle excellence achieved.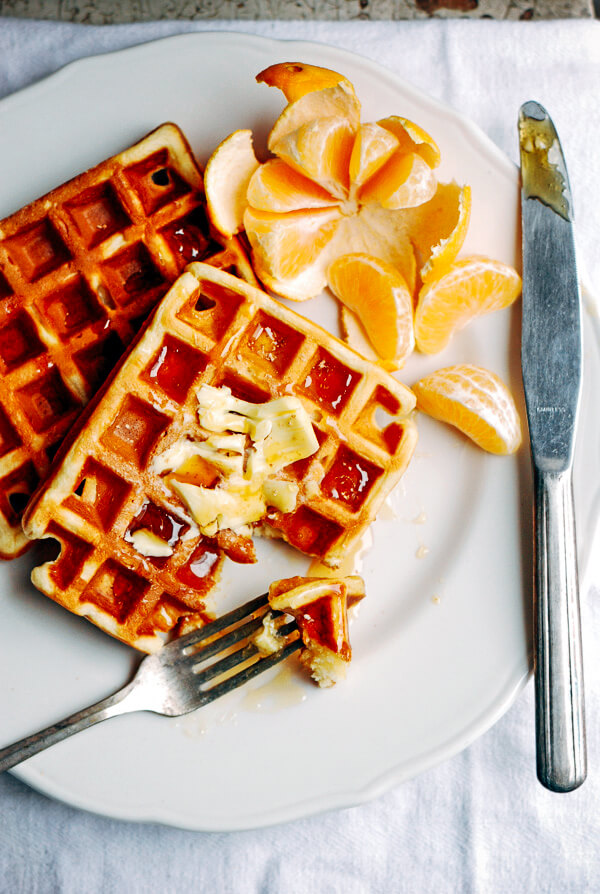 Let's talk eggnog. This stuff is a total calorie bomb, so if you're going to have some, go big. Try homemade or buy the good stuff. Up in NYC we were big fans of Ronnybrook's eggnog and here in Virginia, Homestead Creamery is our jam.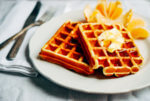 Eggnog Waffles
Decadent eggnog waffles make for an excellent holiday breakfast treat.
Recipe adapted from Crumb.
Ingredients
2

eggs,

separated

2

cups

all-purpose flour

1

tablespoon

turbinado sugar

1

tablespoon

baking powder

1

teaspoon

sea salt

1/2

teaspoon

freshly grated nutmeg

1/4

teaspoon

ground cinnamon

2

cups

eggnog

1/4

cup

coconut oil

or another neutral oil, melted

1

teaspoon

vanilla extract
Instructions
Preheat the oven to 200 degrees F. Slide a rimmed baking sheet in and let that preheat too.

Use a mixer to beat egg whites to stiff peaks. Set aside.

In a small bowl, combine flour, sugar, baking powder, salt, and spices.

In a large bowl, lightly beat egg yolks, and then pour in eggnog. Slowly fold in the flour mixture, mixing just until batter is smooth. Scrape down sides; add coconut oil and vanilla extract. Finally, fold in egg whites, stirring just until combined.

Make waffles according to your waffle maker's instructions. For my rectangular waffles, I find somewhere between a quarter and a third a cup of batter is perfect. Place cooked waffles in preheated oven.

Serve with butter and maple syrup, and a few grates of nutmeg.
SaveSave
SaveSave