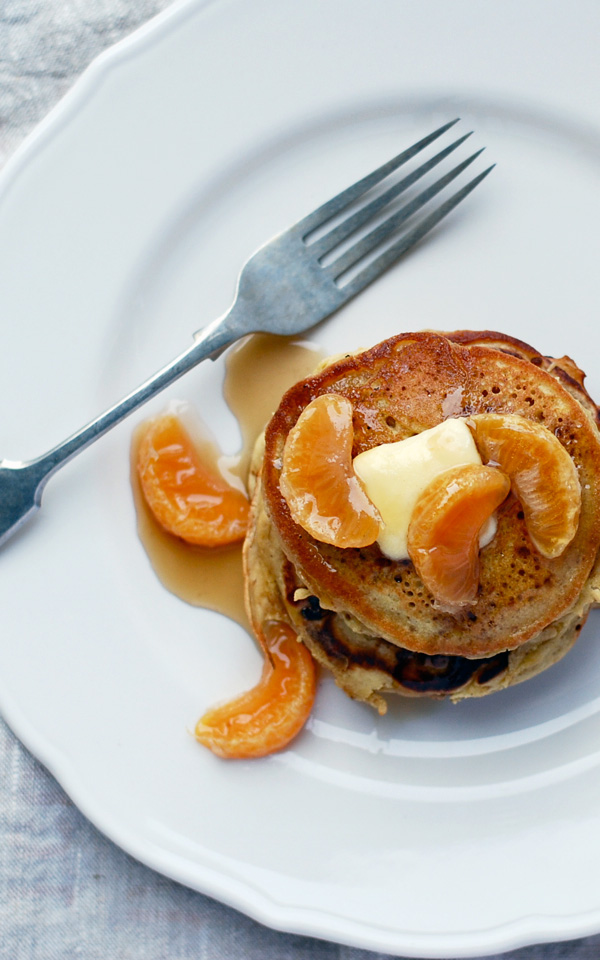 Today seems like the first quiet day in months. It's warm and sunny, the window is cracked, and the birds are singing. The Friday hum is beginning to pick up outside and the kids are just about to stream, happily screaming and shouting, by my building. But for now it's peaceful, and finally, I have some time to think.
Reevaluation is in the air. I'm planning adventures and also trying to slow down. This weekend, we have nothing on the agenda. Except maybe pancakes. Our oldest has inherited my love of special breakfasts, and has requested one tomorrow. I'm thinking I'll make these buttery, nutty buckwheat pancakes which have now assumed the title of favorite pancake. This particular batch has a bit of orange zest and was served with vanilla-poached clementines (leftover from this clementine cornmeal cake). I think the recipe's a keeper.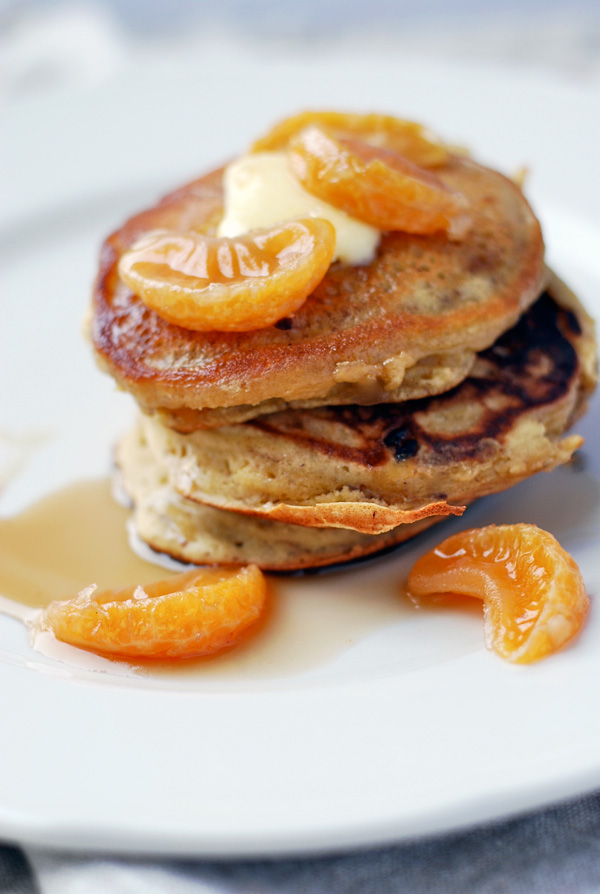 Buckwheat Orange Pancakes with Poached Clementine Syrup (adapted from this buckwheat bacon pancake recipe)
4 tablespoons butter, melted and cooled
1 1/4 cup all-purpose flour
1 cup buckwheat flour
1/4 cup brown sugar
1 1/2 teaspoons baking soda
1 teaspoon salt
2 eggs
2 1/2 cups buttermilk, or a mixture of 1 1/4 cup yogurt and 1 1/4 cup milk
zest of 1 orange
Melt the butter and set aside to cool. Preheat a large skillet or griddle over medium to medium-high heat. Set a platter in the oven and set the heat to 170 degrees.
In a large bowl, combine the flours, sugar, baking soda, and salt.
In a small bowl, whisk the eggs and buttermilk together, and then fold in the butter. Next, fold into the dry ingredients and stir.
Add butter to the skillet. Spoon in the pancake batter, and cook each side for 3 – 4 minutes, or until the pancakes are golden brown.
Keep the cooked pancakes in a warm oven. Serve with butter and poached clementines and their syrup (recipe here), and a drizzle of maple syrup.