Pears often get short shrift to apples in fall, especially since they are ripe for such a brief period of time, bruise easily and are messy to eat. Yet they have a delicate flavor, and a pleasant, slightly grainy texture. But it's more than that, pears are a quiet fruit that meld quite nicely with baked goods. And, though it's sticky, having a little fruit juice run down your cheek is one of the true pleasures in life.
One of my favorite ways to enjoy pears is in this simple, tangy cheesecake with a pear rosette and lime-pear sauce.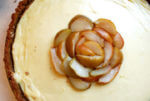 Cheesecake Tart with Lime-Poached Pears
A tangy and bright cheesecake tart topped with lime-poached pears and a simple pear sauce.
Ingredients
for the crust

1 3/4

cups

graham cracker crumbs

roughly 6 - 8 whole crackers

1/3

cup

sunflower seeds

2

pinches

salt

pinch

ground cloves

1/4

cup

sugar

4

tablespoons

unsalted butter

melted

for the filling

2

8-ounce packages cream cheese

1/2

cup

sour cream

1/2

cup

sugar

1

egg

zest of 1 lemon

1/2

teaspoon

vanilla extract

pinch

salt

for the topping

5

seckel pears sliced

substitute Bosc if needed

juice of 1 lime

2 - 3

tablespoons

sugar

3-

inch

segment of vanilla bean

halved

1/2

teaspoon

vanilla extract
Instructions
To make the crust, preheat oven to 350 degrees F. Also preheat a rimmed baking sheet. Combine everything but the butter in the bowl of a food processor and process until the texture is consistent and gravelly. Drizzle in butter; pulse a few times. Using the flat bottom of a glass, press into a liberally buttered 9-inch tart pan evenly. Carefully set in the freezer for 15 minutes.

Next, knock crumbs out of your food processor and wipe clean. Combine all of the filling ingredients and process for 30 seconds, until mixture is smooth. Pour into chilled crust, set on preheated baking sheet and bake 30 minutes, or until filling is set and the sides have puffed up slightly. Carefully set tart on a wire rack to cool.

While cheesecake bakes, prepare topping. In a medium saucepan, combine lime juice, vanilla extract, and salt, and cook over medium-high heat. Gently add pears; cook over medium-high heat for 3 minutes. Pears will soften, but still hold their shape and a have bit of bite. Remove pears, turn heat to high and reduce remaining juices briefly, just until the liquid starts to change color. Pour syrup into a small bowl and set aside to cool.

When tart has cooled completely, arrange the pears into a simple rosette in the center or scatter around the tart. Serve slices with a drizzle of pear lime syrup.