A weekly fall produce guide to what's in season right now based on the contents of our CSA share, with CSA and farmer's market recipes and ideas. This week's mid-October inspiration: Asian pears, sage, Red Russian kale, sweet potatoes, and garlic.
On a clear, glittering fall weekend like this, I'm sure you are outside. I certainly should be.
But in case you're in the kitchen or plan to be later, in case your adventures this weekend have turned up more Asian pears or sweet potatoes than you know what to do with, I've pulled together a few favorite fall recipes.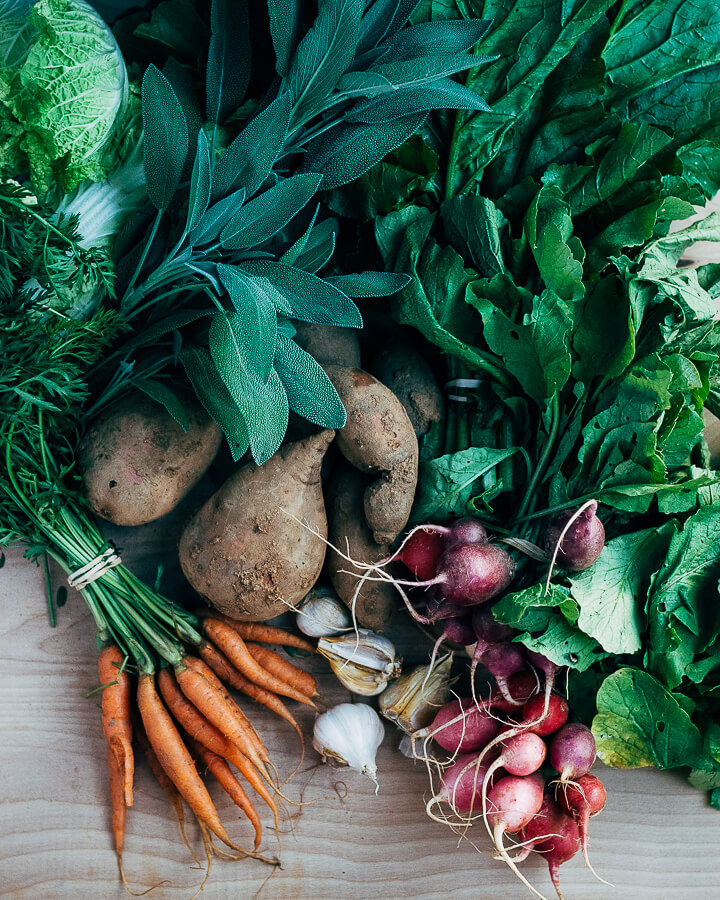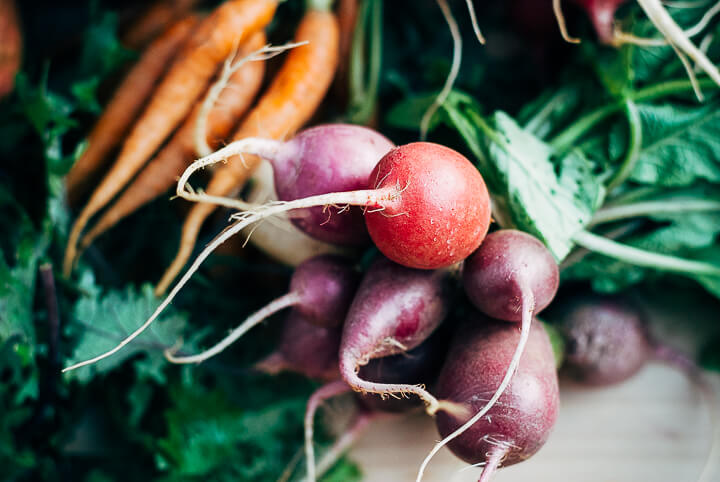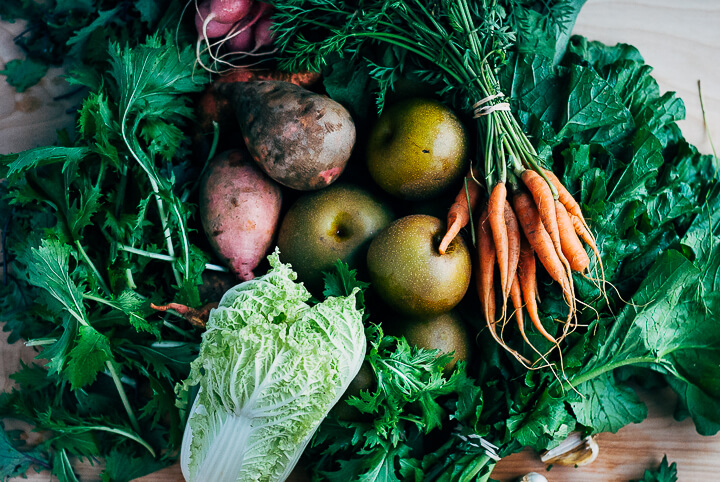 Asian Pears
Karen Solomon's Pickled Asian Pears // Food in Jars
Sparkling Asian Pear and Mint Iced Tea // Snixy Kitchen
Asian Pear Green Smoothie // Tasty Yummies
Brie, Fig, and Asian Pear Panini // What's Gaby Cooking
Sage
Fried Sage Leaves // Brooklyn Supper
Sage Roasted Cauliflower and Chickpea Pasta // Flourishing Foodie
Browned Sage Chicken Picatta // Half Baked Harvest
Cauliflower and Hazelnut Soup with Fried Sage // What's Cooking Good Looking
Red Russian Kale
Lemon Parmesan Kale Salad // Brooklyn Supper
Kale Salad with Sautéed Apples // Brooklyn Supper
Kale and Cauliflower Soup with Kale Chips // Brooklyn Supper
Sausage, Kale, and Whole Wheat Orcchiette Soup // How Sweet Eats
Sweet Potatoes
Sweet Potato Waffles // Brooklyn Supper
Roasted Sweet Potato Wedges with Bacon and Chimichurri // Brooklyn Supper
Loaded Sweet Potatoes with Avocado, Tangelos, and Haloumi // Brooklyn Supper
Sweet Potato Rounds with Herbed Ricotta // The Roasted Root
Garlic
Roasted Cauliflower and Garlic Dip // Brooklyn Supper
Grilled Chicken with Grilled Lemon and Garlic Relish // Brooklyn Supper
Garlic Soup // Brooklyn Supper
Spinach, Chicken, and Chardonnay White Pizza // The Candid Appetite