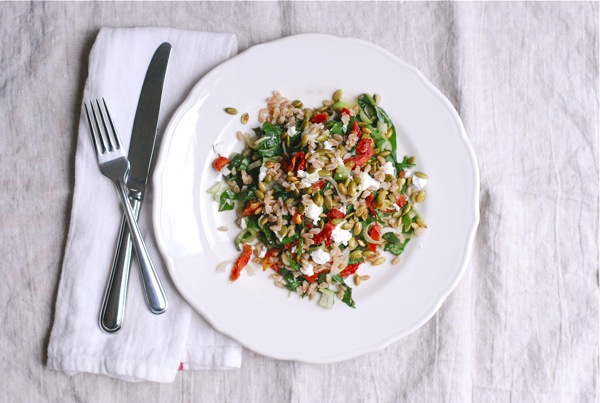 Beet greens on their own don't look like something many people would buy, so it's lucky for them that they usually come attached to beets (I'm going on the assumption here that the various parts of a plant aspire to be eaten). And if you decide to eat your beet greens rather than trash them, you're in for a treat. Beet greens are never better than right now, in the late spring. The leaves are supple and robust, they have some of the pungency that comes with such an intensely nutritious leafy green, but none of the bitterness that they take on later in the season. They're also pristine, without yellow spots, heat damage, or holes from hungry bugs.
In this farro salad they add a quiet green-ness to everything. The sun-dried tomatoes are soaked in a simple vinaigrette and take on gorgeous briny/sour notes, while the cherve and farro mellow the flavors and tie the whole thing together. I finished with a few toasted pepitas which add salty crunchiness throughout. There are also plenty of spring onions – the giant kind that never fit in your farmer's market bag or the fridge, but add just the perfect amount of sweet pungency to everything.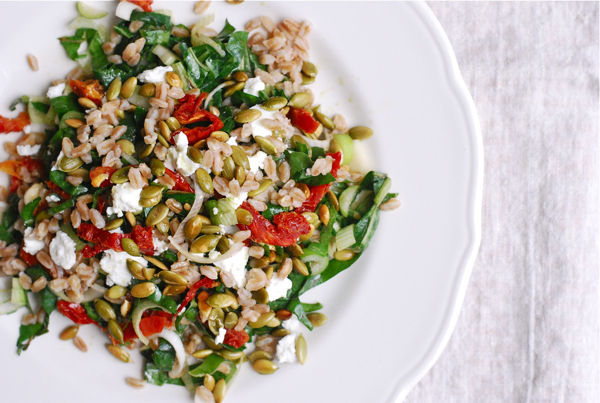 Farro is a whole grain in the wheat family and contributes a satisfying, slightly chewy texture to salads, soups, or grain-based entrees. Cooking techniques vary between simmer and boiling techniques. I usually add 2 parts water to 1 part grain, bring to a boil, and then simmer, covered, for 40 – 50 minutes. Lately, I've been loving Trader Joe's quick-cooking farro which cooks in 10 minutes without sacrificing an ounce of texture or flavor.
Farro with Beet Greens and Sun Dried Tomatoes
1/4 cup olive oil plus 1 tablespoon
2 tablespoons white wine vinegar
squeeze of fresh lemon
1/2 teaspoon sea salt plus a few pinches more
fresh ground pepper to taste
1/2 cup sun-dried tomatoes, rough chopped
2 cups cooked farro
1 bunch beet greens, throughly washed and sliced into thin ribbons
1 large spring onion, chopped
1/4 cup raw pepitas
1/3 cup cherve, crumbled
To prepare the vinaigrette, whisk the vinegar, lemon juice, 1/2 teaspoon sea salt, and pepper into 1/4 cup of olive oil. Fold in the sun-dried tomatoes and set aside for 15 – 20 minutes.
In a large bowl, drizzle three quarters of the dressing over the cooked farro. Fold in the beet greens and spring onions. Check salt and acid levels and adjust as needed. Set aside.
To toast the pepitas, heat a small skillet over medium-high heat. Add the olive oil and when it's shimmering and hot, add the pepitas and a few pinches sea salt. Shake the pan, and cook for 2 minutes, or just until the first few begin to pop (side note – watch out, these guys can pop out of the pan and are hot!).
Scatter the pepitas and chevre chunks over the salad, and serve.