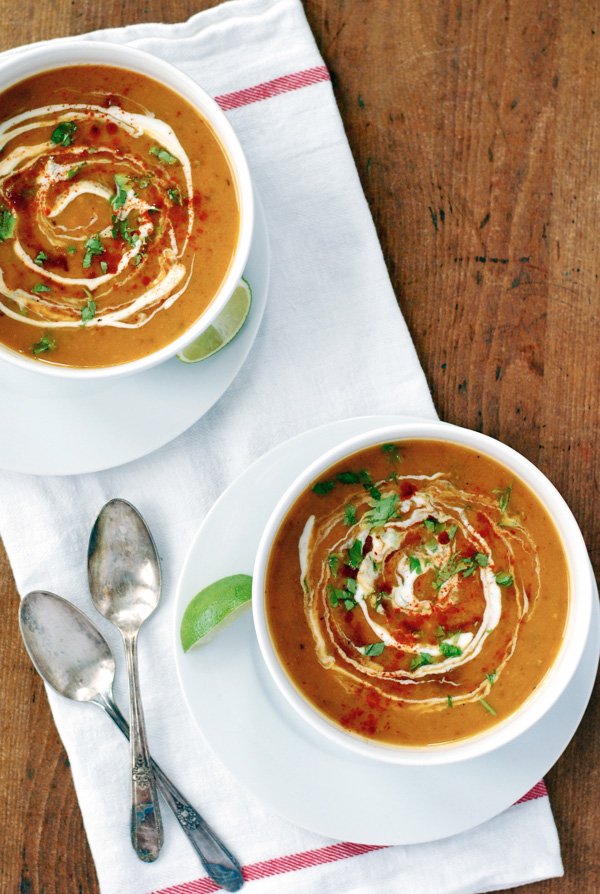 My first Brooklyn apartment had a distant view of the Chrysler building. You had to climb out the kitchen window and stand on an adjacent roof to see it, but still it was there. Brian and I would sit out there in the evenings, filled with all the optimism that young love and any kind of view of the NYC skyline inspires, and dream our dreams. We planned to take the city by storm. We'd also talk about having kids and all the things we wanted for these potential humans.
Now we're ten years older than those two crazy-in-love twenty-somethings, and we're married with two young girls. And while a lot of our dreams have come true, they didn't come without some rough times. We've had lean meals, stretched a budget to nothing, counted change, and made do. But we've never ever been hungry. Each day our girls eat breakfast at the table and then set off for their days, lunchboxes filled with nourishing food.
It's heartbreaking and disturbing that throughout the world, children go hungry day after day. To think of my own girls in that situation is devastating. I so wish that children everywhere could be protected from all the awful, terrible things our world can hold. But we don't have to agonize in vain. We can work together, one dollar at a time, and help to feed hungry kids.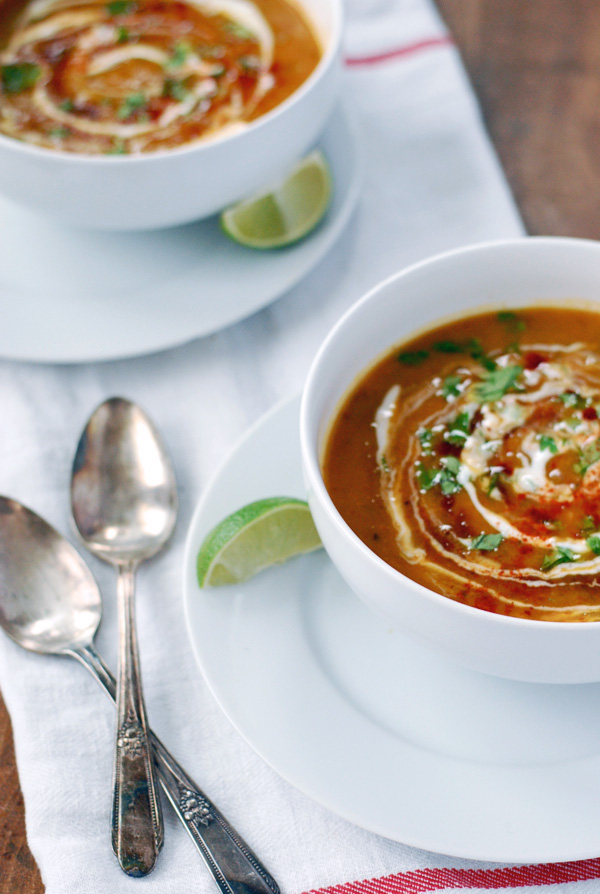 Today, Brooklyn Supper and bloggers everywhere are teaming up with The Giving Table to raise money for The Lunchbox Fund. In South Africa, 65 percent of all children live in poverty. The Lunchbox Fund works to provide these orphaned and impoverished children nutritious school lunches each day. Not only do these lunches help to encourage school attendance, they often provide the child's only meal for the day.
The Lunchbox Fund is doing essential work to ensure a generation of South African children are educated and fed. Today, I'm donating this post and asking you to join me in giving to The Lunchbox Fund because together, we can make a real difference. Just $10 will buy a hungry child a nourishing meal. If we all give whatever we can (every bit really matters), we can make a difference in the lives of South African children. So please, join us! Add your voice to the mix and help us meet (or top) the $5,000 goal, which is enough to feed 100 South African school children for a year. Here's the link where you can donate and learn more about The Lunchbox Fund.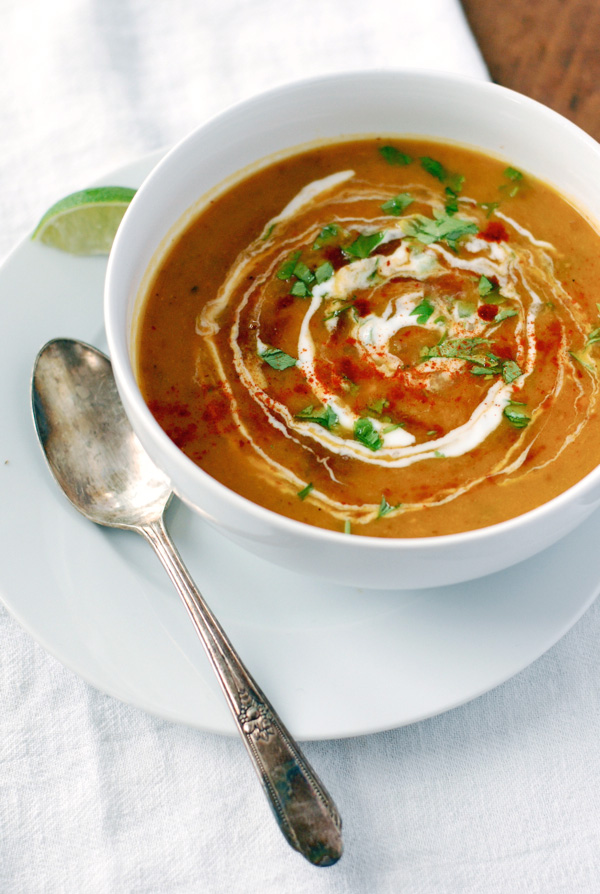 In honor of The Lunchbox Fund, today's recipe is for a warming, healthy lunchtime soup. Made with Thai red curry paste, roasted poblano peppers, and roasted sweet potatoes, it's every bit as a good as it sounds.
Curried Sweet Potato Soup
serves six
4 large sweet potatoes
1 poblano pepper
3 tablespoons olive oil
1 red onion, rough chopped
3 teaspoons Thai red curry paste, plus more for garnish
3/4 teaspoon ground ginger
1/2 teaspoon ground cayenne pepper
4 – 5 cups rich vegetable or chicken stock
sea salt to taste
zest and juice of 1 lime, plus lime wedges for serving
minced parsley for garnish
whole milk yogurt for garnish
spicy Hungarian paprika for garnish
Preheat the oven to 400 degrees F.
Wash the sweet potatoes and pierce all over with a fork. Wrap tightly in foil, place on a rimmed baking sheet, and roast for 45 – 55 minutes, or until the potatoes are soft and tender. Unwrap and set aside to cool. Use a sharp paring knife to remove any bad spots and then cut sweet potatoes into 2 inch chunks.
Meanwhile, roast the poblano pepper until the skin is blackened all over. You can do this by turning pepper under your broiler or directly over a gas flame. Place blackened pepper in a paper bag to steam for 10 minute. Peel blackened skin under cold running water, remove stem and seeds. Mince, and set aside.
Heat a Dutch oven over medium-high heat. Add the olive oil and then the onions. Sauté, stirring often, for 7 minutes. Stir in the curry paste, spices, and minced poblano, and cook for 1 – 2 minutes more. Add the sweet potatoes and stock. Bring mixture to a boil, and then turn heat down and simmer uncovered for 20 minutes. While soup cooks, check salt levels; I used low sodium stock and added about 1 teaspoon of sea salt. The amount you need will depend on your stock and chili paste.
Give soup a quick puree, so that there is still a bit of texture, and return to pot to reheat. Just before serving, check salt levels and add the lime zest and juice.
Ladle soup into warm bowls and garnish with swirls of chili paste, yogurt, and a sprinkle of parsley and paprika. Serve each bowl with a wedge of lime on the side.