Last night, as Brian was putting the girls to bed, I stepped out into the dusk to water my modest garden. Like a lot of gardeners, I usually water at night so the plants have plenty of time to take up the moisture before the sun rises again. I can count on at least four mosquito bites, but I don't mind because I am so taken by the roar of the cicadas. My research tells me they are loudest at the hottest time of the day, but I find there's a certain fever pitch just as the sun is starting to set.
Anyway, as I was standing out there watering my garden I began thinking about all the changes we've been through. For a while now, I've wanted to check in and let you know how things are going here. But I've been waiting, I guess, for everything to settle. And last night, in my yard, watering my garden (and then thinking, "I have a garden!"), I realized things had.
Almost everyday I take a walk in the woods or along a river. Our home is simple, but nice –– airy and filled with light (there are still toys all over the floor most of the time, but that's OK).
And the girls are thriving here. Our oldest is enrolled in summer camp out in the country and comes home to us everyday smeared in orange Virginia mud and glowing triumphantly. Our little one has found the right venue for her adventurous spirit, and happily toddles away from me to splash in fountains or climb up to a slide. She points out every stream we pass and is learning the names of the animals we see daily –– squirrels, birds, turtles, and rabbits.
Brian and I are enjoying a much slower pace these days, and we have time in the evenings for a long dinner and some porch sitting. I have some personal and professional projects percolating, and feel, for the first time in forever, that life might just be on an upswing. So, how's Virginia? Spectacular, thank you.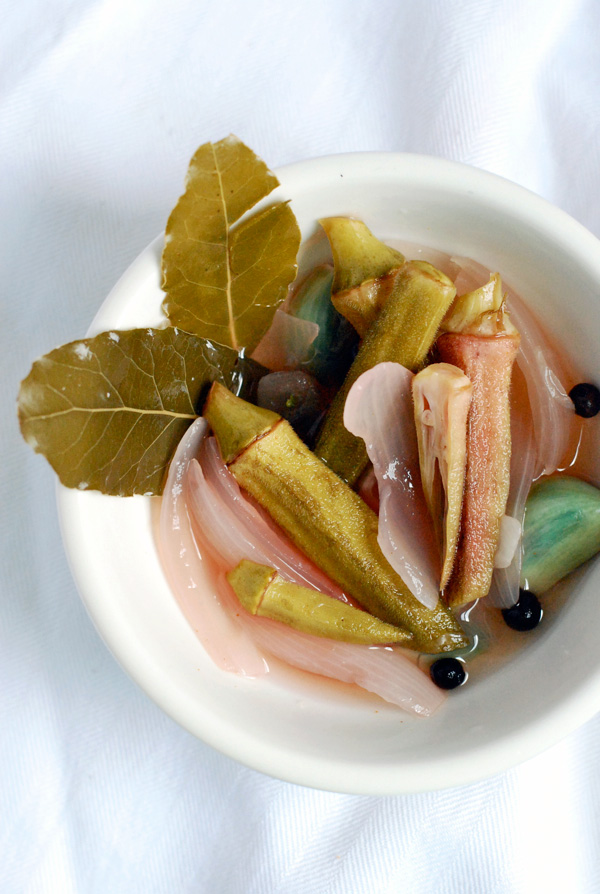 And since this is a tale of southern redemption, or something like it, okra is terribly fitting. I made this quick-pickled okra last night with a rather tough bunch of kale in mind. This morning, I sliced the pickled okra and tossed it with the kale, giving everything a few hours to marinate. The salad is smoky and sour, with plenty of texture and tang. It must be said that the okra remains a bit slimy, but the robust kale holds up to it well, making for a delicious and simple summer side. I've posted the recipes for both the quick-pickled okra and the kale salad below.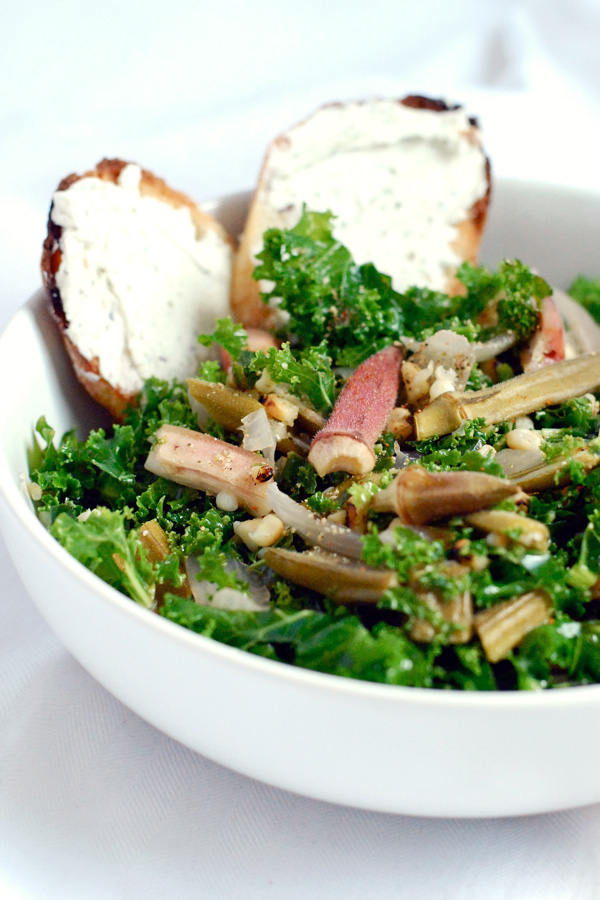 Quick-Pickled Okra (adapted from Martha Stewart)
makes two quarts
I used a mix of purple and green okra for my pickles. Look for smaller, tender okra, as anything remotely woody or hard won't make a good pickle. Also, my garlic turned blue, which is apparently a chemical reaction that's totally OK. Besides starring in a kale salad, this pickled okra makes for a great sandwich topping or beer-drinking snack.
1 1/2 pounds okra, rinsed, ends trimmed, and halved
2 cups white vinegar
1 cup apple cider vinegar
1 cup water
1 head garlic, each clove trimmed and peeled
2 yellow onions, cut into 1 inch slices
6 dried bay leaves
1/4 cup turbinado sugar
6 tablespoons sea salt, divided
1/2 teaspoon cumin seed
1/2 teaspoon coriander seed
1/2 teaspoon peppercorns
1/2 teaspoon whole allspice berries
Set the okra in a large colander and rinse well under cold water. Sprinkle with 3 tablespoons sea salt, shake and set aside for 10 minutes or more, and then rinse very well under cold running water. Drain.
Meanwhile, combine all the remaining ingredients in a large sauce pan, and bring to a boil. Turn heat to low as soon as a boil is achieved.
Divide the okra between two clean quart jars. Pour the pickling liquid, along with onions and garlic into the jars. Allow mixture to cool, then seal and place on the fridge for at least 3 hours, but preferably overnight. Okra should keep well in the fridge for 5 days.
Kale Salad with Pickled Okra & Grilled Corn
serves four
The salad is a casual affair. I've taken to always grilling extra corn since it's so good in salsas or salads. If you don't have any on hand, feel free to omit. I served this salad with chevre toasts and they were perfect.
1 bunch kale, cut into thin ribbons
2 tablespoons olive oil
1 tablespoon rice wine vinegar
1/2 teaspoon sea salt
1/2 cup quick-pickled okra, sliced, plus quick-pickled onions and garlic
1 ear corn, grilled
fresh ground pepper and cayenne to taste
Place the kale in a bowl and massage leaves with the olive oil. Add the vinegar and salt, and then the quick-pickles and toss. Set aside, covered, at room temperature for an hour or two. Toss, add corn, finish with pepper and ground cayenne, and serve.