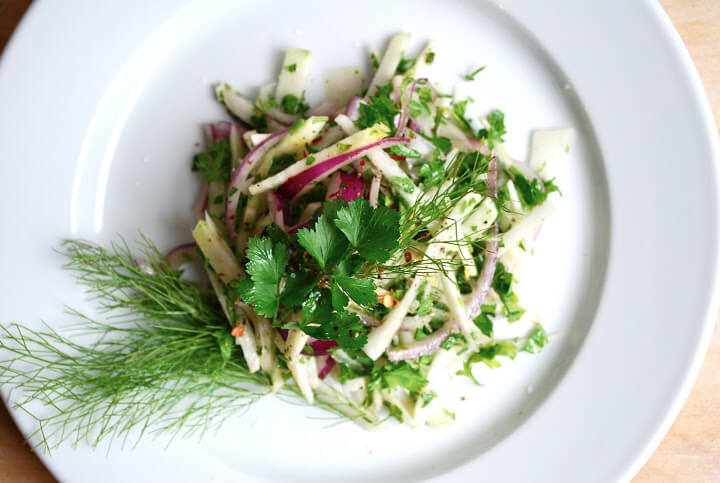 When fennel and kohlrabi arrive in your CSA, it can be hard to know what to do. As we transition into fall food, I am still really craving the fresh, crisp foods of summer. So I was glad to stumble on a version of this fennel and kohlrabi salad recipe in the awesome Frankies Spuntino Kitchen Companion & Cooking Manual. Crispy julienned vegetables, sliced onions, plenty of parsley and a hint of lemon make for a bracing, palate cleansing slaw-type salad. A nice bit of color, bite and crunch to contrast with the season's golds and oranges.
This salad could be great with cabbage, celery root, Jerusalem artichokes, carrots or salad turnips.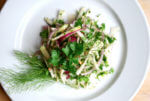 Fennel and Kohlrabi Salad
A simple julienned fennel and kohlrabi salad recipe with red onion, parsley, and a lemony dressing.
Ingredients
1

small bulb fennel

well-cleaned and trimmed

1

small

tender kohlrabi, peeled and trimmed

1/2

red onion sliced thin into half-moons

1

cup

minced flat leaf parsley

zest of 1 lemon

1/4

cup

extra virgin olive oil

2

tablespoons

lemon juice

salt and pepper to taste

pinch

of red pepper flakes

fennel leaves
Instructions
Julienne the fennel and kohlrabi. Toss with the red onion and parsley. Combine the olive oil and and lemon juice, drizzle on the dressing, and add a few pinches of salt and tons of pepper. Taste, adjust salt and acid levels. Plate and give each serving a good squeeze of lemon juice, a pinch of red pepper flakes, and garnish with parsley and fennel leaves.