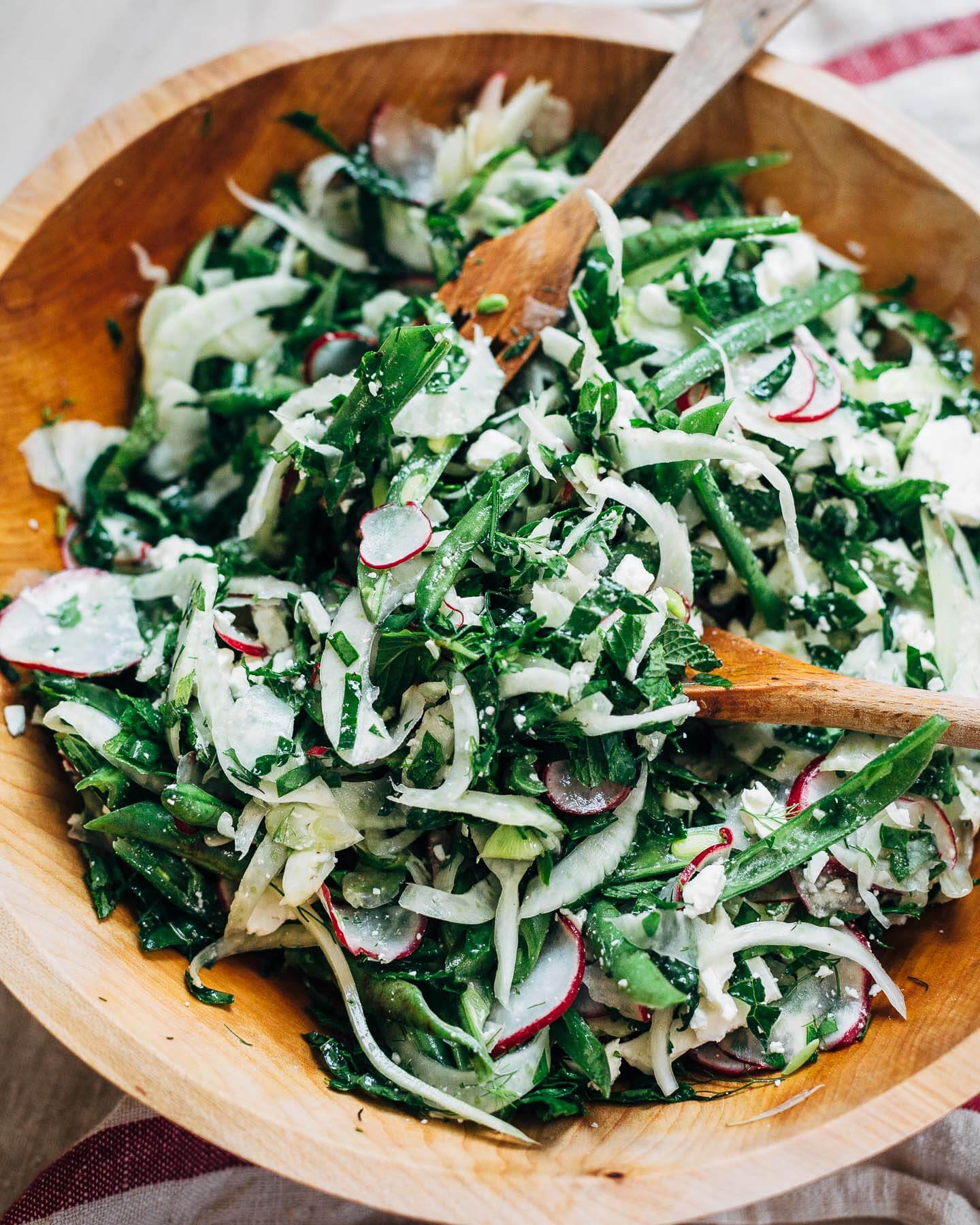 From Lily Diamond's sumptuous new cookbook, Kale & Caramel: Recipes for Body, Heart, and Table, a gorgeous kale salad with crunchy radishes, fennel, green beans, and fragrant herbs. Jump to recipe.  
I once pitched a magazine editor a story about cocktails featuring herbs. Her one-line response was "21 YEAR OLDS DON'T HAVE HERBS LYING AROUND." Naturally, I went on to write something about melted cheese, the love language of 20-somethings everywhere.
I was kind of put out, though, because I had herbs lying around when I was in my twenties. Cooking and creating with herbs gives food depth and subtlety. Herbs and flowers, with their unique scents and tastes and beauty, bring foods to life.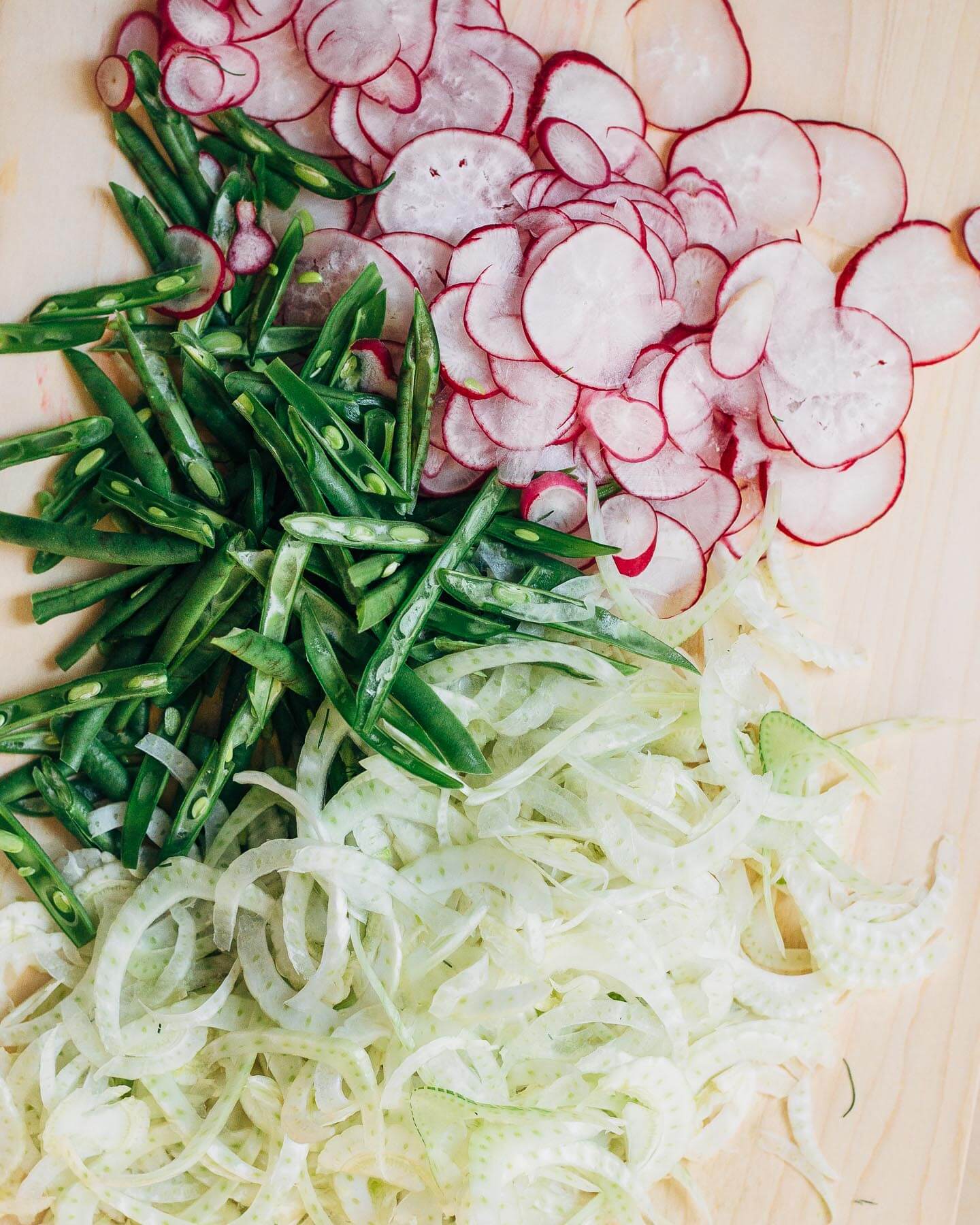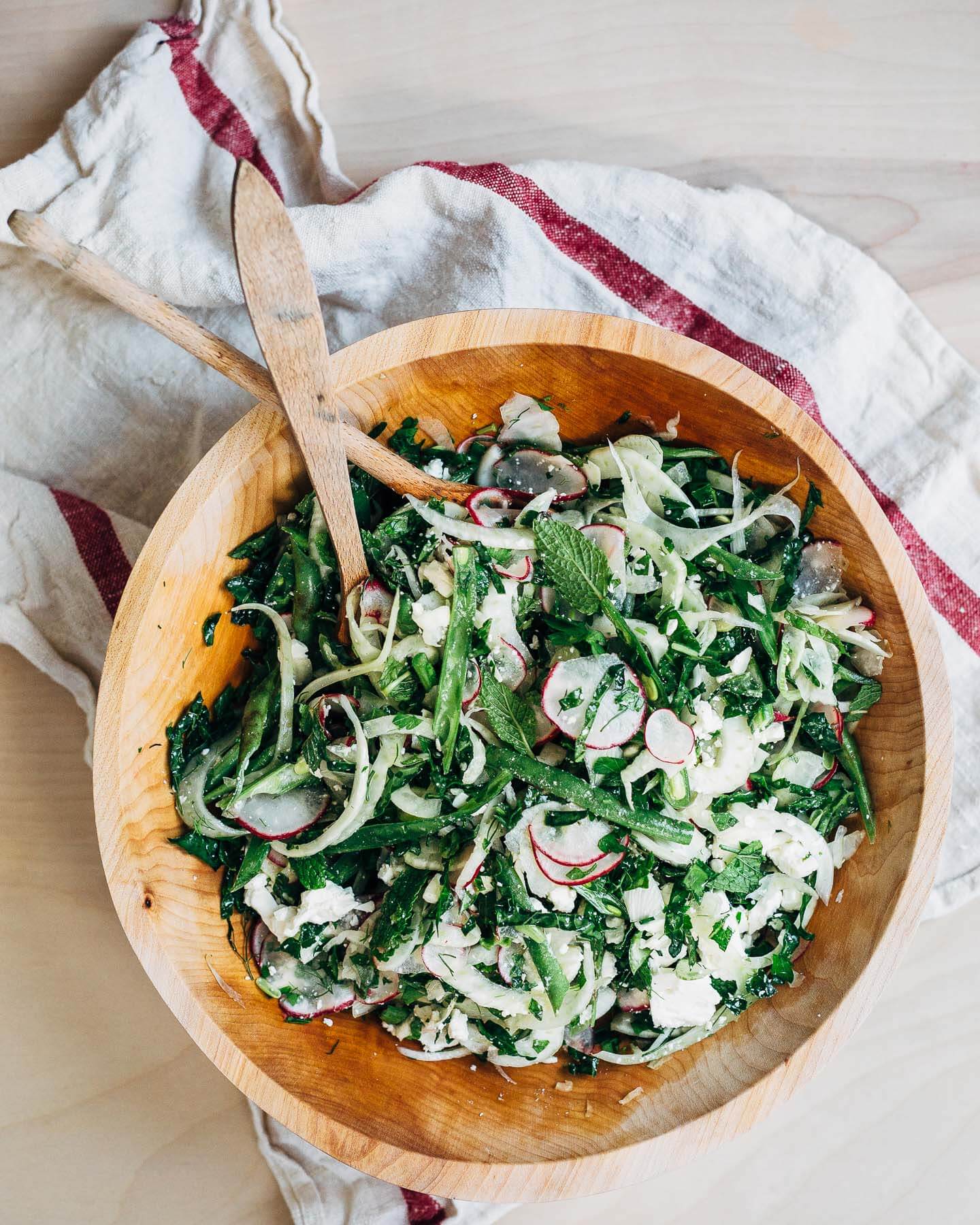 My friend Lily really gets the fundamental role herbs play in our kitchens. This love of herbs and flowers, this understanding that eating is much more than a means of conveying nutrition, is at the core of her beautiful, heartfelt blog Kale & Caramel.
But celebratory, fragrant, beautiful food is just a part of Lily's thing. Her cooking is a kind of conjuring; layered stories connect us to her recipes. The writing is evocative, not only of flavor and texture and scent, but the weather, light, and atmosphere at the moment that the dish came into being.
Today, Lily Diamond's sumptuous book, Kale & Caramel: Recipes for Body, Heart, and Table comes out and I hope you'll bring it into your kitchen. Lily's book, focused on cooking and creating with herbs and flowers, is brimming with beautiful recipes and the kind of honest writing that gives you goosebumps.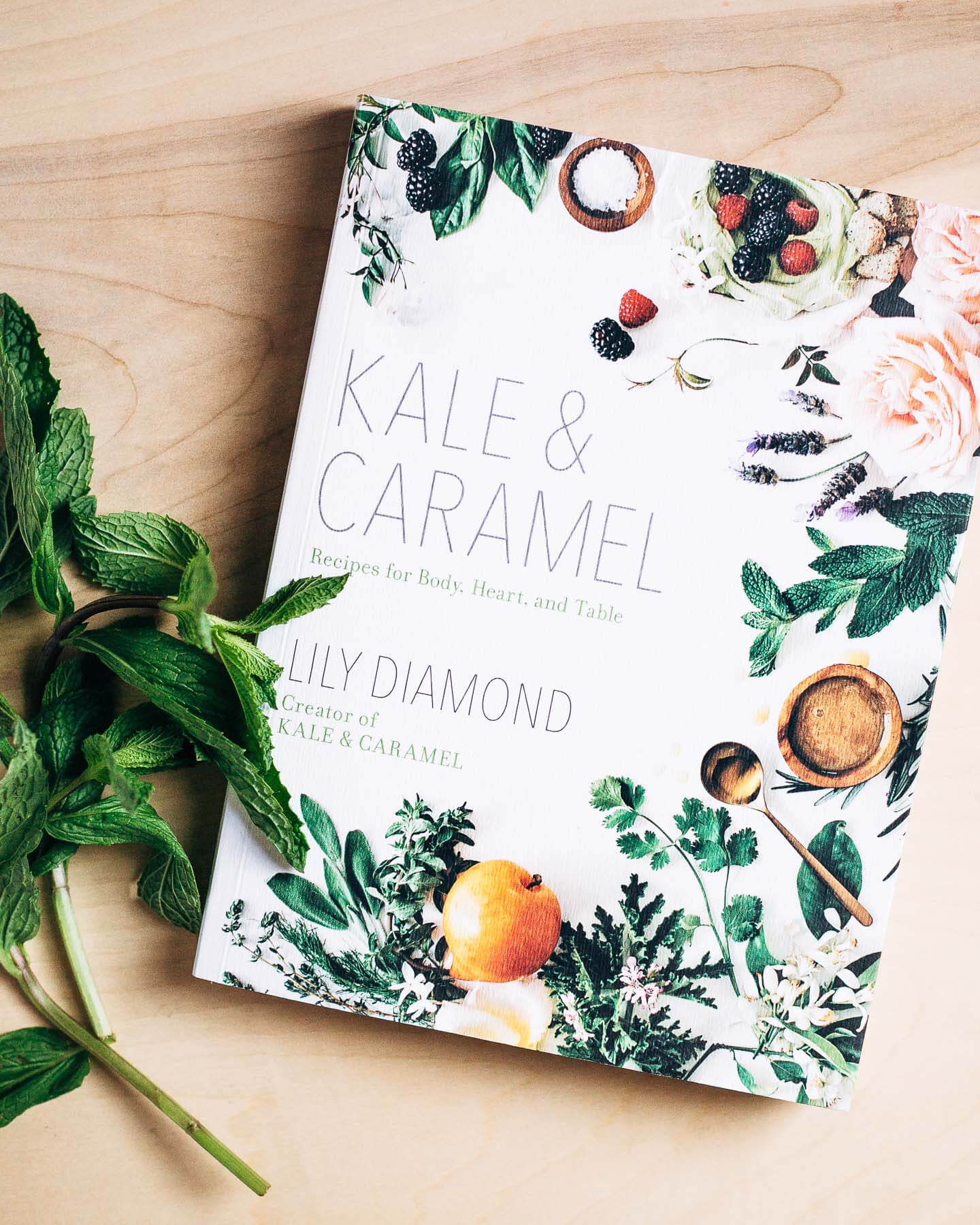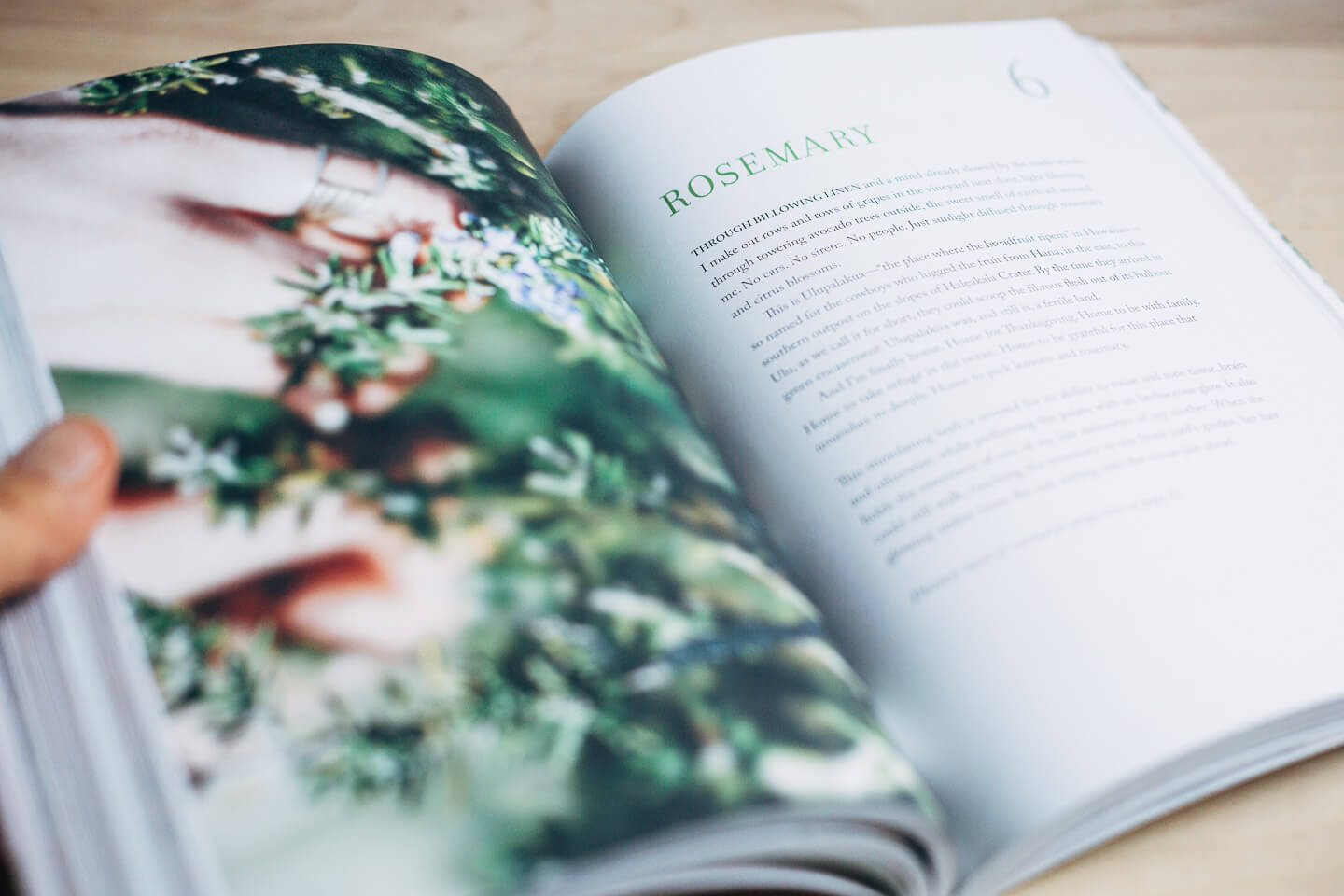 From her beautiful recipes, I chose to share this lovely fennel, radish, and kale salad. I love the way crisp spring vegetables are dressed simply but deliciously with lemon and olive oil and tossed with feta and lots of pepper. It's bright and vibrant and crunchy and good, and also keeps very well for a few days in the fridge.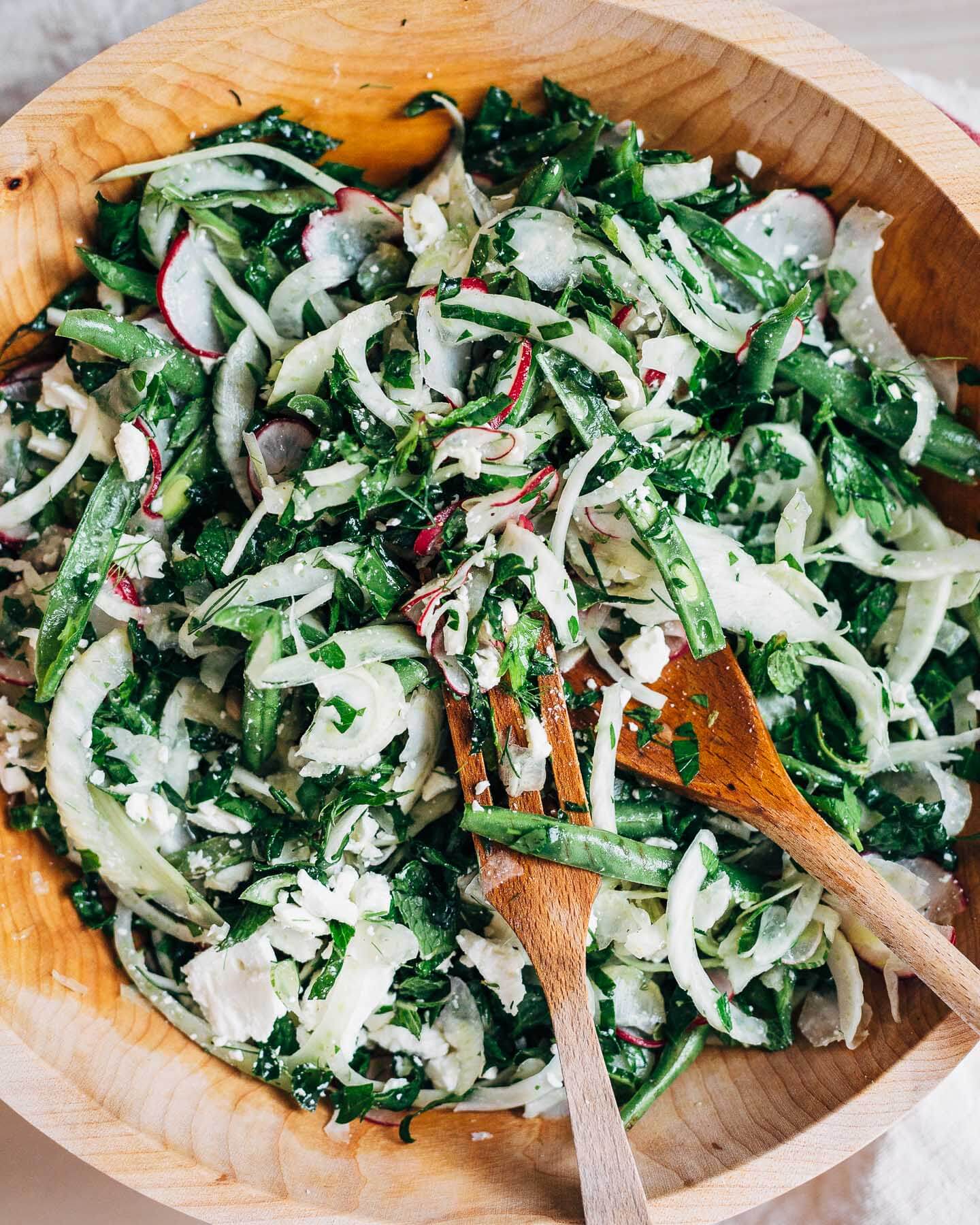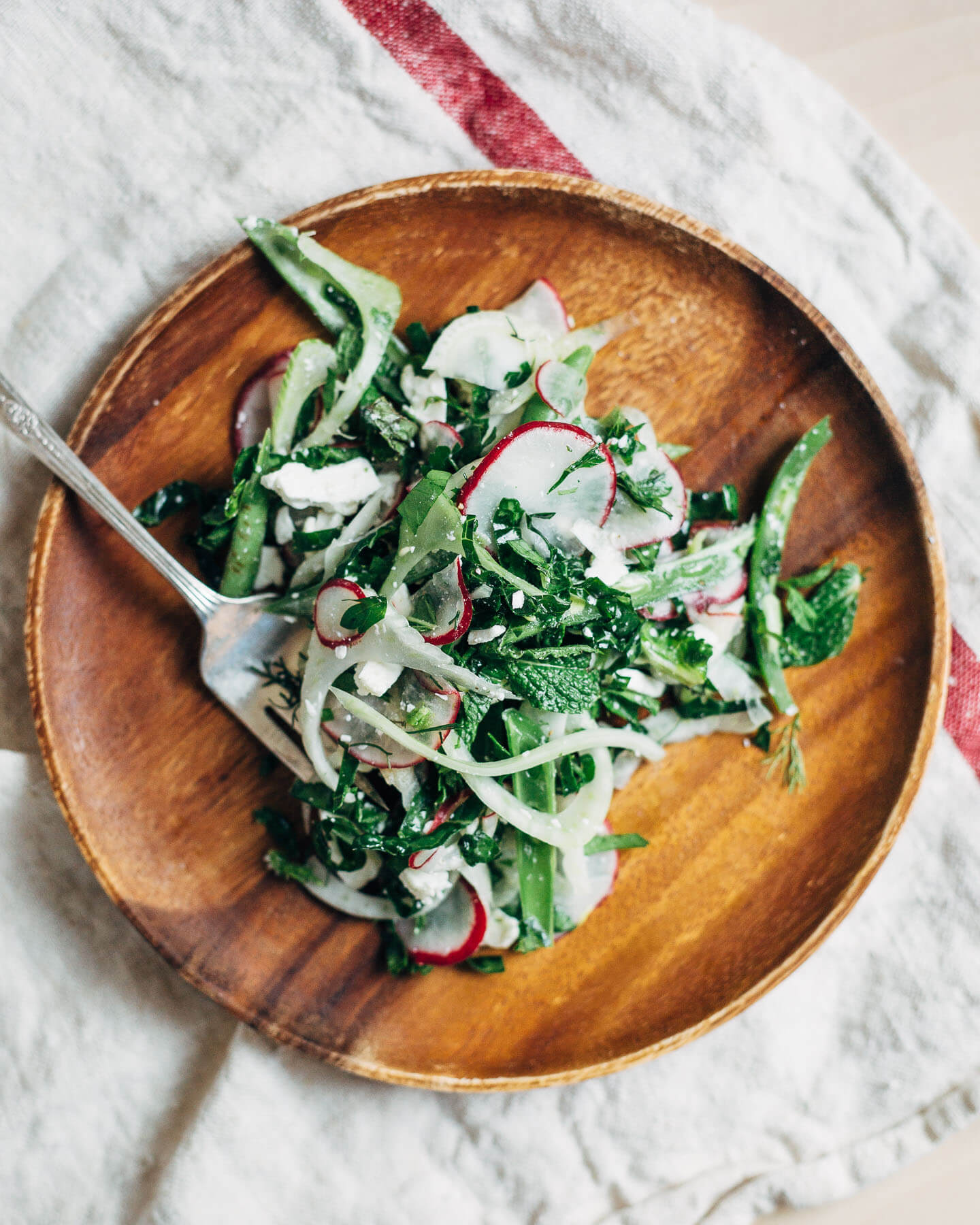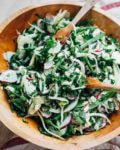 Lily's Lemony Fennel, Radish, and Kale Salad
In her book, Kale & Caramel: Recipes for the Body, Heart, and Table, Lily Diamond calls this kale salad "a paean to all things spring, to the powerful fusion of fresh vegetables and herbs and lemon and feta, to the brightness of unadulterated flavors in symphony with each other." Keep this gem on hand for days when the CSA produce starts to pile up or the moments when you need an effortless and beautiful salad for a sweltering spring day.
Ingredients
8

large leaves dinosaur

(lacinato) kale

1

tablespoon

extra-virgin olive oil

2

cups

sugar snap peas

, washed and ends trimmed (I used tender green beans instead)

3

cups

very thinly sliced or shaved fennel bulb

(about 1 medium-large), fronds reserved

5 - 6

radishes

, very thinly sliced or shaved, about 1 cup

1/3

cup

loosely packed fresh flat-leaf parsley leaves

1/3

cup

loosely packed fresh mint leaves

1 - 2

tablespoons

fresh lemon juice

, or to taste

a few pinches flaky sea salt

, or to taste

1/3

cup

crumbled feta cheese

(about 1 3/4 ounces; preferably feta in brine)

freshly cracked black pepper

, to taste
Instructions
Remove the stems from the kale and chop the leaves into thin strips. Place the strips of kale in a large bowl and massage with the oil, about 30 seconds, until the leaves grow deep green, reduce in volume, and take on a mellow sheen.

Slice each sugar snap pea in half diagonally across its midsection to reveal some of the peas (or do the same for green beans). Add the sliced peas, fennel, and radishes to the bowl with the massaged kale.

On a cutting board, give the parsley, mint leaves, and the reserved fennel fronds a coarse chop. Add to the bowl of kale and veggies. Add 1 tablespoon of the lemon juice and the salt, and toss vigorously to combine. Add the feta and toss gently to integrate. Taste and adjust the salt and lemon juice as desired. 

Serve immediately. The salad will keep in an airtight container in the fridge for up to 3 days.