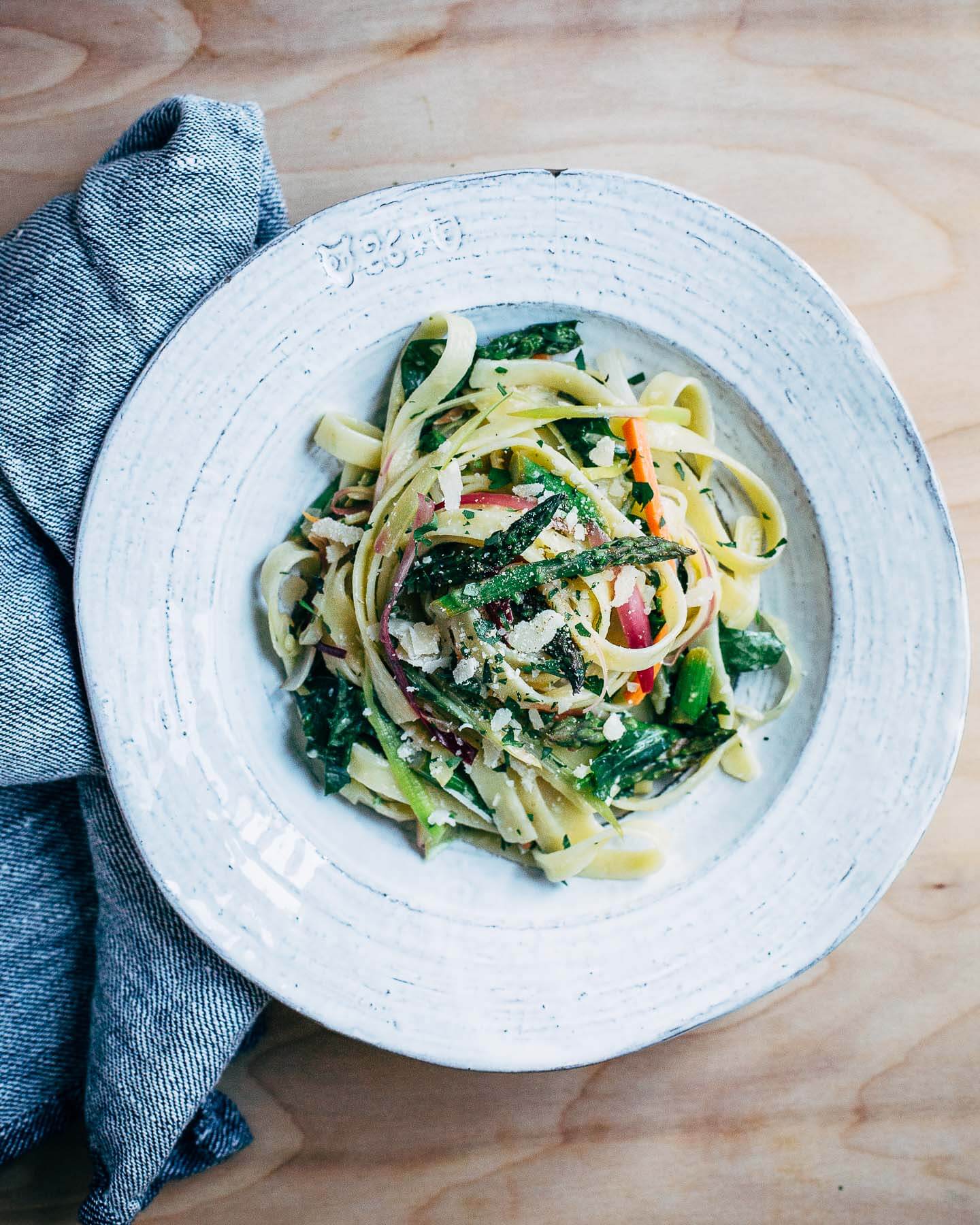 Sponsored Advertising Content
A spring-inspired fettuccine primavera recipe with a creamy Parmesan pan sauce and tossed with asparagus, green garlic, carrots, and herbs. Jump to recipe.

This winter I've neglected my stovetop. All that stubborn winter produce calls for roasting, so the oven's been my muse. But as spring produce has arrived, I've been happy to get back to the stove, glad to have the time to stir and think, to taste, sprinkle salt, or squeeze some lemon. Grateful to be cooking things that are delicate and green, jumping between skillet and cutting board, reminding everyone that dinner's going to be ready sooner than they think.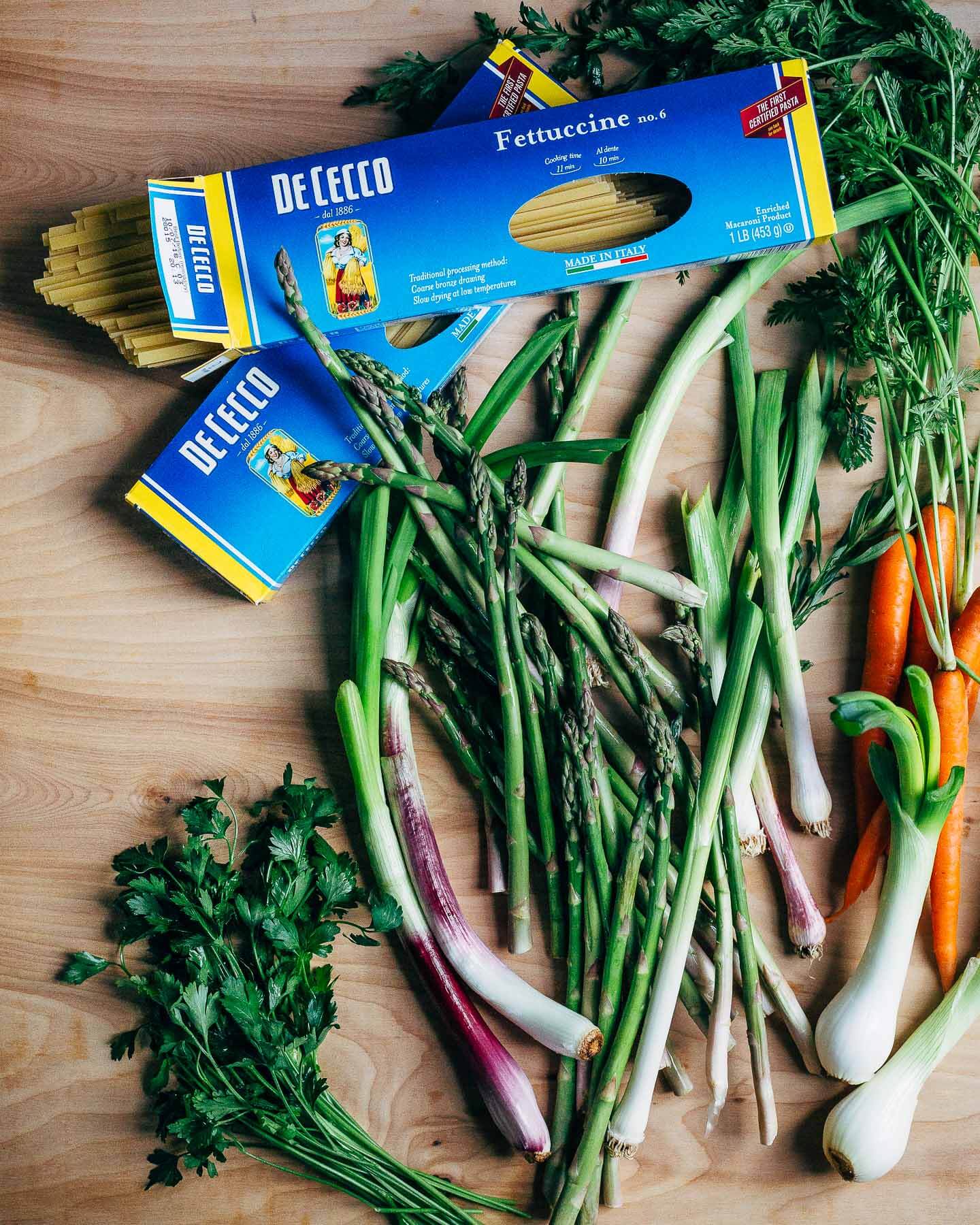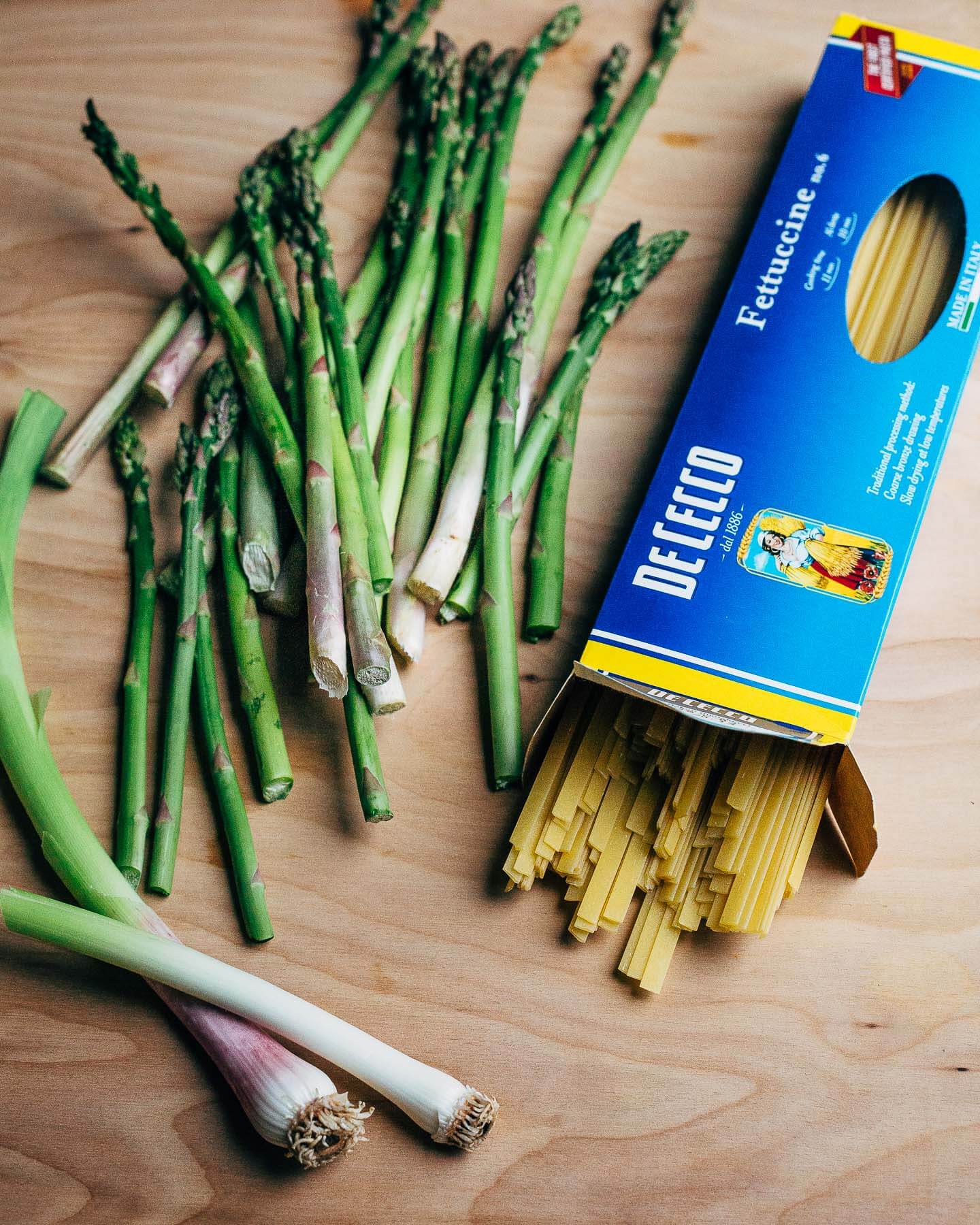 Once the produce is fresh and abundant, it just takes a few more elements for a great dinner. On good days, there's a hunk of flavorful cheese in the fridge (I alternate between Asiago, Parmesan, and Pecorino) waiting to lend depth and richness to whatever's happening with dinner. And until those shoots in the garden become actual herbs, I'm keeping the fridge well supplied with those as well.
My pantry is stocked with the staples I turn to regularly for family dinners. We eat pasta for dinner frequently and always have a few boxes of De Cecco on hand. I prefer De Cecco because it's made with care in Italy from durum wheat semolina and cooks up with a wonderful texture. I especially love De Cecco's fettuccine and how the wide noodles achieve maximum al dente perfection – supple on the outside with a little bite in the chewy center.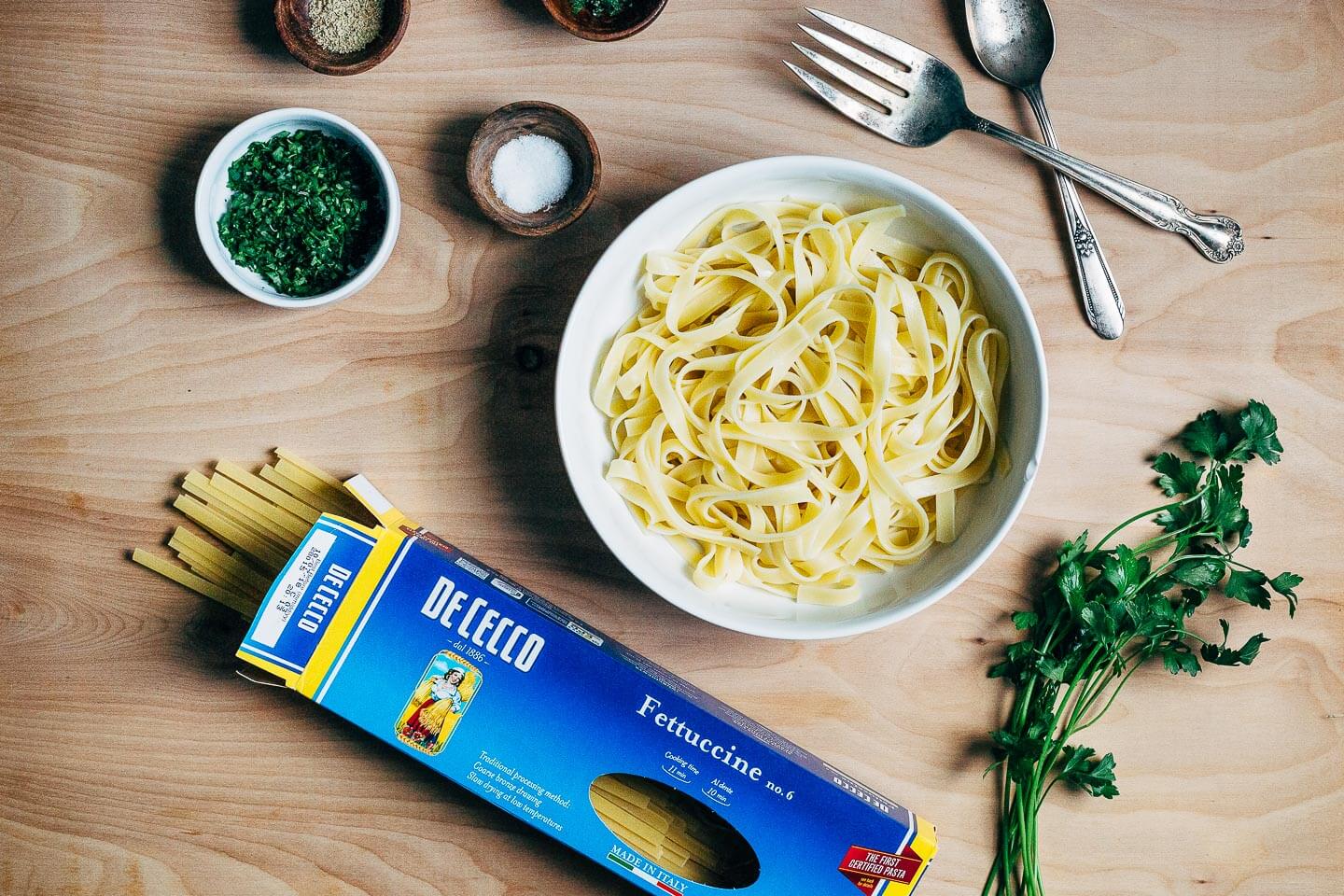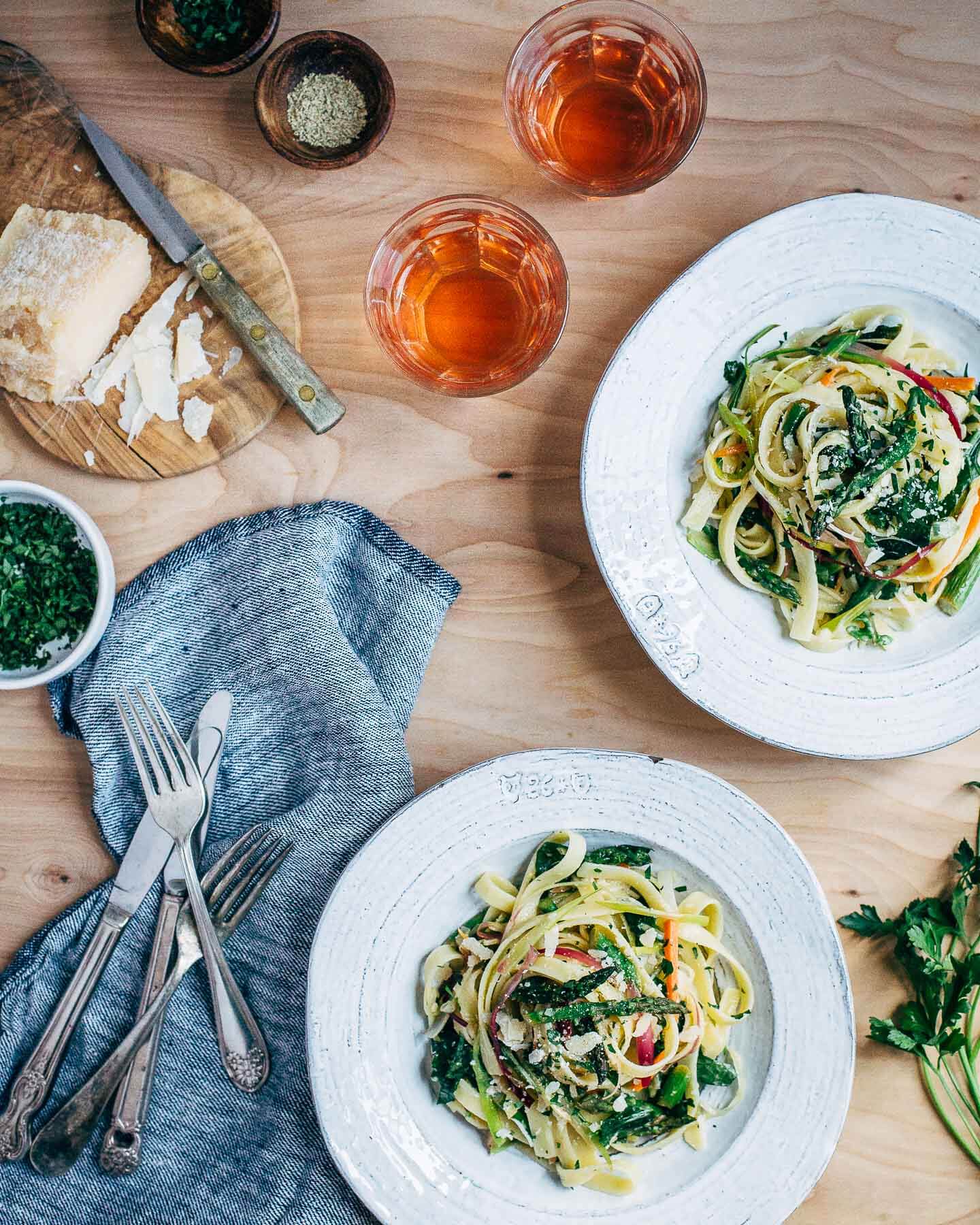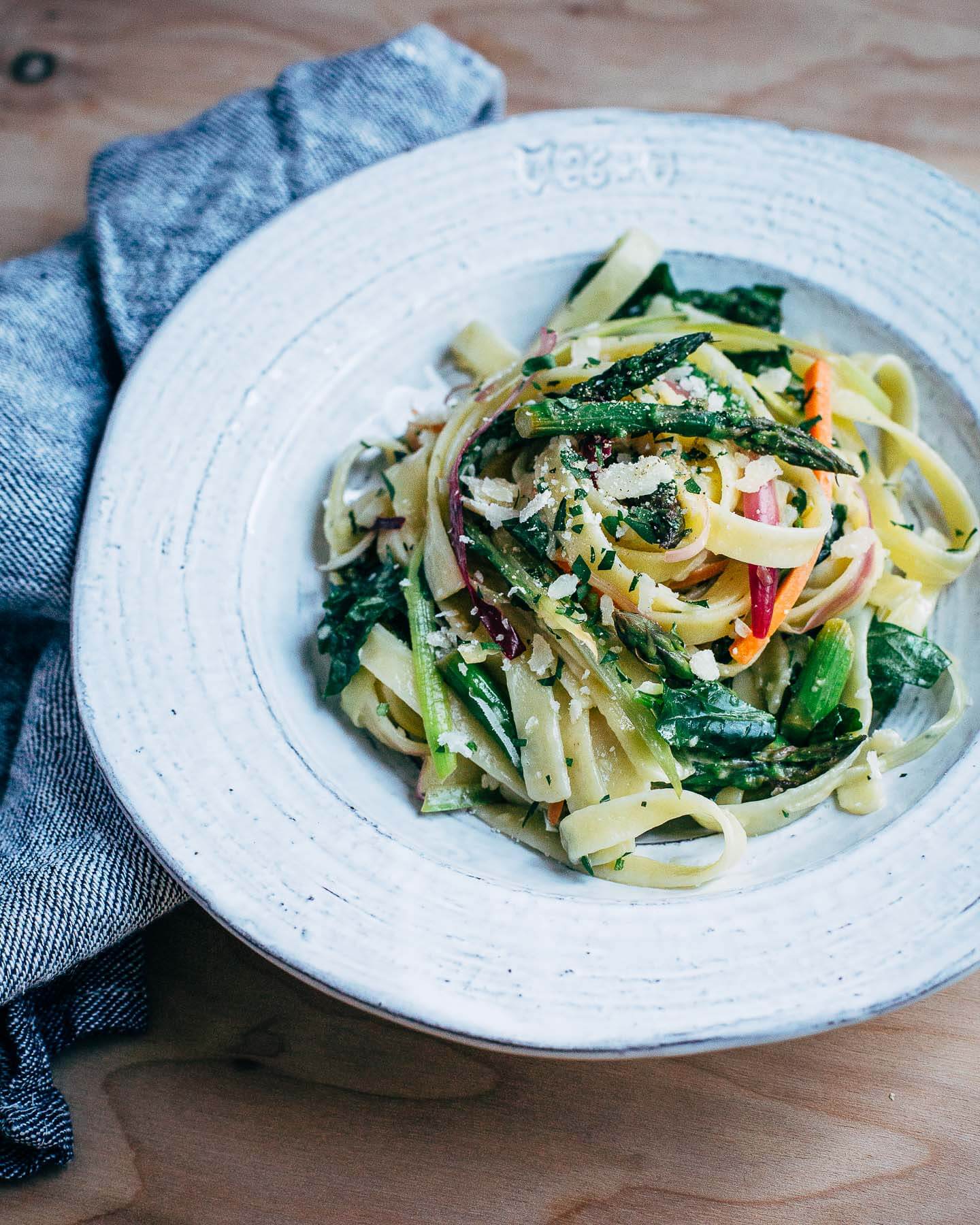 This dish is the culmination of all I crave right now – mild spring onions and green garlic, thin stalks of asparagus, and sweet spring carrots each sautéed in turn with butter and lemon, and then tossed in a creamy Parmesan pan sauce with ribbons of pasta. The result is hearty and rich, but with lovely earthy undertones and grassy flecks of parsley, tarragon, and mint.
Consider the recipe below a starting point. I used the big spring onions sometimes called salad onions – not the thin scallion kind. I also used green garlic, which looks very much like a slender leek. These early garlic stalks haven't yet formed cloves, and have a pronounced but very mild garlic flavor. Any of spring's secession of alliums will work here – garlic chives, ramps, garlic scapes, young onions of any size, or leeks. Likewise, a host of thinly sliced vegetables can be subbed in – zucchini, summer squash, or green beans would be excellent.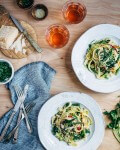 Fettuccine Primavera
A spring-inspired fettuccine primavera recipe with a creamy Parmesan pan sauce and tossed with asparagus, green garlic, carrots, and herbs.
Ingredients
16

ounces

De Cecco Fettuccine

2

small carrots,

cut into very thin strips about 3-inches long

1/2

pound

slender asparagus spears,

woody ends snapped off and sliced on the bias into 1-inch segments

1

medium stalk green garlic,

trimmed, with white and light green parts cut into thin strips

1

medium spring or salad onion

1

cup

baby kale leaves

or other young greens, chopped into thin ribbons

3

tablespoons

unsalted butter,

divided

half a lemon

sea salt

1 - 2

tablespoons

dry vermouth

1/4

cup

plus 2 tablespoons heavy cream

1/2

cup

finely shredded Parmesan

2

tablespoons

minced parsley

1

tablespoon

minced tarragon

1

tablespoon

minced mint

freshly ground white or black pepper to taste
Instructions
Gather and prep the vegetables. Slice off the white or purple base of the onion, and mince. Reserve minced onion in a small bowl. Cut the stalk into very thin strips.

Bring a large pot of salted water to a boil. Add fettuccine and cook to al dente. (Fettuccine sticks together easily, so give the boiling water a few swirls as pasta cooks.) Reserve a cup of pasta cooking water for plating.

Meanwhile, set a large, deep-sided skillet over medium heat. Cut off a tablespoon of butter and divide into thirds. Add one third to the pan and when bubbly and fragrant, toss in carrots. Sprinkle carrots with a tiny pinch of sea salt and a squeeze of lemon juice. Sauté until carrots are just soft, but still have a bit of bite in the middle, 2 - 3 minutes. Remove cooked carrots to a bowl. Add another third of butter, followed by chopped asparagus, sea salt, and a squeeze of lemon juice. Sauté just until tender, about 2 minutes. Remove to a bowl. Add the remaining third of butter, followed by spring onion and green garlic strips, a pinch of sea salt, and a squeeze of lemon juice. Sauté 2 minutes and then remove to a bowl.

Deglaze pan with 1 tablespoon dry vermouth and then stir in remaining 2 tablespoons butter. Add reserved minced onion and sauté until golden, about 2 minutes. Turn heat to low, and stir in heavy cream followed by Parmesan. Fold in most of the fresh herbs, reserving some for garnish. Taste sauce, and add lemon, a splash of vermouth, or sea salt as needed. Gently fold fettuccine into the sauce and add kale ribbons, followed by cooked vegetables. If mixture gets at all sticky, add a splash of pasta cooking liquid to loosen the noodles.

With a large serving fork, twirl fettuccine into shallow bowls, finish with reserved herbs, pepper, and Parmesan shavings. Serve immediately.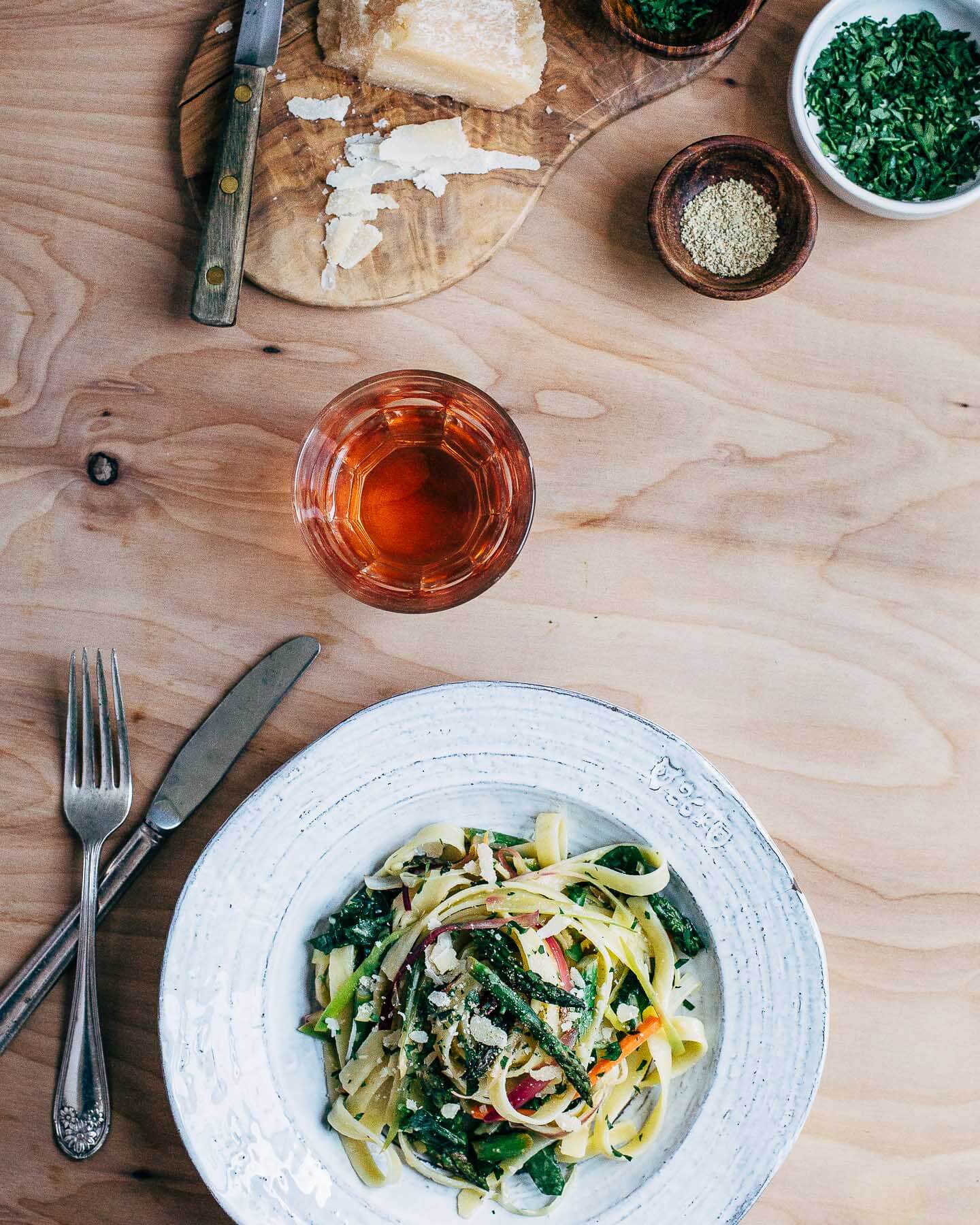 Disclosure: This post is brought to you in partnership with De Cecco and NBCUniversal. Thanks for supporting the companies that make our work possible. As always, all opinions are my own.