A colorful and savory fig and cantaloupe salad that's perfect for early fall.
I decided I'd only worry about the garden through July. After that, I let it all surrender to the squash bugs, at least one groundhog, a few squirrels, possibly a deer, and powdery mildew and blight of all manner. But even as they weather the onslaught, the tired-looking plants still spew fruit. Most of my outdoor plants have had a banner year, especially considering my gardening-in-Virginia track record. All the plants, except the fig.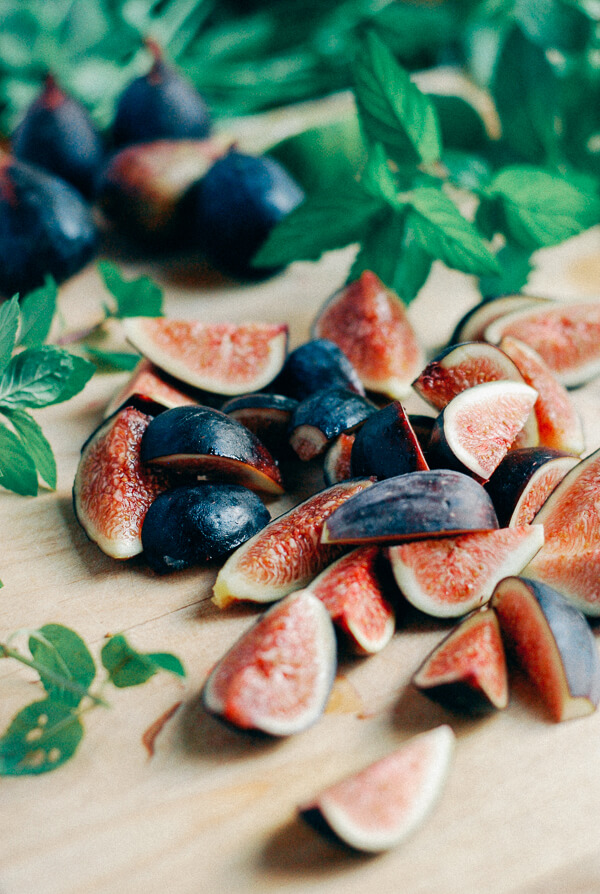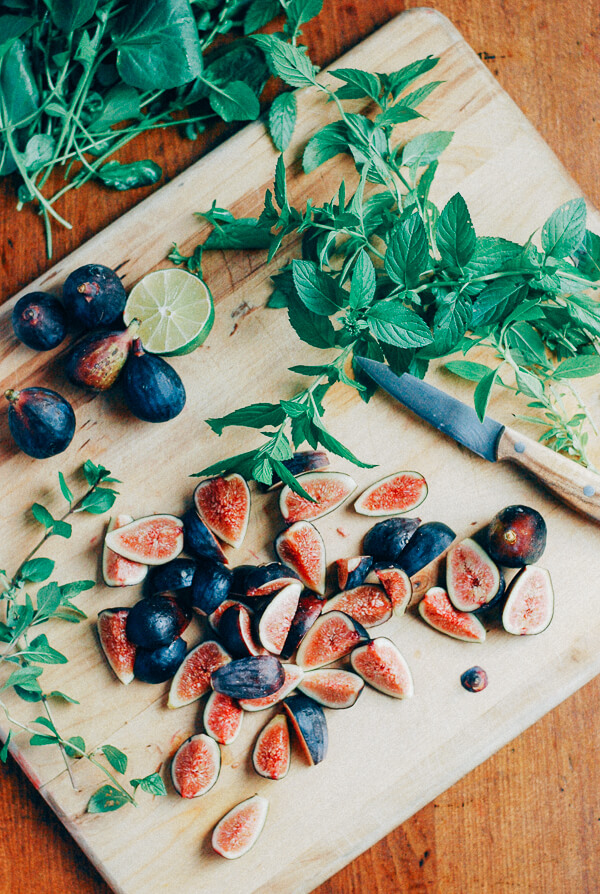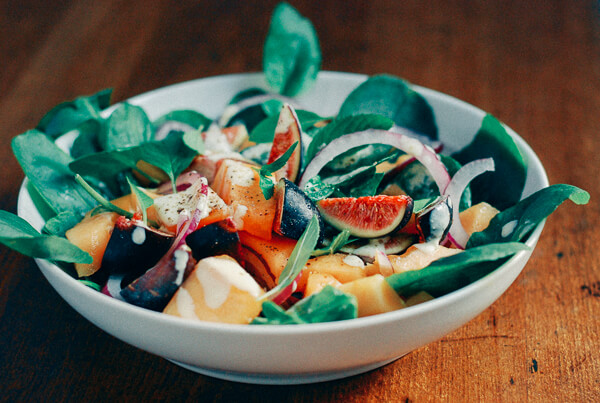 I have a little potted fig tree, a Mother's Day gift from last year, that bore a full round of figs last summer. This year, I spotted only a single, tiny one. No matter, I have my eye on a few local trees, and in a week or two, will do my best to endear myself to, or possibly steal from, the owners of these more productive fig trees.
Or, I may do just as I've done here, and get them at the store. No matter how you come by your figs, after an old fashioned cramming figs in your face sit down, a savory salad should be in order. For this fig and cantaloupe salad, I threw together heaps of figs, some over-ripe cantaloupe, and a bunch a peppery watercress. The salad gets pungent notes from a sliced red onion along with tang from a creamy garlic and Greek yogurt dressing. Herbs, especially mint, bridge the whole mess, and you are left with a quietly celebratory late summer salad.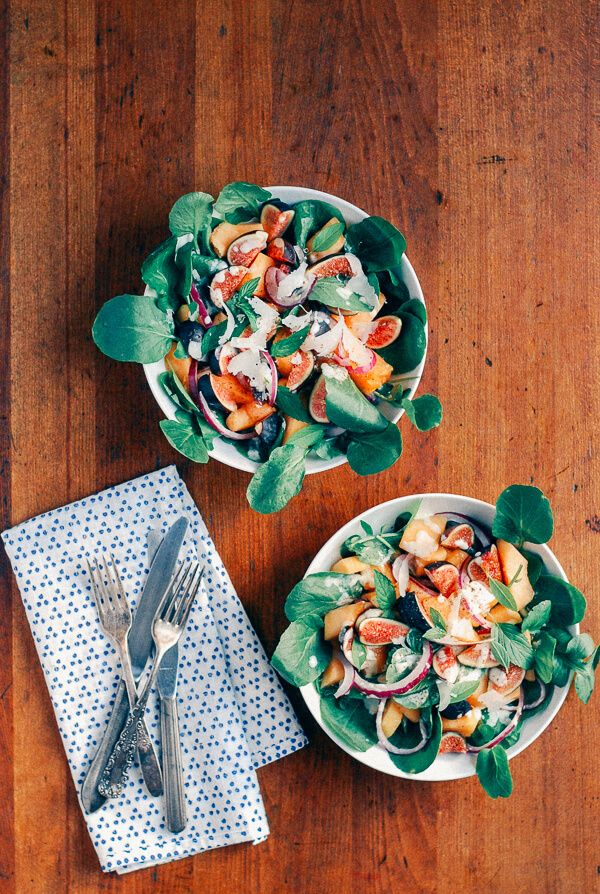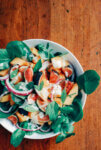 Fig and Cantaloupe Salad with Watercress and Creamy Garlic Dressing
A colorful and savory fig and cantaloupe salad that's perfect for early fall.
Keyword:
fig and cantaloupe salad
Makes
:
4
generous servings
Ingredients
For the creamy garlic lime dressing
1/3

cup

Greek yogurt,

preferably the full fat variety

2

tablespoons

extra virgin olive oil

2

tablespoons

lime juice,

from about 1/2 a lime –– save the other half for serving

1

tablespoon

minced red onion

1

tablespoon

minced garlic,

about 1 clove

2

teaspoons

honey

1/4

teaspoon

sea salt,

or more to taste

1/4

teaspoon

ground black pepper

2

tablespoons

finely grated Parmesan
For the salad and assembly
8 - 10

figs,

stems removed and quartered

1

small cantaloupe,

peeled, seeded, and cut into 1/2 inch chunks

1

bunch watercress

1/2

a red onion,

sliced paper thin

4

sprigs fresh mint

Several leaves fresh basil,

torn or cut chiffonade

Parmesan shavings

Lime wedges

Sea salt and black pepper to taste
Instructions
This dressing improves with time, so if you have time to make ahead and refrigerate for a while, I'd recommend it. If not, it's still going to be great.

This dressing is easily made in the blender, but you can also whisk it all together. For the blender method, add all the ingredients and pulse until emulsified. Otherwise, whisk the Greek yogurt and olive oil together in a small bowl. Add lime juice, and then the onion, garlic, honey, sea salt, pepper, and finally, the Parmesan.

To assemble the salad, in a large bowl or on a platter, arrange the watercress. Drizzle leaves with several tablespoons dressing, and turn with fingers to coat. Next, layer on cantaloupe segments, red onion slices, and figs. Drizzle with more dressing. Finish salad by sprinkling on the herb leaves, adding a few Parmesan shavings, a squeeze of fresh lime juice, and a pinch each of sea salt and pepper.