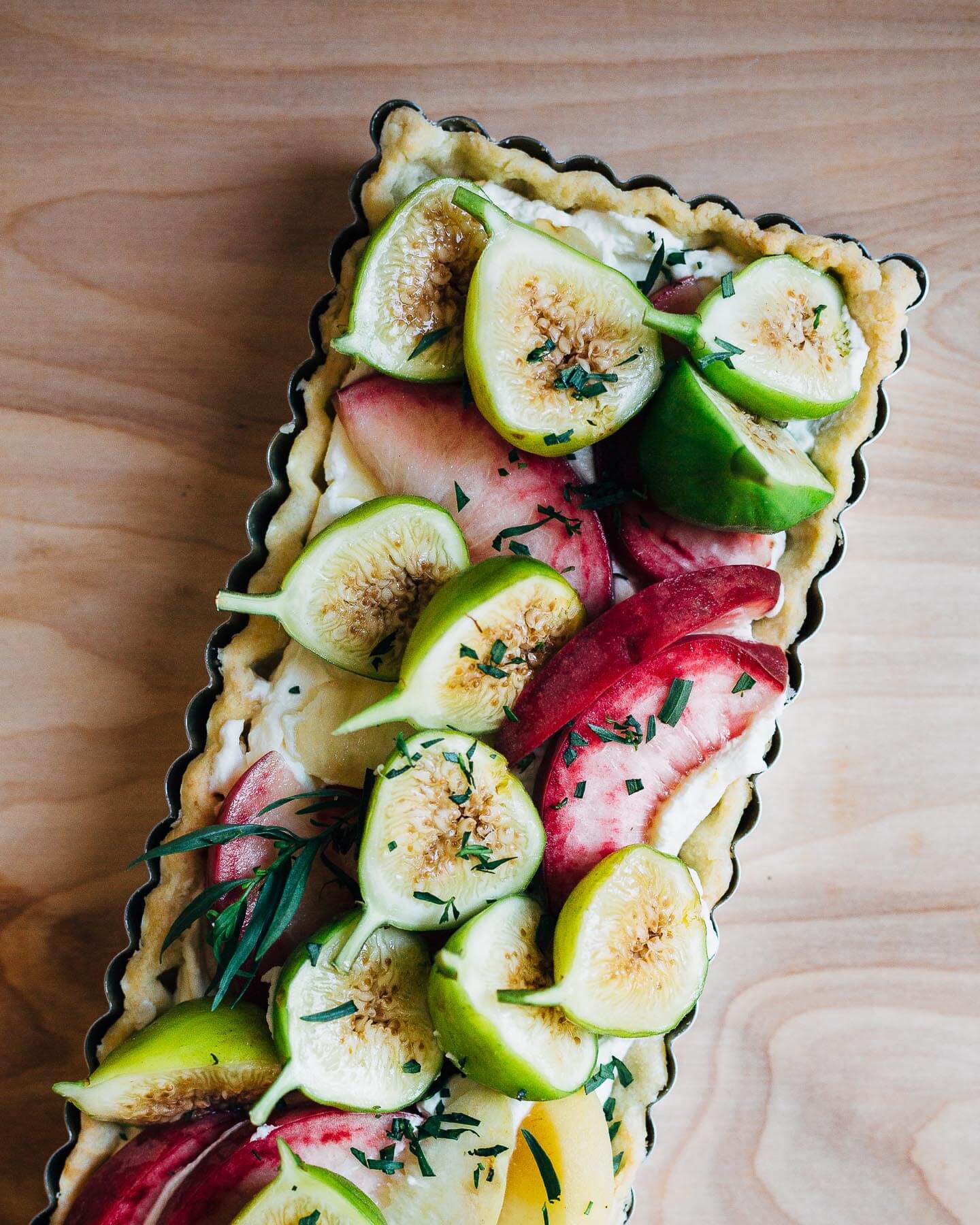 A simple mascarpone tart topped with heirloom figs and peaches collected from the orchards of Thomas Jefferson's Monticello. This post is sponsored by Thomas Jefferson's Monticello in support of the Heritage Harvest Festival. Click here for festival details. Jump to recipe. 
My dream garden sits just a couple miles from my house on a mountain east of town. Whenever I visit Thomas Jefferson's Monticello, I end up wandering the Vegetable Garden, exploring the rows, making notes about the plants, and ogling the produce. Despite my ardent love for the gardens there, I'd never been on an official tour. So when Monticello invited me to tour the Monticello gardens with Curator of Gardens Eleanor Gould, I was ecstatic.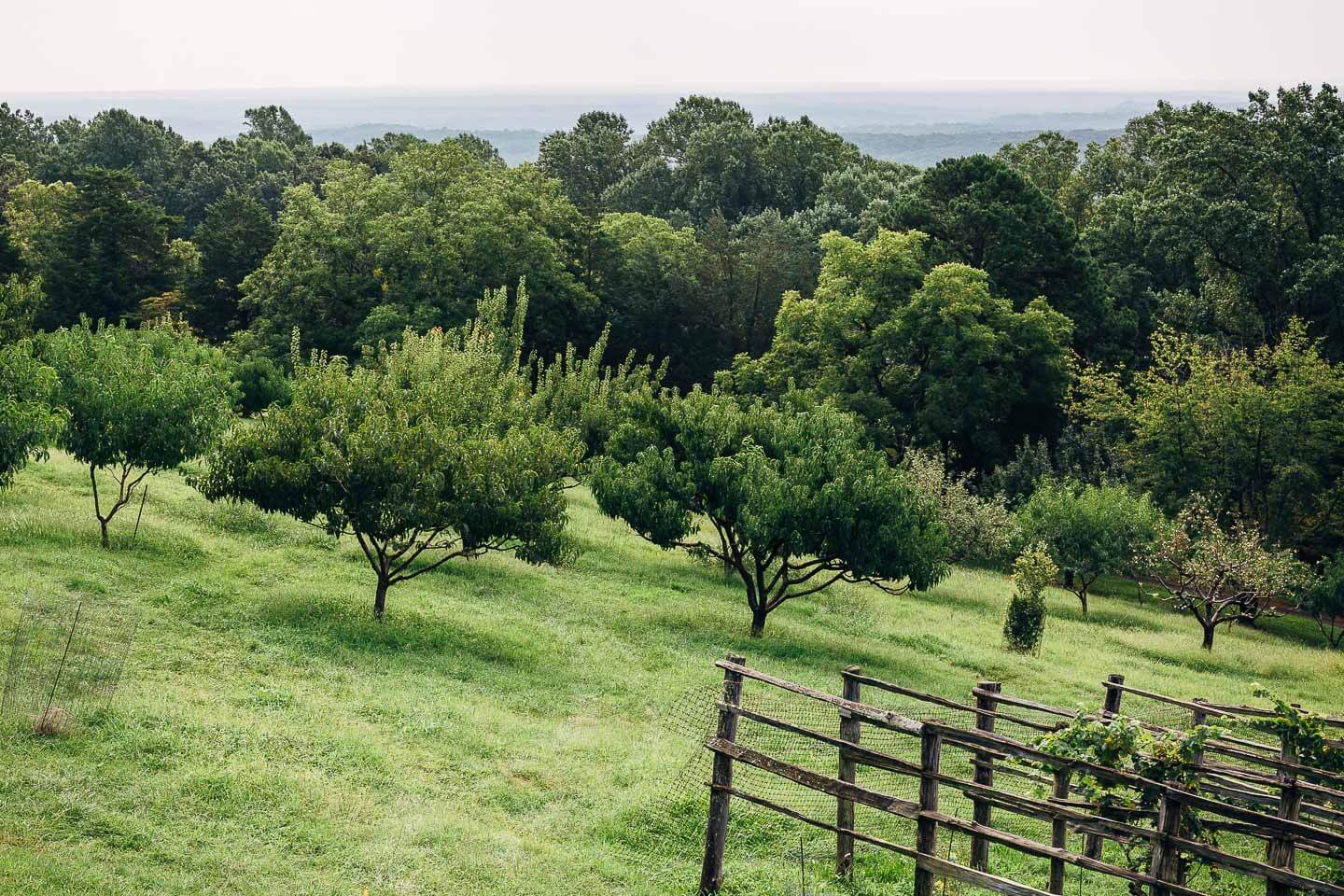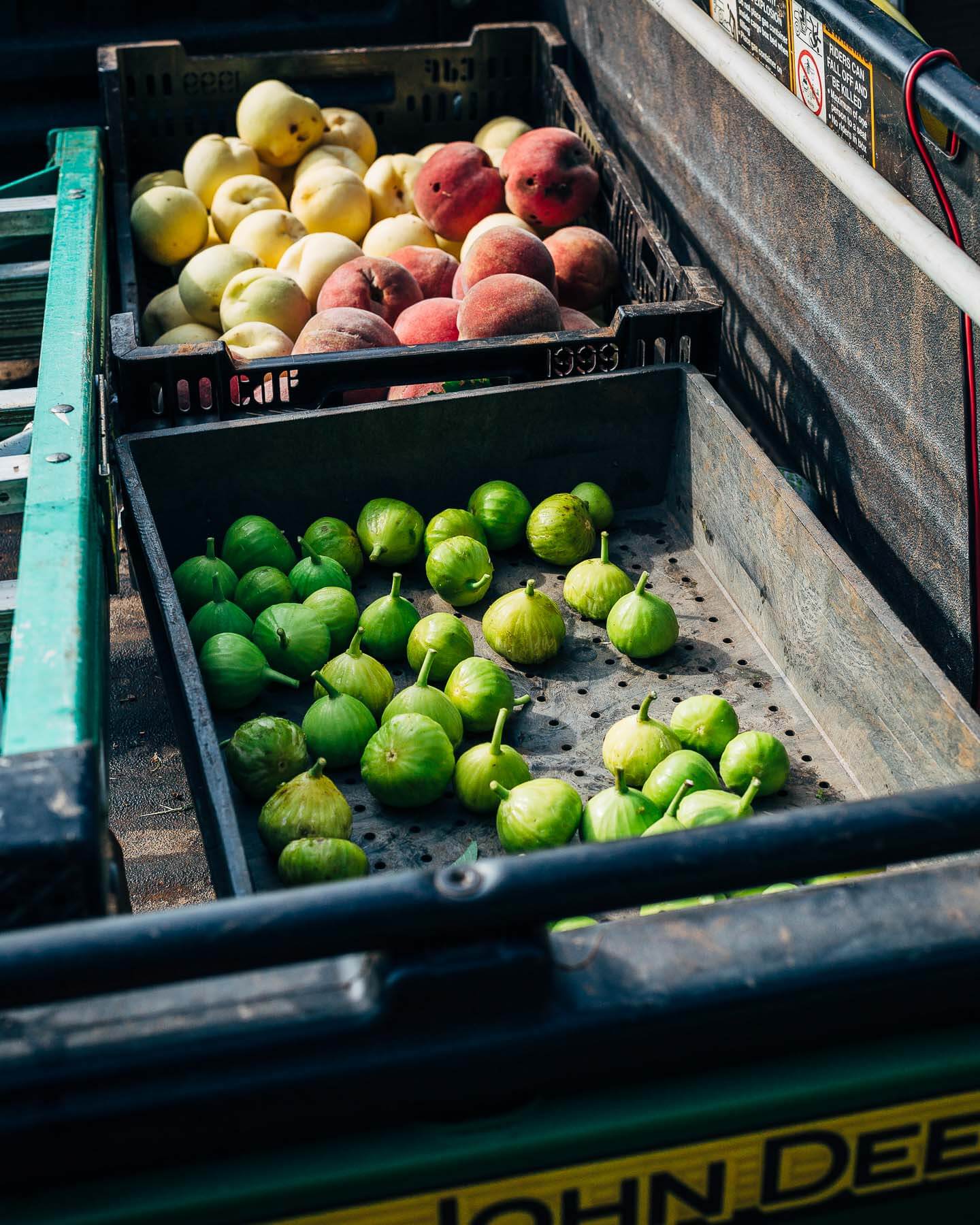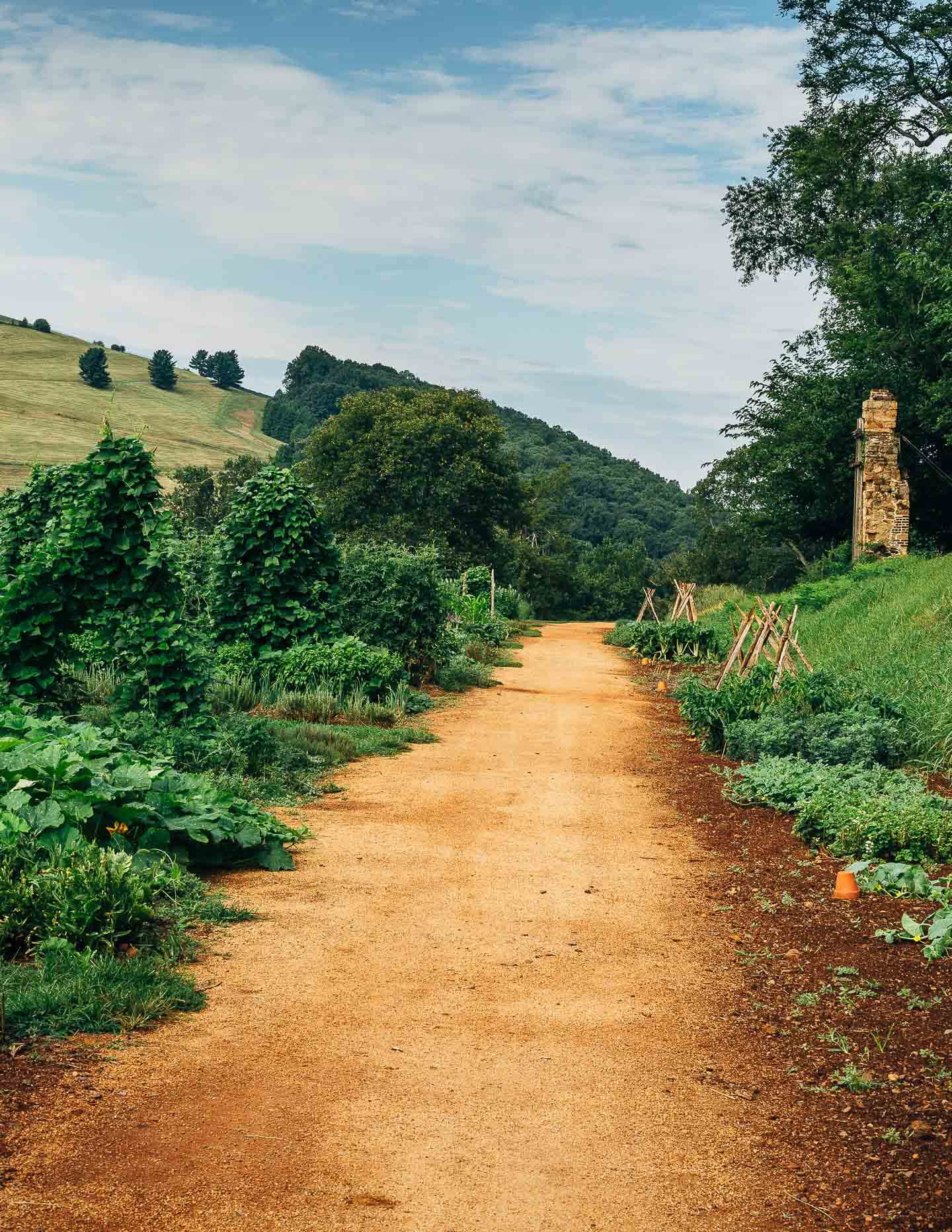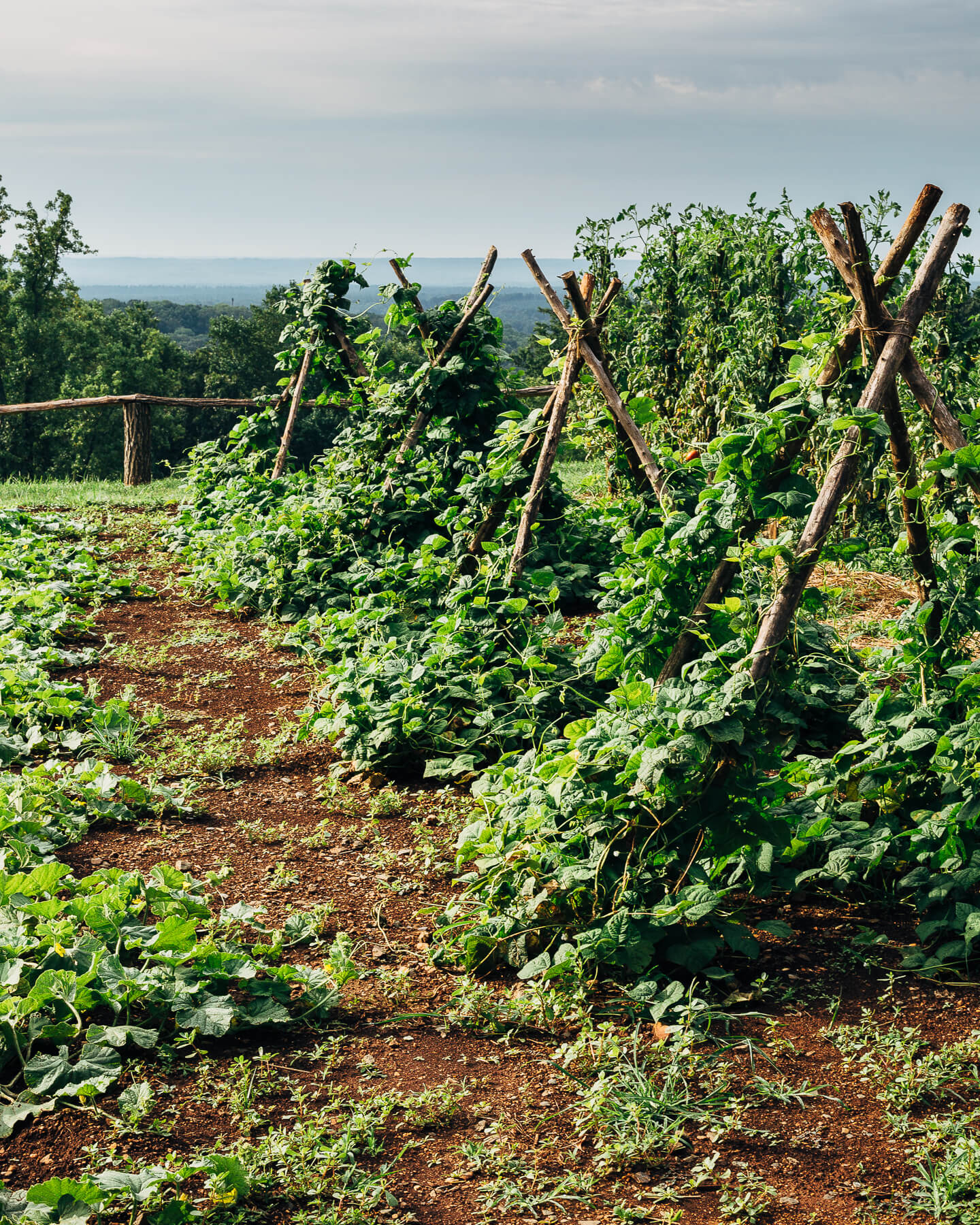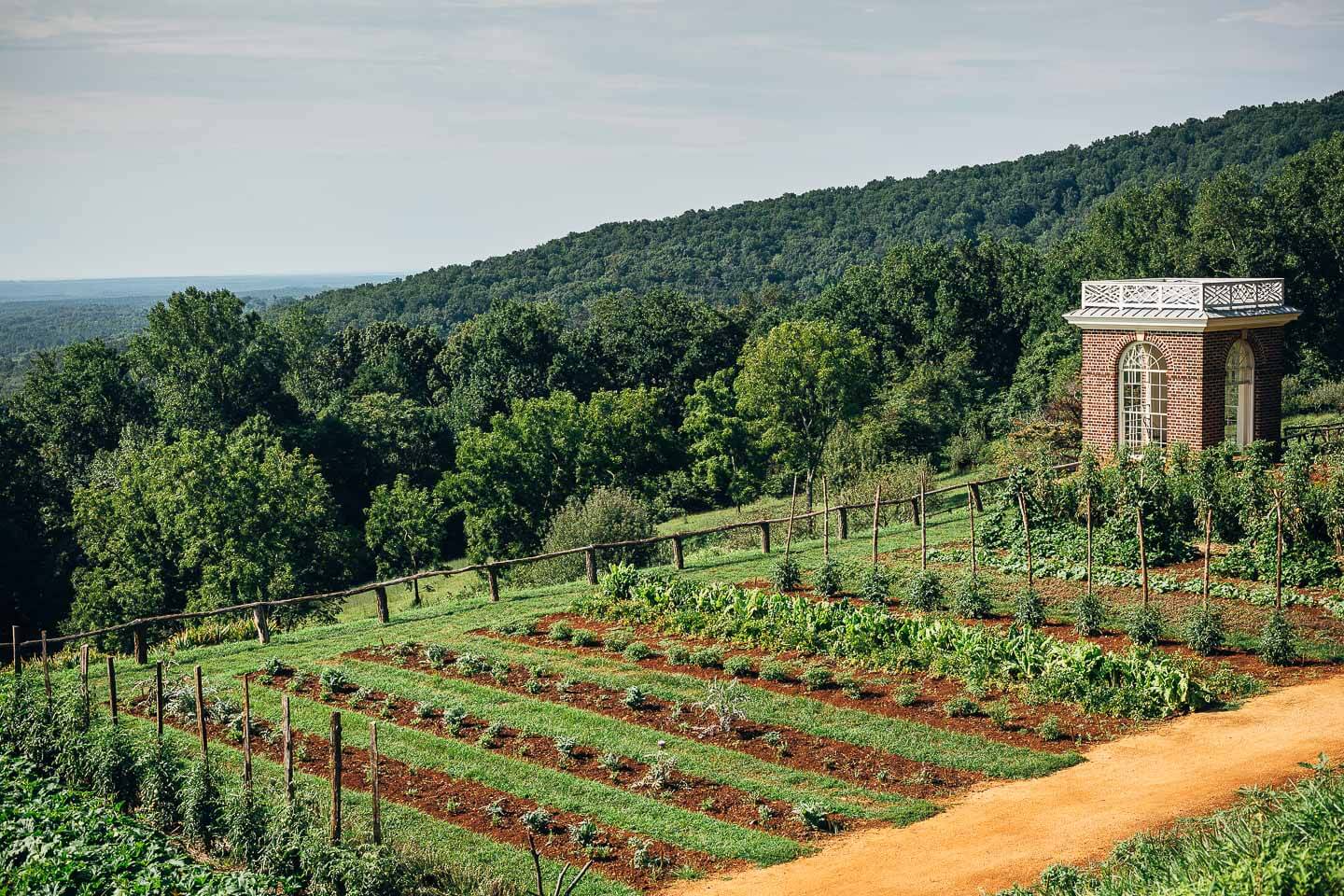 As I walked the garden with Eleanor and Pat Brodowski, Vegetable Gardener, I was delighted to hear about lesser-known plants like the (slightly) poisonous tansy that was once (carefully) used to make tansy pudding or how to prepare obscure ingredients like cardoon, sea kale, and salad burnet. As we tasted our way through the garden, I tried more familiar ingredients like tender heirloom green beans as well. I also spied tons of purslane growing all over the garden (it's a weed, after all), which was one of my NYC Greenmarket favorites that I don't see often in Virginia.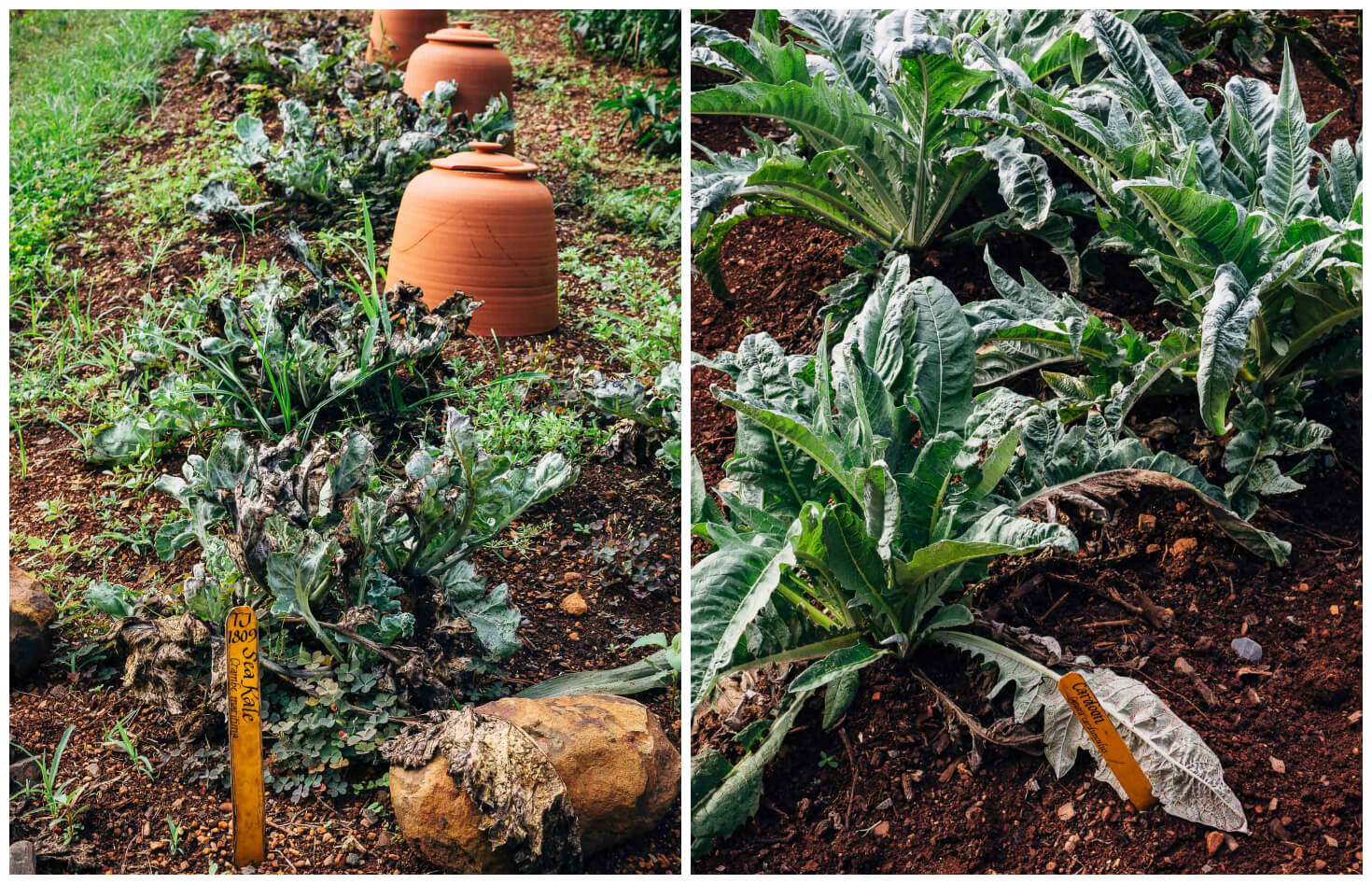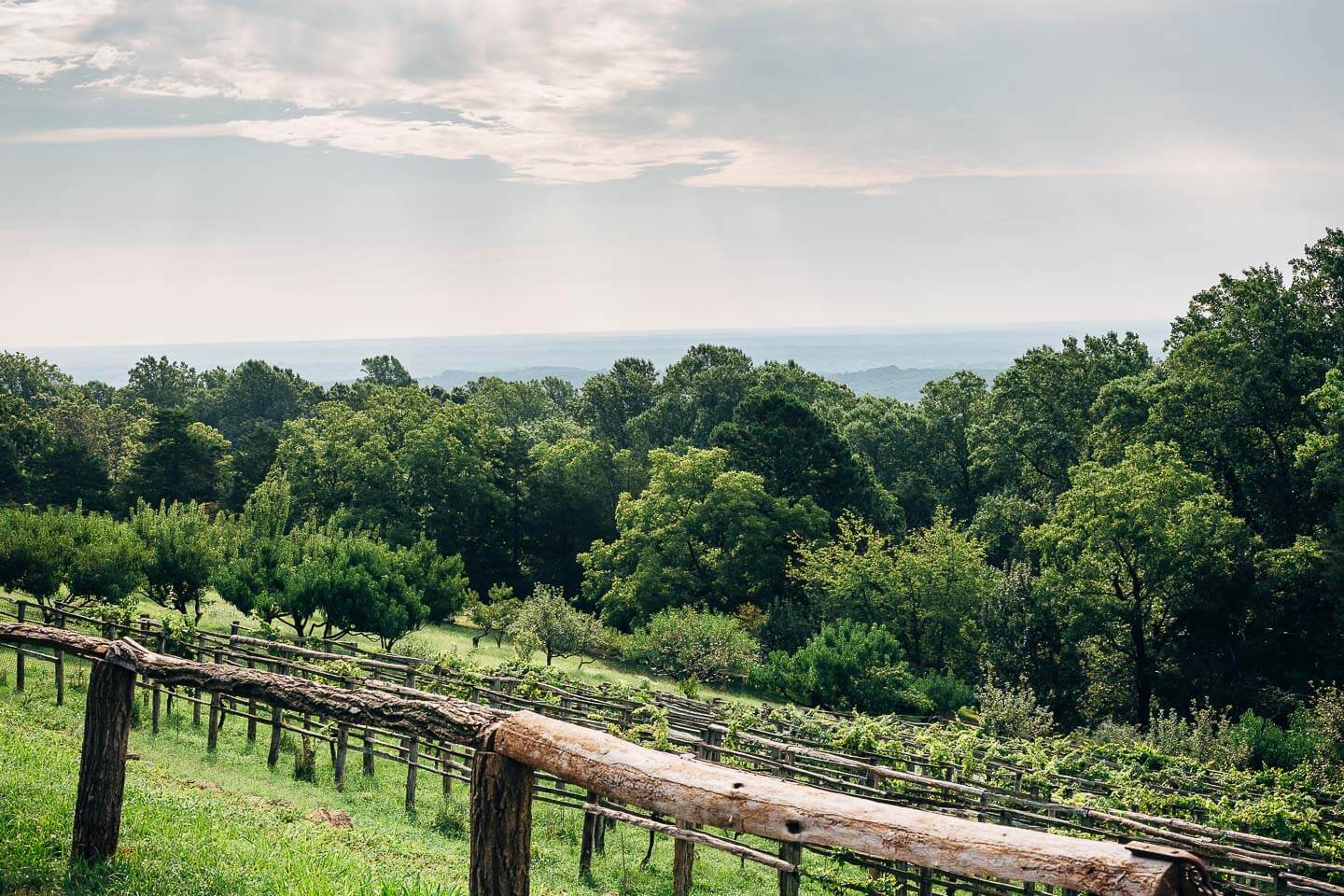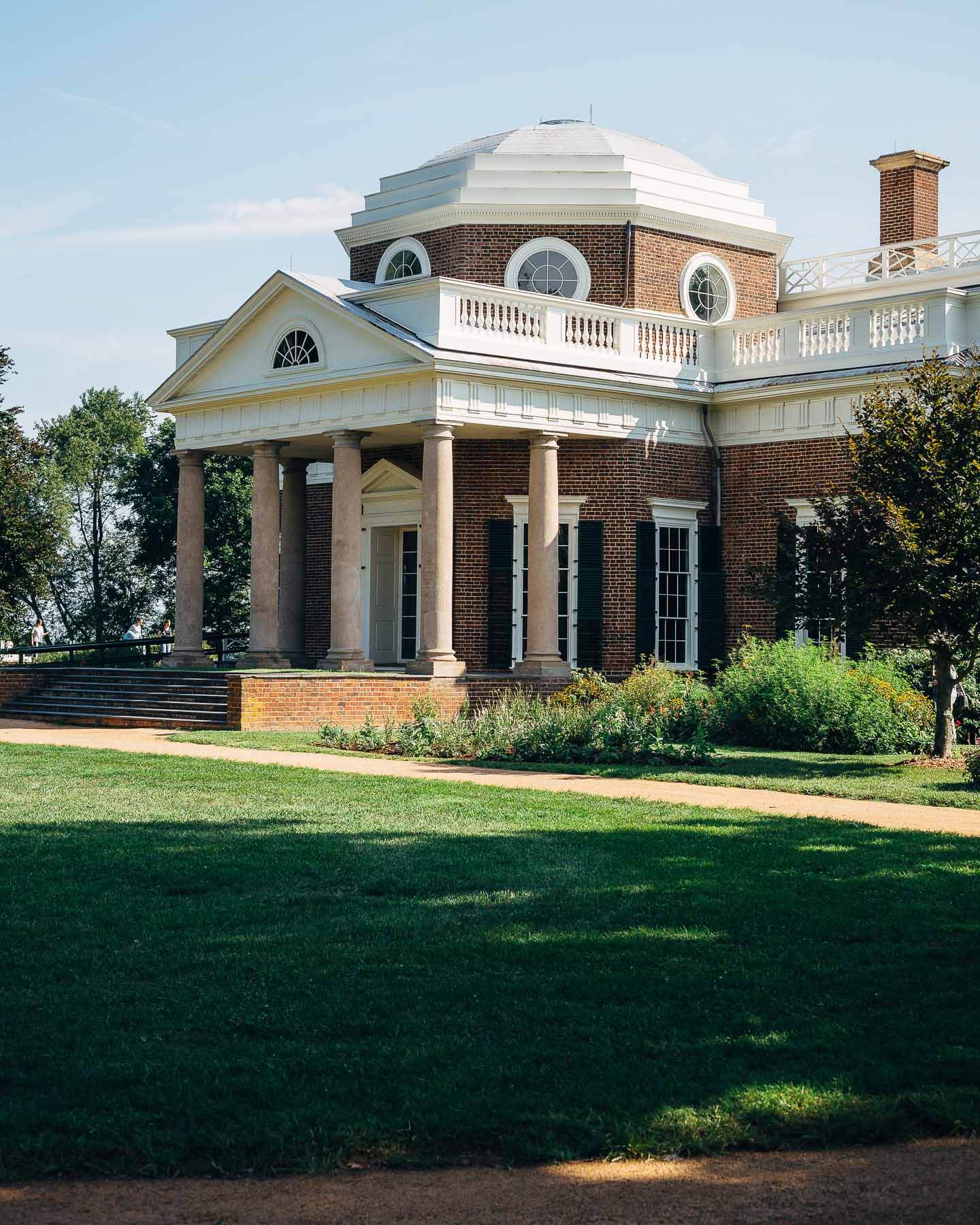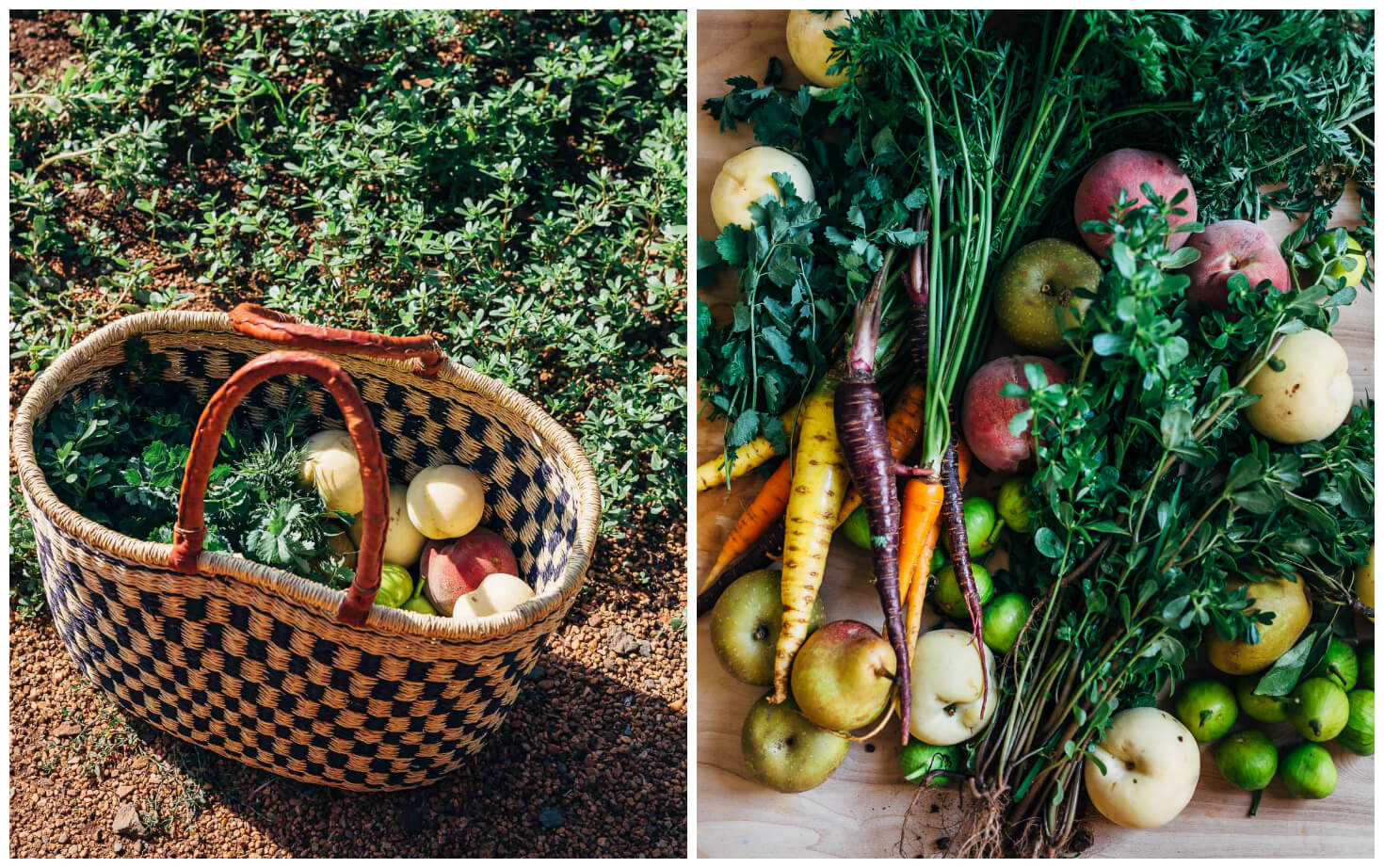 Monticello's Garden and Grounds team do amazing work – not only are they cultivating historically accurate plants, crops, and trees, they are also connecting the past to our future with an emphasis on flavorful heirloom varieties, unique, hardy plants, and sustainable agriculture. The gardens and orchards aren't just an agricultural display, they're a historical one and I was impressed by the gardeners' commitment to revealing the human history of food at Monticello, especially the sacrifices and contributions of the enslaved people who made Monticello function. Slavery is an incredibly difficult topic that many public historical sites have shied from fully confronting and I admire the strides Monticello has made, and continues to make, in making the story of slavery central.
If you, too, have an interest in culinary history, I hope you'll check out the upcoming Heritage Harvest Festival at Monticello, a great opportunity to engage with America's history and foodways while also looking to the future. The festival features many players in the local, sustainable, and heirloom food worlds. I'm especially excited about The Cooking Gene: Tracing Your Family History through Food with food historian Michael Twitty, Four Season Gardening with local gardening icon Ira Wallace, and 3000 Years of Appalachian Seed Saving with Bill Best, Director of the Sustainable Mountain Agriculture Center.
If your interest is piqued, use the code VEG16 for $10 off the Friday Festival Opening Night at the Paramount Theater in downtown Charlottesville. Or grab a ticket to the rest of the festival programs here.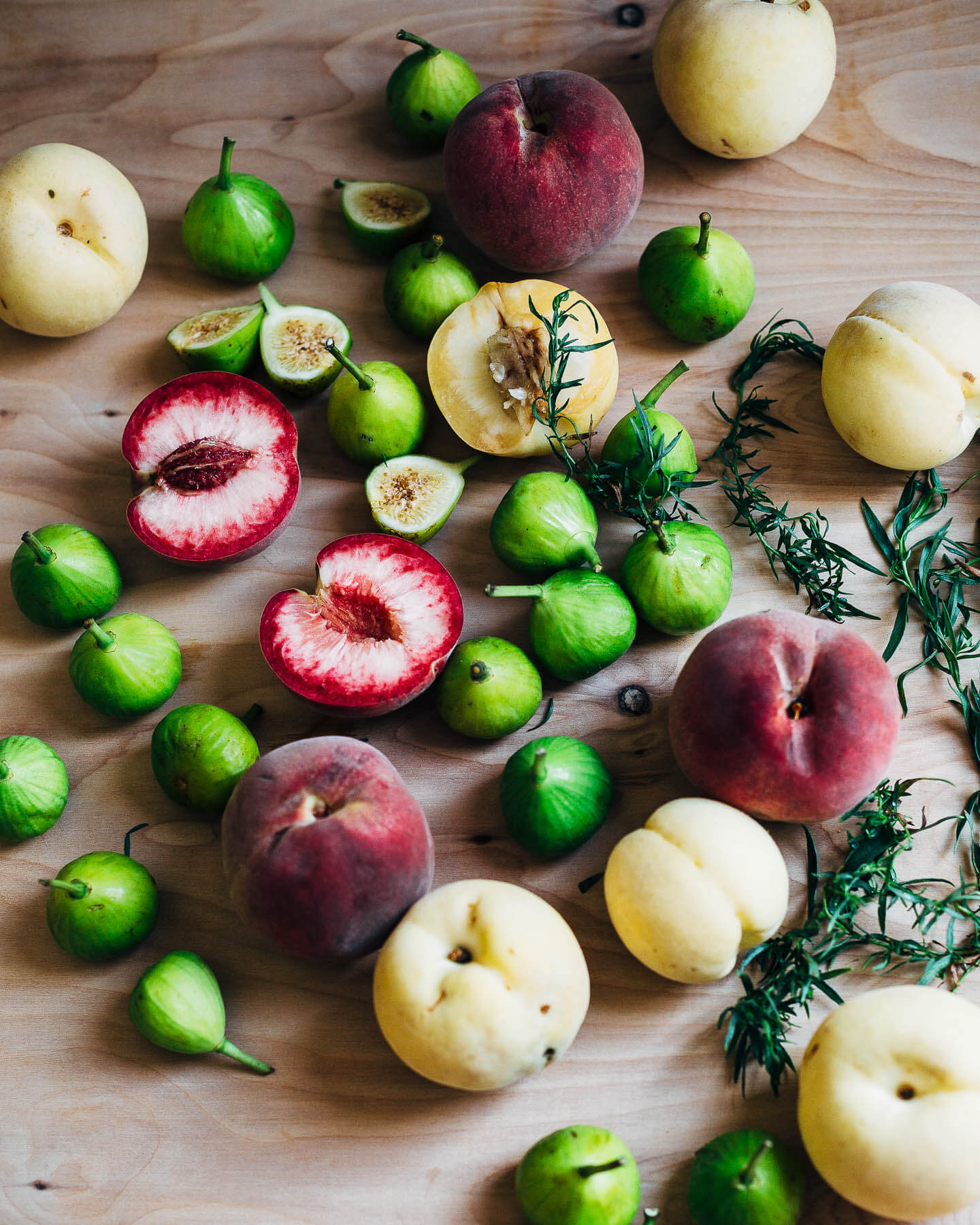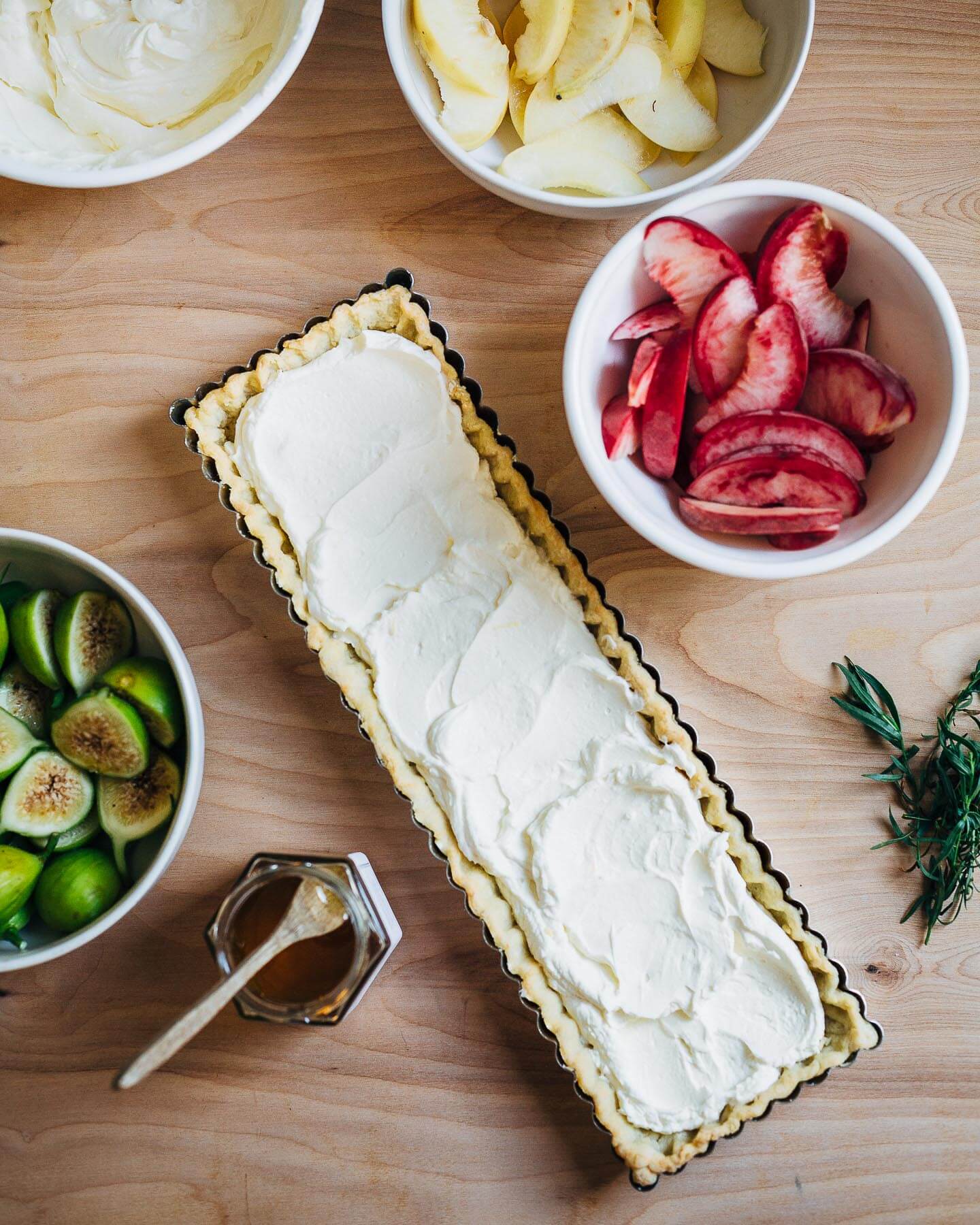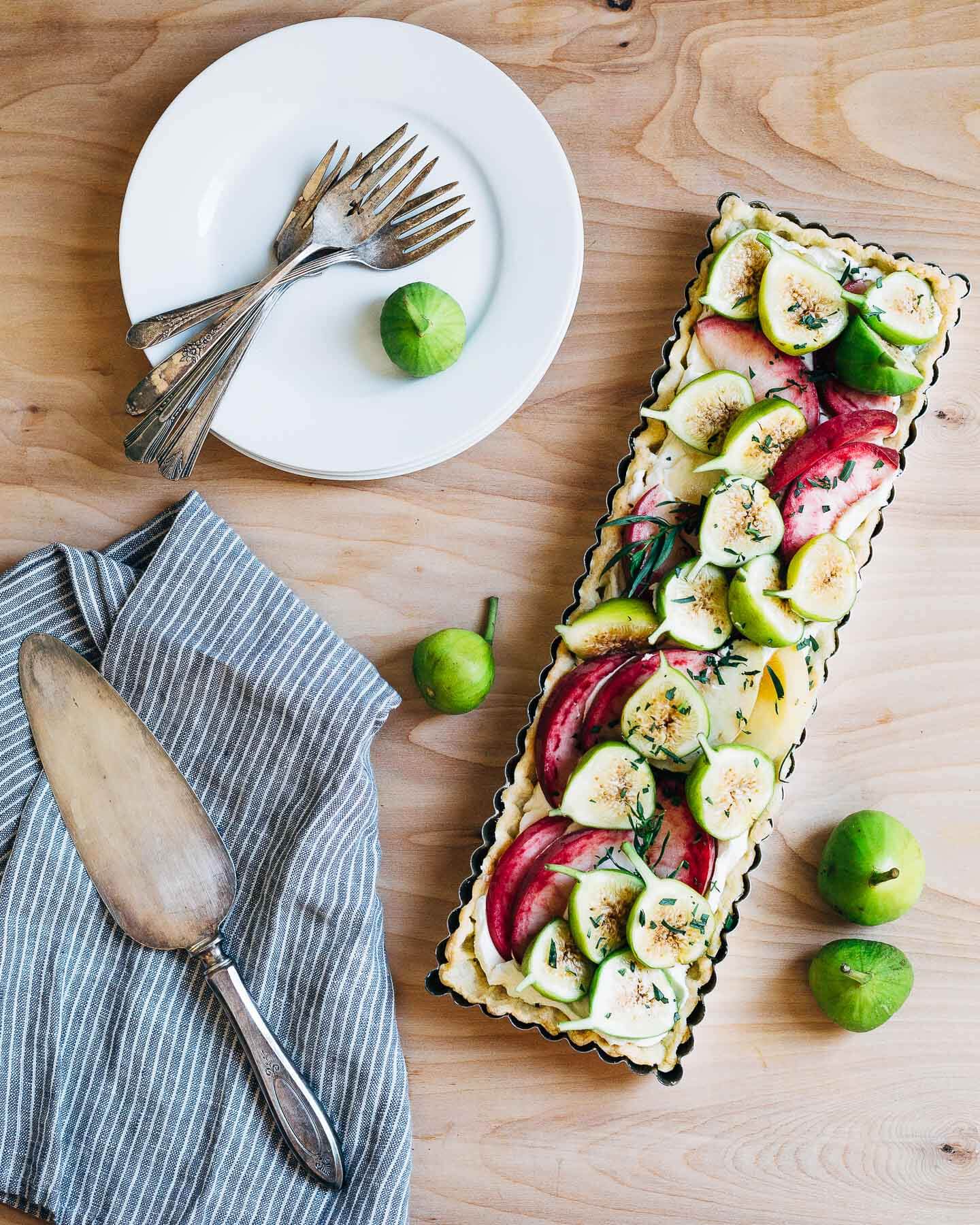 Of course, my trip to Monticello's gardens called for a recipe to celebrate them. After the tour, Pat obliged my love for it with an enormous bunch of purslane, as well as a basketful of colorful heirloom carrots, salad burnet, and tarragon. Meanwhile, Jessica Bryars, Monticello's fruit expert, loaded me up with Marseilles Figs, Blood Peaches, and White English Peaches. When you're lucky enough to have a basket of heirloom fruits picked fresh in the Monticello orchards, it's best not to mess with a great thing. With that in mind, I threw together this simple late summer tart sweetened with Virginia-made raw honey from the Monticello Gift Shop. I tossed the fruit with freshly squeezed lemon juice, and swirled together mascarpone, yogurt, and honey for a simple pastry cream. If you have a trove of heirloom fruits at hand, feel free to use those – but regular juicy peaches and perfectly ripe figs will be delicious as well.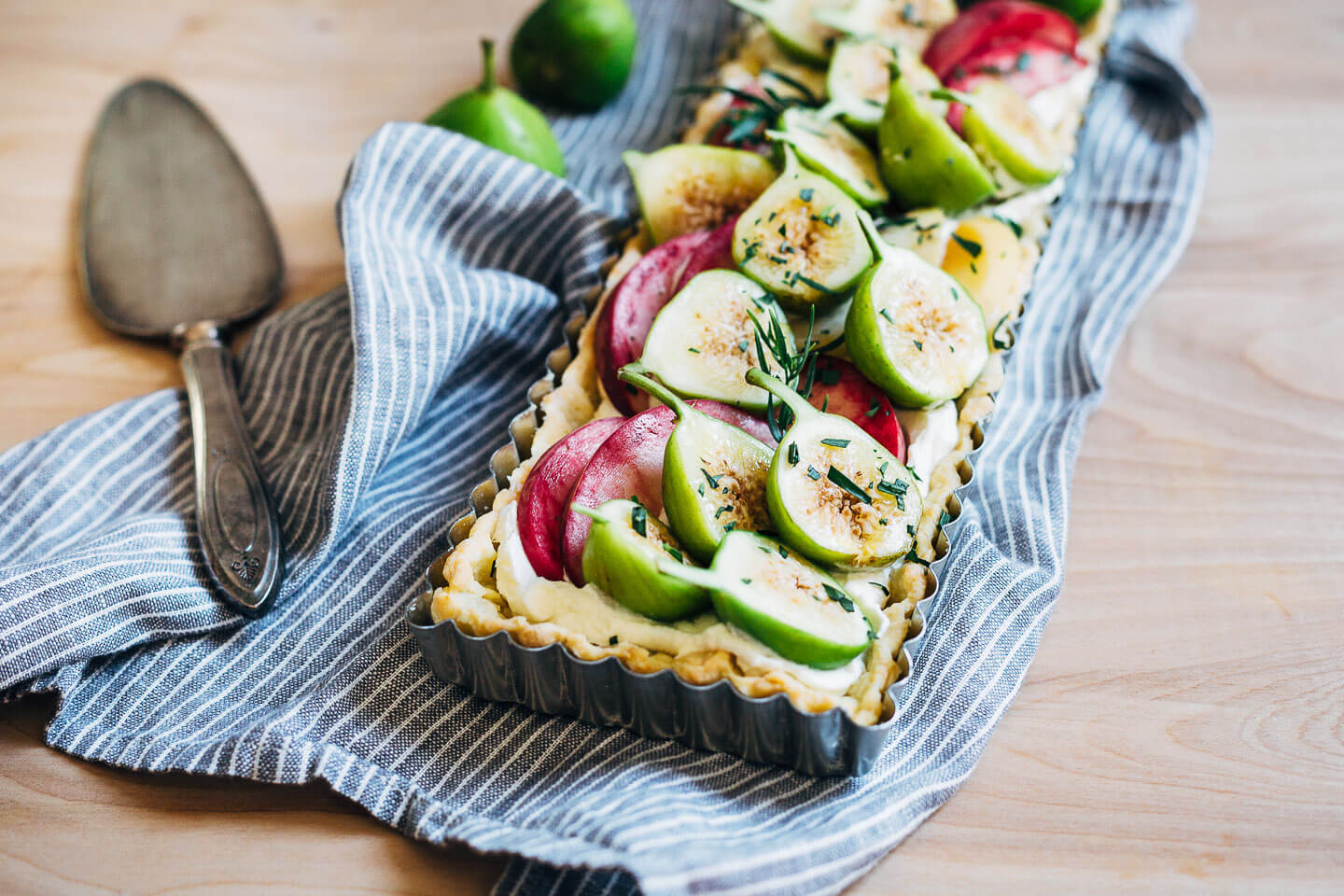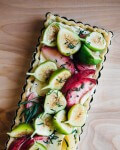 Fig and Peach Mascarpone Tart
A simple mascarpone tart topped with heirloom figs and peaches from the orchards of Monticello.
Makes
:
1
(14 x 5-inch) rectangular tart
Ingredients
For the Crust
1 1/4

cups

unbleached all-purpose flour

1

tablespoon

sugar

1/2

teaspoon

sea salt

8

tablespoons

unsalted butter

cold

5 - 6

tablespoons

ice water
For the Filling
8

ounces

mascarpone,

softened

1/3

cup

plain Greek yogurt

1/4

cup

plus 2 tablespoons honey,

divided

zest and juice of 1 lemon,

divided

pinch sea salt

10

fresh figs

(I used Marseilles Figs), halves

1/2

a yellow peach

(I used a Blood Peach), sliced 1/8-inch thick

1/2

a white peach

(I used a White English Peach), sliced 1/8-inch thick

2

tablespoons

minced tarragon leaves plus a few sprigs for garnish
Instructions
In a medium-sized mixing bowl, use a fork to combine flour, sugar, and sea salt. Use a box grater to grate in the butter and then rub into flour mixture with fingertips. Fold in just enough ice water so mixture holds together. Turn out onto a lightly floured surface, gather into a disc, and wrap tightly with plastic wrap. Chill in the fridge 30 minutes or longer.

Preheat oven to 375 degrees F. Set out a 14 x 5-inch tart pan (or the tart pan of your choice). 

On a lightly floured surface, roll chilled dough out into a 16 x 7-inch rectangle. Transfer to tart pan. Press into place and cut off all but a 1-inch overhang, and then fold overhanging dough into the sides of the tart, pressing to incorporate. Poke crust all over with the tines of a fork.

If time allows, set tart crust in the freezer to chill 10 minutes – this helps it retain its shape during the blind bake.

Set crust on a rimmed baking sheet. Line the inside of crust with foil and add pie weights, dried beans, or rice. Bake crust with pie weights for 12 minutes. Carefully remove weights and foil lining. Bake another 12 - 15 minutes, until shell is light golden brown. Set crust aside to cool completely before filling.

To make filling, stir to combine mascarpone, yogurt, 1/4 cup honey, lemon zest, 1 tablespoon lemon juice, and a tiny pinch of sea salt. In another bowl, combine remaining lemon juice, 2 tablespoons honey, and minced tarragon. Gently fold in fruit, taking care that it doesn't bruise.

Spread mascarpone filling in cooled tart shell, arrange fruit on top, and garnish with reserved sprigs of tarragon. Set in fridge and chill 60 minutes.

Tart is best served day-of but will keep covered in the fridge for two days.
This post is sponsored by Thomas Jefferson's Monticello in support of the Heritage Harvest Festival. Click here for festival details. Brooklyn Supper readers receive $10 off Festival Opening Night at the Paramount Theater with code VEG16. Thanks for supporting our sponsors!