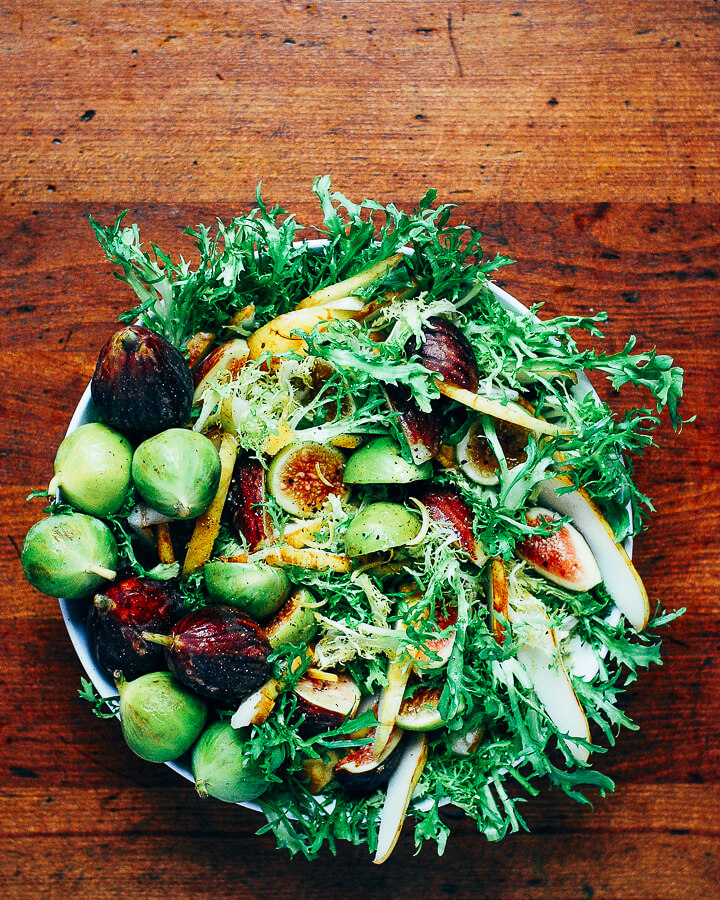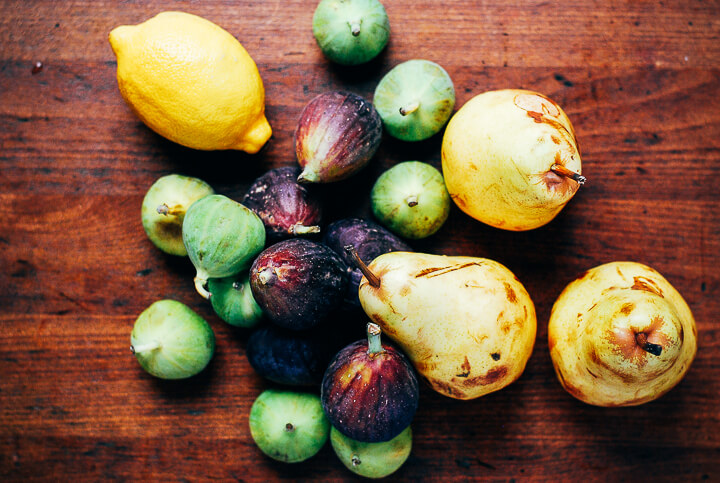 Last weekend's sudden freeze was right on time, but caught me off guard anyway. I'd given up on the tomatoes, but was still holding out hope for the only watermelon to survive the groundhog and my fall plantings – most of which are just tiny seedlings peeking up from the soil. I also had big plans for the figs growing in friends' yards. Now, I'll just have to take comfort in the pumpkin, gourd, and squash army I've amassed.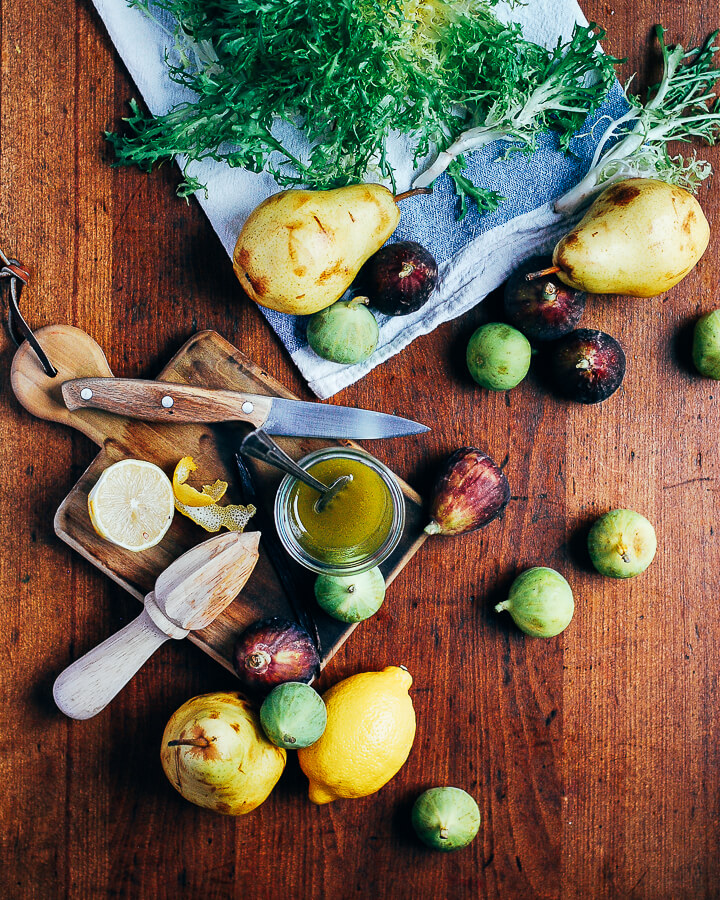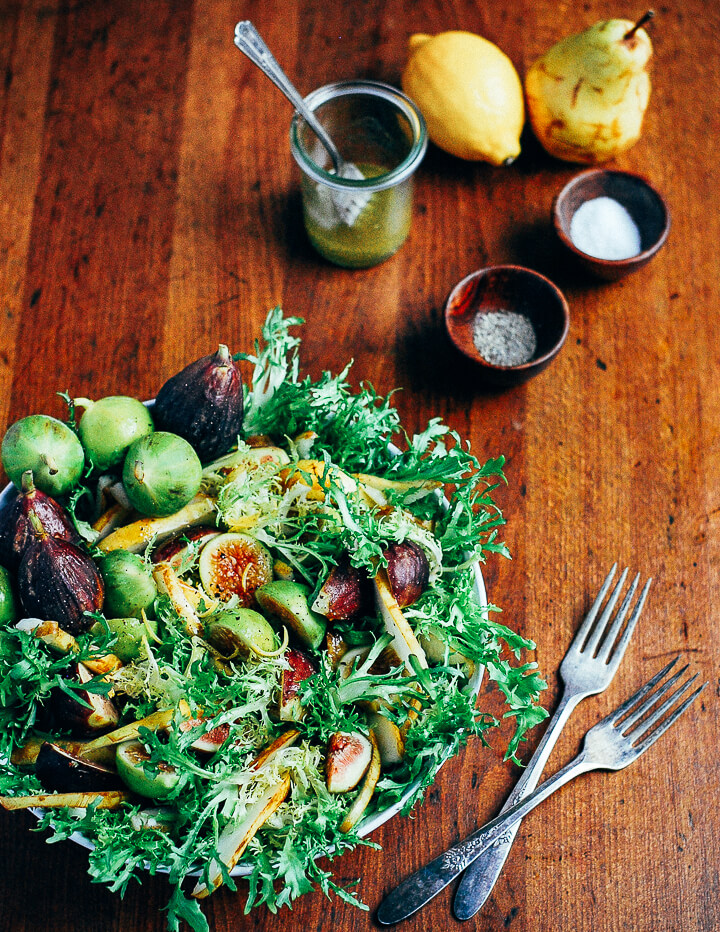 But before we get into all that, let's have a salad. I shared this recipe last year on the Free People blog, but felt like it deserved a place here on BkS too. This late in the year, the figs are slightly out of place (hey, there's always California), but this salad also has a host of timely ingredients like Bartlett pear and frisee. It would be hard to go wrong with such a winning combo, but the crux of the recipe is actually the vanilla bean vinaigrette with it's fantastic mix of the sweet, bright, and aromatic. The vinaigrette complements the pears, sure, but it's just as lovely atop everything from winter squash to brassicas to apples.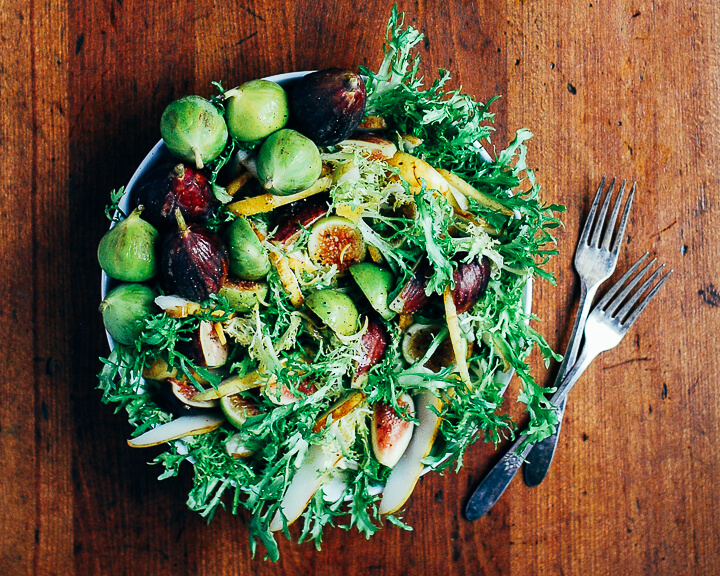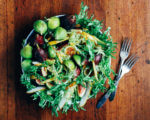 Fig and Pear Salad with Vanilla Bean Vinaigrette
A colorful fall salad recipe with fresh figs, pears, and a savory sweet vanilla bean vinaigrette.
Ingredients
1 5-

inch

vanilla bean pod

2

tablespoons

lemon juice plus 1 tablespoon lemon zest

1

tablespoon

champagne vinegar

1

teaspoon

honey

pinch of sea salt

4

tablespoons

extra virgin olive oil

1

bunch frisee

, washed with pale stems trimmed

1

ripe Bartlett pear

, sliced

10

figs

, quartered
Instructions
Split vanilla bean lengthwise and scrape seeds into a small bowl. Add lemon juice and zest, and then whisk in vinegar, honey, and sea salt. Add olive oil and whisk vigorously until emulsified.

Tear frisee into bite-sized leaves and arrange in a large bowl. Pour half the vinaigrette over the leaves and toss to coat. Tuck pear slices and figs into the frisee leaves. Finish with several twists of black pepper and a generous drizzle of vinaigrette.