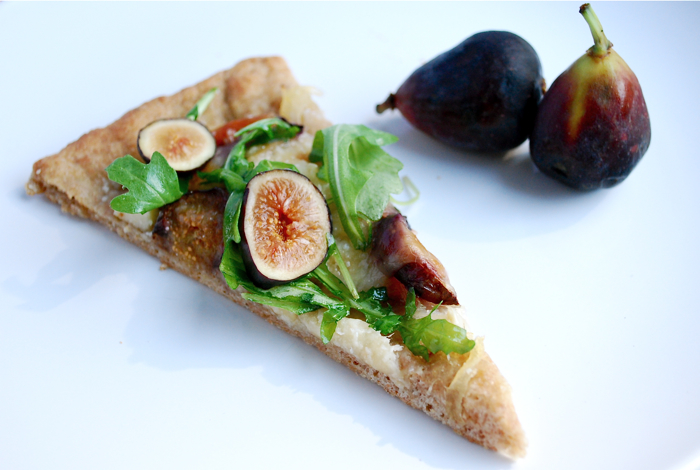 It's a rainy day here in New York. But not one of the wonderful chilly fall rain storms that I love, rather, it's a pervasive, drippingly humid kind of rain. Even so, signs of fall abound. The acorns are dropping, lending a satisfying crunch to each step. Leaves here and there have begun to yellow, pears are showing up, and the figs are just about over. Making it just under the wire, we've got a delicious fig, Manchego, and arugula pizza for your eating pleasure.
You should know that homemade pizza really stresses me out. I have a big baking stone and transferring the uncooked pizza to the 500 degree stone has always led to sweating, cursing, and finally, ill-shaped pizzas. Until now. Thanks to the helpful cooks in America's Test Kitchen, I  have discovered that this is the ideal use for parchment paper. Thank you! As if that weren't enough, the helpful cooks at America's Test Kitchen have also helped me to finally make a tasty whole wheat pizza. Really! The secret turns out to bread flour. Who knew?
We also made a simple heirloom tomato, mozzarella, and mushroom pizza. Head over to the Family Kitchen for our recipe.
A few notes on the recipe: Be sure to trim to parchment to fit the stone, as overhanging pieces could, ahem, catch on fire. Also note that the Manchego doesn't melt smoothly, rather it browns lightly and develops a fantastic flavor–if you're a melted cheese purist switch to Gruyere or something. As for the herbs, we had thyme on hand, but sage or tarragon would also be wonderful.
Fig, Manchego, and Arugula Whole Wheat Crust Pizza
makes two 14" pizzas
for the crust (adapted from The America's Test Kitchen Healthy Family Cookbook)
2 cups bread flour
2 cups whole wheat bread flour
1 packet (2 1/4 teaspoons) instant-rise yeast
2 teaspoons salt
3 tablespoons olive oil
1 1/2 cups warm water (about 110 degrees)
In the bowl of your food processor combine the flours, yeast, and salt. With the food processor running, drizzle in the oil, and then the water. A ball of dough will quickly form–turn off food processor once it has.
Rest the dough for 2 minutes, and then process for another 30 seconds. If dough seems sticky add up to another 4 tablespoons flour, one tablespoon at a time.
Turn dough out onto a lightly floured surface and knead for about 2 minutes, until dough is smooth and pliant. Set into an oiled bowl, cover with greased plastic wrap, and set in a warm place for 1 – 1 1/2 hours.
for the toppings
1/4 cup olive oil
1 lb. sliced Manchego cheese
2 cups sliced fresh figs
2 tablespoons fresh thyme leaves, stems removed
3 cups arugula lightly dressed with a simple vinaigrette (1 teaspoon olive oil, 1/2 teaspoon white wine vinegar, and a pinch of salt)
Preheat oven to 500 degrees, giving it at least a half hour to heat up. Preheat your pizza stone or baking sheet as well.
Divide the dough into 2 equal pieces, leave one covered in the bowl and place the other on a lightly floured surface. Roll out and pull the dough into a 14" circle. Transfer the dough to a lightly floured piece of parchment on the back of a baking sheet (or use a pizza peel).
Brush the crust with 2 tablespoons olive oil, sprinkle with 1/2 teaspoon salt, and fresh ground pepper. Scatter the Manchego slices, figs, and thyme leaves. Slice onto pizza stone and bake for 8 – 10 minutes. Prepare the second pizza as the first cooks. Remove the first pizza from the hot stone, and replace with the second. Bake for 8 – 10 minutes. Dress the arugula, scatter on the pizza, and finish with a few fresh fig slices, thyme sprigs, and fresh ground pepper. Slice up and serve with a big glass of crisp white wine.