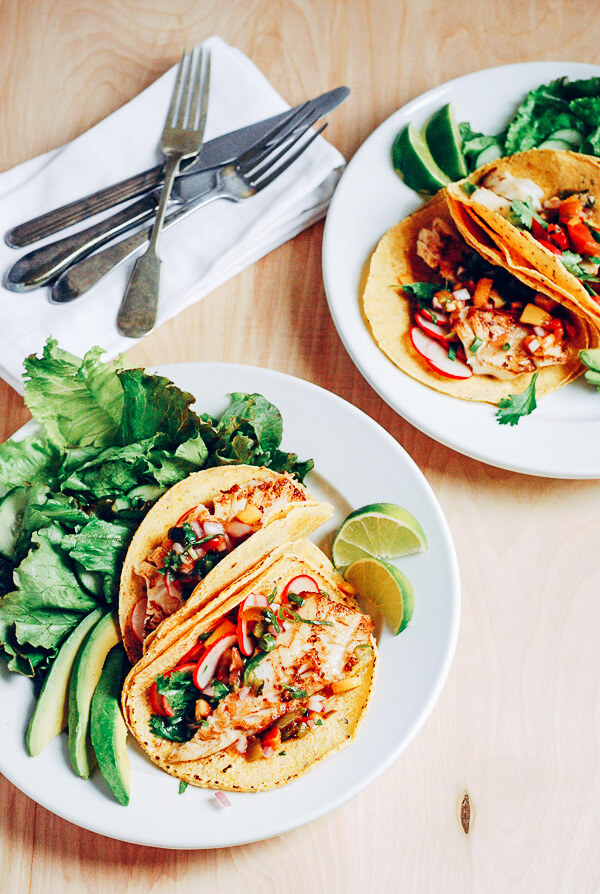 Savory pacific cod fish tacos topped with a sweet and spicy heirloom tomato and peach salsa, created in partnership with SmartyPants Vitamins. 
Throughout the year, few moments are as defining as that first bite of a really great summer tomato, so full of brightness and acidity. The pale specimens that line grocery store shelves in winter have very little in common with summer's greatest achievement. The arrival of great tomatoes also signals something else – the beginning of summer eating.
Defined mostly by (nearly) overwhelming abundance, summer eating centers on freshness. It's more about prepping and combining ingredients than cooking them. Because of the sweltering heat and the fact that so many summer ingredients are perfectly delicious on their own, summer cooking should be minimal. It was with these core principals in mind that Brian and I set to making a tasty batch of fish tacos over the weekend.
Trips to the market and store turned up local peaches plus some of the prettiest heirlooms I've even seen. Slicing into each was momentous enough to call Brian into the kitchen for samples. This focus on using the absolute best ingredients is mirrored in what our sponsors, SmartyPants Vitamins, do. From the outset, I've been impressed with SmartyPants – not only do they use fish from sustainable, third-party certified sources, but every batch of vitamins is made with great ingredients and care. SmartyPants' sourcing of the best ingredients and commitment to quality were the inspiration for these fresh summer tacos.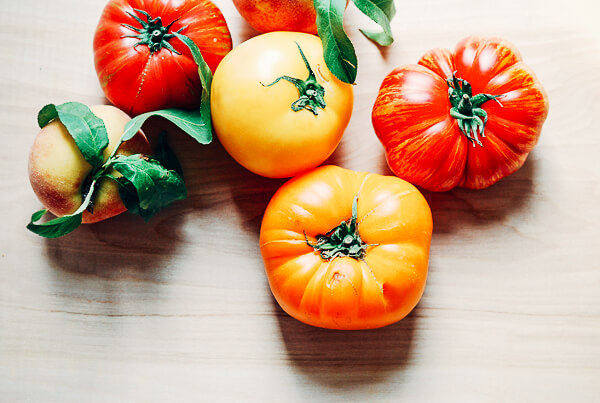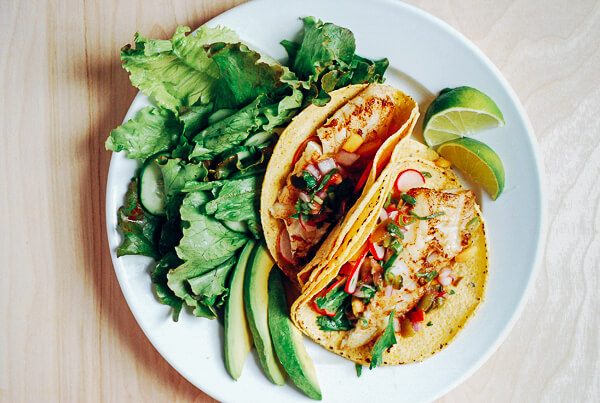 At its essence, an excellent taco relies on the mingling of flavors. There's fish, sure, but also roasted poblano, sweet peaches, and perfect tomatoes for the simple salsa, plus thinly sliced radishes and cucumbers with a touch of sea salt. For the fish, we selected Pacific cod, a wild caught, sustainable fish (not to be confused with Atlantic cod, which has been woefully overfished). To ensure a firm texture and good flavor, we set the cod in a quick brine, and then sautéed it in plenty of butter. In the end, we had flaky, well-seasoned fish accompanied by a simple radish salad, summer greens, and a multilayered fresh salsa. Summer eating is here for sure!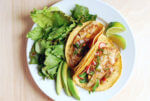 Pacific Cod Fish Tacos with Heirloom Tomato Peach Salsa
Savory pacific cod fish tacos topped with a sweet and spicy heirloom tomato and peach salsa.
Ingredients
Heirloom Tomato and Peach Salsa
1

large poblano pepper

2

large heirloom tomatoes

, cored and diced

2

small to medium peaches

, pitted and diced

1/2

large red onion

, minced

1

clove

garlic

, smashed, peeled, and minced

juice of half a lime

1

teaspoon

rice wine vinegar

1/4

– 1/2 teaspoon sea salt

1/4

cup

minced cilantro
Fish Tacos
2

pounds

Pacific cod fillets

, approximately 1 inch thick

4

cups

water

4

tablespoons

sea salt

, plus more for finishing

2

tablespoons unsalted butter

, for frying

corn tortillas

sliced avocado

lime wedges
Radishes
4

radishes

, sliced paper-thin

2

scallions

, chopped

2

tablespoons

torn cilantro leaves

pinch of sea salt

squeeze of lime

splash of rice wine vinegar
Simple Green Salad
1

medium cucumber

, sliced paper thin

4

cups

greens

extra virgin olive oil

squeeze lime juice

sea salt
Instructions
To make the salsa, either over an open flame or under the broiler, roast poblano on all sides until skin is blackened all over. Set in a paper bag, seal, and steam 10 minutes. Then, set pepper under cold running water and pull off skin with your fingers. Seeds and stem should also come off easily. Mince the pepper.

Combine roasted pepper and all other ingredients in a large bowl. Taste, and adjust salt or acid levels as needed.

For the tacos, combine 4 cups of water and 4 tablespoons sea salt in a large bowl. Add cod. Brine 10 - 20 minutes. Meanwhile, make radishes by tossing radishes with several pinches sea salt in a small bowl. Set aside.

Fry cod in batches. Start by heating a large sauté pan over medium-high heat. Add 1 tablespoon butter. When butter is melted and fragrant, add fish. Cook each side for 1 1/2 - 2 minutes, flip carefully, and cook 2 - 3 minutes longer.

Remove cooked fish to a plate; finish with a sprinkle of sea salt and a squeeze of lime.

To prep salad, sprinkle cukes with a pinch or two of sea salt. Set aside. To assemble salad, drizzle 1 teaspoon olive oil onto the leaves; toss with fingers. Finish leaves with a pinch of sea salt and a squeeze of lime. Just before serving, fold in salted cucumber slices.

Either in a pan over medium-high heat or directly over a gas flame, heat tortillas. Before serving, toss prepared radishes with scallions, cilantro, and lime.

To serve tacos, divide green salad between the plates. Tip cooked fish into warmed tortillas. Add a bit of radish mixture to each taco and top with several spoonfuls of salsa. Garnish with sliced avocado and lime wedges.
SaveSave
SaveSave
SaveSave
SaveSave