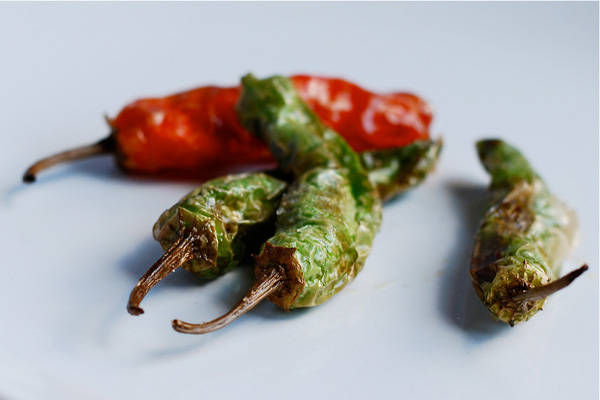 Here in NYC, summer is in its very last days. School officially starts tomorrow, I spent the weekend putting up tomatoes (22 jars and counting), and in our farm share today we'll be getting the first of the fall apples. As the city cools off, it's time to turn the stove back on. Summer has so many ingredients that appear and disappear so quickly–strawberries, asparagus, green beans. But in the fall, with its roasted tomatoes and sauteed vegetables, it's not the fleeting ingredients that make you live in the now, it's the flavors. So many things are so good the second they're out of the skillet or the oven. And that's especially the case with these shisito peppers, light and delicious just out of the fryer, and finished with a generous sprinkle of sea salt, these are just the right flavors for the season–earthy, with just a little heat, and topped with crunchy bits of salt.
This is a treat too tasty to make it to the plate. Eat them with abandon. Gobble them up, still standing at the range.
This recipe is adapted from Andrea Reusing's Cooking in the Moment. Still one of my very favorite cookbooks it's filled with understated dishes that effortlessly celebrate the seasons.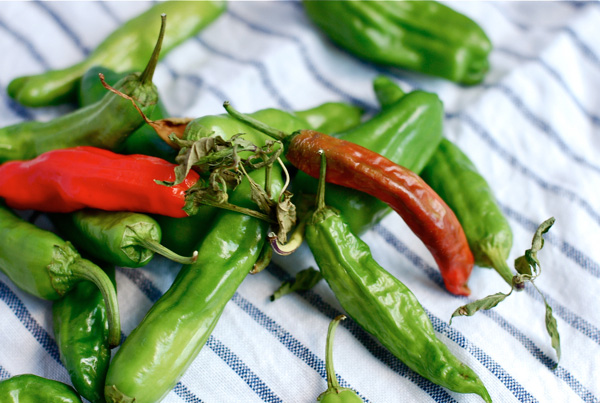 Flash-Fried Shishito Peppers (barely adapted from Andrea Reusing's Cooking in the Moment)
1 pint (or more) shisito peppers, washed and carefully dried
vegetable oil
1/2 teaspoon sea salt
Heat a medium-sized heavy-bottomed rimmed skillet over high heat. Fill to about 1/3 with oil. I didn't have quite enough, and managed about 1″ of oil and things went just fine. Heat the oil to 360 degrees (use a candy thermometer to keep track).
Working very quickly, and so, so carefully, place all of the peppers in the oil and put the lid over the pan (There will be quite a commotion of popping and sizzling; go with it.). Cook for 10 seconds, remove lid, and carefully flip the peppers. Cook for about 10 seconds longer, and carefully remove to a paper towel.
Sprinkle generously with salt and serve immediately.