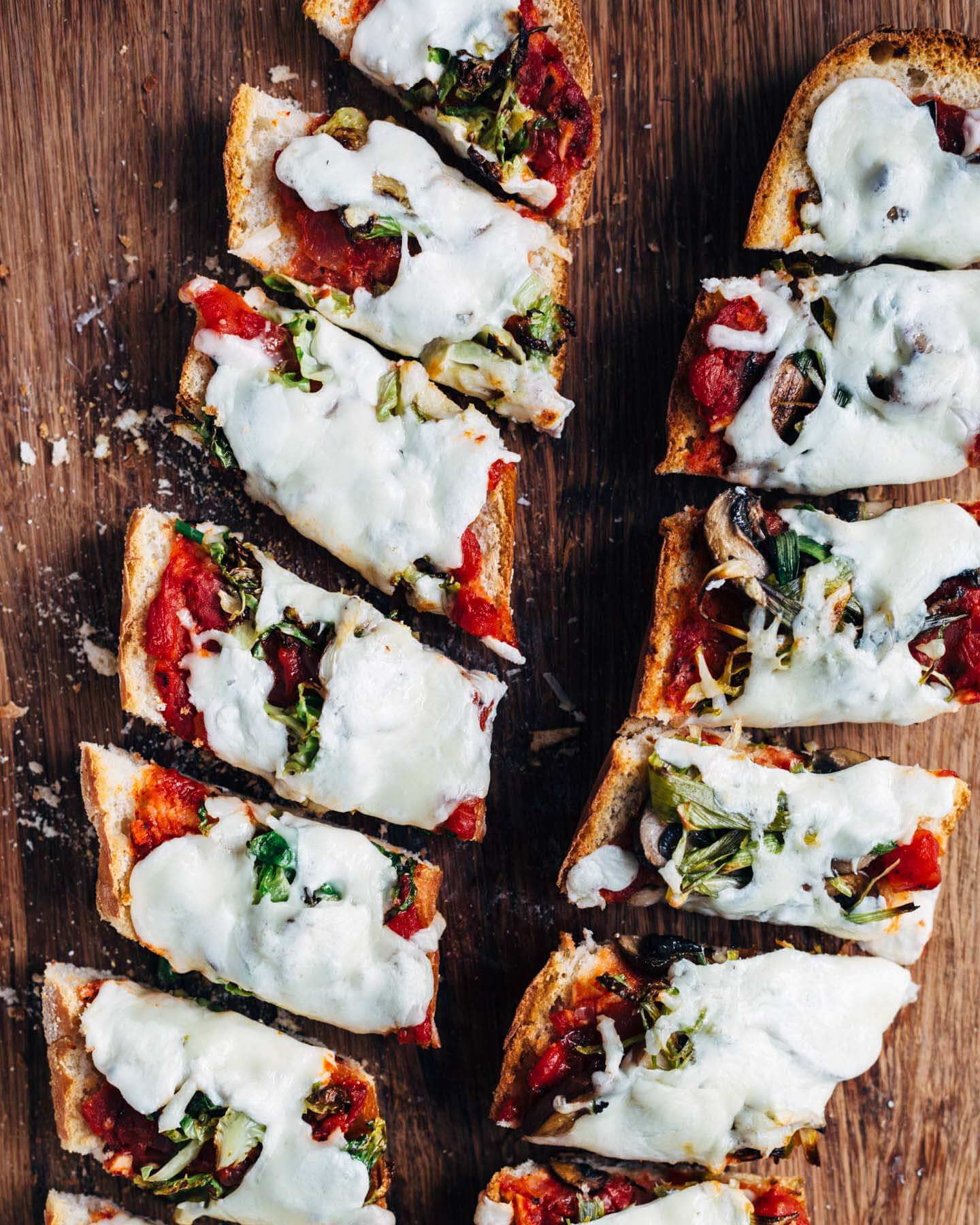 We're partnering with Muir Glen Organic to make delicious French bread pizza topped with savory fall vegetables. Jump to recipe. 
My job means that I'm always in the kitchen making things. But even though I'm cooking nearly every day, I can fall out of touch with the routines that keep me grounded and my family well fed. When I feel like I'm losing touch, I like to dive into some of my seasonal staples to get reconnected. In fall, that means a jar of kraut fermenting on the counter, my sourdough starter bubbling away, and a pot of tomato sauce simmering on the stove. Some days, I'll have a sauce going all day. Other times, it's just a quick one I've whipped up a half-hour before dinner. Either way, it helps me feel the season.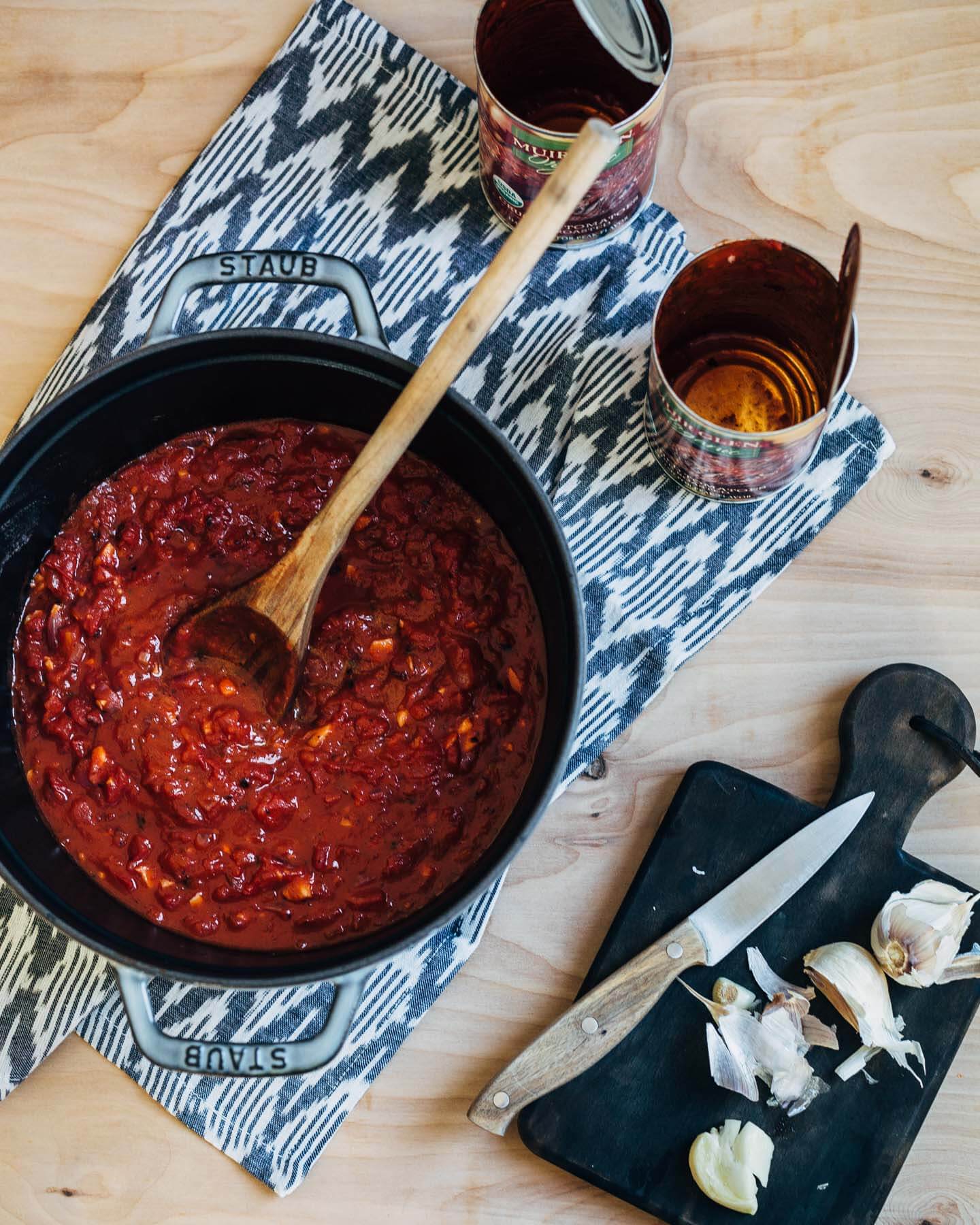 French bread pizza calls upon some of my favorite ways to get grounded in the kitchen. There's a delicious yet totally simple pizza sauce, made with carefully cooked onions and garlic, and vibrant Muir Glen Organic Fire Roasted Crushed Tomatoes, and the pizzas are topped with a mix of caramelized leeks, and sautéed mushrooms and Brussels sprouts. Muir Glen Organic's Crushed Tomatoes are beautifully balanced and thick right out of the can, and are perfect for a simple pizza sauce. Whole Foods Market always has a great selection of Muir Glen Organic, so head out and stock up!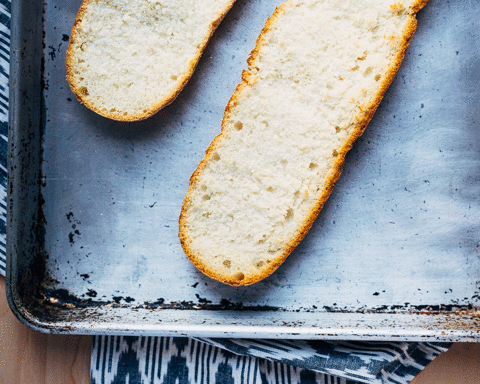 The resulting dish is just the right mix of cheesy comfort and sophisticated, earthy flavors. Welcome to fall.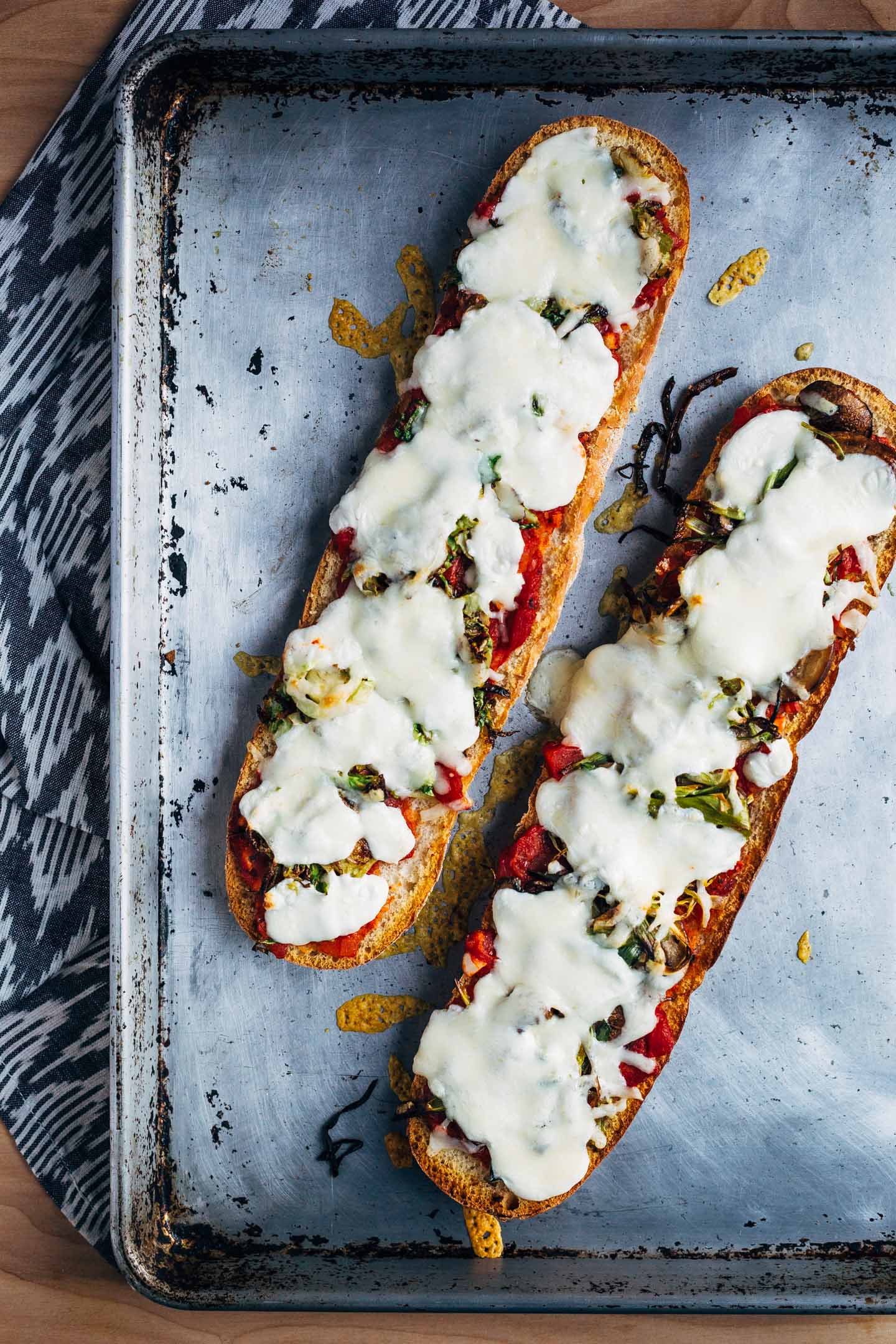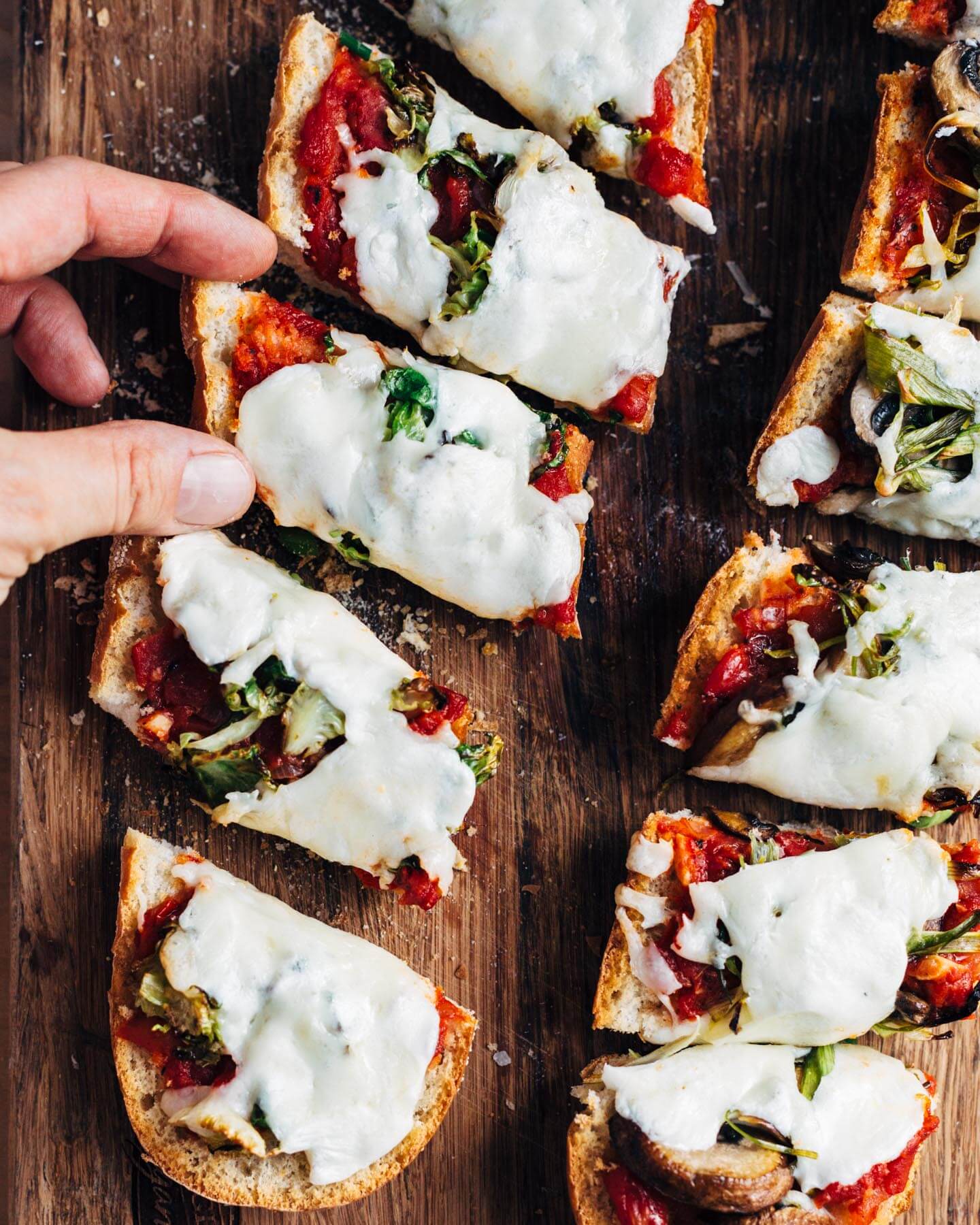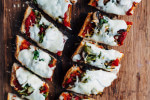 French Bread Pizza with Brussels Sprouts, Leeks and Mushrooms
Homemade French bread pizza topped with savory fall vegetables.
Ingredients
For the Sauce
2

tablespoons

olive oil

1/2

cup

diced red onion

(half a medium onion)

sea salt

2

cloves

garlic,

smashed, peeled, and minced

1

(14.5-ounce) can Muir Glen Organic Fire Roasted Crushed Tomatoes
For the Pizzas
1

loaf French or Italian bread

(about 14-inches), look for a soft bread – not a baguette, sliced in half lengthwise

4

tablespoons

extra virgin olive oil,

divided

2

leeks,

white and pale green sections only, well rinsed and sliced into thin 4-inch long strips

sea salt

1

cup

sliced crimini mushrooms,

1/4-inch thick

1

cup

thinly sliced Brussels sprouts

8

ounces

fresh mozzarella,

thinly sliced

1/2

cup

shredded Asiago

2

scallions,

thinly sliced

freshly ground black pepper
Instructions
Preheat oven to 450 degrees F.

To make sauce, set a large saucepan over medium heat. Add oil and then red onion. Sprinkle with sea salt. Stirring often, cook about 7 minutes or until onions are tender and translucent. Add garlic and cook one minute more. Stir in crushed tomatoes and another pinch sea salt. Turn heat up so mixture begins to bubble gently, stir, and then turn heat to medium-low. Simmer, stirring often, 15 - 20 minutes or until mixture thickens. Add sea salt and pepper to taste.

Meanwhile, prep toppings. Heat 2 tablespoons olive oil in a medium skillet over medium heat. Add leeks and a pinch sea salt. Cook over medium heat just until leeks begin to edge golden, turn heat to low and, stirring occasionally, cook until leeks are translucent and sweet, about 20 minutes.

Heat 1 tablespoon olive oil in another medium skillet. Add mushroom slices, sprinkle with sea salt, cook 2 minutes, flip, and then cook 2 minutes more. Remove to a plate. Add another tablespoon oil to the same skillet (still over medium heat) and toss in Brussels sprouts along with a pinch sea salt. Cook until Brussels wilt and brown along edges. Remove to another plate.

Set French bread slices on a rimmed baking sheet. Toast in hot oven 5 minutes, or until edges are golden.

To assemble pizzas, spread several tablespoons sauce on both slices of bread. Top one slice with mushrooms and caramelized leeks, and the other with Brussels sprouts and scallions. Divide mozzarella and Asiago between the two pizzas. Add black pepper to taste. Slide into oven and bake 7 - 10 minutes, or until cheese is melted and just beginning to brown.

Slice and serve immediately.

Disclosure: This post is sponsored by Muir Glen Organic. Thanks for supporting the brands that make Brooklyn Supper possible!