A vivid and incredibly simple fresh cranberry relish recipe with apple, orange, and ginger.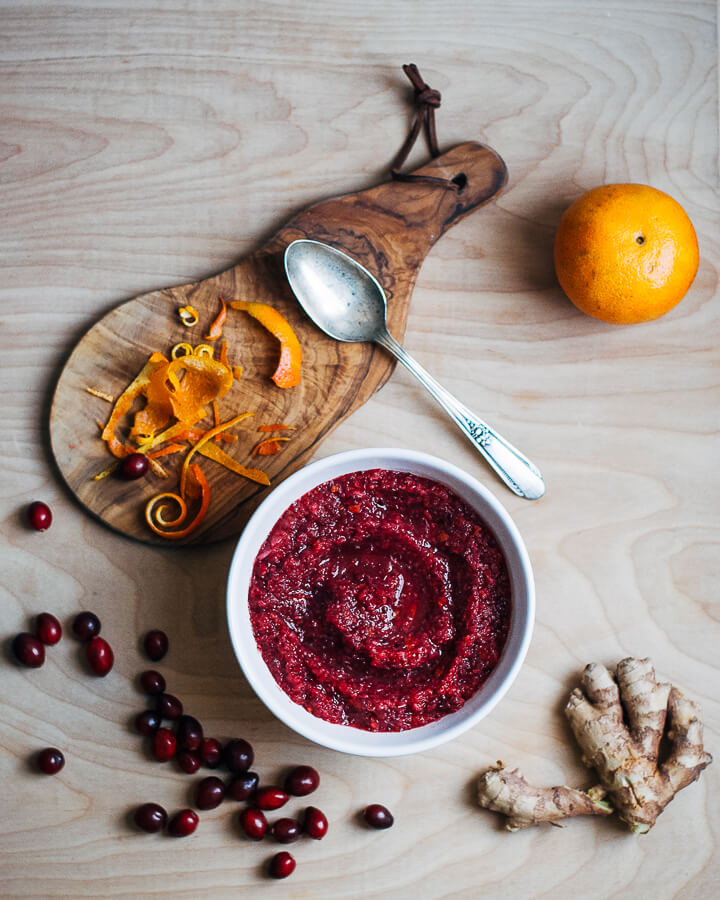 Sometimes (most of the time), when I write a to-do list, I include something I've already done or at least something very easy. Likewise, I include myself in any list of things I need to bring somewhere: "Keys, me, shoes, sweater, bag." It's a built-in guarantee of productivity or organization.
Cranberry Relish: Simple and Delicious
In the madness of Thanksgiving prep, this fresh cranberry relish is my to-do list guarantee. It's the one Thanksgiving dish that can be completed and crossed off the list in minutes flat. If it didn't have amazing flavor, I'd probably still keep it on the menu. But I've never needed to make that call, because it is delicious.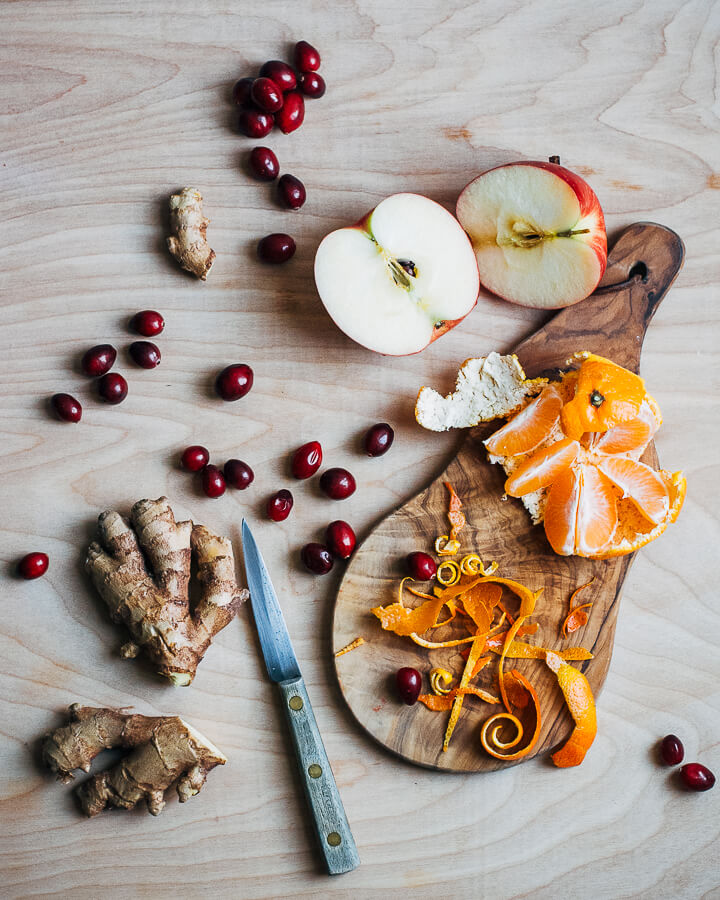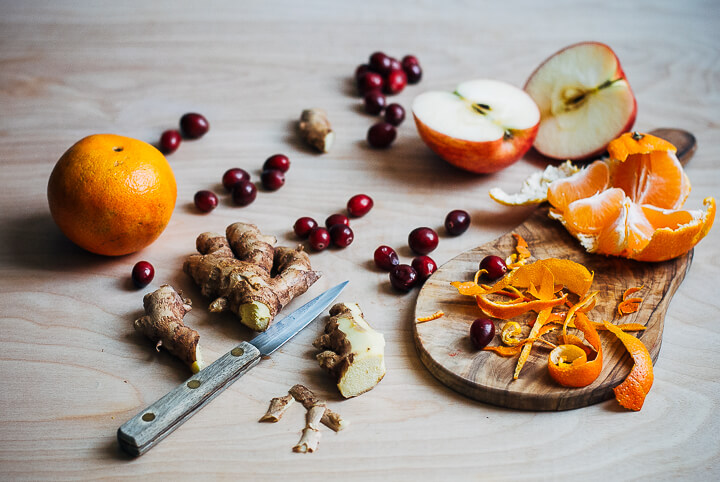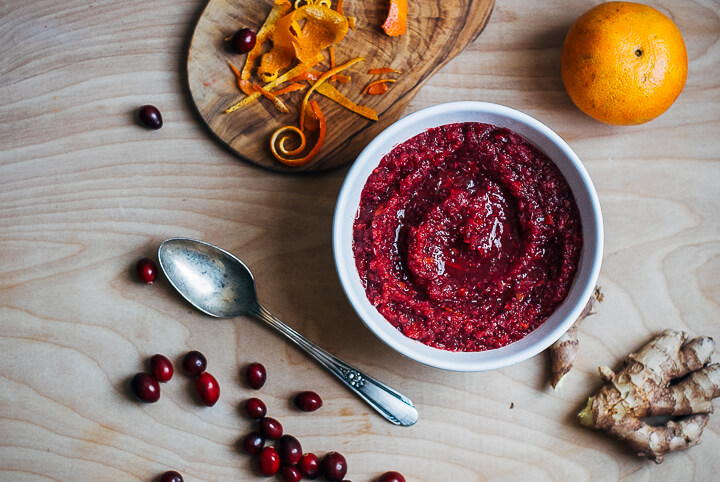 When it comes to cranberry sauce, mine is a house divided. Everyone besides me prefers a traditional cooked sauce, whereas I spend the rest of the year craving the entrancing sweet and sour interplay and deep ruby color of this cranberry relish. My usual recipe has four ingredients: cranberries, a whole orange, sugar, and a tiny pinch sea salt. In an attempt to win hearts and minds this year, I've tweaked things. There's a real pleasure in plopping an entire orange in the food processor, but to cut back on bitterness, I used only zest and flesh. An apple mellows the tartness while also adding structure, while cinnamon, ginger, and just a drizzle of balsamic unite the flavors beautifully creating a complex array of tang, brightness, heat, and spice.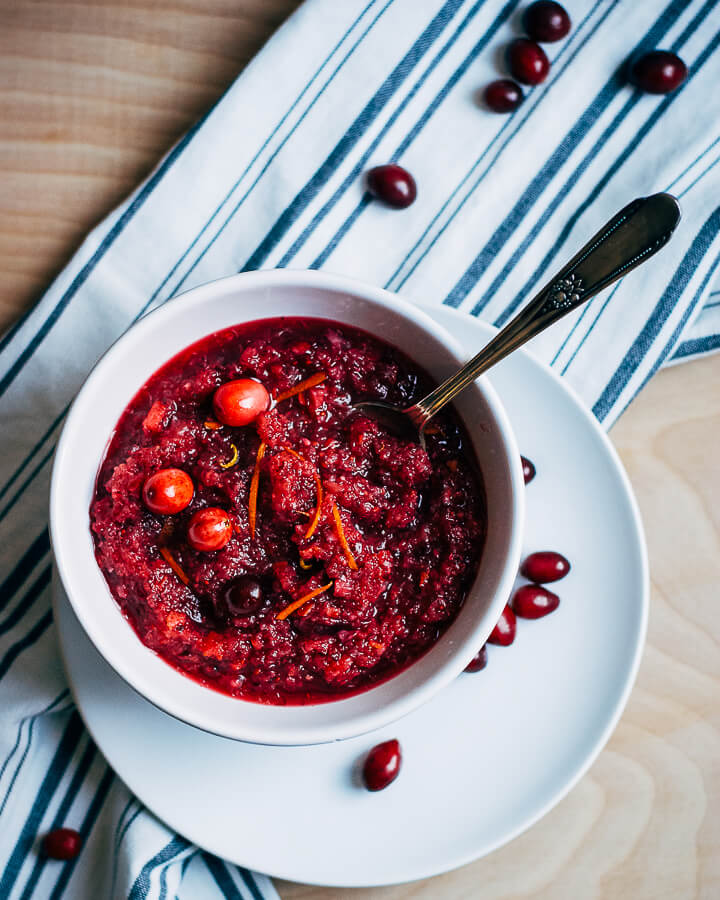 Thoughts on the recipe: since this recipe uses the whole orange, it's best to opt for organic. A redder apple will make for the most saturated hue. Relish will keep well sealed in the fridge for up to 5 days.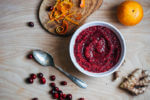 Fresh Cranberry Relish with Orange, Apple and Ginger
A vivid and incredibly simple fresh cranberry relish recipe with orange,apple and ginger.
Ingredients
2

cups

fresh cranberries

(8 ounces), rinsed and picked over

1

large seedless orange

, scrubbed

1

medium apple

, cored and rough chopped

1/2

cup

sugar

2

tablespoons

minced fresh ginger

1

tablespoon

balsamic vinegar

1/2

teaspoon

ground cinnamon

1/4

teaspoon

sea salt
Instructions
Use a peeler to peel all of the zest from the orange, then use a sharp knife to cut off the white pith. Reserve orange segments and any juice. Chop zest into fine strips; reserve 1 tablespoon for garnish. Discard pith.

In the bowl of a food processor, pulse to combine orange segments, apple, ginger, balsamic, cinnamon, and sea salt. Add cranberries, orange zest, and sugar, and pulse until mixture is well combined but still has a bit of texture. Spoon into a container with a tight-fitting lid and chill, preferably overnight.

Garnish with reserved orange zest before serving.
SaveSave
SaveSave
SaveSave
SaveSave