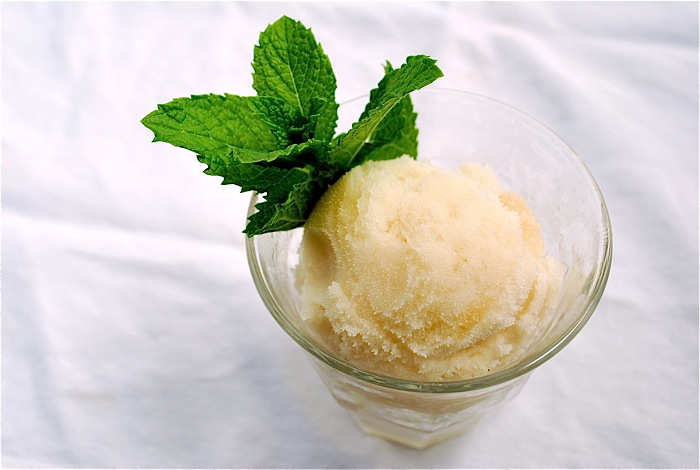 It goes without saying that summer in the south is hot. Like, really hot. When I lived in Charlottesville, VA in my college days, one summer in particular was excruciatingly hot. There were violent daily thunderstorms, and constant muggy, oppressive heat. With no air conditioning, we made do with what we had–ice, fans, and whiskey. But after a while that wasn't enough. We needed to fight the heat head on. And, what is the opposite of heat? Why, mint, of course.
So we had a mint party. And it was surprisingly effective. We dressed in cool, minty tones, drank mint juleps, chewed mint gum, and enjoyed a variety of mint confections. I felt downright effervescent for at least a day. We didn't have mint sorbet at the time, but it would have been perfect for the party.
I strongly suggest you take advantage of summer's minty abundance and make some of this light, lime-y sorbet stat.
Fresh Mint Sorbet
makes about 1 1/2 quarts
1 1/2 cups water
1 1/2 cups sugar
2 cups packed fresh mint, leaves and stems included
1/2 cup fresh squeezed lime juice
zest of 2 limes
In a heavy bottomed sauce pan over medium heat, combine the water, sugar, and mint. Bring the mixture to a boil, and cook until the sugar dissolves. Cover, remove from heat, and set aside to steep for 15 minutes (or as long as you can for optimal mintiness). With a mesh strainer, strain out the mint leaves, being sure to squeeze out as much of the liquid as possible. Stir the lime juice and zest into the mint infusion, place in the refrigerator to chill completely, for several hours or more.
Pour into your ice cream maker and process according to instructions. Note that this sorbet will remain quite soft. Once you have processed it, quickly scoop sorbet into a container and freeze for at least 4 hours before serving. Consider serving in chilled bowls.