I usually make my go-to salad dressing of olive oil and rice wine vinegar with a pinch of salt when dinner is about thirty seconds from the table and I realize the salad isn't dressed. If I have some shallots or citrus and a full sixty seconds to spare, I'll add that. Otherwise, it's the old standby, which, while perfectly flavorful, can get a bit dull. So when I need to break out, add more flavor, or want to make something more memorable, I look to the blender. Here, a single pear and a bit of red onion make for a surprisingly creamy, mild dressing that happens to blend beautifully with radicchio.
And yeah, I know it's strange for a post on salad dressing made with pears to be featured in a salad made with apples. But you know, sometimes that's just how it is in the kitchen. You use the last pear for your dressing, and go with apples instead. You don't mind, do you?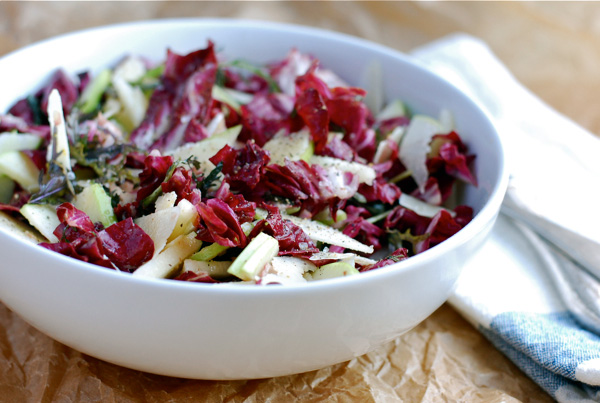 Fresh Pear Vinaigrette
1 very ripe medium-sized pear, cored and diced
2 tablespoons minced red onion
1/4 teaspoon sea salt
1/3 cup olive oil
3 tablespoons rice wine vinegar
Combine ingredients in a blender, and blend 'em up. (For easy clean up, I used a jar and my stick blender.)
Toss over the salad of your choice. Here, I went with a mix of radicchio, mizuna, Parmesan, and Mutsu apples.