As long as ripe tomatoes are in season, this fresh tomato sauce is my weeknight go-to for pasta dinners. Here, the vibrant sauce is served with pillowy gnocchi, creamy burrata, and lots of fresh basil.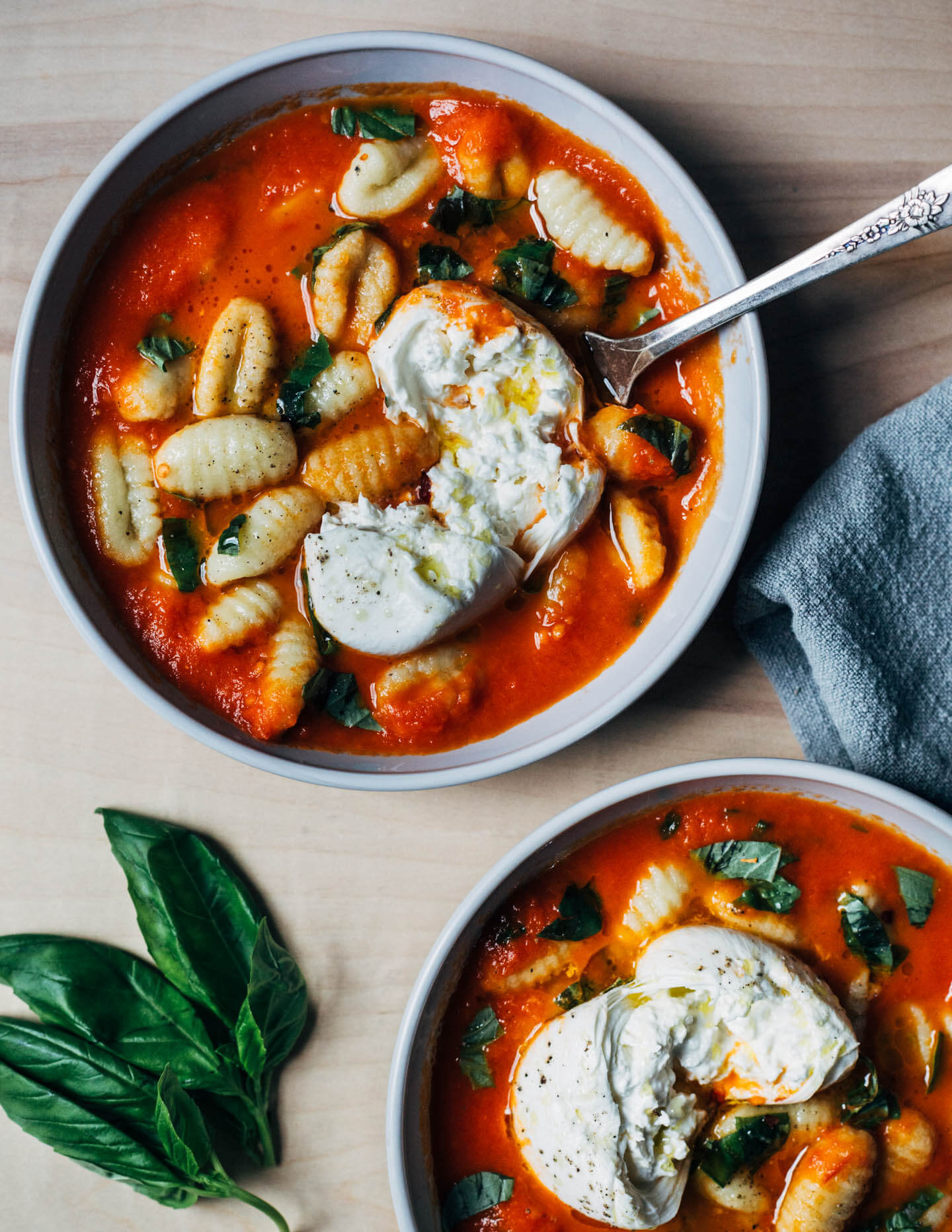 Get the Right Now Newsletter!
Are you signed up for the Right Now newsletter? Right Now hits inboxes twice a week with exclusive recipes and seasonal ingredient inspiration. Subscribe today!
This simple fresh tomato sauce recipe is one of my weeknight staples during tomato season and beyond, thanks to a few pints tucked away in the freezer. Garden fresh tomatoes cook up into a velvety sauce that harnesses peak tomato season flavor beautifully. 



What You'll Need to Make Fresh Tomato Sauce
Fresh tomato sauce captures the essence of perfectly ripe tomatoes, and as such, the ingredient list is a short one – just ripe tomatoes, yellow onion, garlic, olive oil, pepper flakes, and fresh basil. It's prepared just like any other sauce, first by cooking the onions and then the garlic, adding chopped tomatoes, and letting everything simmer for 30 minutes or so. If you'd like, you can puree the sauce as I have here. Traditionally, even fresh tomato sauces are made with peeled tomatoes. However, this sauce incorporates the skins into a puree for a silky smooth sauce that's perfect for gnocchi or spaghetti.
This sauce gets a lot of flavor from the olive oil, so make sure you're using a fresh, high-quality one. I like Graza, Sekka Hills, and Kirkland Organic olive oils.
Because fresh tomatoes can be more watery than their canned counterparts, the sauce takes some time to cook down. For best results, use a large pot to allow for additional surface area and bubbling.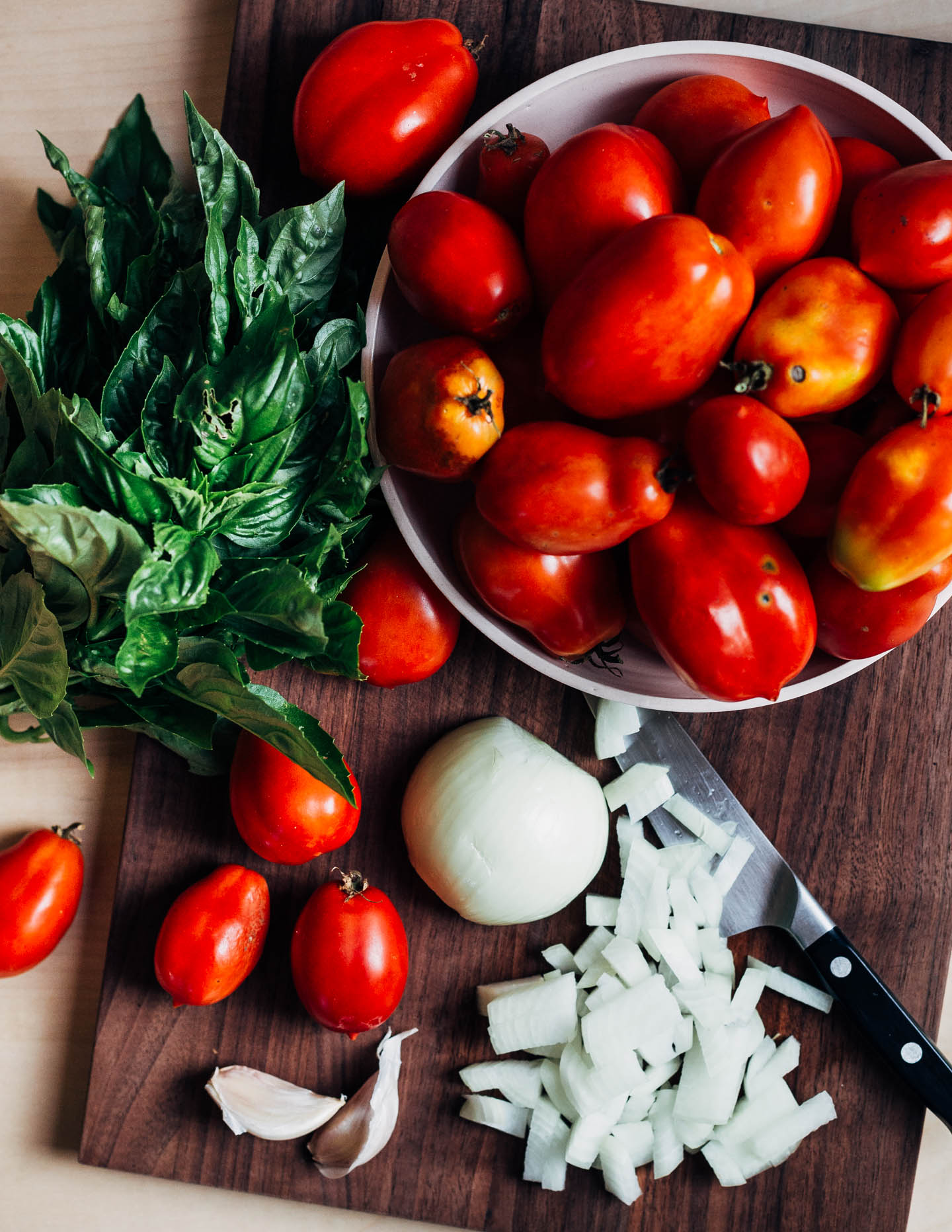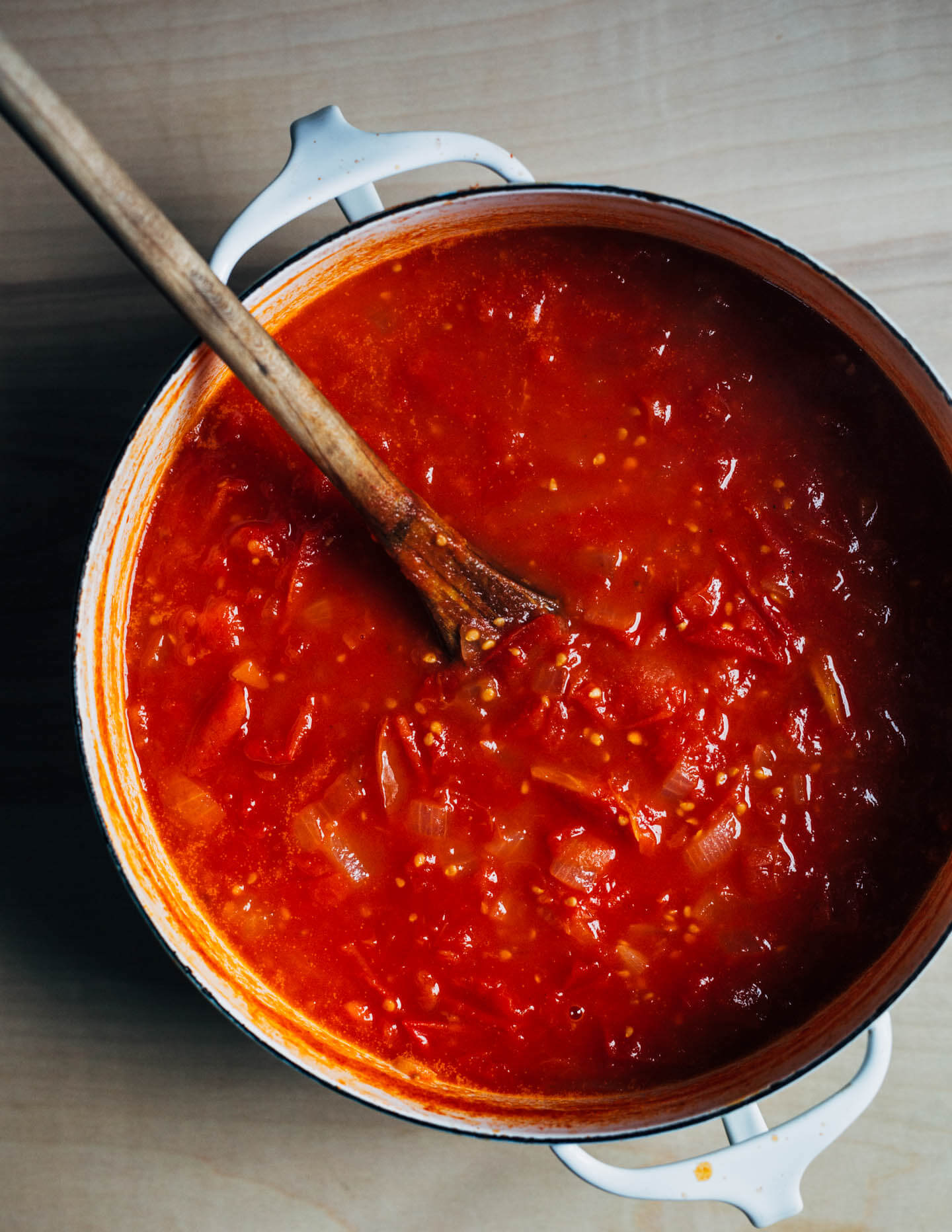 What Kind of Tomatoes Should You Use?
Roma or other kinds of paste tomatoes are ideal for this recipe. These tomatoes have been bred to have a thicker texture and lower water content. But if you just have heirlooms or other slicing tomatoes on hand, they'll work too! Just be sure to scoop out and discard the seeds before chopping the tomatoes. You may also need to add an additional 10 minutes of simmering time for your fresh tomato sauce to thicken up.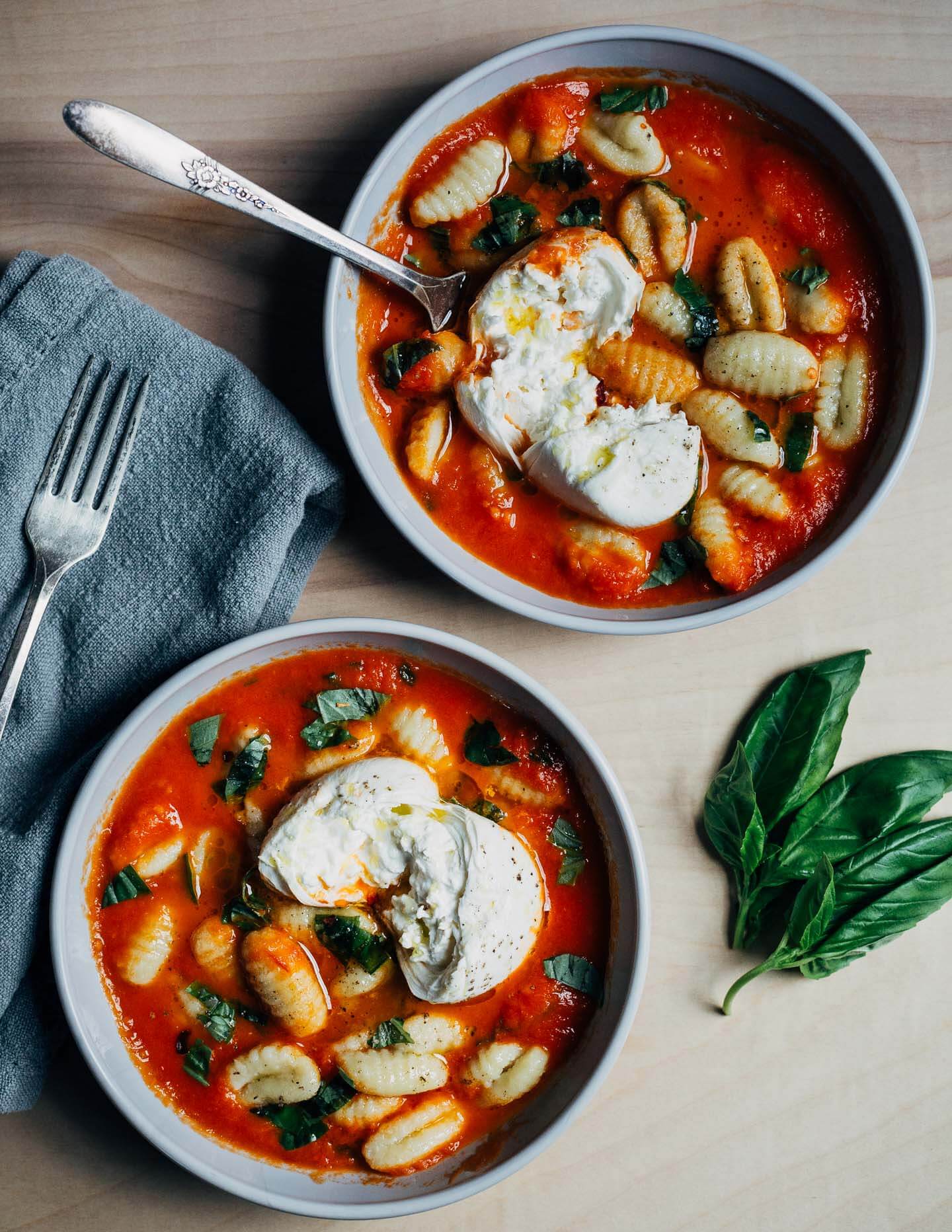 Storing Sauce in the Freezer
Fresh tomato sauce freezes beautifully. There are just a few steps to making sure the frozen sauce keeps perfectly. Storing the sauce in widemouth, straight-sided pint jars is just right for 2 – 4 folks.
To freeze, spoon the hot sauce into pint jars and leave at least 3/4-inch of head space on top. This will allow for the sauce to expand as it freezes. (If the jar is overfilled, it will expand beyond the jar's capacity and crack the glass). To use widemouth quart jars, don't fill past the curved "shoulders" of the jar (about 1-inch of head space) or it will be vulnerable to cracking. Next, label the lids and chill the jars overnight in the fridge. The next day, move them to the freezer where they'll keep well for 6 months. I learned this technique from Aimee over at Simple Bites – check out her detailed post on freezing sauce or other foods in glass jars here.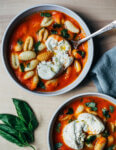 Gnocchi with Fresh Tomato Sauce
As long as ripe tomatoes are in season, this fresh tomato sauce is my weeknight go-to for pasta dinners. Here, the vibrant five-ingredient sauce is served with pillowy gnocchi, creamy burrata, and lots of fresh basil.
Red pepper flakes add a bit of heat and round out the flavor. Use 1/4 teaspoon if you just want a pop of flavor and 1/2 teaspoon for a bit of spicy heat.
I used fresh Roma tomatoes in this recipe. Romas and other paste tomatoes are ideal for making sauce, but you can use any kind of slicer you may have on hand. Slicing or heirloom tomatoes have a higher water content, so if using a non-paste variety, scoop the seeds out and discard before chopping.
Keyword:
fresh tomato sauce
Makes
:
4
servings with extra sauce
Ingredients
Sauce
1/4

cup

extra virgin olive oil

1

yellow onion

diced

1/4 - 1/2

teaspoon

red pepper flakes,

or to taste

1/2

teaspoon

salt

(1 teaspoon if using Diamond Crystal kosher salt)

1/2

teaspoon

black pepper

2

cloves

garlic,

smashed, peeled, and minced

3

pounds

fresh tomatoes,

preferably Romas or other paste tomatoes, cored and chopped

2

tablespoons

chiffonade-cut basil leaves
To Serve
1

pound

gnocchi,

preferably fresh

Salt

Pepper

4

boules burrata

2

tablespoons

torn basil leaves
Instructions
Set a large (3-quart) wide-bottomed pot over medium heat. Add the olive oil and onions. Cook, stirring often, for 8 minutes. Add the garlic, red pepper flakes, salt, and pepper, and cook 1 - 2 minutes more. Fold in the tomatoes and raise heat to medium-high. When sauce begins to bubble vigorously, turn heat down to achieve a lively simmer (medium - medium-low). Cook, stirring frequently, 20 - 30 minutes, until sauce has reduced by a third and thickened.

Working in batches or using an immersion blender, puree the sauce. Return to the pot and reheat over medium-low heat. If sauce is on the thin side, edge heat up and simmer another 5 - 10 minutes, stirring frequently.

aste sauce and add salt, pepper, and olive oil as needed. Just before serving, fold in the basil.

Meanwhile, bring a big pot of water to a boil. Generously salt the water and add gnocchi. Cook gnocchi just until they float to the top, 1 - 2 minutes. Working quickly, use a slotted spoon to remove gnocchi to a large bowl.

Toss cooked gnocchi with 1 - 1 1/2 cups sauce. Spoon into shallow bowls and add more sauce as desired. Top with burrata, fresh basil, a pinch each salt and pepper, and a drizzle of olive oil. Serve right away.

Spoon extra sauce into clean jars. Sauce will keep in the fridge for 3 days or up to six months in the freezer. Read instructions above to freeze.
Recipe Notes
Note: this recipe can easily be doubled. Just add another 20 minutes of cook time for the sauce to thicken.