Smoky, spicy, and with a hint of sweetness, paprika and garlic grilled chicken is the perfect addition to your summer cookout menu! This post was created in partnership with Farmer Focus chicken.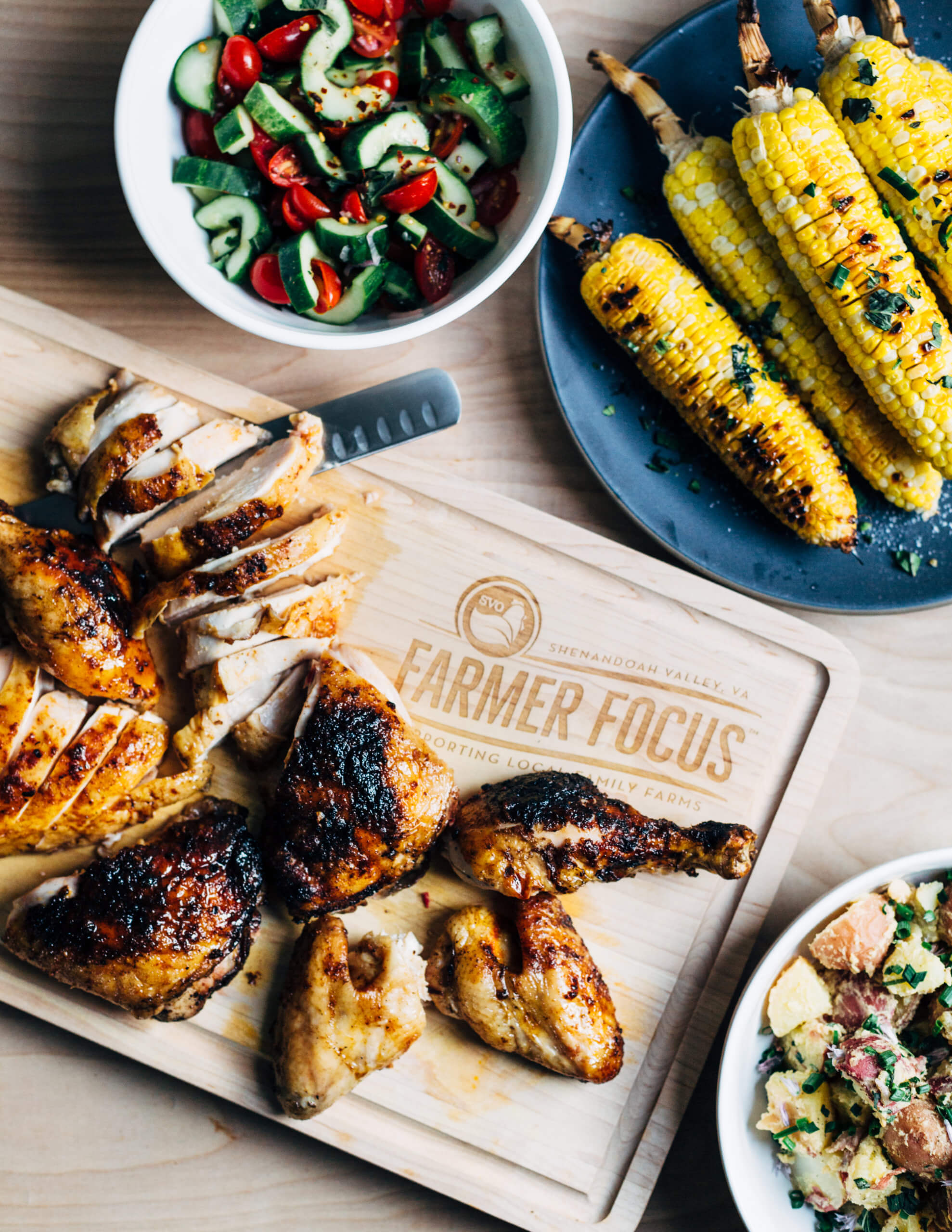 Even as life remains uncertain, I'm trying to turn small moments into regular reminders of how lucky we are just to be together.
And so, every now and then, dinner becomes a celebration. It might be a holiday or a birthday, or just a way to mark the end of a hard week. Whatever the occasion, little celebrations are a nice respite from the uniformity the days have taken on under covid. For the upcoming Fourth of July weekend, our family won't be hosting a big party or going out to see fireworks, but we will be cooking out and doing all we can to enjoy the moment, just the four of us.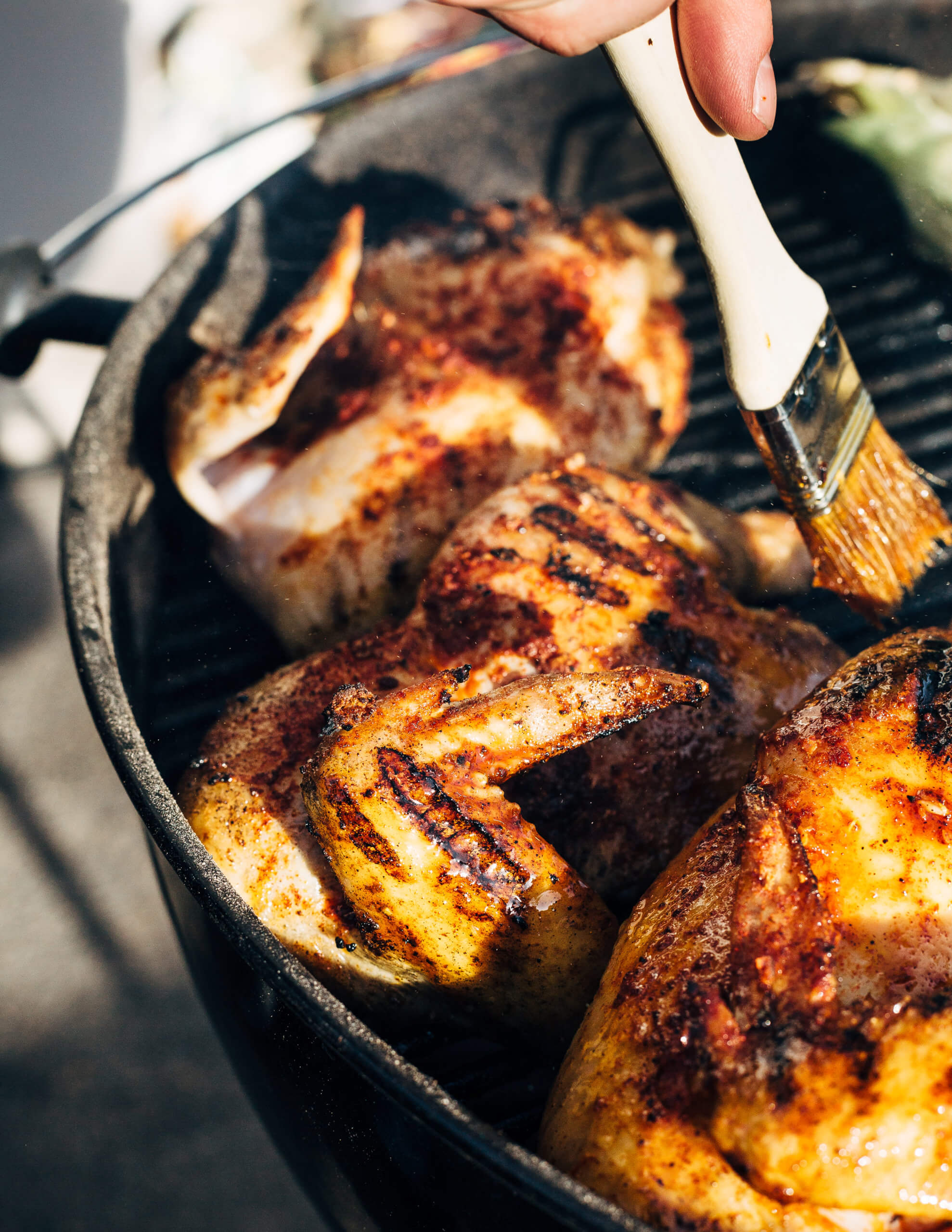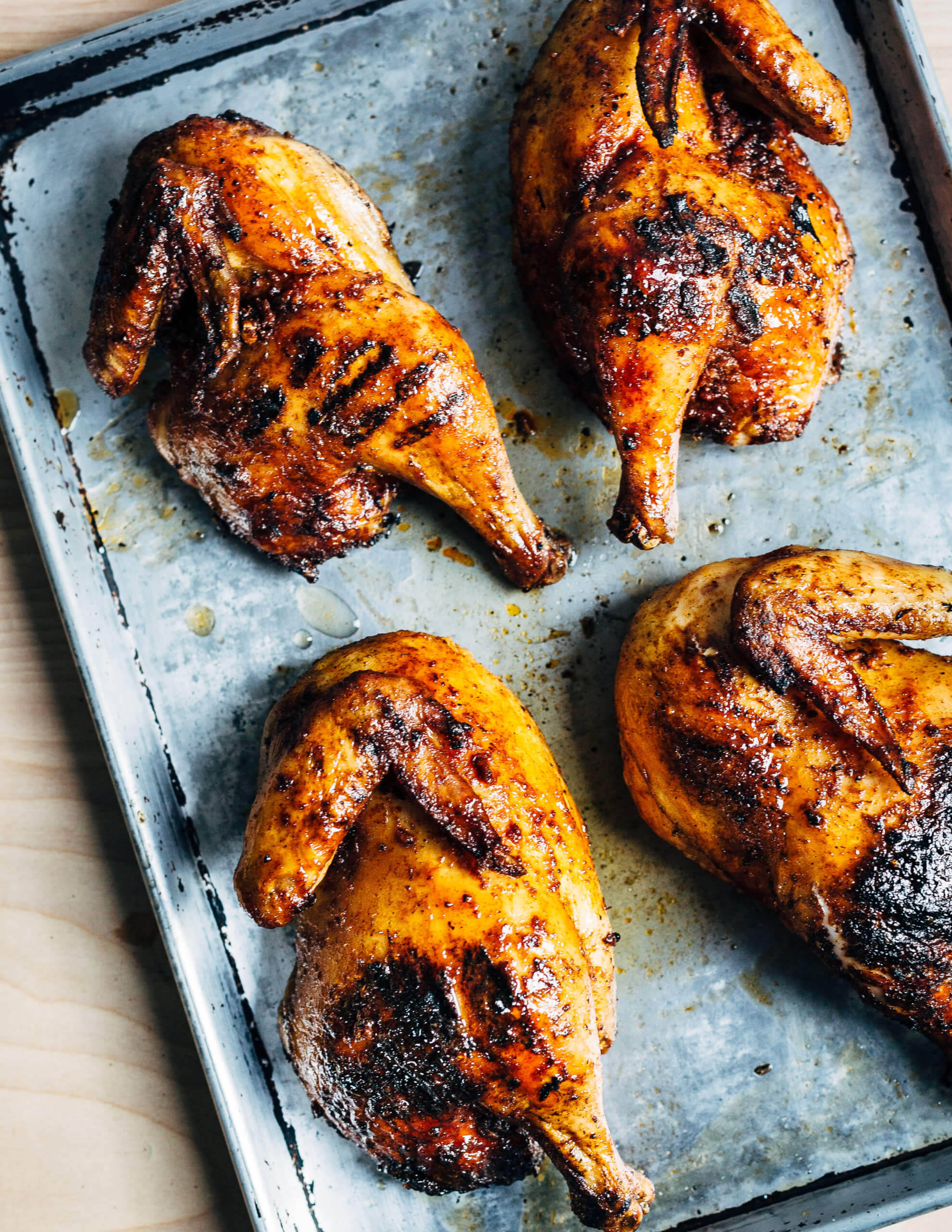 The menu won't be anything fancy, just grilled chicken, corn on the cob, and a few simple sides like Dijon potato salad and a cucumber-tomato salad.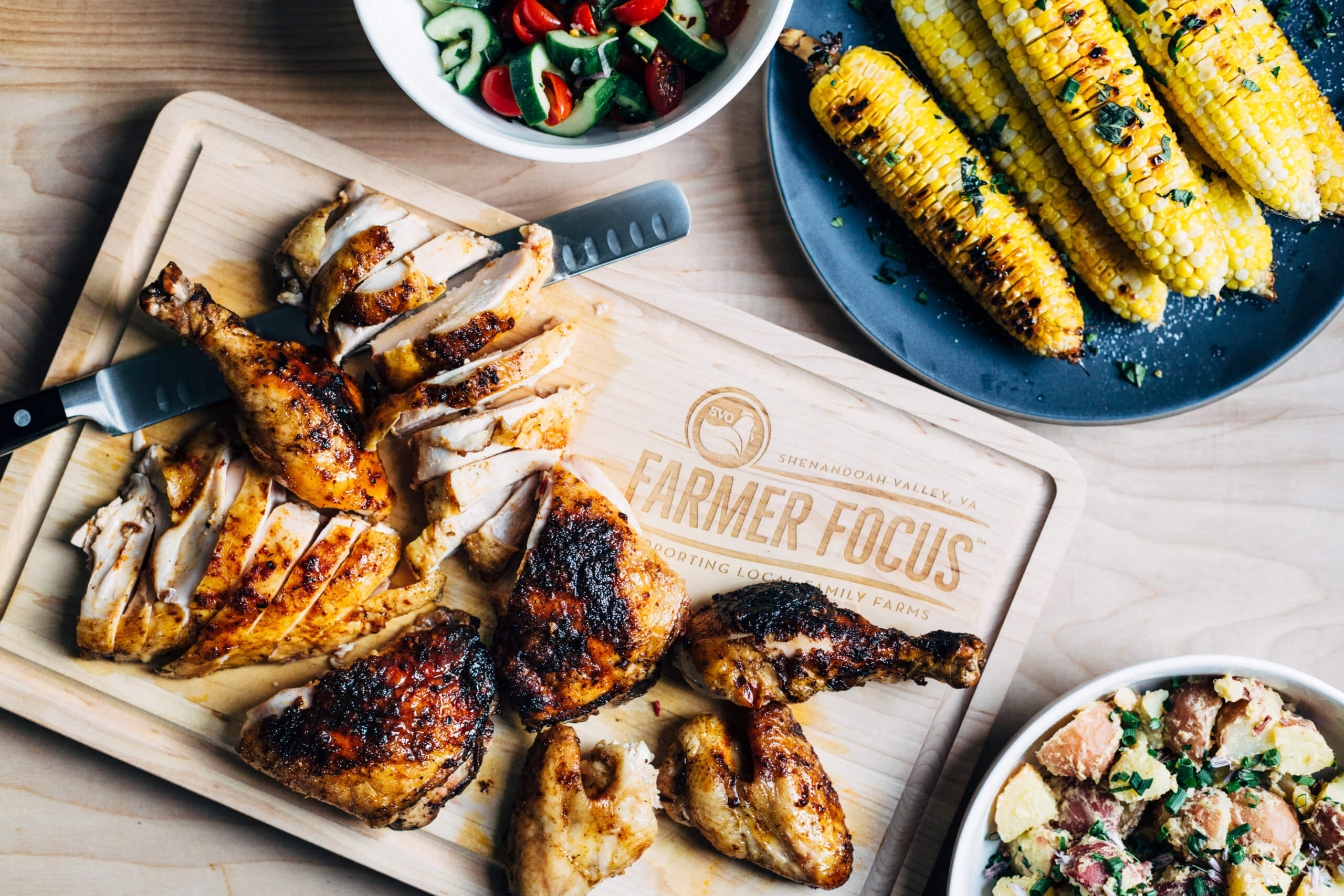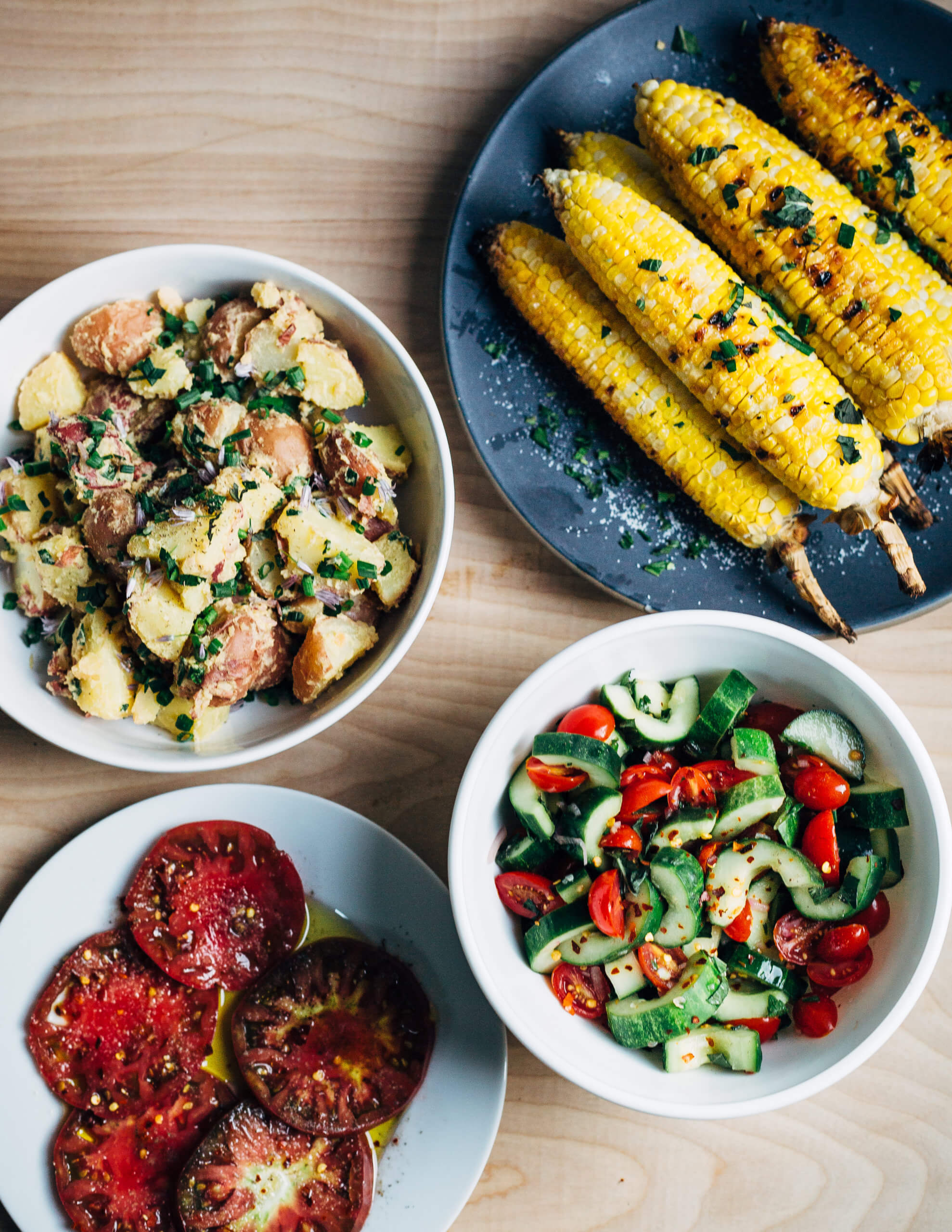 Super Flavorful Whole Grilled Chicken
Grilled chicken doesn't often get top billing as far as cookout fare goes, but it should! This paprika and garlic grilled chicken is full of vibrant flavors. A mix of smoked and spicy paprika lends depth, while lemon zest and garlic balance it out. On the grill, a simple butter and honey sauce brings it all together, making for crisp, just-sweet skin and incredibly flavorful meat.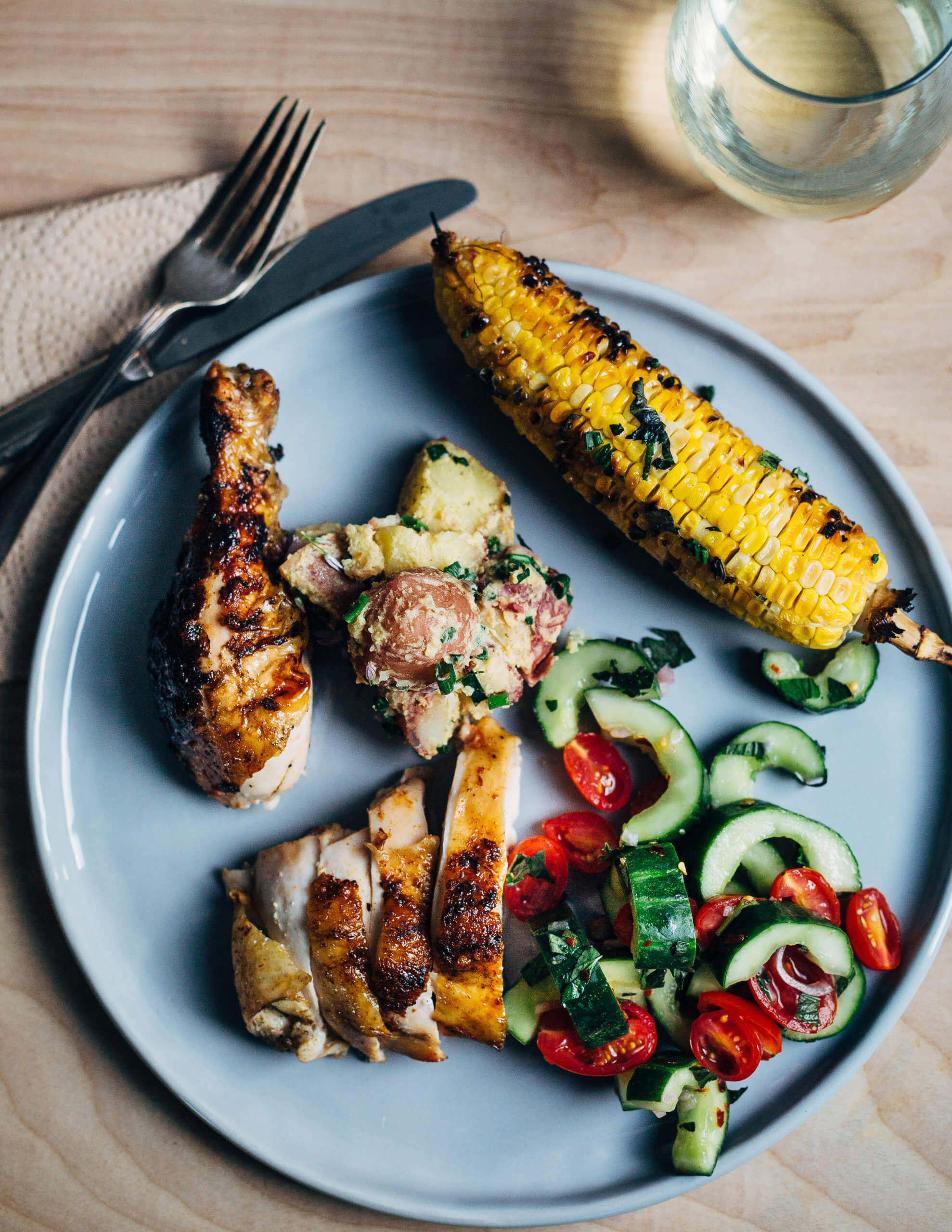 The Best Chicken
This recipe for paprika-garlic grilled chicken starts with a whole Farmer Focus chicken. Farmer Focus is a longtime partner of mine and I'm continually impressed with their chicken.
As the name suggests, Farmer Focus chicken centers family farms. Each package comes with a Farm ID that allows you to look up the farm where your chicken was raised. I love knowing that Farmer Focus farmers are compensated well above industry standards, own their farms and the chickens they raise, and continue to raise some of the best chicken I've ever had. Farmer Focus chicken gets its start in the Shenandoah Valley, but is available all over the Mid-Atlantic and Northeast. Find Farmer Focus at a store near you right here.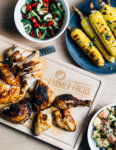 Paprika and Garlic Grilled Chicken
Smoky, spicy, and with a hint of sweetness, this paprika and garlic grilled chicken is the perfect addition to your summer cookout menu. This post was created in partnership with Farmer Focus chicken.
The recipe is at its best when the spice rub has time to fully penetrate the meat. If possible, work ahead so the rub can sit on the chicken overnight. Recipe can easily be doubled for 2 whole chickens.
A mix of smoked and spicy paprika makes for chicken with a little bit of heat. If you like things spicy, feel free to use more spicy paprika or add 1/2 teaspoon ground caynenne pepper.
Keyword:
garlic grilled chicken
Ingredients
Dry Rub
1

whole chicken,

giblets and neck removed

2

cloves

garlic,

smashed, peeled, and finely minced

Zest of 1 lemon

2 1/2

teaspoons

sea salt,

divided

1

teaspoon

smoked paprika

1

teaspoon

spicy paprika

1

teaspoon

black pepper

1

tablespoon

extra virgin olive oil
Honey Butter
4

tablespoons

unsalted butter

2

tablespoons

honey

1

teaspoon

(sweet, spicy, or smoked) paprika

1/2

teaspoon

sea salt

2

tablespoons

neutral cooking oil,

for the grill grate
Instructions
Working 12 - 24 hours ahead, prep the chicken. Lay the whole chicken on a cutting board breast-side down and remove the backbone by cutting along both sides of it with a sharp knife or poultry shears. Flip it over and cut chicken into halves by cutting down the center of the breast, applying a little extra effort to get through the breastbone.

In a small bowl, combine the garlic, lemon zest, 2 teaspoons sea salt, smoked and spicy paprika, and black pepper. If you have one, use a mortar and pestle to grind the mixture into a paste.

Set chicken on a wire rack over a rimmed baking sheet. Blot chicken with paper towels to dry the skin. Sprinkle the cut side of the chicken with remaining 1/2 teaspoon sea salt. Flip chicken, brush the skin with olive oil, and rub the spice mixture all over. Set chicken uncovered in the fridge for up to 24 hours.

When you're ready to make the chicken, prepare a hot grill.

To make the honey butter, melt the butter in a small sauce pan over medium heat. Stir in the honey, paprika, and sea salt. Set aside to cool while the grill heats up.

Bank the coals to one side. Brush the grate lightly with oil. Set chicken, skin side down, over the hottest part of the grill, for 1 - 2 minutes. Flip and cook 1 - 2 minutes longer. Move chicken over indirect heat, skin side up. Brush generously with butter mixture. Cover grill and cook 20 - 30 minutes, or until an instant read thermometer reads 165 degrees F. Every 10 minutes, brush chicken with butter mixture. At the 15 minute mark, start checking chicken every 5 minutes and pull when it's up to temperature.

Let the chicken rest 15 minutes, and then carve, and serve.