Garlicky sautéed collard greens with over-easy eggs and thick-cut toast is the quintessential simple spring meal.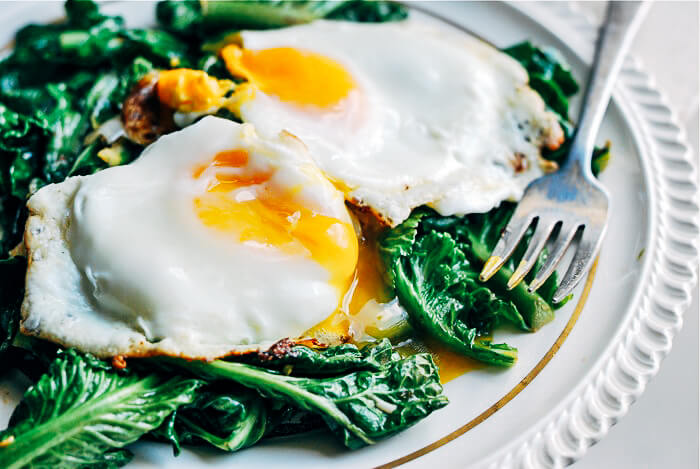 With signs of spring all around, it's hard not to feel a surge of optimism. The chives are up and the heartier herbs have started to grow again. Pear blossoms are in full swing and the cherry trees are just about to bloom. Windows are wide open and Williamsburg's infamous red Subaru guy is making the rounds (and blessedly, after years of blasting Sonny and Cher, he seems to have moved on to some deeper cuts).
Such signs of spring lure me to the farmers market, ready to see the bounty of nature spread before me. And usually, I sulk home with three sunken sweet potatoes and four knobby carrots in my sack. But not this time! Warmer temperatures for the past two months mean that there are vegetables to be had. All the hearty greens – bok choi, mizuna, collards, kale, chard, even spinach – are here. All of them with tiny, fresh tender leaves that are as delicious raw as cooked.
Sautéed Collard Greens and Eggs: Humble Perfection
For a recent lunch on a quiet afternoon at home, I broke out some of my spring treasure for a favorite simple meal: garlicky sautéed collard greens with over-easy eggs. Hardly a recipe, this is the kind of kitchen staple you make by feel – a splash of olive oil here, a generous sprinkle of salt there. Garlic adds nutty, spicy notes, and the tender spring greens carry creamy, rich, bright orange egg yolks wonderfully. Serve with thick-cut toast and you have a humble feast.
Join a CSA
A quick note: with spring, comes CSA sign-up time. If you are local (Brooklyn or Manhattan), I highly recommend the Paisley Farm CSA. Here in Williamsburg, they have Wednesday pick-ups at DBA. We've been with them for two years and couldn't be more pleased with the consistent, high quality, and bountiful organic produce they bring week after week. Paisley Farm is so great, and after a rough year last year, they could really use some extra community support. Go ahead, sign up!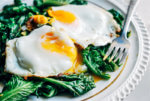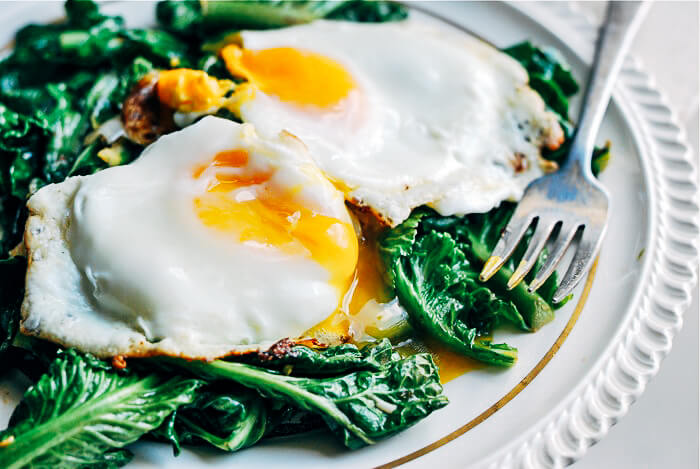 Garlicky Greens with Over-Easy Eggs
Garlicky sautéed collard greens with over-easy eggs is the quintessential simple spring meal. 
Ingredients
2

tablespoons

olive oil

5

cloves

garlic

smashed and peeled

Roughly 3 cups collards

preferably small, tender leaves, trimmed, rinsed, and patted dry

Sea salt to taste

1/2

teaspoon

fresh ground pepper

1/4

teaspoon

crush red pepper flakes

Splash of rice wine vinegar

1 - 2

tablespoons

butter

4

eggs
Instructions
In a medium skillet, heat the olive oil over medium high heat. Toss in the garlic, and cook for 1 or 2 minutes. Add the greens, 1/4 teaspoon salt, pepper, and red pepper. Sauté for 3 minutes, moving the greens around a bit so they don't scorch. Flip the greens and continue to cook until tender. Finish with the splash of vinegar. Remove to a plate.

In the same skillet, melt the butter over medium heat. Add the eggs and the remaining 1/4 teaspoon of salt, or more to taste. Cook for 3 minutes, use a spatula to gently move the eggs so the bottom doesn't stick, cover, and continue to cook until the whites are set. Carefully set on top of the greens, and serve immediately.