A shaved asparagus salad featuring asparagus ribbons tossed with dried cherries and a lemony vinaigrette.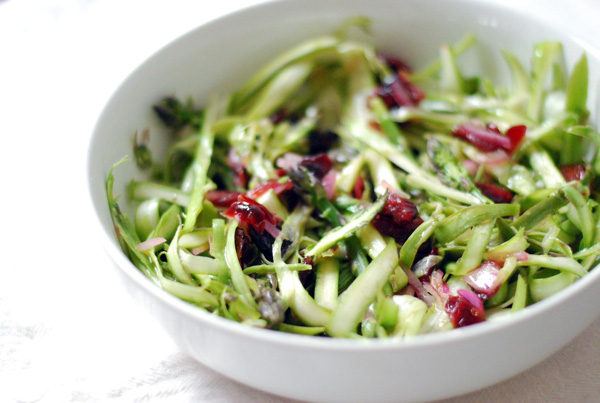 Ever since our enormous Penske rolled out of Brooklyn at 11:30pm on a Saturday night, our lives have been something just shy of complete chaos. I've been traveling back and forth to NYC over the past week tying up loose ends. It was strange to be back in the city not 48 hours after our exhausted/triumphant exit. But now, we're really here. The family is settling in, though nearly any task includes endless searching through a boxes and bags, rifling through these papers or those, or opening this drawer and then that one. I feel a little like we're all just wandering in circles in this unfamiliar space. After one of the most intense and exhausting weeks of my life spent getting out of New York, I am a little bummed to face the fact that moving into a place is hard too.
But I'm also just so glad just to be here in Charlottesville. We're enjoying the peace, fresh air, and nature. I'm slowly introducing my Brooklyn girls to the Virginia wild with all its birds, wild flowers, poison ivy, and beetles of every ilk. I took the girls for a walk along the river and we spotted turtles, fish, and countless colorful birds. I'm teaching them to listen for the whistle of the train as it rolls through town and to enjoy the simple pleasure of rain on the roof.
We also are lucky enough to live close to a pretty little park that hosts a Wednesday evening farmer's market. The offerings are fewer than those at Union Square, but I'm happy to help myself to bunch after bunch of tender asparagus. I've basically been stockpiling it (perhaps in the hopes that a full fridge will make this place feel more and more like home). The typical preparations have lost just a bit of their luster and I wanted to try something fresh. Enter this lovely shaved asparagus salad. Served cold, it's sweet and salty and fresh and interesting. It's new, yet familiar, kind of like our new home.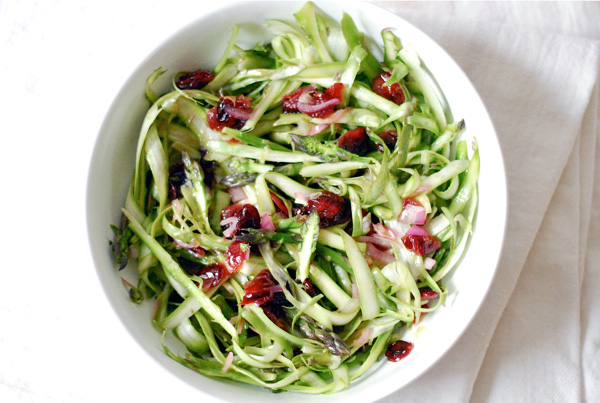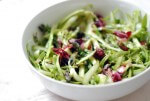 Asparagus Ribbon Salad with Dried Cherries
A shaved asparagus salad featuring asparagus ribbons tossed with dried cherries and a lemony vinaigrette.
Ingredients
1/3

cup

dried cherries

(tart Montmorency are the best)

1

small shallot,

minced

3

tablespoons

olive oil

2

tablespoons

fresh-squeezed lemon juice

1

teaspoon

rice wine vinegar

1/2

teaspoon

sea salt

1

pound

asparagus,

washed with woody ends broken off
Instructions
In a small bowl, whisk lemon juice and vinegar into olive oil. Add sea salt, shallot, and dried cherries, and set aside. The cherries will plump up while they steep in the vinaigrette.

To shave asparagus, hold each stalk by the woody stem and use a peeler to shave upwards.

Place shavings in a bowl, drizzle with vinaigrette, and toss. Check salt and acid levels and adjust as needed. If you have the time, cover and refrigerate for an hour or so. Serve cold.
SaveSave
SaveSave
SaveSave