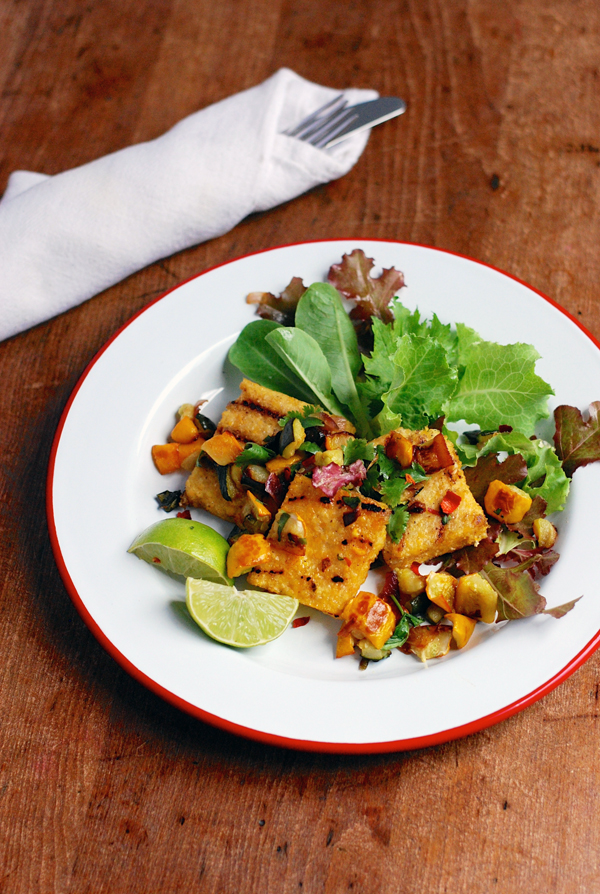 At a time when so much good stuff is growing, it's nice to have a copy of Erin Alderson's The Homemade Flour Cookbook in hand. Erin, the lovely writer and photographer behind Naturally Ella, has created a beautiful book that details homemade flours of all varieties –– everything from traditional wheat flours to those made from legumes, nuts, and seeds. The most exciting thing for me is that Erin's book gives readers the information they need to mill their own grains at home. And her simple, fresh recipes offer a great chance to play with all the best flavors of the season.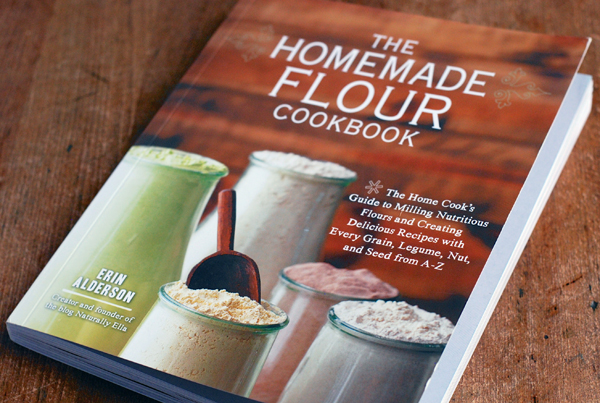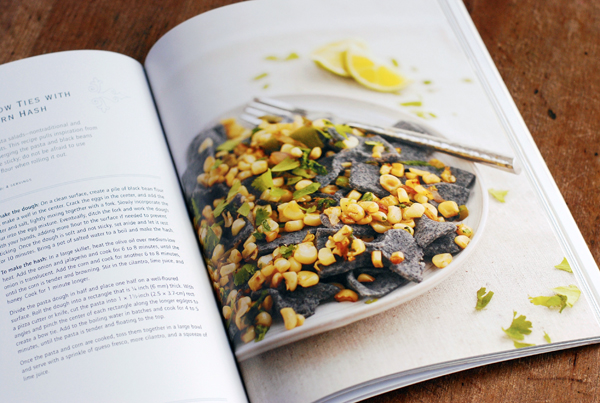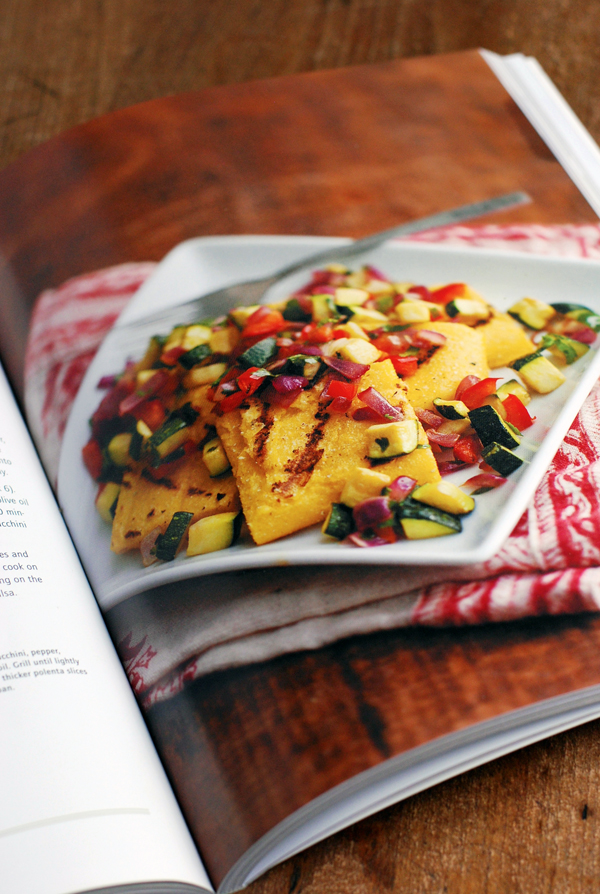 I started by making her recipe for gluten-free blueberry amaranth muffins. They were tender and moist, with a nutty sweetness from a mix of amaranth and sorghum flours. Next, I tried Erin's grilled polenta with roasted zucchini salsa, which was perfect since all of the ingredients I needed were included in last week's CSA share. Also because I got to turn popcorn into polenta (so empowering!). I served my grilled polenta with a handful of salad greens and lots of roasted zucchini salsa. The results were smoky and sweet, with plenty of flavor coaxed out of such a simple stable of ingredients.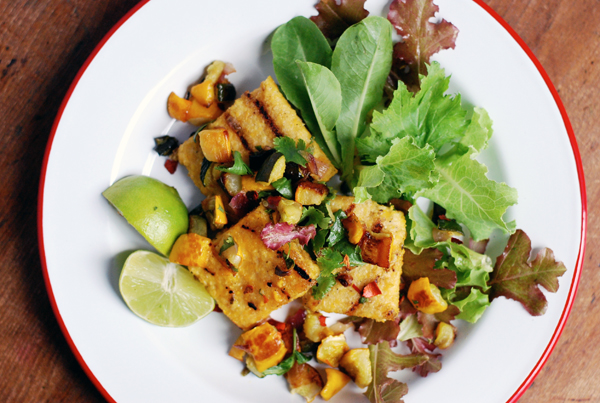 If you'd like to check out Erin's book for yourself (and you should!), you're in luck –– I'm giving away a copy! To enter, leave a comment below. On Monday, June 30th at noon, I'll select one winner at random. (Giveaway open to US residents only, please.) Update: A winner has been selected at random — congratulations to reader Adele! For more goodness from The Homemade Flour Cookbook, or to get your hands on a copy of your own, check out Erin's cookbook page here.
Grilled Polenta with Roasted Zucchini Salsa (adapted with permission from The Homemade Flour Cookbook by Erin Alderson)
serves two
Home ground corn flour is milder than store bought, and I felt the essence of the corn came through more clearly. To grind your own corn flour, use a coffee grinder to grind popcorn kernels in two batches (I shook the grinder to get the most even grind). Sift through the ground corn flour to remove any large lumps.
for the polenta
1/2 cup corn flour or pre-ground polenta
2 cups water
1/2 teaspoon garlic powder
1/4 teaspoon sea salt
olive oil, as needed
In a medium saucepan, bring the corn flour or polenta, water, garlic powder, and sea salt to a boil. Cook, stirring frequently, until mixture thickens to a creamy consistency, 3 to 4 minutes. Spoon the mixture into an oiled 8 x 8 inch pan. Let the polenta cool completely.
for the roasted zucchini salsa
1 medium zucchini, cut into 1/2 inch cubes
1/2 medium red onion, diced
1 small red or green pepper, diced
1 tablespoon olive oil
1/2 teaspoon sea salt
2 tablespoons chopped fresh cilantro
1 tablespoon fresh squeezed lime juice
red pepper flakes or ground cayenne to taste
Preheat the oven to 400 degrees F. Toss the zucchini, onion, and red or green pepper with the olive oil and sea salt. Spread out on a large rimmed baking sheet and roast for 30 minutes, until zucchini is soft and the edges are lightly charred. Toss zucchini with cilantro and lime juice, and red pepper flakes or cayenne, if using.
To grill the polenta, slice into 2 inch squares, and brush each side with olive oil. Place on a hot grill or grill pan and cook each side until browned and crispy, 4 – 6 minutes per side. Serve polenta hot, topped with zucchini salsa with a side of salad greens.