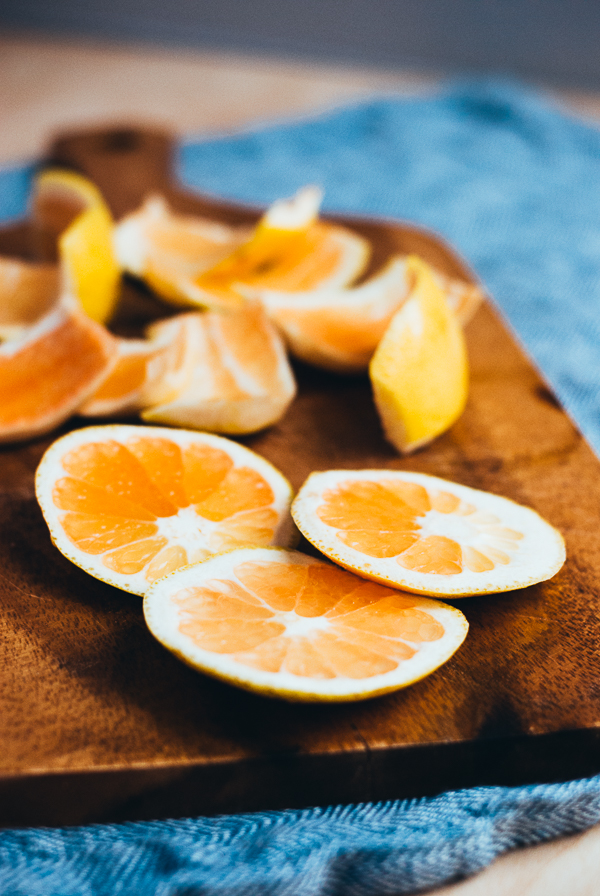 A recipe for tender gluten-free buckwheat pancakes with a tangy grapefruit maple syrup. Jump to recipe.
During my eighties childhood, a halved grapefruit appeared in the breakfast portion of any diet's sample menu. My family took that as a cue, I think, and served up these healthy halves of grapefruit, too. Except, in a move that definitely undid whatever health benefits the fruit had, the adults spooned a modest sprinkling of sugar onto their grapefruit, while I dumped a good-sized mound onto the same. As a rule, we should be wary of a fruit that requires sugar to consume.
We should also be wary of a fruit whose most popular varieties have been chosen because of how well they ship and store rather than how good they taste. Where grapefruits are concerned, the emphasis has long been on ease of distribution. But those of us who like to eat (even in winter) are lucky that grapefruit technology has come a long way. Better distribution, producers who understand that people want flavor too, and a general upscaling of everything mean that flavorless grapefruits have mostly gone the way of mealy Red Delicious apples. (Even if the bad rep they earned seems to linger.)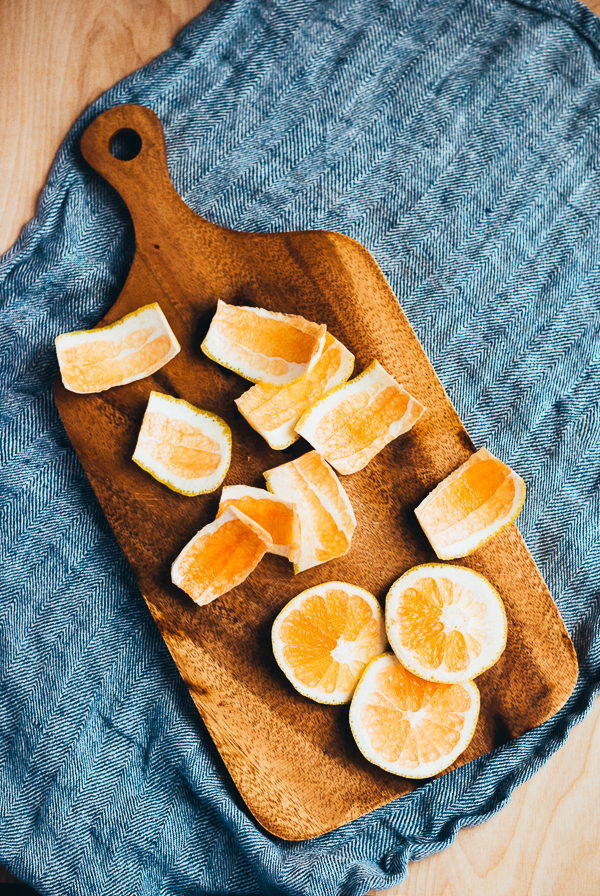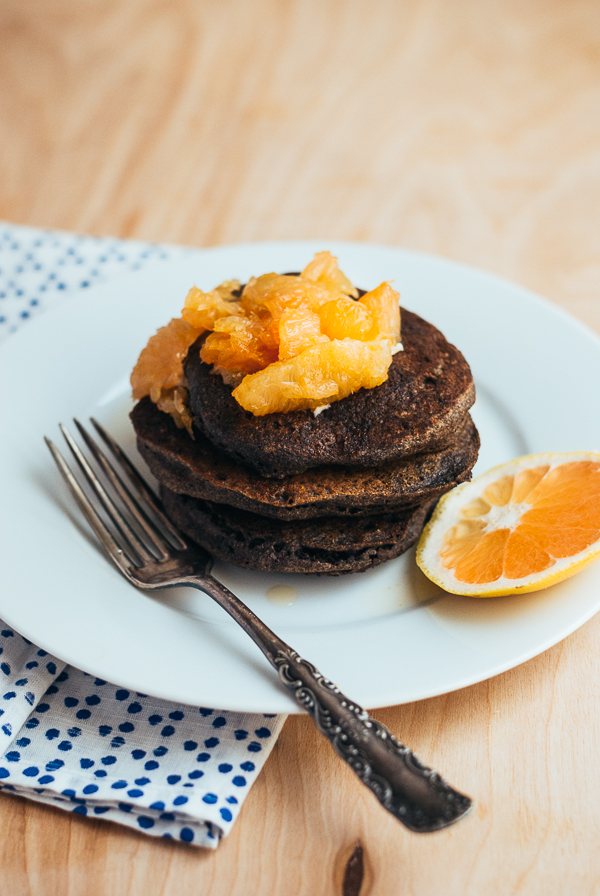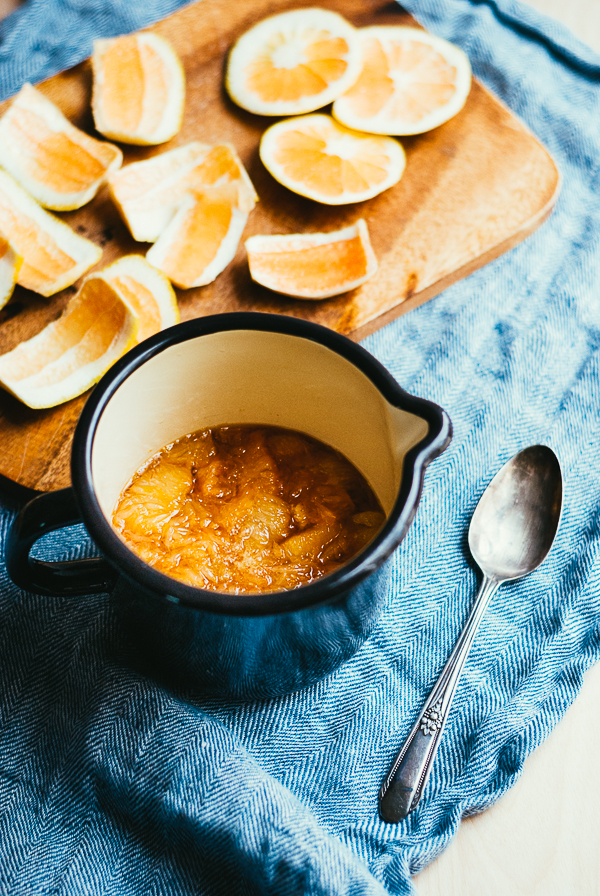 Bad reputation aside, a good grapefruit really is good –– bitter in the best way, faintly sweet, and very juicy. To find your perfect specimen, look for firm, springy to the touch fruits with a thin skin and closely spaced grapefruit dapples. (Note: dapples is a technical term I just made up. Pores?) When in doubt, find a fruit seller you trust or talk to your produce manager. Those of you in warmer climes can just sidle up to a farmer, lucky you.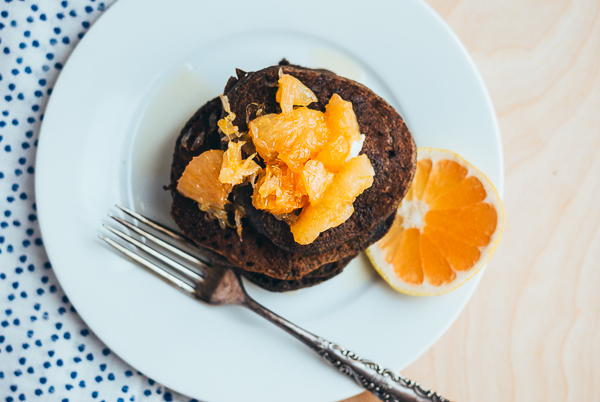 That's a lot of set up for a recipe that calls for immersing grapefruit segments in maple syrup, but I promise it's to improve the syrup, not the fruit. The smokiness of maple syrup is a wonderful flavor note for bitter/sweet pink grapefruit segments, and that it all gets piled up on a stack of nutty buckwheat pancakes comes close to quiet perfection. These pancakes are entirely gluten-free and go big on the buckwheat flavor. The result is a tender, deep brown pancake with a crisp golden edge. They absorb the juicy maple syrup beautifully and make for a delightful winter breakfast, even if it's not snowing wherever you are.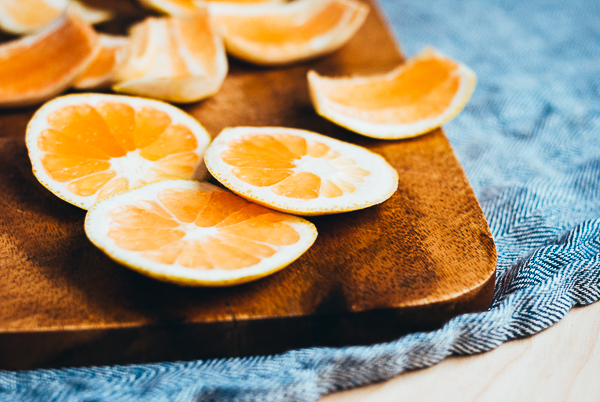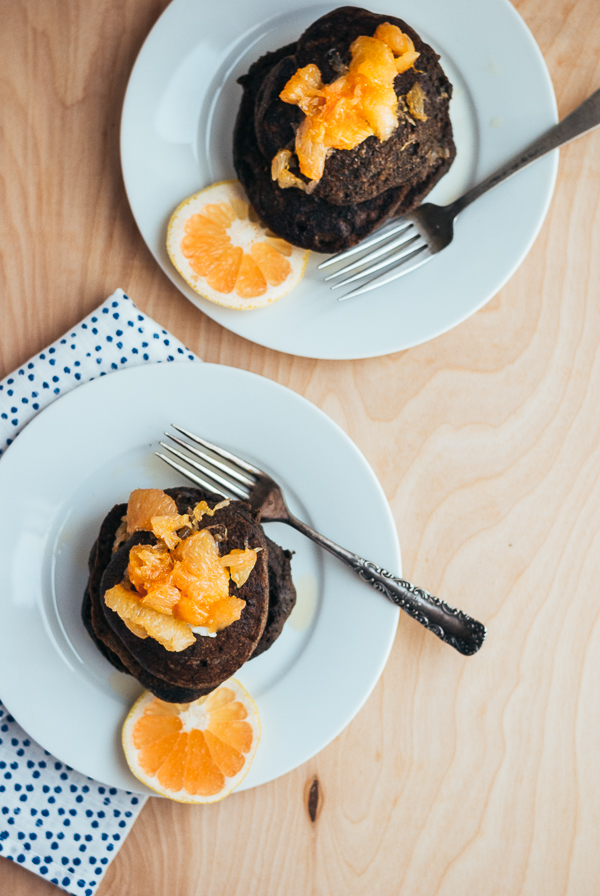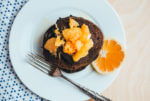 Gluten-Free Buckwheat Pancakes with Grapefruit Maple Syrup
A recipe for tender gluten-free buckwheat pancakes with a tangy grapefruit maple syrup.
Makes
:
12
(4-inch) pancakes
Ingredients
For the Buckwheat Pancakes
1

cup

gluten-free buckwheat flour

(I like Bob's Red Mill)

1

teaspoon

baking powder

1/2

teaspoon

baking soda

1

tablespoon

turbinado sugar

1/4

teaspoon

sea salt

1

egg

1 1/4

cups

whole milk

, plus 1 - 2 tablespoons more as needed

1

teaspoon

grated grapefruit zest

1

teaspoon

vanilla extract

1

tablespoon

melted butter

, plus more for the pan

For the grapefruit maple syrup
For the Grapefruit Maple Syrup
1

pink or Ruby Red grapefruit

, sepremed

1/2

cup

maple syrup
Instructions
Preheat a griddle or skillet over medium heat. Place a rimmed baking sheet in the oven and heat to 200 degrees F.

In a large bowl, combine buckwheat flour, baking powder, baking soda, sugar, and sea salt. Beat egg well in a small bowl and then whisk in 1 1/4 cups milk, zest, and vanilla. Fold wet ingredients into the dry, stirring just until combined. Fold in melted butter. Batter should be thin enough to just dribble off the spoon – stir in a few more tablespoons of milk if needed.

Add butter to the hot skillet, edge heat up just above medium. (The griddle should be hot, but not so much so that the butter smokes.) Pour 1/4 cup of batter per pancake onto griddle. Pancakes will cook quickly – 1 - 2 minutes per side; look for edges to firm up and then flip. Store cooked pancakes on prepared baking sheet in the oven.

Meanwhile, set grapefruit segments into a sauce pan and cover with maple syrup. Warm syrup over medium-low heat. Once warm, keep syrup over low heat until ready to serve.

I had every intention of serving these with a dollop of mascarpone and forgot, though found the pancakes to be lovely with just a pat of butter and a generous spoonful of grapefruit syrup.