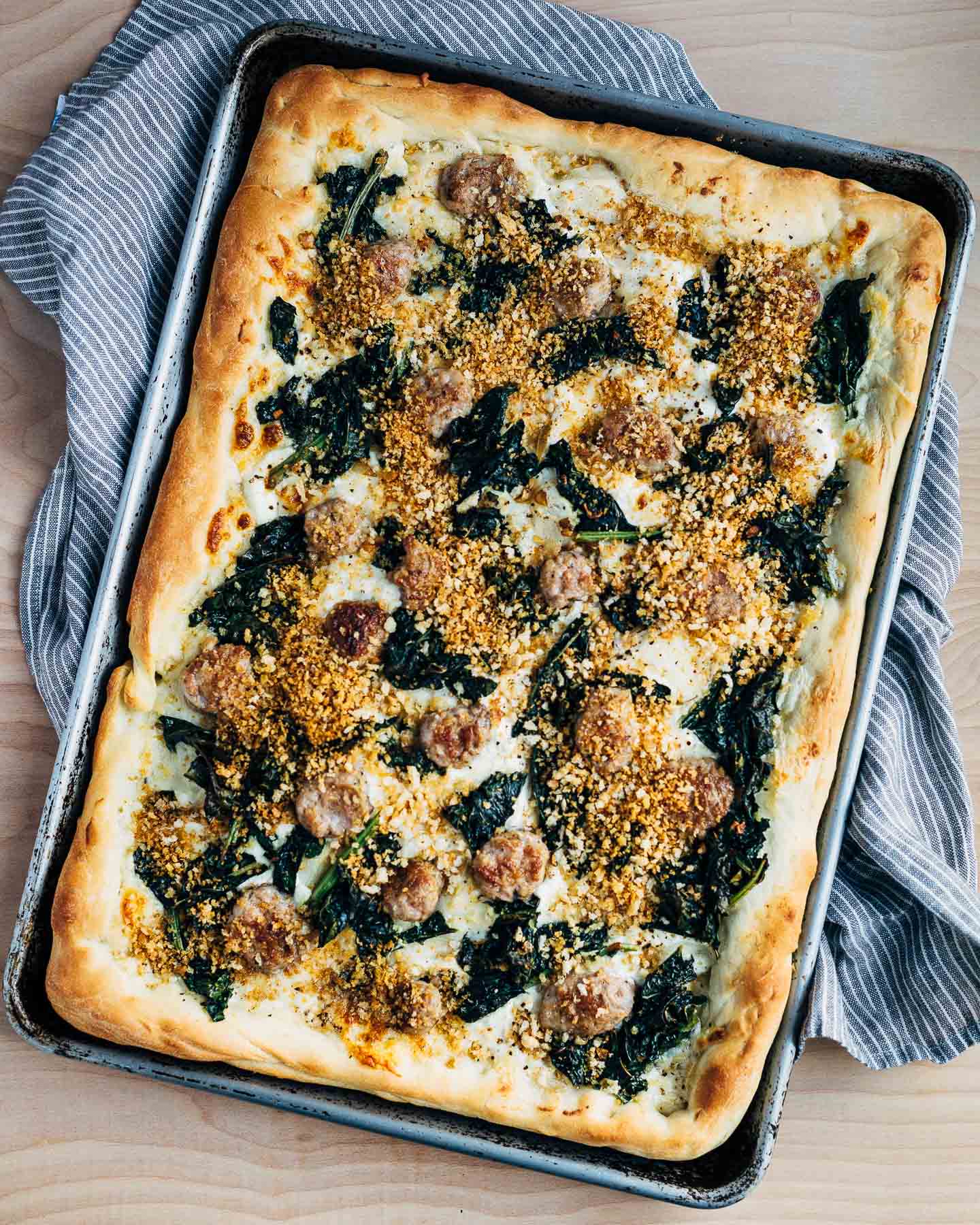 We've teamed up with Progresso to bring you this homemade grandma-style pizza topped with seared sausage, lemony kale, and crispy toasted panko breadcrumbs.
Brian and I have seen our share of homemade pizza disasters. For years, I tried baking on my pizza stone, which usually led to a gooey, shapeless mess of toppings and dough nearly igniting on the hot stone just as it was about to go into the oven. Now I keep my trusty stone in the oven full-time to harness it's heat retention properties instead. We tried grilling pizza once and it literally caught on fire (at least we had the wherewithal to quickly pluck the sausage off before the fireball became too intense). It would have been sad if it hadn't been so hilarious. After the fire petered out we cooked up pasta and tossed it with leftover pizza sauce and (only slightly singed) sausage.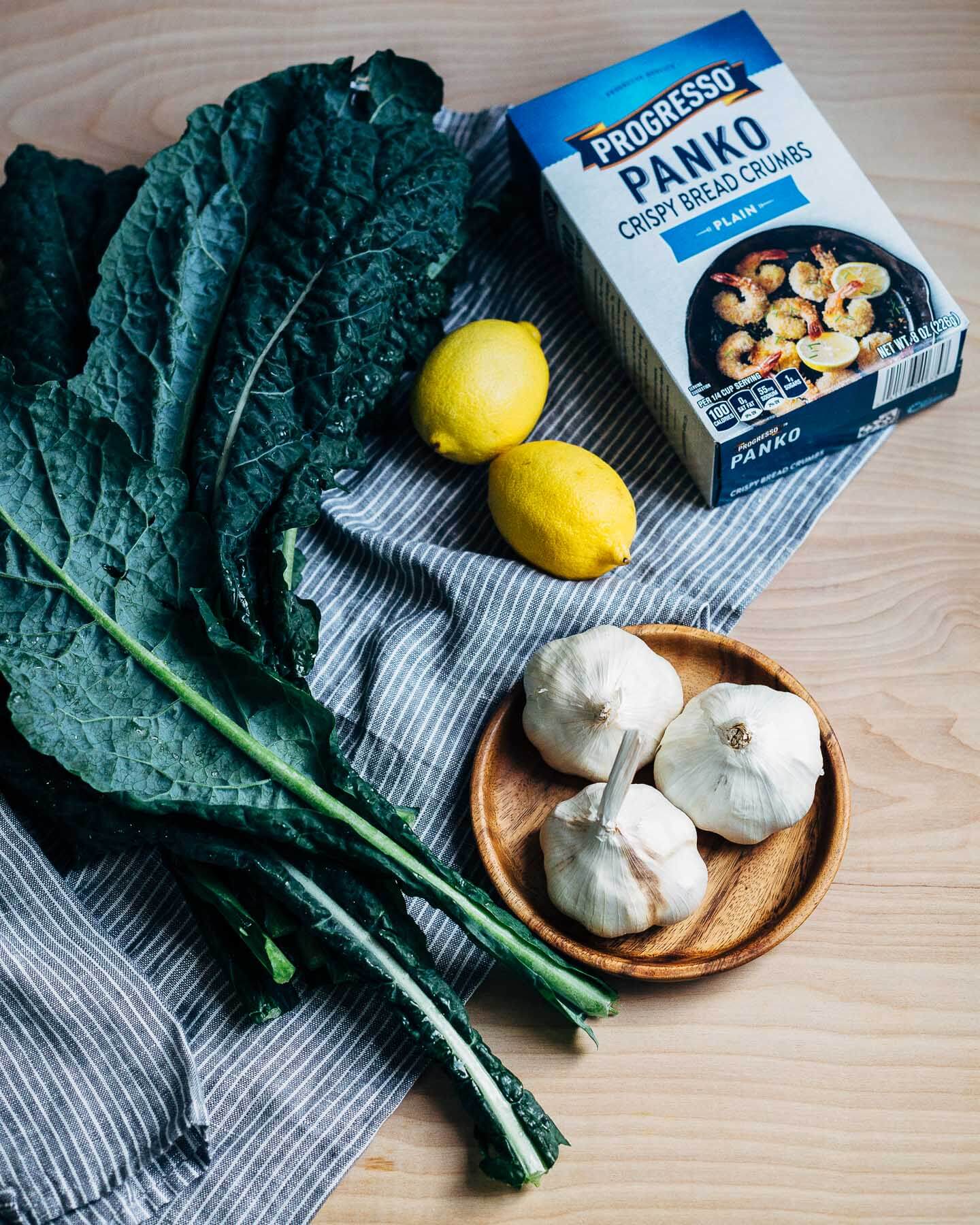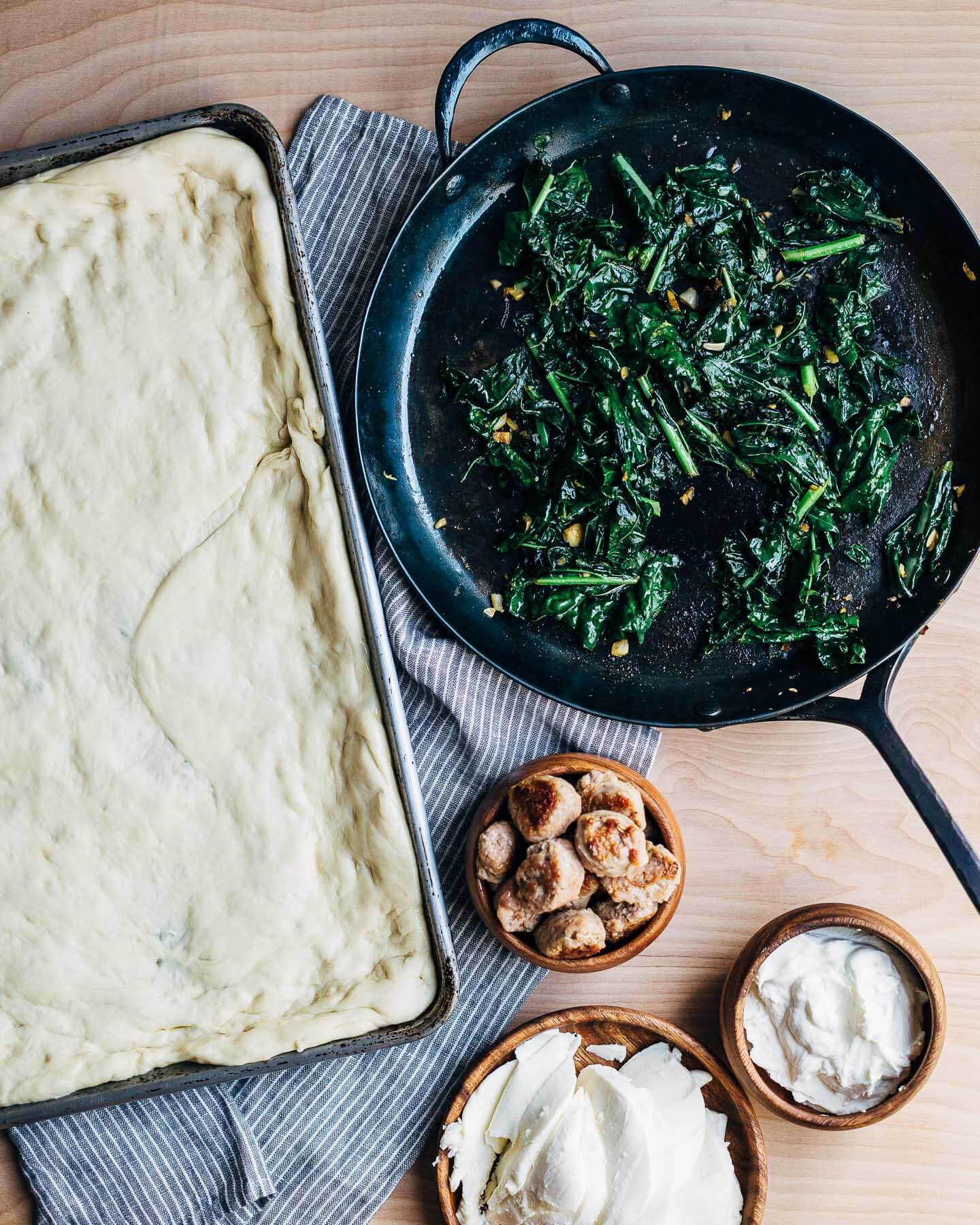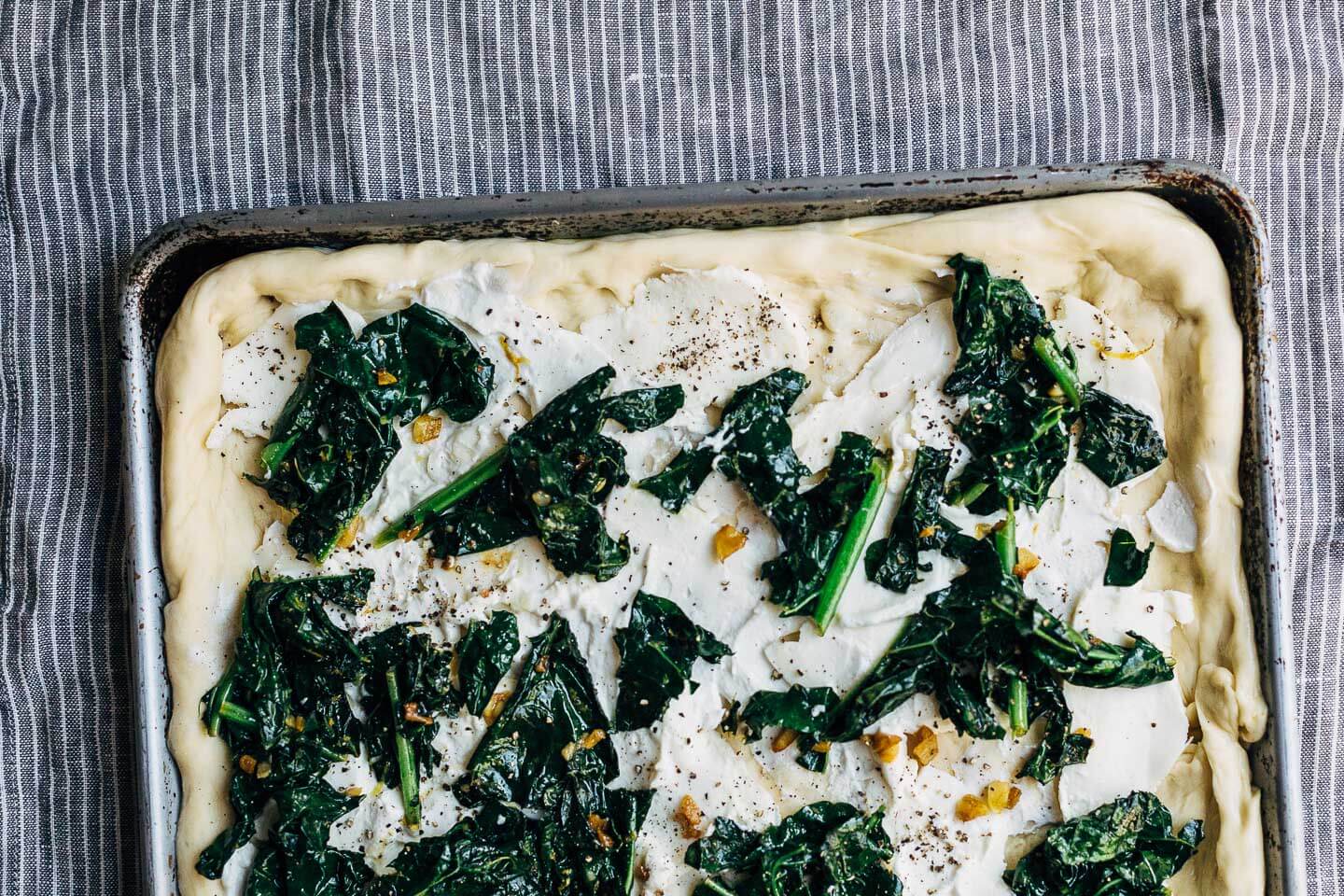 So pizza experimentation hasn't been my strong suit. Until now. At last, I've found a simple, forgiving pizza recipe with on-point flavor. The crust is perfectly chewy, crisp, and suffused with tangy olive oil. My toppings are decidedly not traditional grandma-style fare, but the combination of mozzarella, lemony ricotta, garlic, kale, and sausage really sings. Finally, it's all topped with toasted Progresso Plain Panko Crispy Breadcrumbs that give every bite a wonderful texture and a super satisfying crunch. This is good stuff.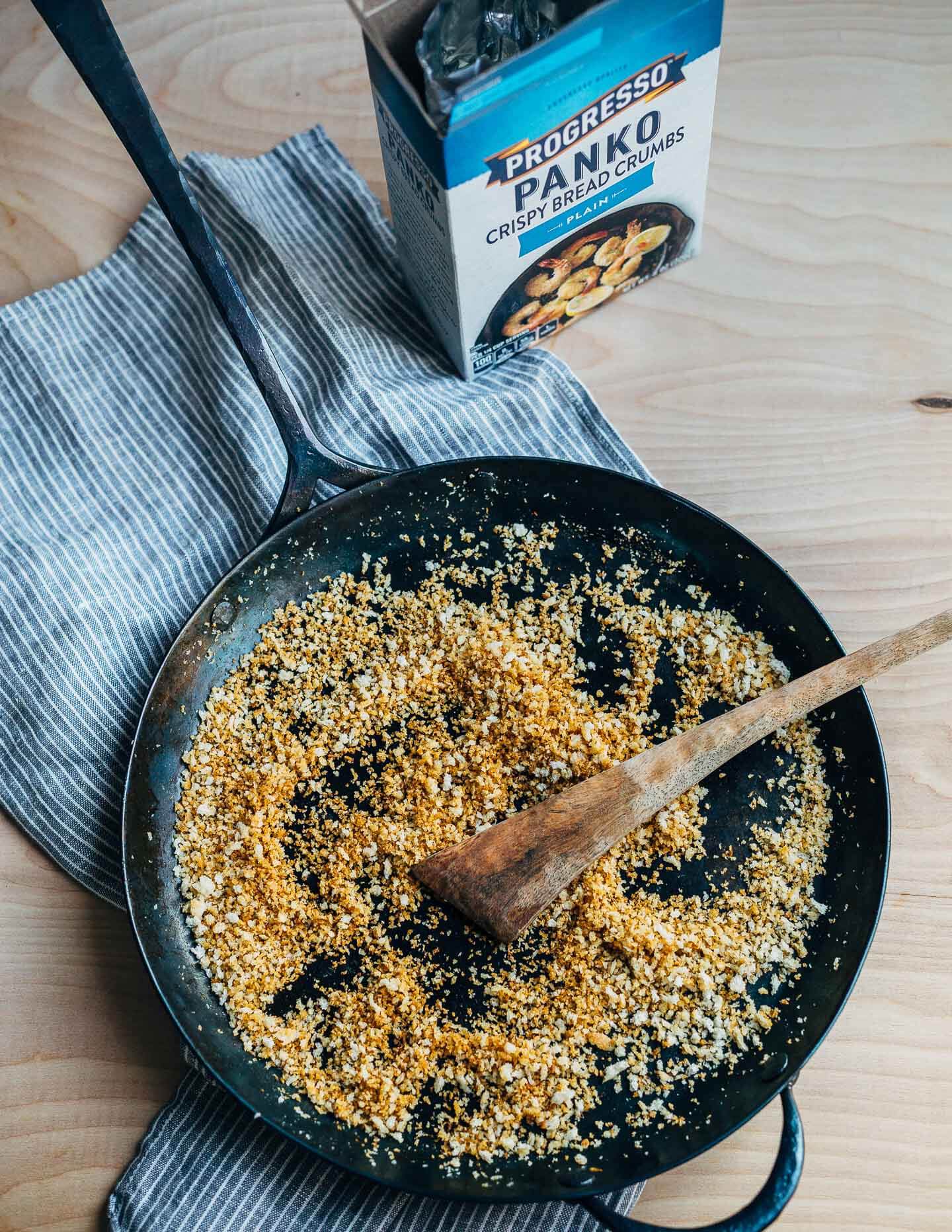 Once you have the dough recipe down, start experimenting with toppings. A traditional grandma pizza is generally spare with a simple tangy, bright tomato sauce (maybe on the sweet side) and a restrained amount of mozzarella.
For me, the essence of grandma-style is a crisp crust but also one that doesn't take days to make. This crust proofs for as little as an hour or two, and then takes another half-hour to stretch into pizza form.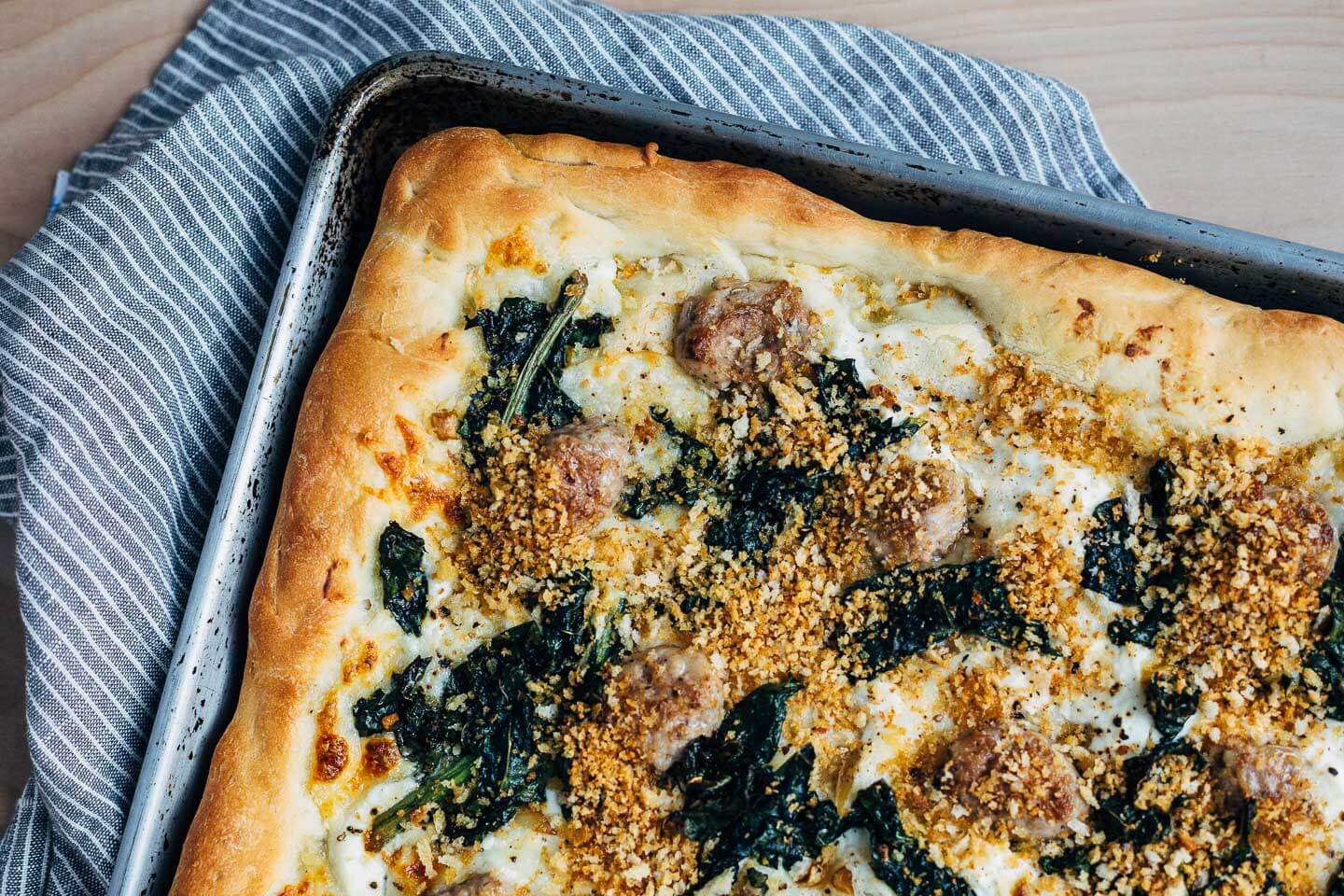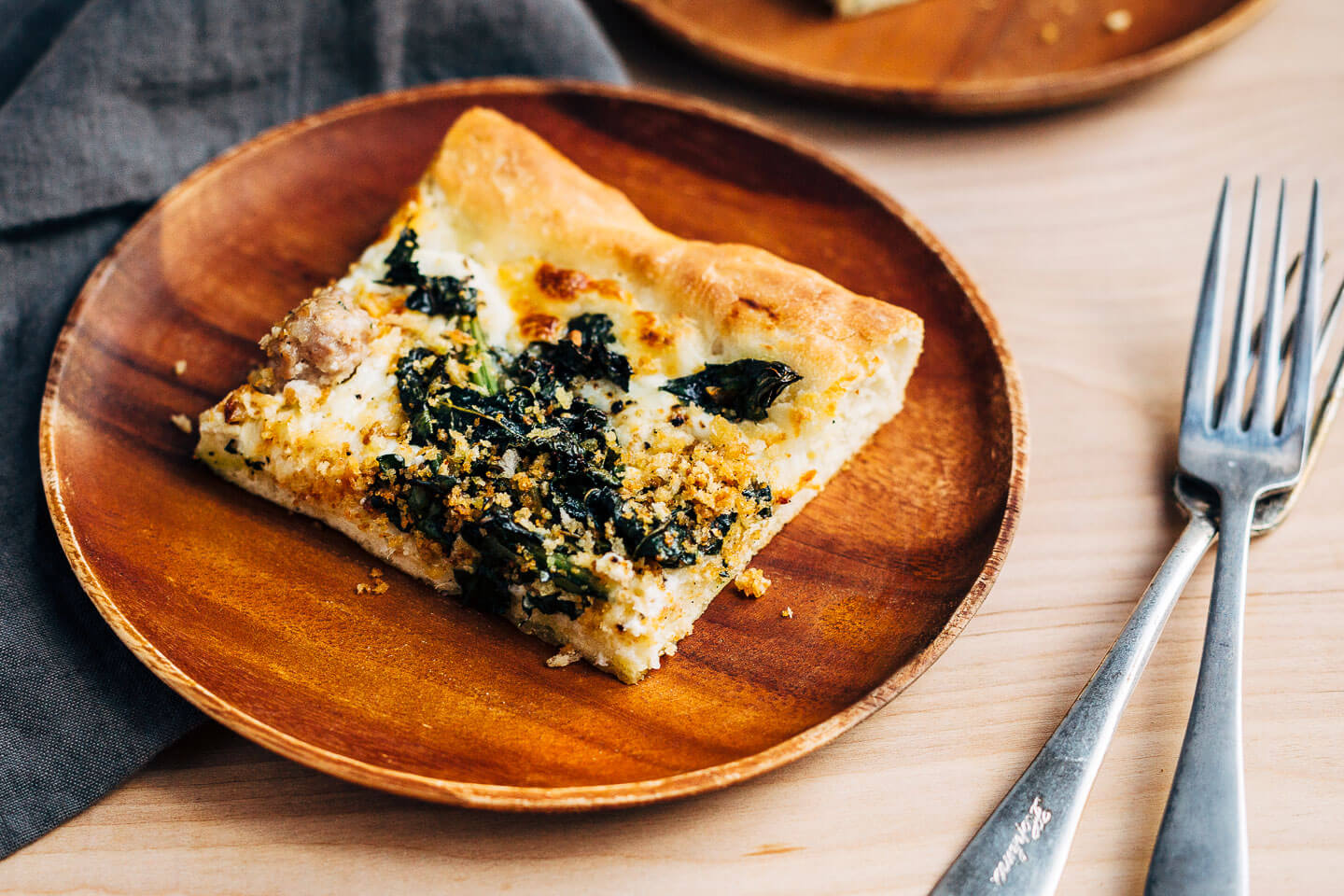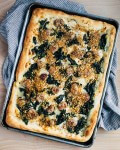 Sausage and Greens Grandma-Style Pizza with Toasted Breadcrumbs
Homemade grandma-style pizza topped with seared sausage, lemony kale, and crispy toasted panko breadcrumbs.
Ingredients
For the Pizza Dough
1 1/2

cups

lukewarm water

2 1/4

teaspoons

active dry yeast

(1 packet)

4

cups

bread flour

2

tablespoons

extra virgin olive oil,

plus more for bowl

2

teaspoons

sea salt
For the Toppings
1/4

cup

plus 2 - 3 tablespoons extra virgin olive oil,

divided

4

cloves

garlic,

smashed, peeled, and sliced thin

sea salt

1

bunch lacinato or Tuscan kale,

thick stems removed and chopped

tablespoon

zest of 1 lemon plus 1 freshly squeezed lemon juice,

divided

1

cup

ricotta cheese

8

ounces

mozzarella,

torn or shredded

1/4

teaspoon

black pepper

2

links mild Italian sausage,

sliced 1/4-inch thick, or your sausage of choice

1/2

cup

Progresso Plain Panko Crispy Breadcrumbs
Instructions
To make pizza dough, pour lukewarm water into a stand mixer bowl (to knead with a dough hook) or a regular mixing bowl (if you plan to knead by hand) and sprinkle yeast over top. Set in a warm, draft-free place for 10 minutes. Mixture should be cloudy and bubbling.

Fit stand mixer with dough hook. Set bowl into stand mixer and fold in bread flour, olive oil, and sea salt. With mixer on low, knead 7 - 10 minutes with dough hook, or until dough is very smooth and pliable (you will need to stop occasionally and reposition dough in the bowl). Or, knead by hand 10 - 12 minutes on a lightly floured surface. Remove dough from bowl, coat lightly with olive oil, and set dough back inside. Cover with plastic wrap and a warm, damp towel, and set in a warm, draft free place for 1 - 2 hours or until dough has puffed up and risen by about half. Punch dough down, recover, and let rise another 20 minutes.

Preheat oven to 500 degrees F. Set out a 13 x 18-inch rimmed baking sheet.

Drizzle 1/4 cup olive oil over baking sheet and set dough in the center. Gently pull dough out into a rectangle shape so that it touches all the edges of pan. If dough becomes hard to work with or begins to tear, set dough aside for 10 minutes covered with plastic wrap and a towel.

Meanwhile, set a medium-sized skillet over medium heat. Add 2 tablespoons olive oil, and, when hot, add garlic and a pinch sea salt. Sauté 1 minute. Add kale and another pinch sea salt; cook just until kale begins to wilt, about 4 minutes. Fold in lemon zest. Remove pan from heat.

Stir lemon juice into the ricotta.

To assemble pizza, top crust with mozzarella, spread out ricotta, and gently tuck kale and garlic mixture throughout. Sprinkle with black pepper. Slide into hot oven; set a timer for 15 minutes.

Wipe skillet used for the kale clean and set over medium-high heat. Working in batches, sear sausage on both sides (about 2 – 3 minutes per side) and then set aside. Turn heat down to medium and pour off all but 1 tablespoon fat (or add olive oil to make 1 tablespoon). Add panko and a pinch sea salt, and toast until fragrant and golden, 2 - 3 minutes. Set aside.

After 15 minutes, remove pizza from oven, add sausage, top with breadcrumbs, and then bake another 5 minutes. Remove from oven, slice, and serve piping hot.

Reheat any leftovers in a 350 degree oven for 10 minutes.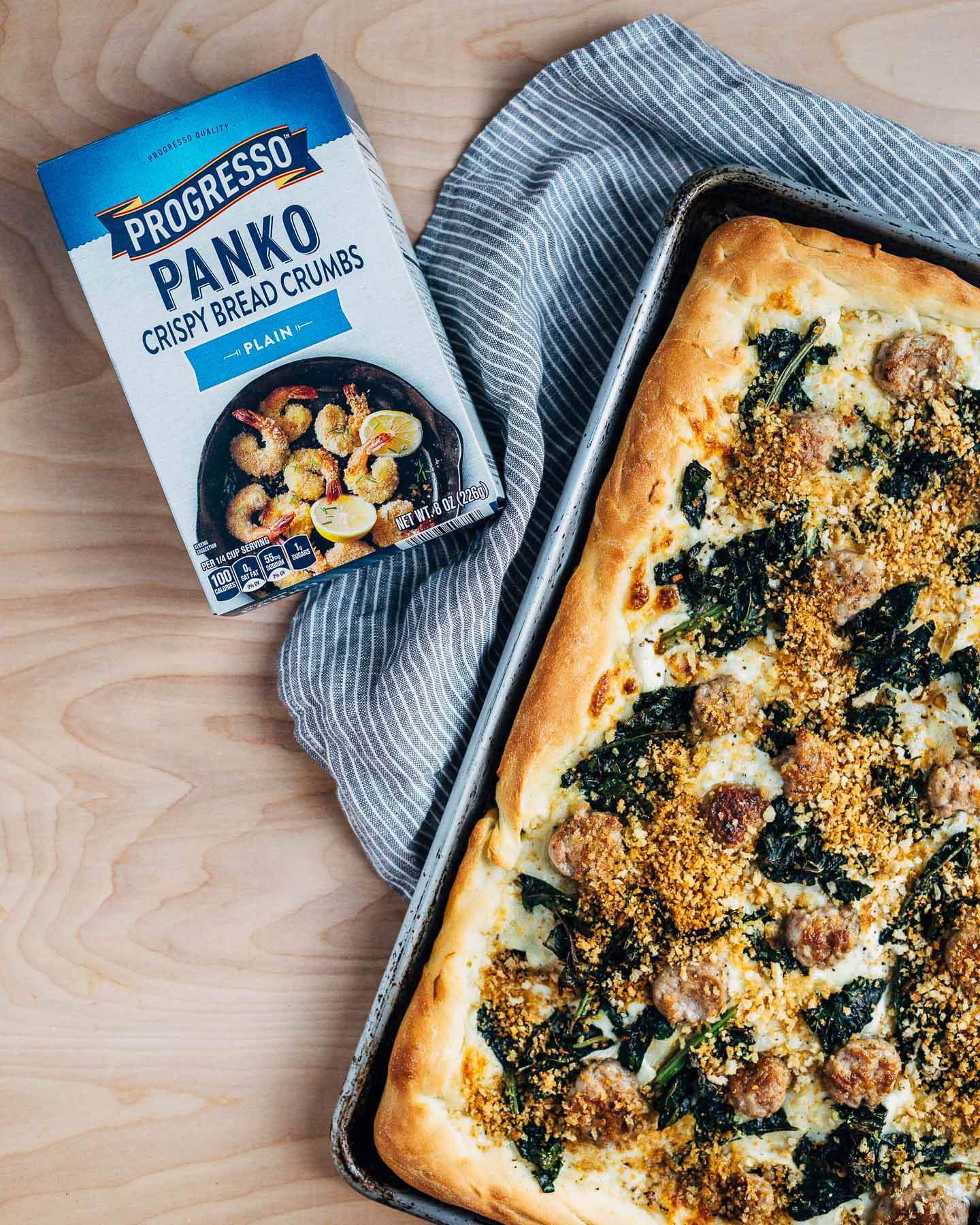 Disclosure: This post is sponsored by Progresso. Thanks for supporting the brands we love!