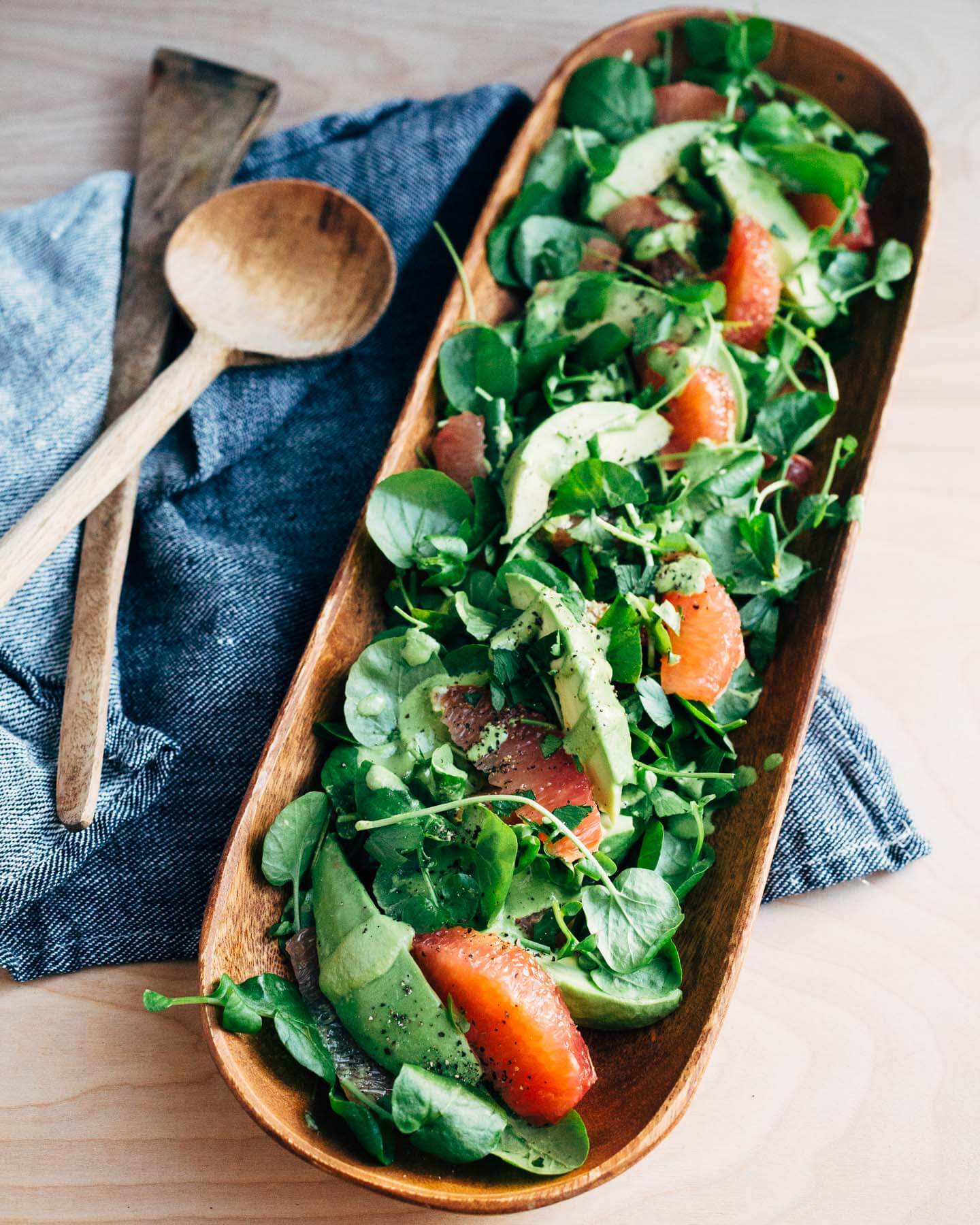 A vibrant ruby-red grapefruit and avocado salad with watercress and creamy vegan pepita green goddess dressing.
If you like the good things in life, you are undoubtedly aware of the charms of an citrus-avocado salad. But even if the combination isn't groundbreaking, there's a lot of room to play subtly with flavors and texture to give the pairing new life. And if, like me, you are unlucky enough to live outside of avocado country, there's a definite satisfaction in gently stewarding an avocado to perfect ripeness.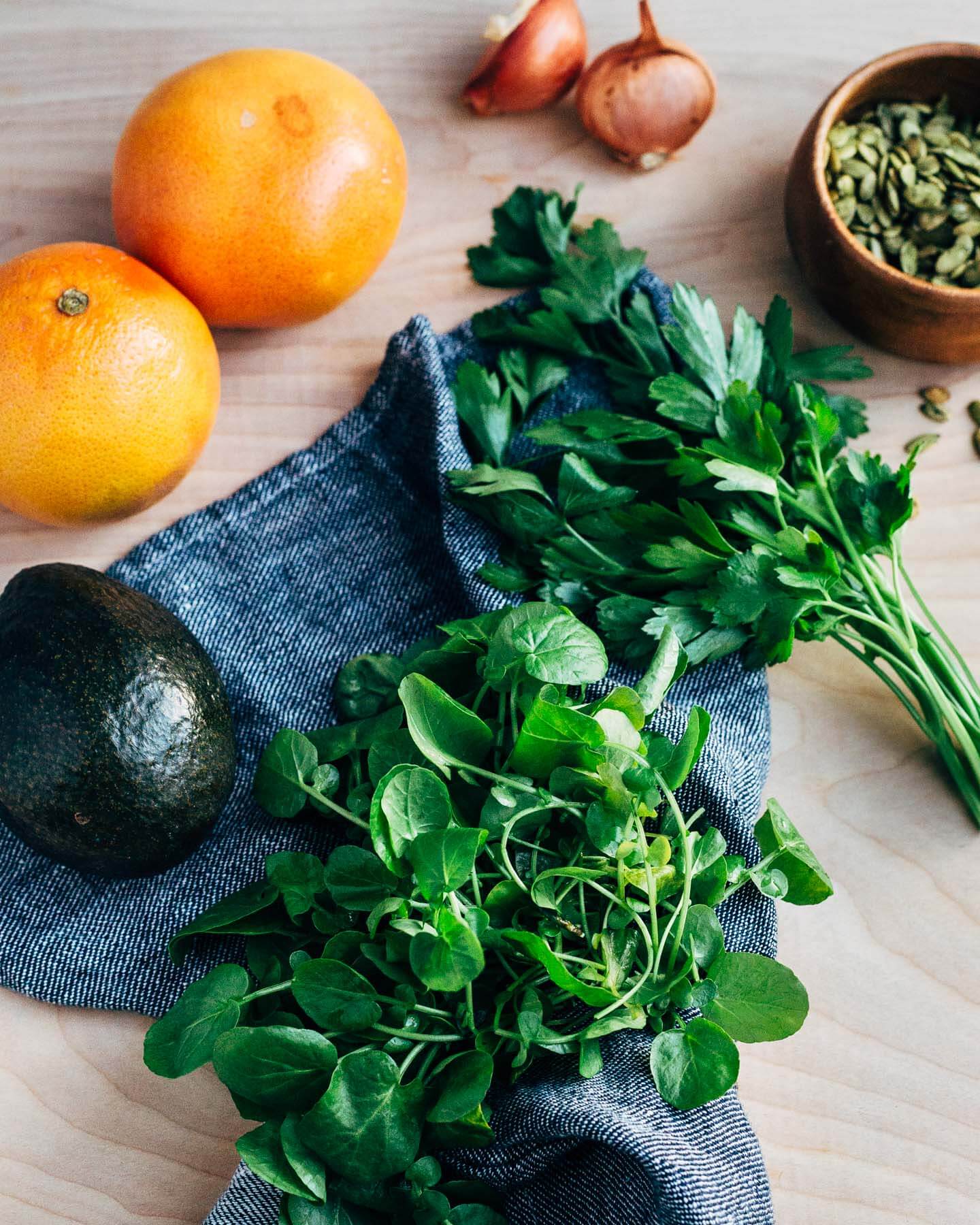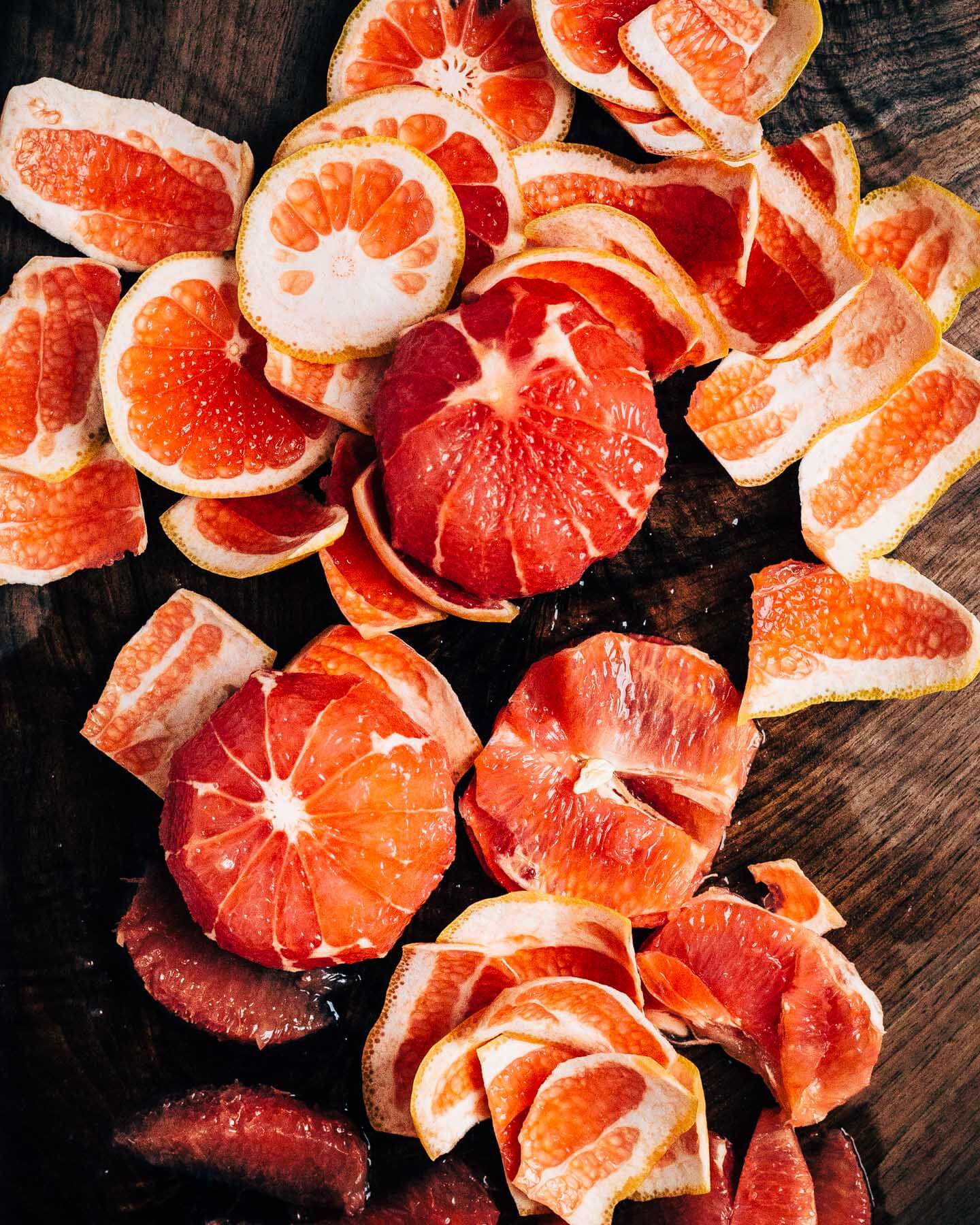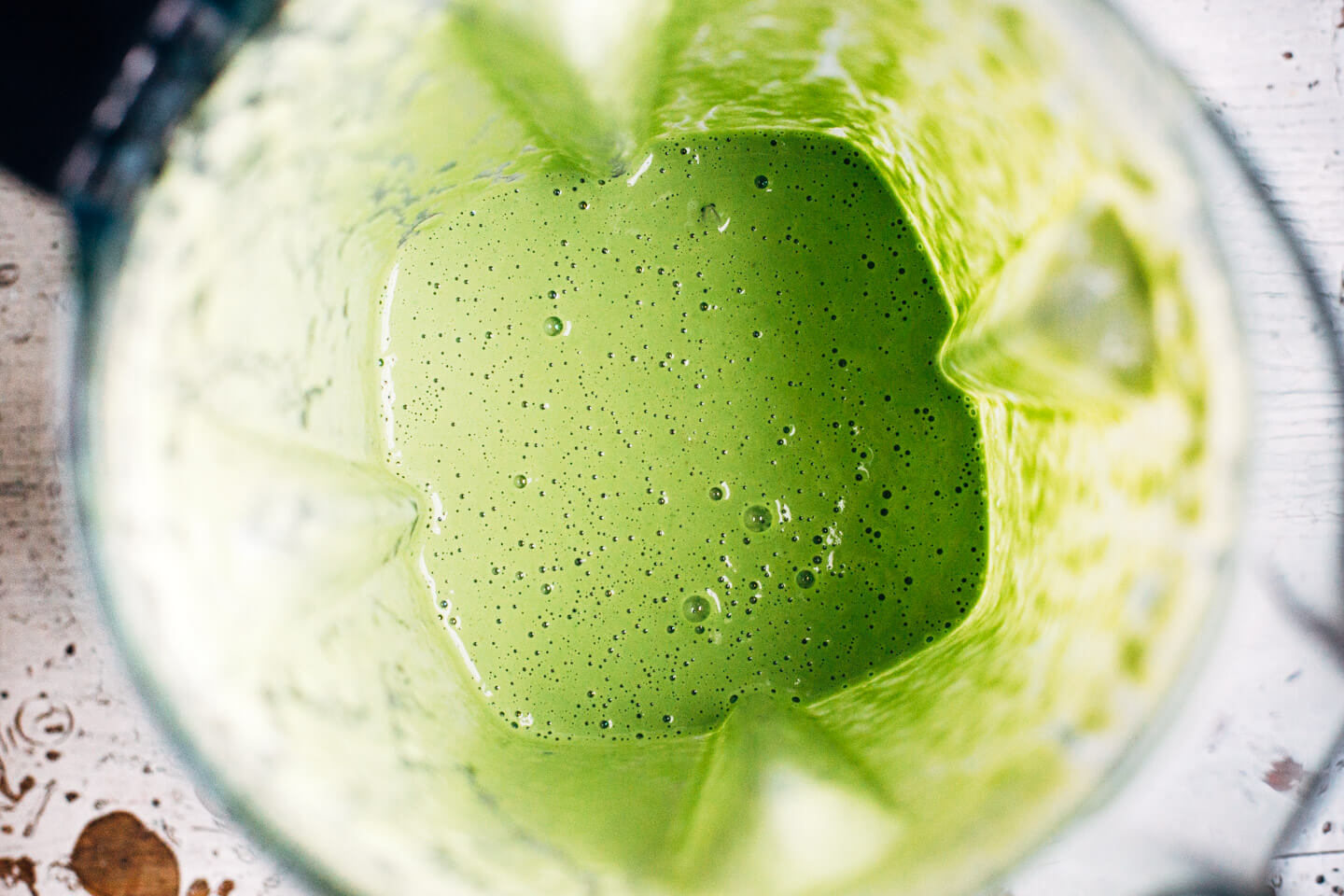 I want to direct you to the really great thing about this salad, which is the pepita green goddess dressing. A vivid shade of spring green, it's equal parts creamy and herbaceous. It sits up nicely on a pile of leaves, making your green salad all the greener. To achieve this creamy greenness without dairy, I used Chinese pepitas, plus more expected ingredients like shallots, fresh herbs, lemon, and olive oil. My high-powered blender made everything nice and smooth, but if you're using a standard blender, soaking the pepitas a few hours ahead of time will help things along.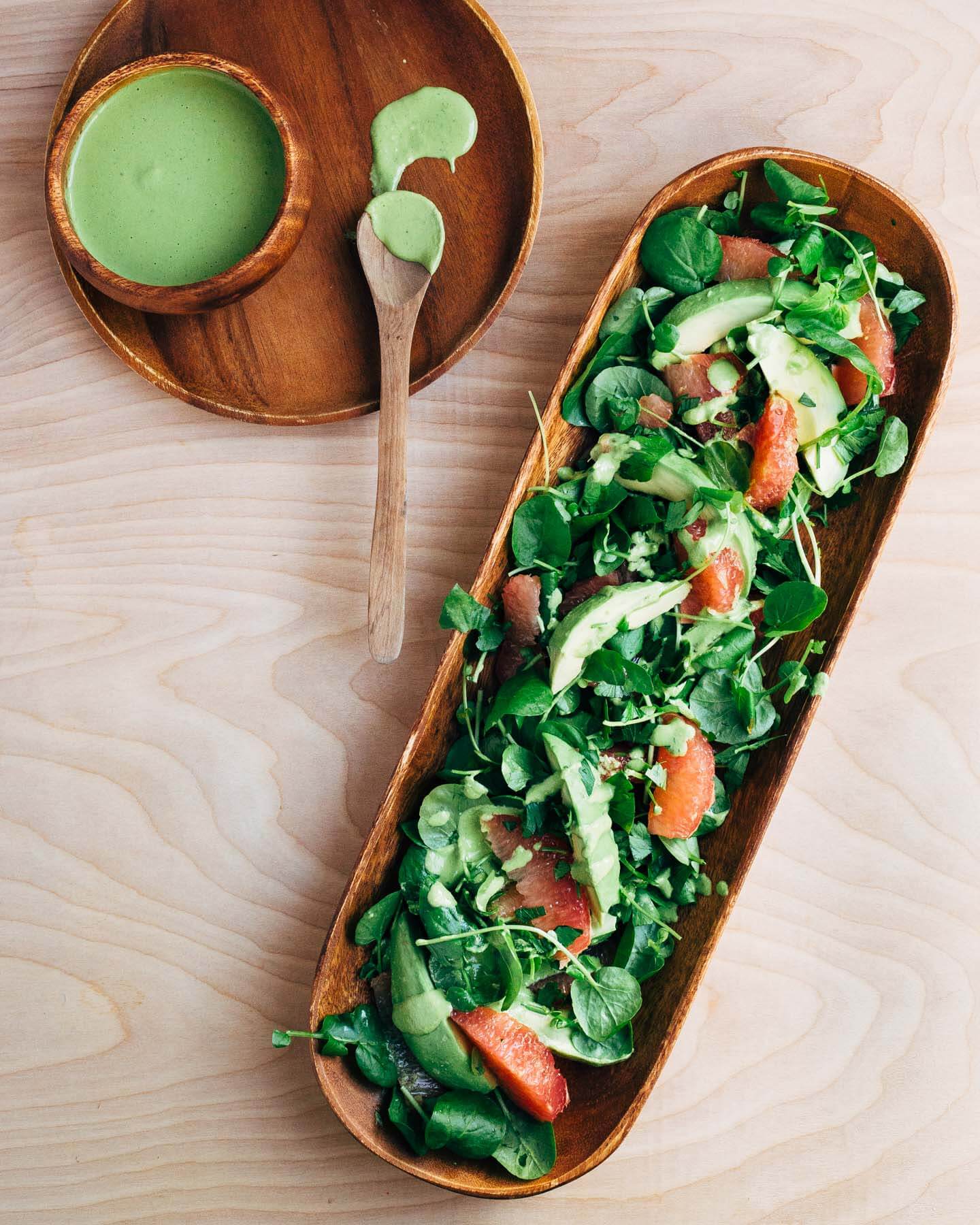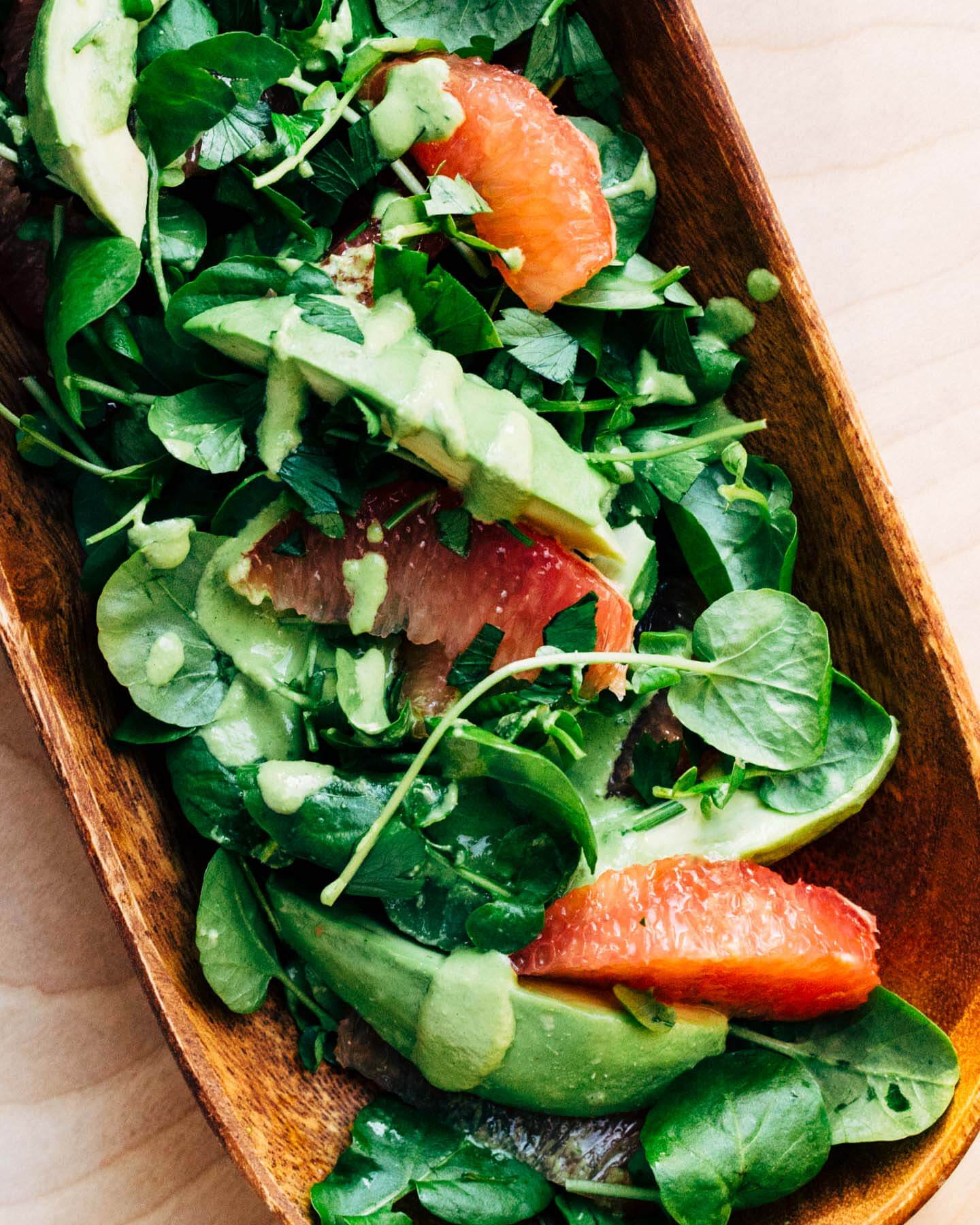 A few notes: I call for pepitas in this recipe. Different from traditional pumpkin seeds, these are a variety of raw, hull-less pumpkin seeds that come from specific types of pumpkins. I find the smaller, greener, Chinese pepitas are more tender and less fibrous than regular pepitas, but use whatever kind of pepitas you can find. I get mine from the bulk bin at the health food store.
Finally, avocados. On the advice of the The Frankies Spuntino Kitchen Companion & Cooking Manual, I select green avocados at the grocery store 3 – 4 days before I'll need them and allow them to ripen on the counter. This makes for evenly ripe, mostly bruise free avocados.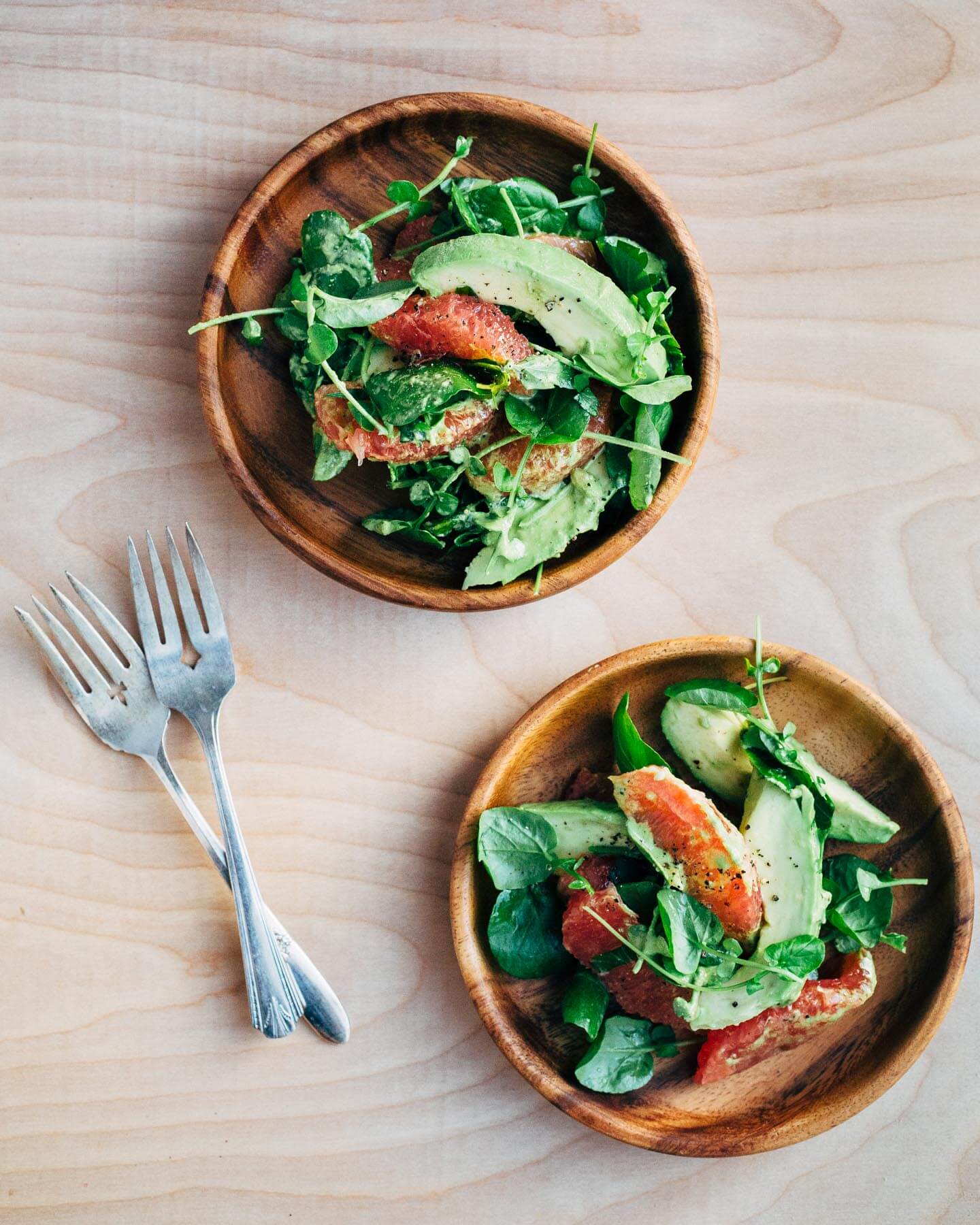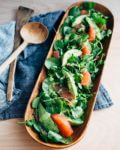 Grapefruit-Avocado Salad with Pepita Green Goddess Dressing
A vibrant vegan and Whole 30-friendly ruby-red grapefruit and avocado salad with watercress, parsley, and a creamy pepita green goddess dressing.
Ingredients
For the Pepita Green Goddess Dressing
1/4

cup

raw, hulled pepitas *see note

1

medium shallot, chopped

1/3

cup

chopped parsley

1/3

cup

chopped cilantro

1/4

cup

extra virgin olive oil

2

tablespoons

freshly squeezed lemon juice

1/3 - 1/2

cup

water, as needed to thin dressing

sea salt, to taste

fresh ground black pepper, to taste
For the Grapefruit-Avocado Salad
1

bunch watercress, chopped

1/2

cup

parsley leaves, chopped

2

just-ripe avocados, sliced 1/2-inch thick

sea salt, for finishing

fresh ground black pepper, for finishing
Instructions
To make the dressing, combine pepitas, shallot, herbs, olive oil, and lemon juice with 1/3 cup water in the pitcher of your blender. Blend until very smooth, adding a few more tablespoons water as needed. Add sea salt and pepper to taste.

To make the salad, toss watercress and parsley with 1 tablespoon dressing and a pinch each sea salt and pepper. Arrange on a platter, and layer with grapefruit segment and avocado slices. Drizzle with dressing (you'll have quite a bit leftover), and finish with a pinch of sea salt and pepper.
Recipe Notes
The dressing is most easily made with a high power blender. If you don't have one on hand, soak pepitas in cold water for 6 or so hours beforehand, then drain, rinse, and blend as usual in a standard blender.