A bright and creamy Ruby Red grapefruit curd tart baked up in a classic pâte sucrée crust that's perfect for celebratory winter meals.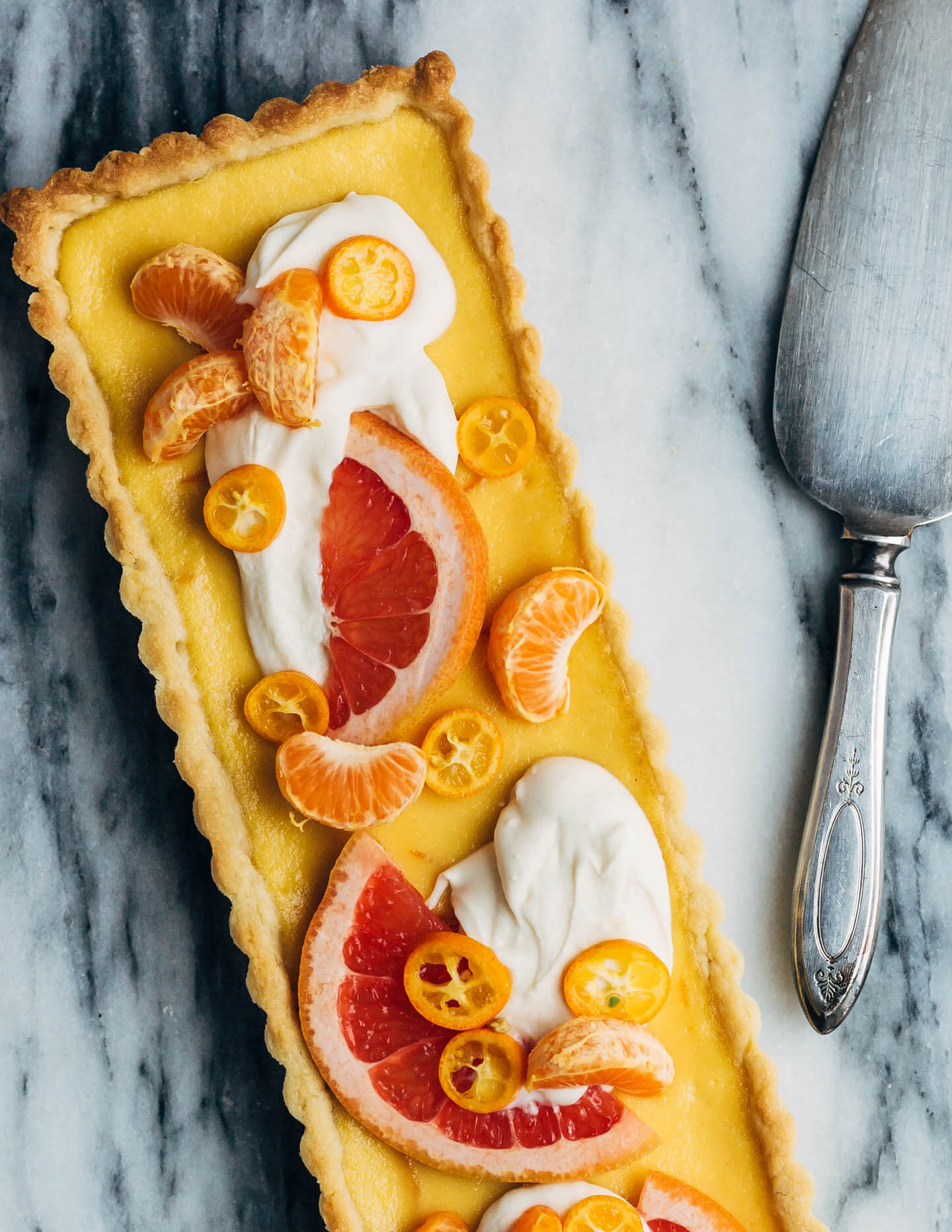 I like to eat French food in February. It's romantic and stuff, but I also think buttery foods pair well with my annual February ennui. For a few days there, I thought I was going to make it out ok, but then, like clockwork, seasonal malaise took hold.
My friend Haley posted recently about seasonal affective disorder, and I realized: oh, I definitely have that. I have yet to buy the special light, but I'm putting it on my to-do list as soon as I get this post up.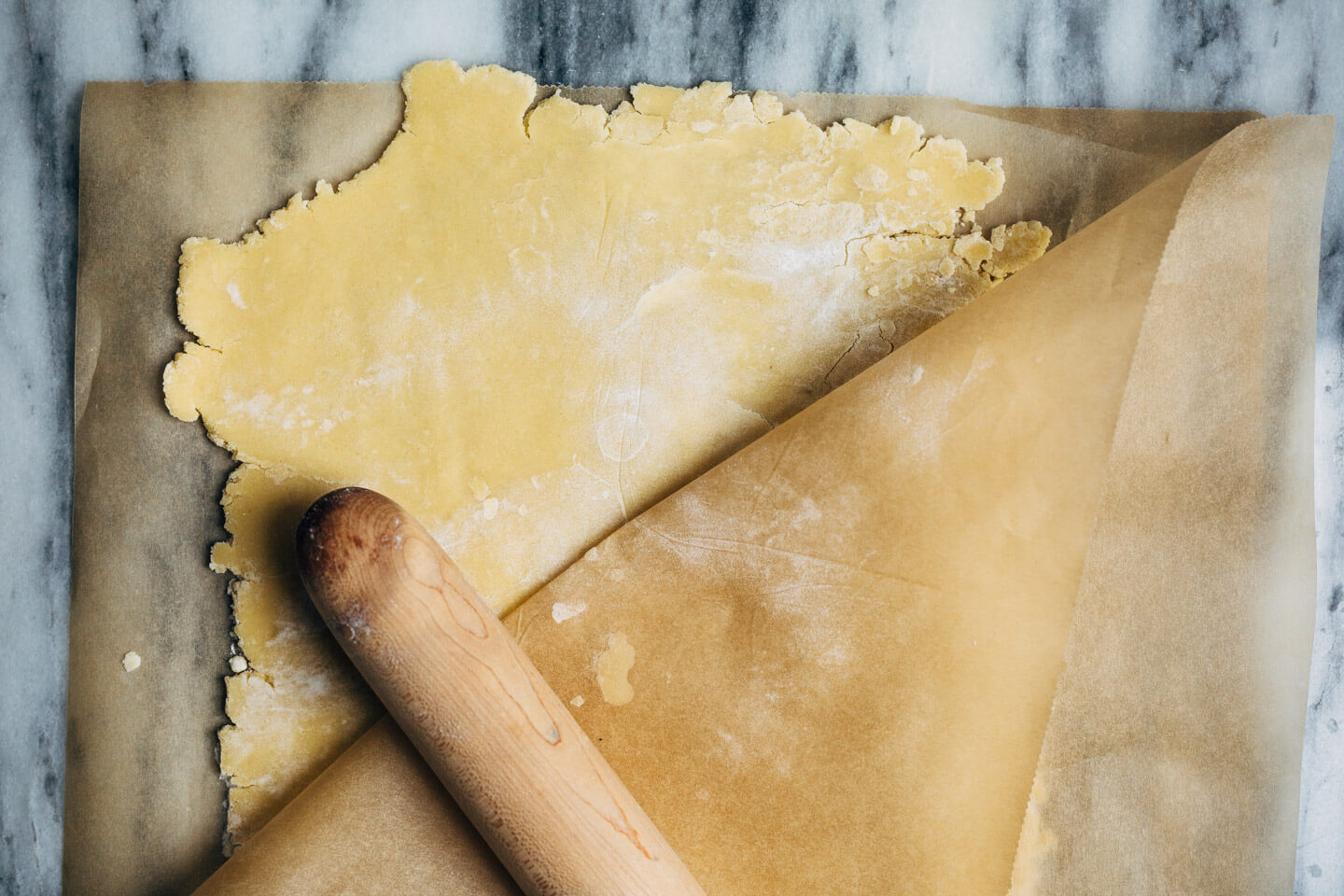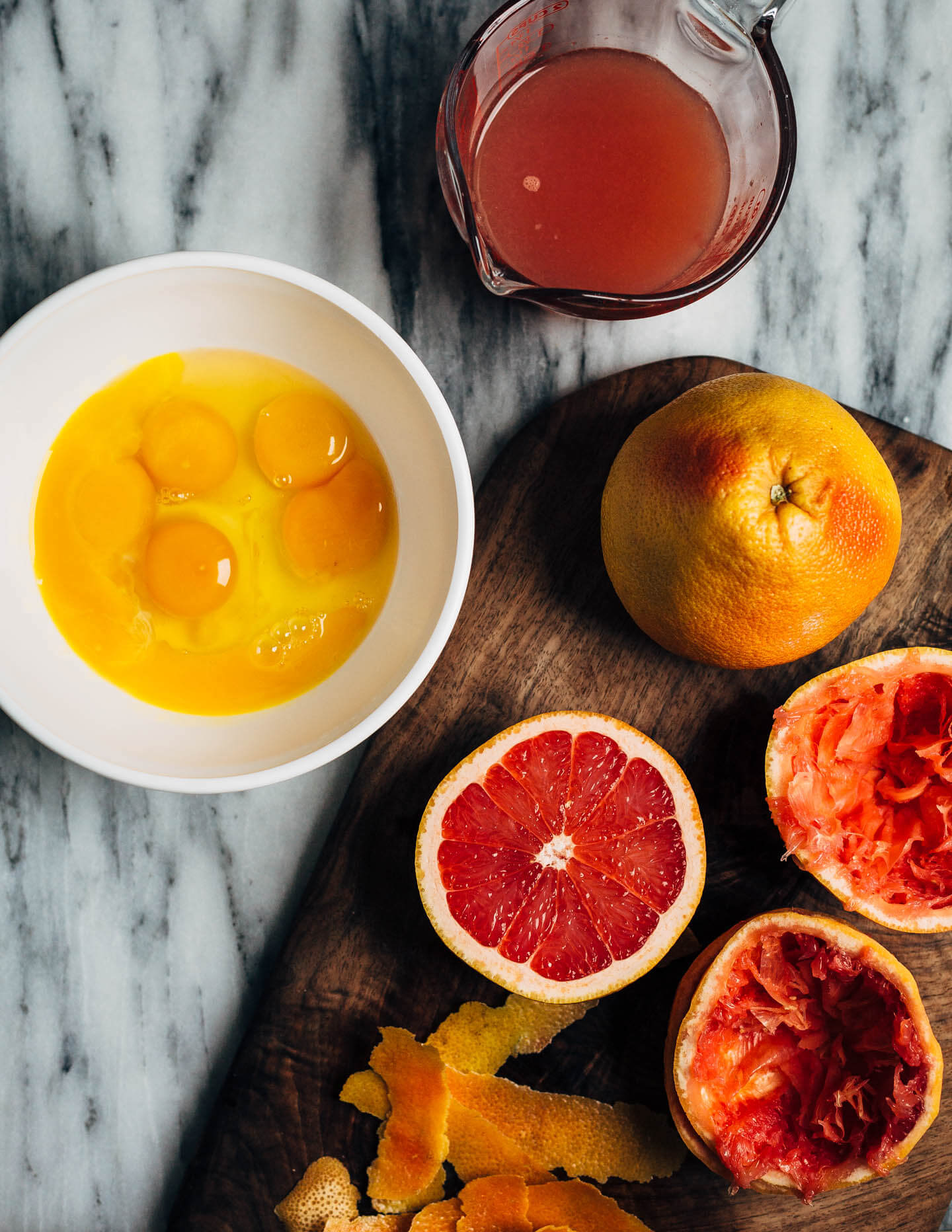 Baking with citrus is not a cure for the mid-winter blues, but it helps. This grapefruit curd tart is incredibly simple to make, but because the delicate pâte sucrée dough needs to be chilled at every step, it's best to spread the cooking over two days or a leisurely afternoon. Once made, this grapefruit curd tart is bright and creamy, with a toothsome, cookie-like crumb that melts in your mouth.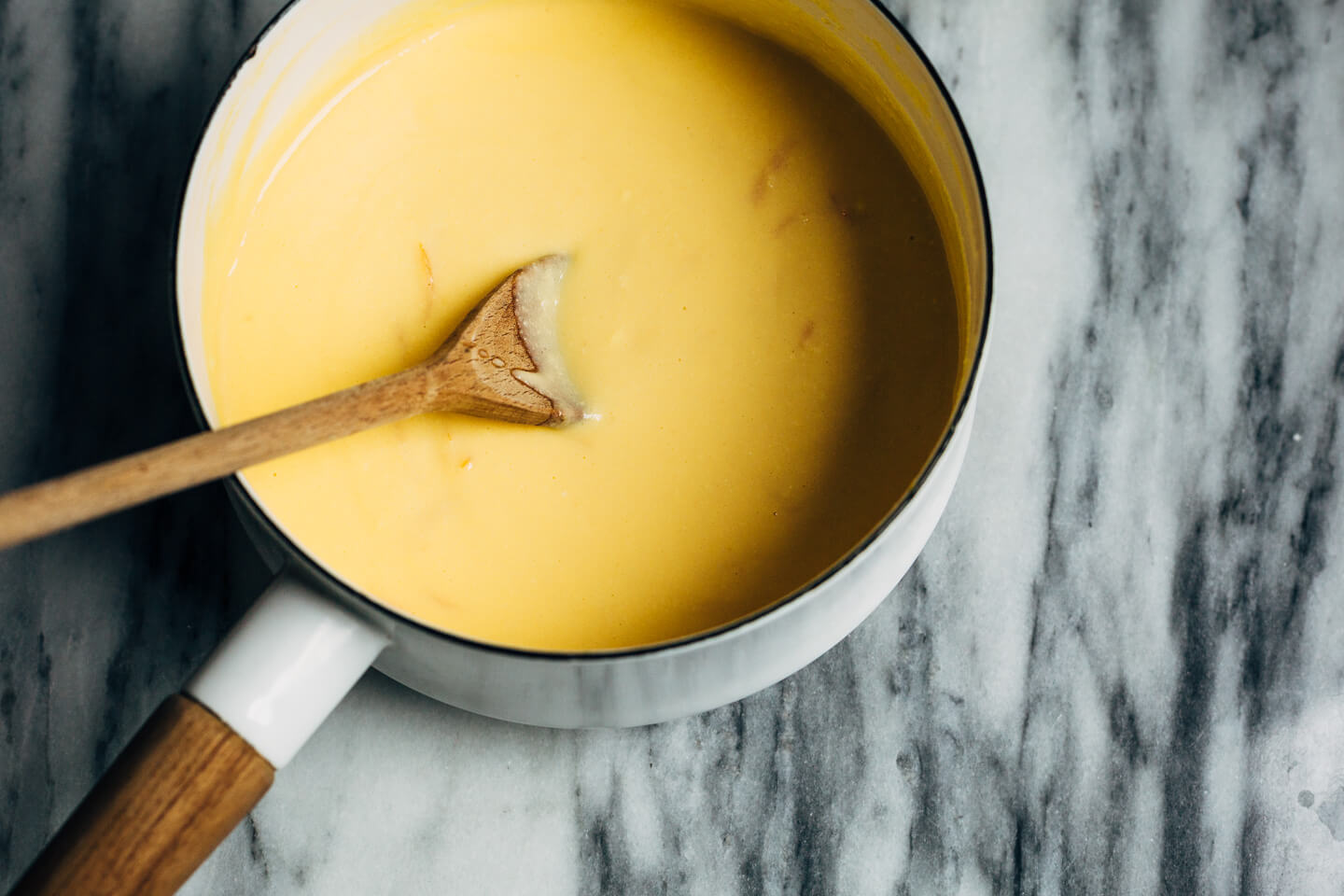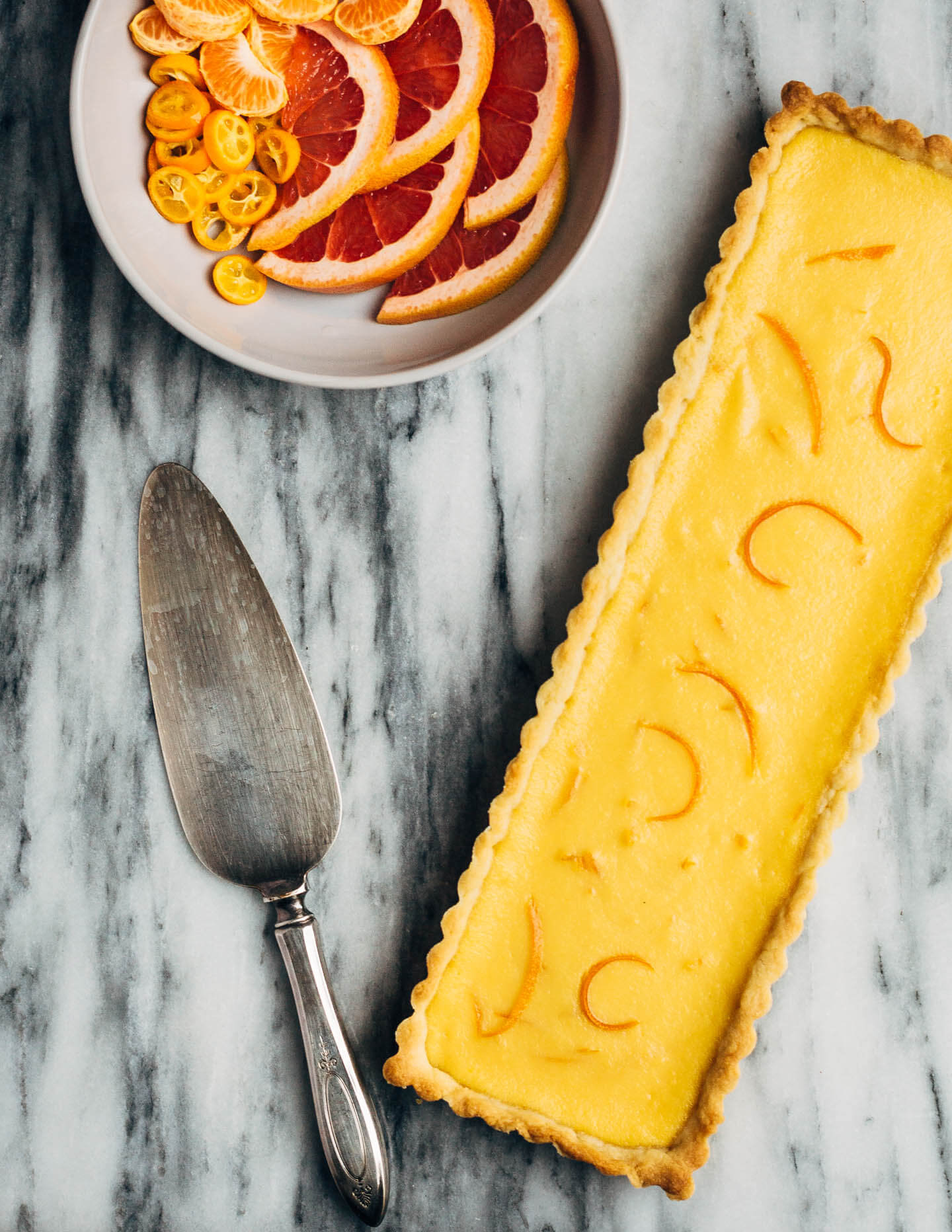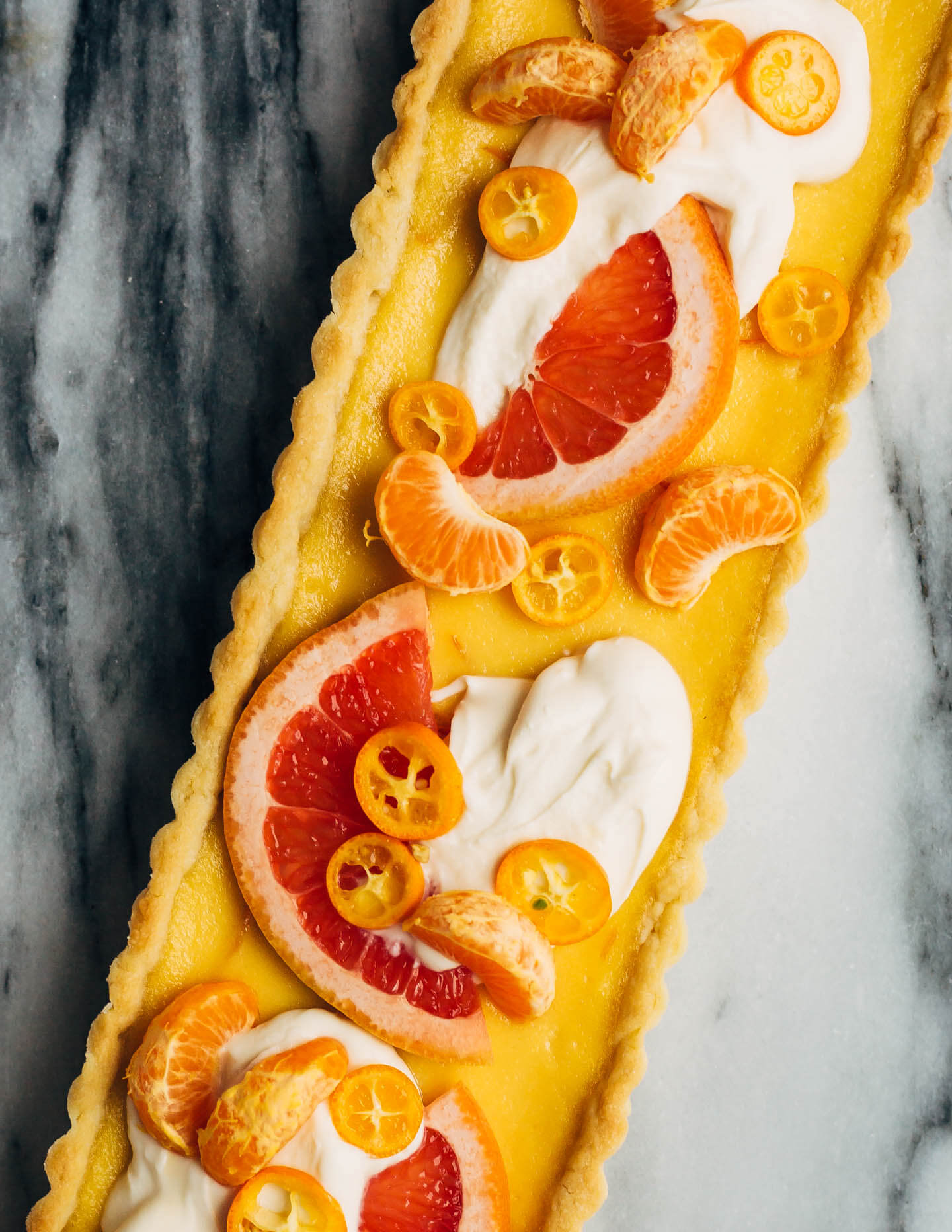 For a little contrast and added creaminess, I topped the tart with crème fraîche swirled with maple syrup, and sliced grapefruit, kumquats, and Cara Cara oranges. For ease of slicing, I recommend that you cut larger slices into bite-sized triangles rather than the big slices I used here, since they make it tough to get a clean slice.
This recipe uses a lot of egg yolks. Carefully separate your eggs, and collect any completely yolk-free whites for another use (break eggs in a separate bowl in case a yolk breaks). They can be frozen and whipped into a pavlova or merengue later on.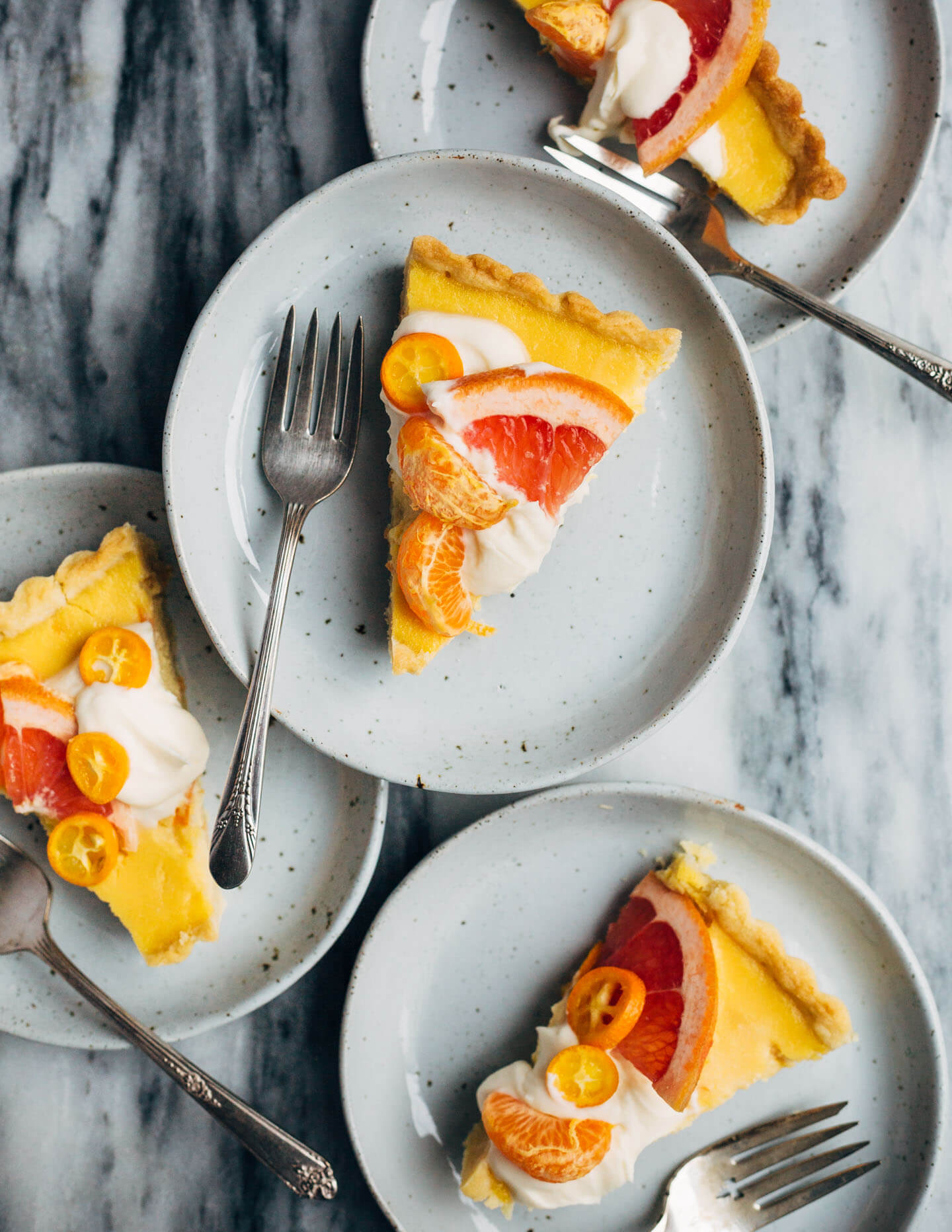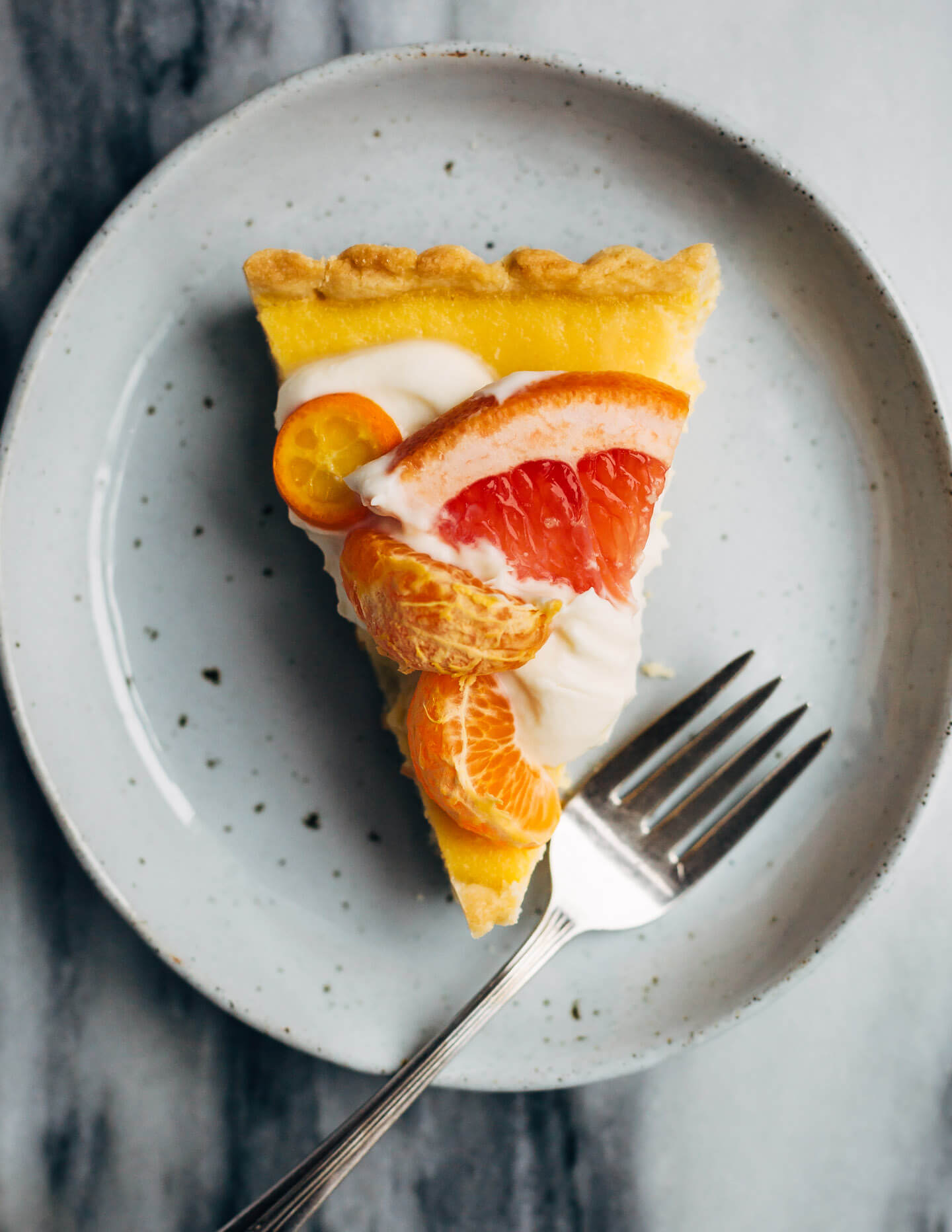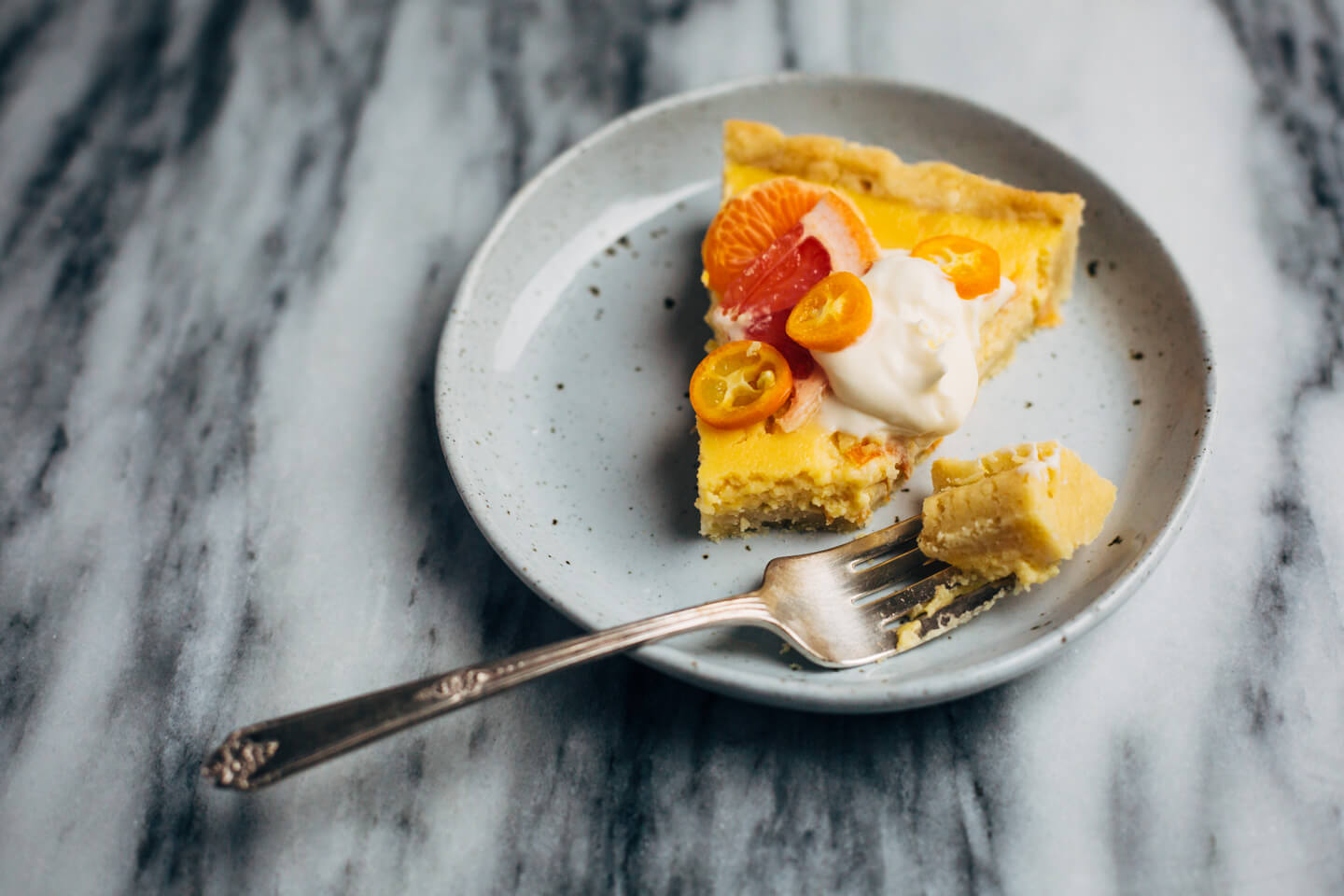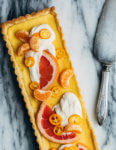 Grapefruit Curd Tart with Maple Crème Fraîche
A bright and creamy Ruby Red grapefruit curd tart baked up in a classic pâte sucrée crust and topped with maple swirled crème fraîche.
This tart features a sweet pâte sucrée crust that bakes up crumbly and cookie-like. Because of the sugar, the dough can be a bit sticky, but keeping dough cold and rolling it between layers of floured parchment makes things easy. When making dough, be sure both the butter and egg yolks are at room temperature. Note that the dough needs to chill at least 4 hours before it can be rolled out.
Recipe adapted from one of my most beloved cookbooks, Alice Waters' The Art of Simple Food.

Keyword:
grapefruit curd tart
Ingredients
Pâte Sucrée
8

tablespoons

unsalted butter,

room temperature

1/3

cup

sugar

1

egg yolk

1/4

teaspoon

sea salt

1/4

teaspoon

vanilla extract

1 1/4

cups

unbleached all-purpose flour
Curd
2

Ruby Red grapefruits,

preferably organic

4

egg yolks

3

eggs

1/2

cup

sugar

3

tablespoons

whole milk

9

tablespoons

unsalted butter,

cut into cubes
Toppings
1/2

cup

crème fraîche

1

tablespoon

maple syrup

Thinly sliced citrus for garnish

(I used grapefruit, Cara Cara oranges, and Kumquats)
Instructions
Pâte Sucrée
In a large bowl or a stand mixer fitted with the paddle attachment, beat butter and sugar until pale and fluffy, about 4 minutes. Add yolk, sea salt, and vanilla and mix on low until well combined. Add flour and mix just until combined. Use a silicone spatula to fold in any dry bits. Be careful not to overwork dough.

Gather dough into a flat round or oval (depending on the size of your tart pan), wrap tightly in plastic wrap, and refrigerate overnight, or at least 4 hours.

When ready to bake, take dough out of fridge. It may need about 10 minutes to soften enough to roll. Set out either a 9-inch or rectangular 4 x 13-inch tart pan with a removable bottom. Line bottom with parchment and butter pan all over.

Set out 2 sheets of parchment. Lightly flour bottom sheet, set dough in the center and scatter with flour, then cover with second sheet of parchment. Roll dough into either a 12-inch round or 7 x 16-inch rectangle. As you roll, peel up parchment and sprinkle dough with more flour to prevent sticking. When dough is the desired size, set on a rimmed baking sheet and chill 5 minutes.

Press dough into prepared tart pan. Trim dough to a 1-inch overhang and then fold over along the sides. Save and chill any scraps to patch holes. Use the tines of a fork to poke holes all over. Set pan in fridge and chill at least 20 minutes.

Preheat oven to 350 degrees F. When tart is chilled, set on a rimmed baking sheet and bake until it just blushes golden, about 15 minutes. As long as it's properly chilled, tart shell doesn't need weights.

Set tart shell aside to cool while you make grapefruit curd.
Tart
Carefully peel zest from one of the grapefruits and cut into very 2-inch long slivers.

Juice grapefruits and measure 3/4 cup juice. Reserve any remaining grapefruit for garnish.

Set a large, non-reactive sauce pan over medium heat. Whisk to combine yolks and eggs, sugar, milk, and sea salt. Stir in juice, 3 tablespoons zest, and butter. Cook, stirring constantly, until mixture is pale, frothy, and thick enough to coat the back of a wooden spoon, 5 - 7 minutes. Take care that mixture doesn't boil, as this will curdle the eggs.

Set mixture aside to cool for about 30 minutes.

When ready to bake tart, fill cool crust 2/3 full with curd, set on rimmed baking sheet, and bake just until curd is puffed up and set, 15 - 20 minutes. Check after 15 minutes, and then check in 2 minute increments until filling is just set.

Set on a wire baking rack to cool.

In a small bowl, whisk with a fork to combine crème fraîche and maple syrup. Serve tart with generous dollops of crème fraîche and sliced fruit. The crust is best day of, but tart will keep for 2 days covered in the fridge.