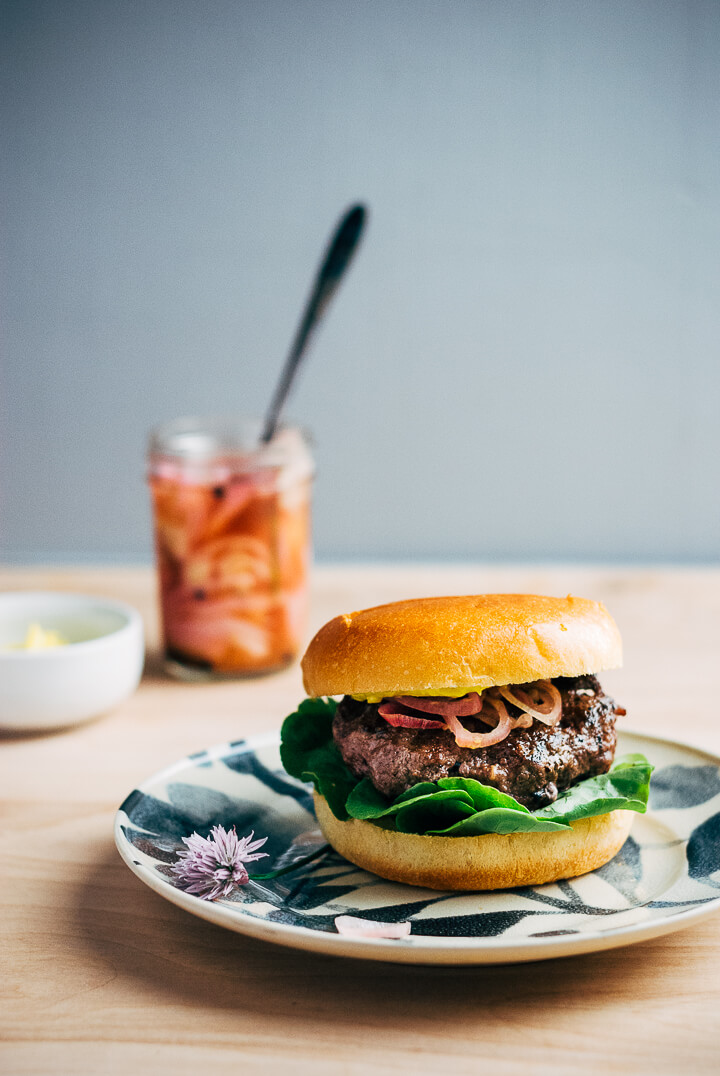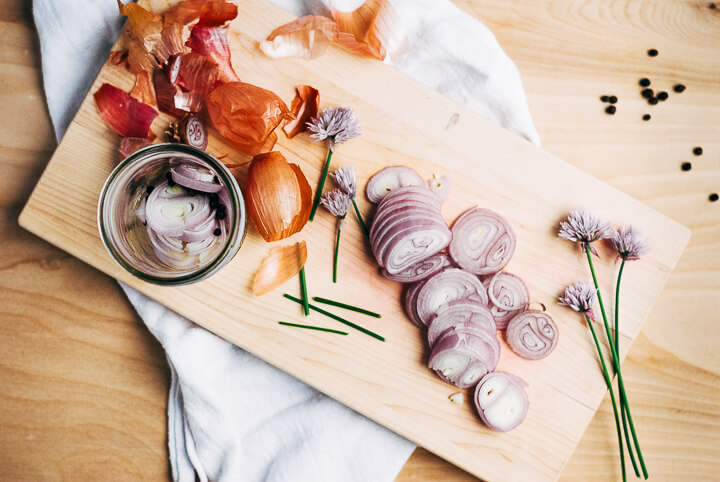 An easy recipe for perfectly grilled grass-fed burgers with quick-pickled shallots and chive blossoms, and homemade aioli. Jump to recipe.
In my mental rundown of the year, I always overlook May. It's green and lush, the leaves have completely unfurled, the garden is shooting up, and storms pass through each evening, giving way to rainbows just before sunset or providing flickering light shows at bedtime. It's a month filled with firsts, as we slowly remember how to wear sandals, shorts, and sunscreen. Less pleasantly, we pluck the first ticks from our heads and scratch the first mosquito bites.
This past weekend was spent enjoying the splendor of the season. We went to a (rain-delayed) May Day celebration filled with singing, dancing children, and after, a cookout with friends; we drove to the country to visit our CSA farm; and took a stroll to a favorite park. On the way home, (and on my watch) our littlest took a spill that resulted in a swollen nose and a goose egg on her forehead. Brian scooped her up and carried her the long way home, and after some ice and arnica, we saw she was going to be fine, her bruises just another sign life lived to the fullest.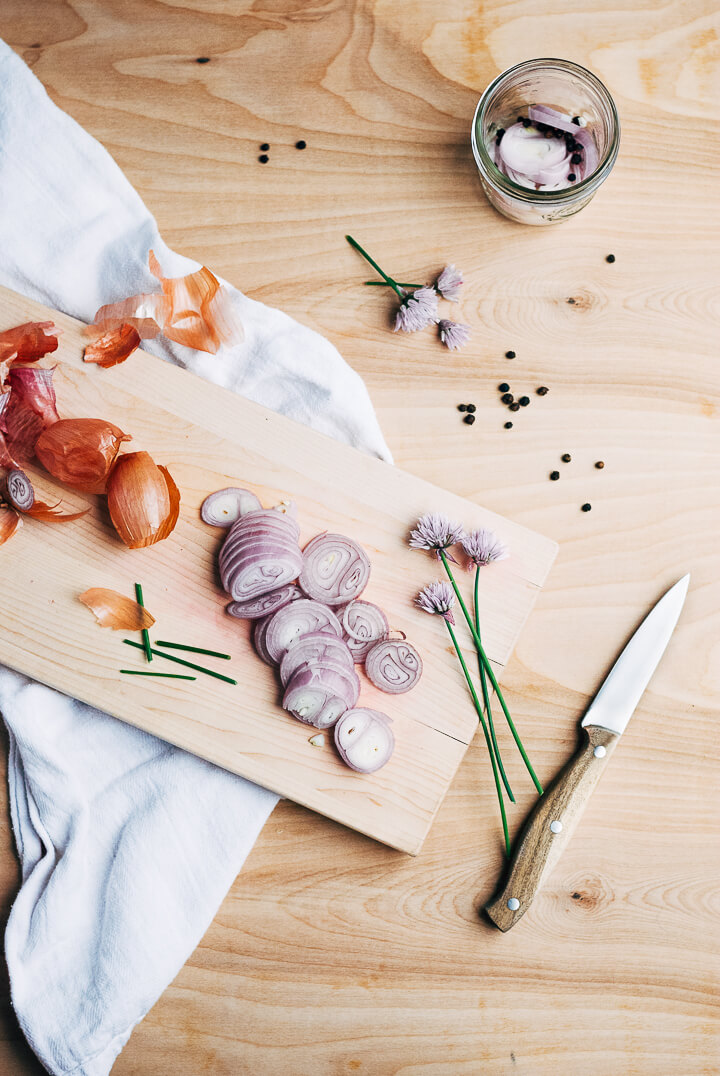 Another sign of the times is the number of dinners we've cooked outdoors. The grill is part of our nightly ritual, and along with it, a watchful eye for storms on the horizon. So far, they've held off until dinner was safely on the kitchen table. We've been working on our burger game – serving them up on brioche buns with a pile of quick-pickled shallots and chive blossoms, and lemon aioli made from intensely hued spring super yolks.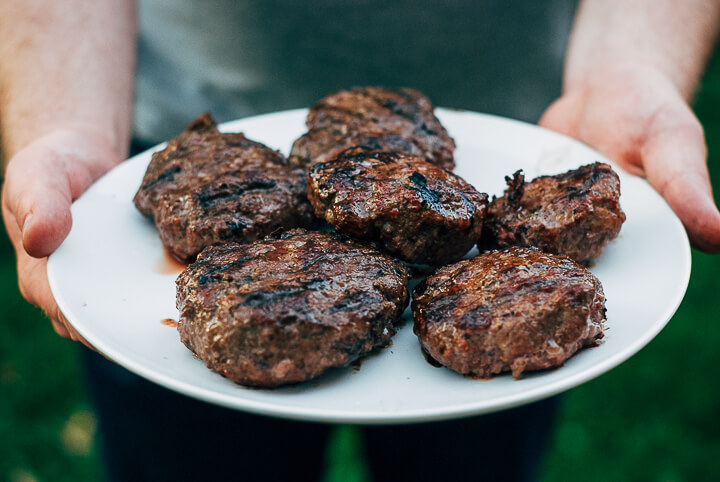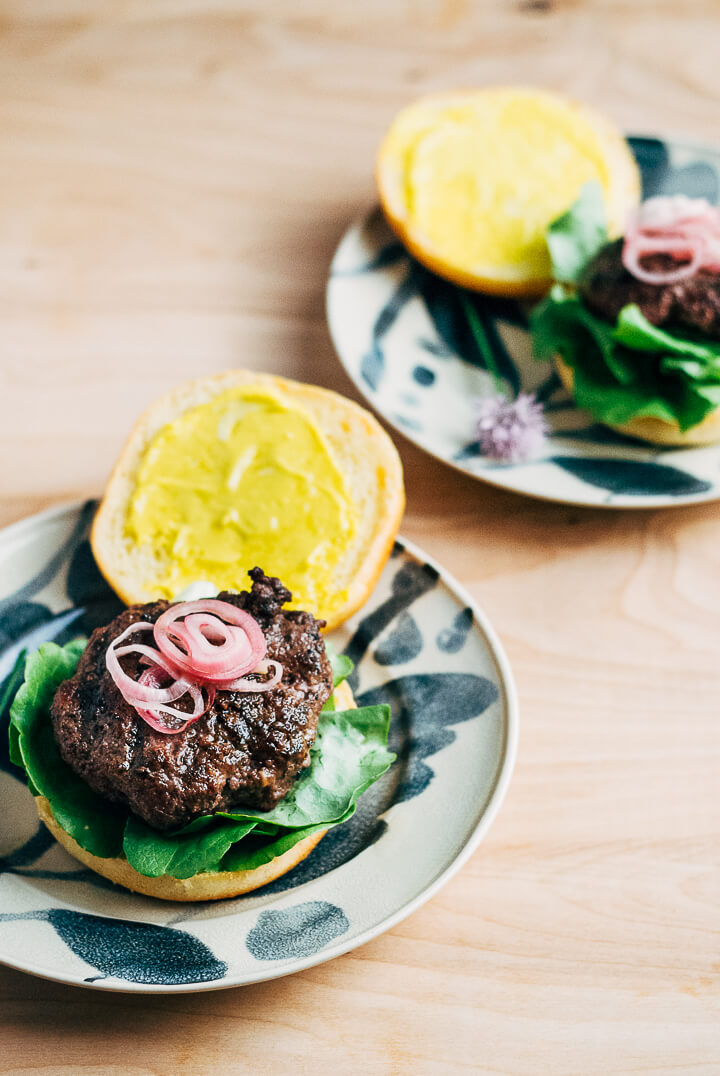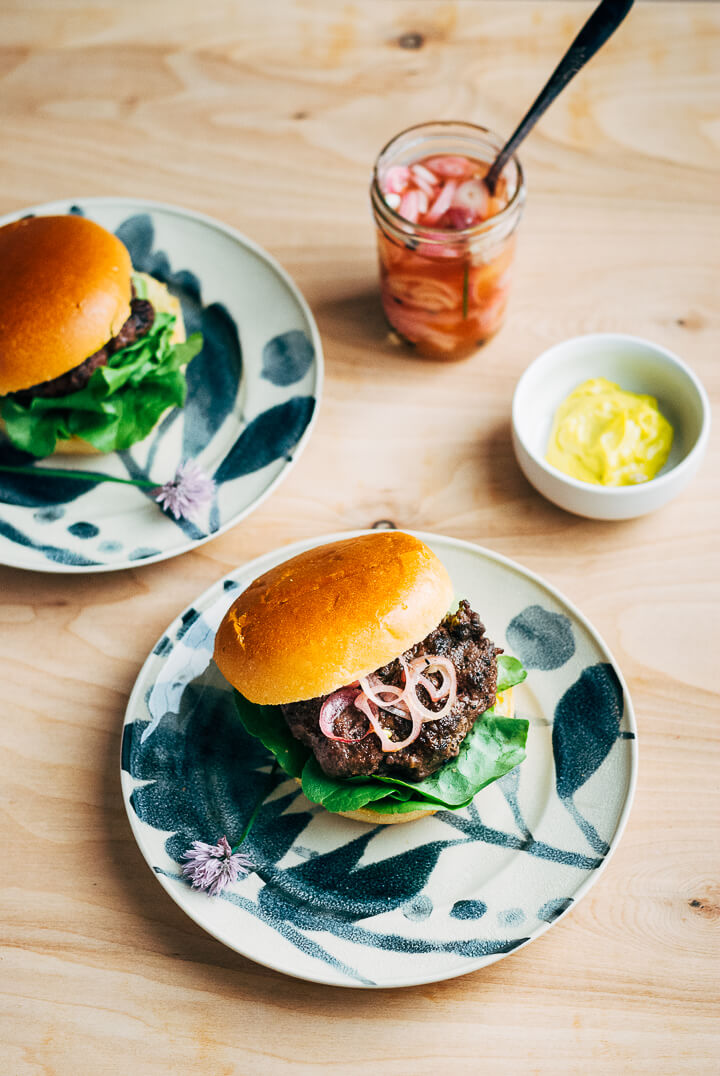 For the burgers, we recommend using humanely raised, grass-fed beef. It's better for the animals, the environment, and, as luck would have it, the flavor. In Charlottesville, we're lucky to have a number of options for excellent local beef both through our butcher and local producers. To find some near you, check out nose-to-tail butchers or your farmer's market. Though we always opt for locally-produced meats when we can, places like Whole Foods and Trader Joe's carry grass-fed beef, too.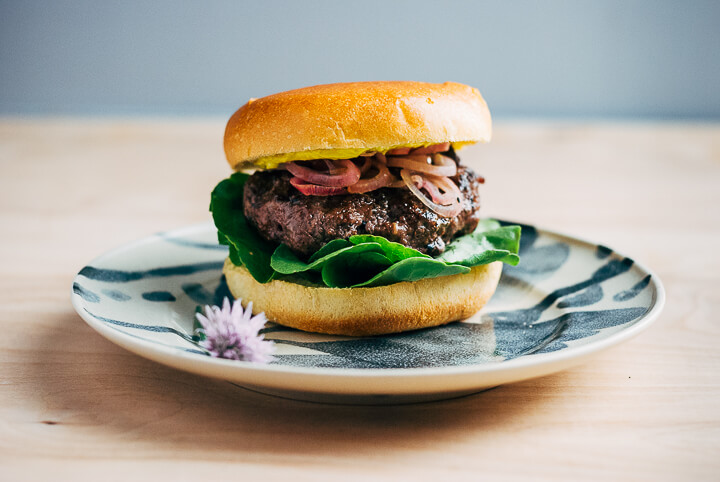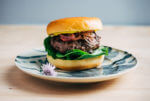 Grilled Grass-Fed Hamburgers
An easy recipe for perfectly grilled grass-fed hamburgers.
Ingredients
2

pounds

grass-fed ground beef

(with 15 - 20 percent fat content)

sea salt to taste
Instructions
Start coals and let them get hot enough that you can't hold your hand over them comfortably for more than a second or two.

Form burgers into 6 - 8 patties (depending on how big you want them and how many you're serving). Press the centers with your thumb so the burgers are thicker around the edges than in the middle. This will give them a more uniform shape when they cook.

Just before you put burgers on the grill, salt them on both sides. Waiting to salt helps burgers hang together better, cook evenly, and have a better texture generally.

Cook burgers over the hot coals for 3 - 4 minutes, then flip and cook for another 3 - 4 minutes. Use a meat thermometer and pull burgers when they're about 10 degrees from your desired doneness. (Pull at 130 degrees F for medium rare or 140 for medium*.) Let rest for 5 - 7 minutes, then serve with quick-pickled shallots (recipe below), aioli (recipe here), and a leaf or two of butter lettuce.

*Note that the FDA recommends cooking ground beef to 160 degrees F.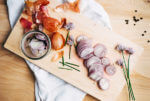 Quick-Pickled Shallots and Chive Blossoms
A simple recipe for zesty quick-pickled shallots with chive blossoms.
Ingredients
3/4

cup

apple cider vinegar

1/4

cup

water

3

tablespoons

honey

10

peppercorns

3 - 4

small shallots

, trimmed, peeled, and sliced 1/8-inch thick

4

chive blossoms
Instructions
In a small saucepan, combine the apple cider vinegar, water, honey, and peppercorns and cook over medium heat. Remove from heat when mixture starts to steam.

Pack sliced shallots and chive blossoms into a 1/2 pint jar with a lid. Pour in the warm brine. Let pickles cool uncovered for a half hour, then seal, and refrigerate for 3 - 4 hours. (They're best after some chill time, but I've also made these just before serving and they're great. Procrastinators rejoice!) Quick-pickles will keep well sealed in the fridge for a week or so.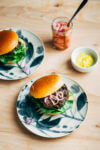 Lemon Aioli
How to make vibrant lemon aioli from scratch.
Ingredients
1

egg yolk

1

cup

extra virgin olive oil

1

tablespoon

freshly squeezed lemon juice

1

tablespoon

rice wine vinegar

sea salt
Instructions
In a large bowl, whisk the egg yolk. Add a drizzle of olive oil, and whisk vigorously until mixture is nice and thick. Continue drizzling and whisking until 1/4 cup of olive oil's been added. Mixture should be pale with soft peaks. Next, add olive oil more quickly – 1 - 2 tablespoons at a time, until it's all been incorporated. Finally, whisk in the lemon juice, then the vinegar and sea salt. Taste, and adjust seasonings as needed.

Aioli will keep 1 - 2 days in the fridge. To avoid it forming a skin, press a layer of plastic wrap right onto aioli. Before serving, whisk with a squeeze of lemon juice to restore texture.