This holiday season, I've teamed up with Blurb to create a cookbook dedicated to my favorite seasonal suppers. And to accompany a book about eating with the seasons, I'm sharing a crunchy and bright green apple and beet salad recipe that's full of vibrant vegetable-based goodness.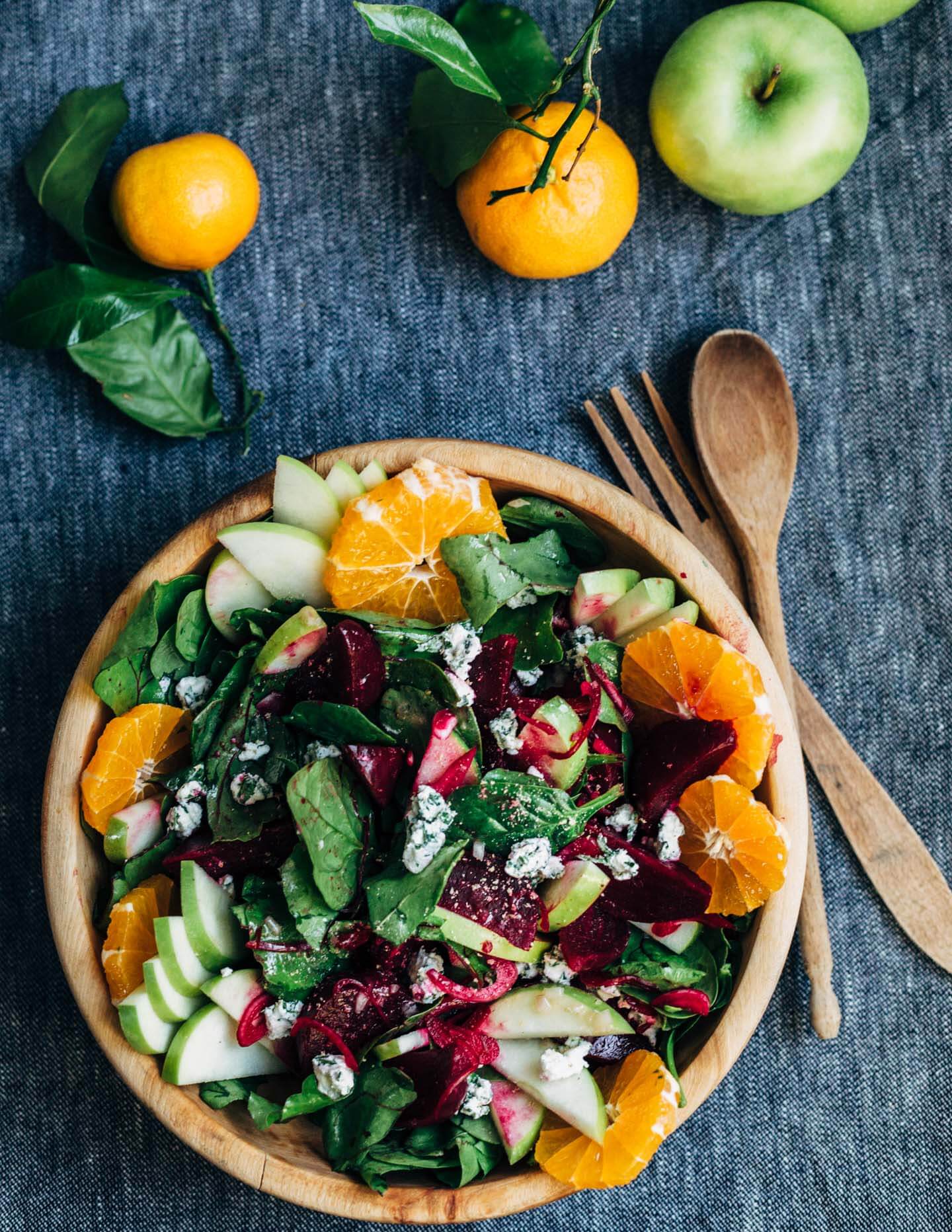 At my house, holiday tradition holds that the year's first Christmas music is played during Thanksgiving dessert. Which is to say, no Christmas until (just barely) after Thanksgiving. While others may jump right into the season, decorating and buying gifts, we like to take things slow. This weekend, we'll put up lights. Next weekend, we'll get the tree.
But while we ease into the holiday in some ways, in others, we're jumping right in because thoughtful, homemade gifts take a little time. This year, I've partnered with Blurb to create a DIY cookbook dedicated to seasonal dinners. It's filled with recipes that celebrate in-season ingredients throughout the year, all brought to life with gorgeous, beautifully printed photos.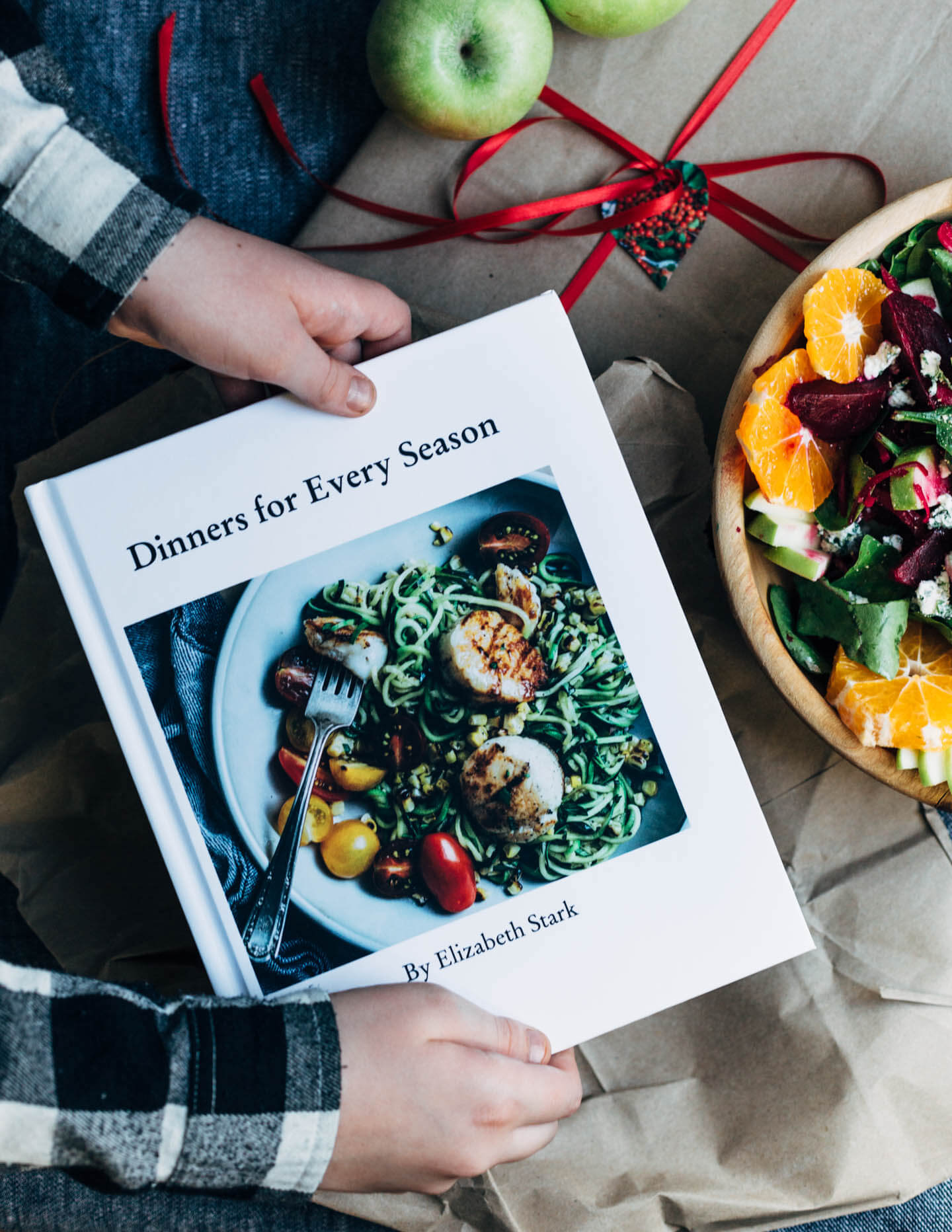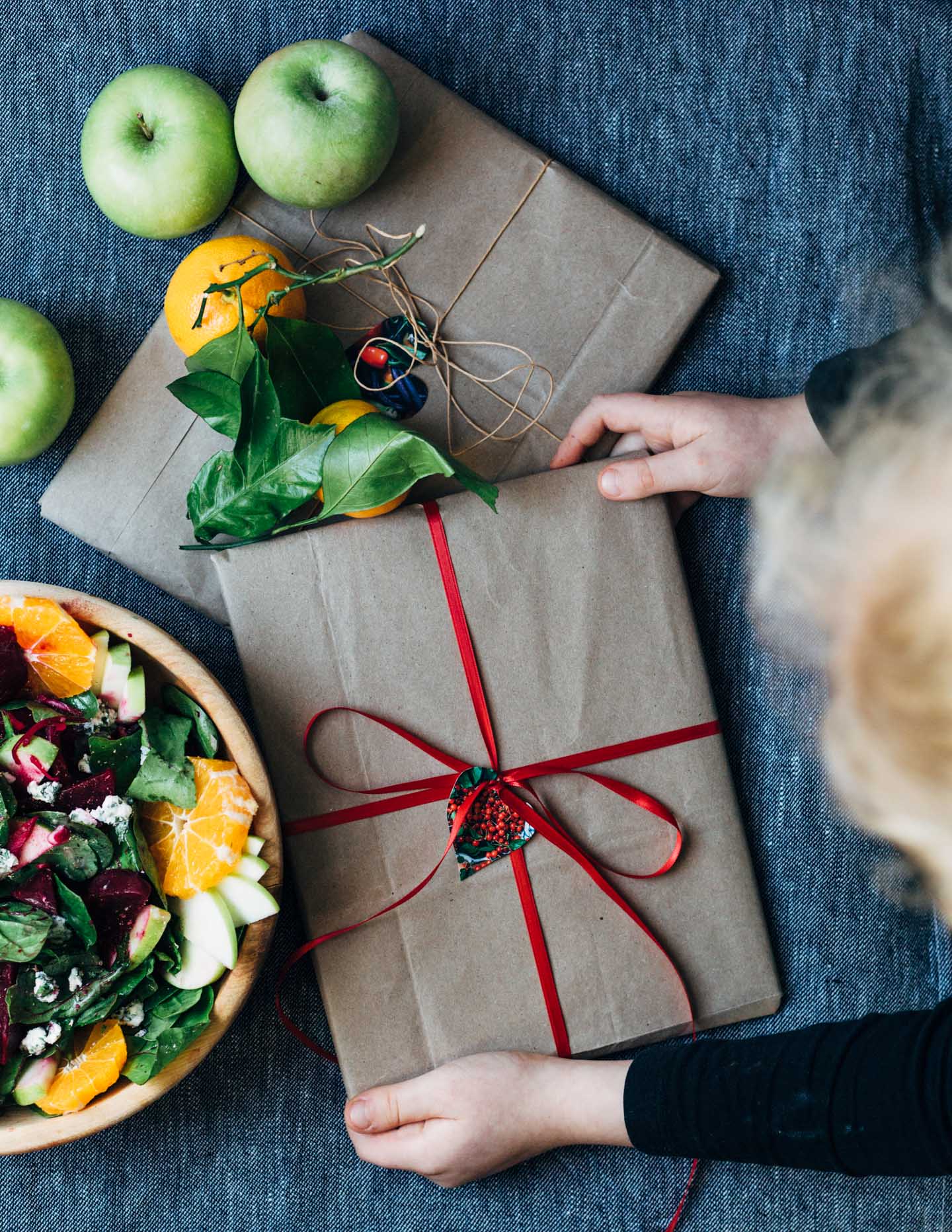 My daughters, who are both learning to cook, served as my inspiration. I wanted to give them a tangible record of the meals we enjoy, in the hope that someday (maybe even someday soon?), they'll enjoy cooking this food as much as they love eating it.
Once the books arrived, I couldn't wait to share them. So I wrapped them up as an afternoon surprise for the girls. They loved getting early Christmas presents and immediately started flipping the pages, pointing out favorite recipes. I'm planning to use their favorites from the book as a jumping off point for some in-depth cooking projects. Someday, I hope their books will be a dog-eared and food splattered as my most beloved cookbooks are.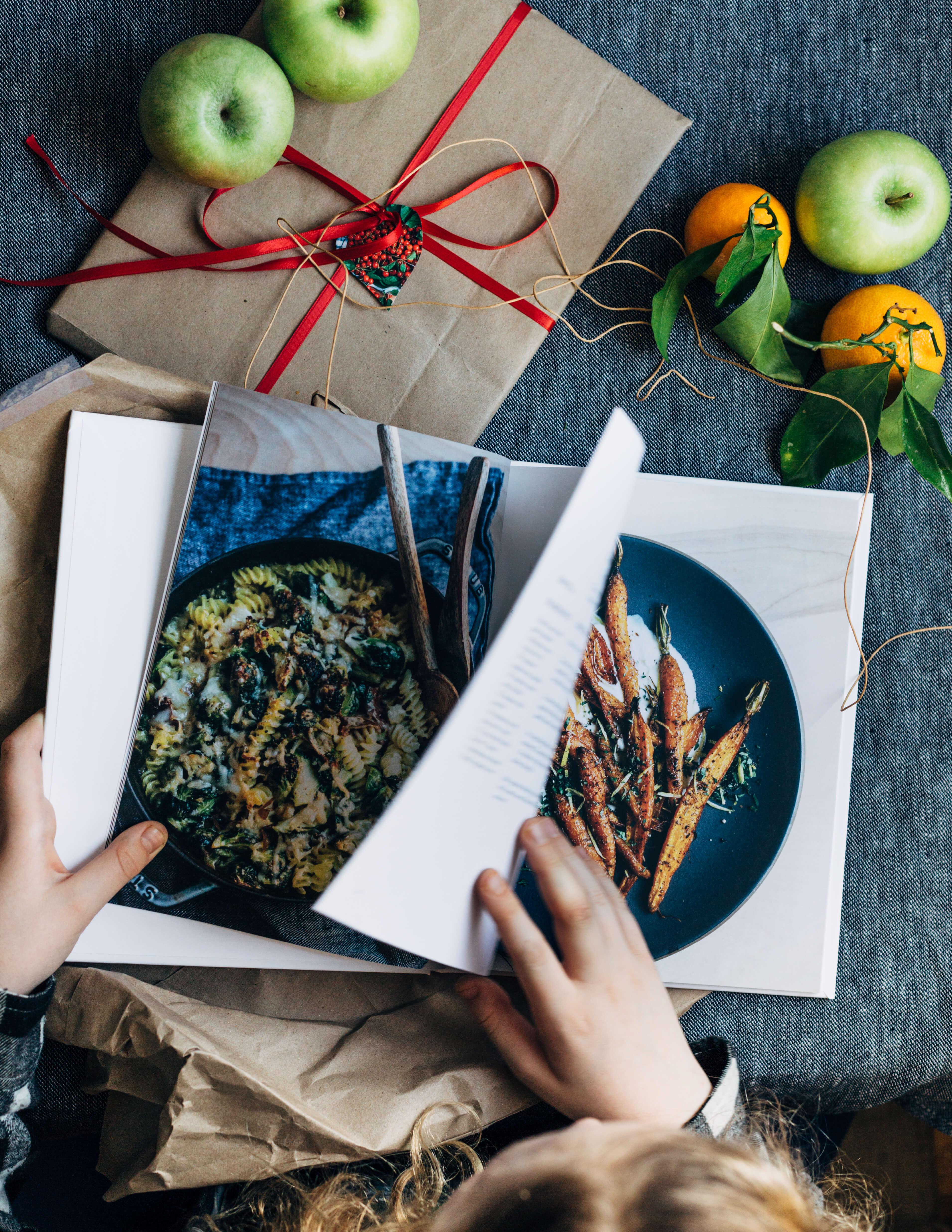 If you're looking for holiday gift inspiration, Blurb's online bookstore is a great place to shop and get ideas for a project of your own! Because I wanted to book to hold up to years in the kitchen, I opted for a Standard Portrait 8 x 10-inch book with a hardbound matte casewrap cover and matte finish Standard Trade Paper pages. Blurb has lots of options for all kinds of books perfect for everything from treasured photos and family memories to personalized journals. Blurb can even send you a swatch kit that lets you experience the various options' look and feel IRL. (Note that the kit costs $7.95, but comes with a promo code that applies the cost of the kit toward your book purchase.)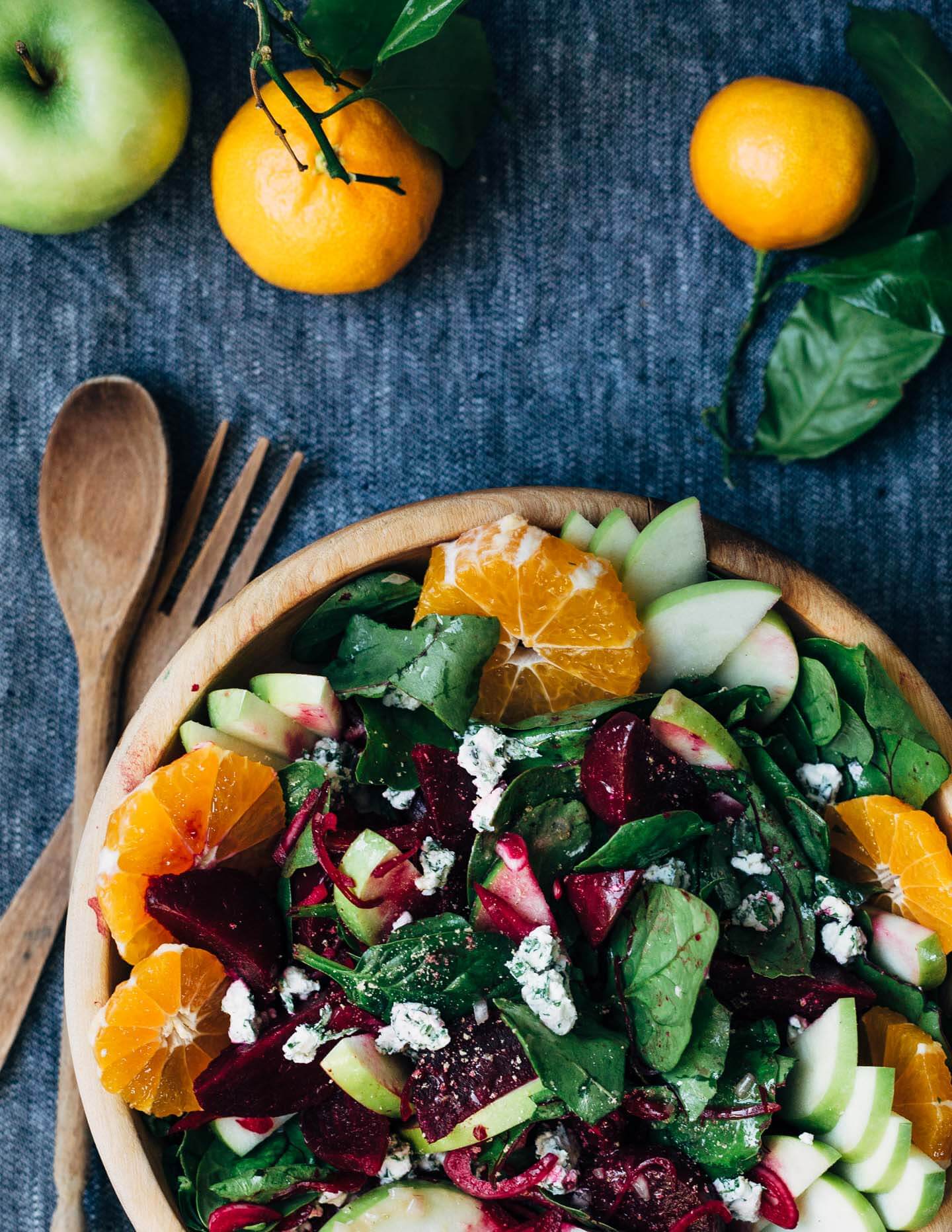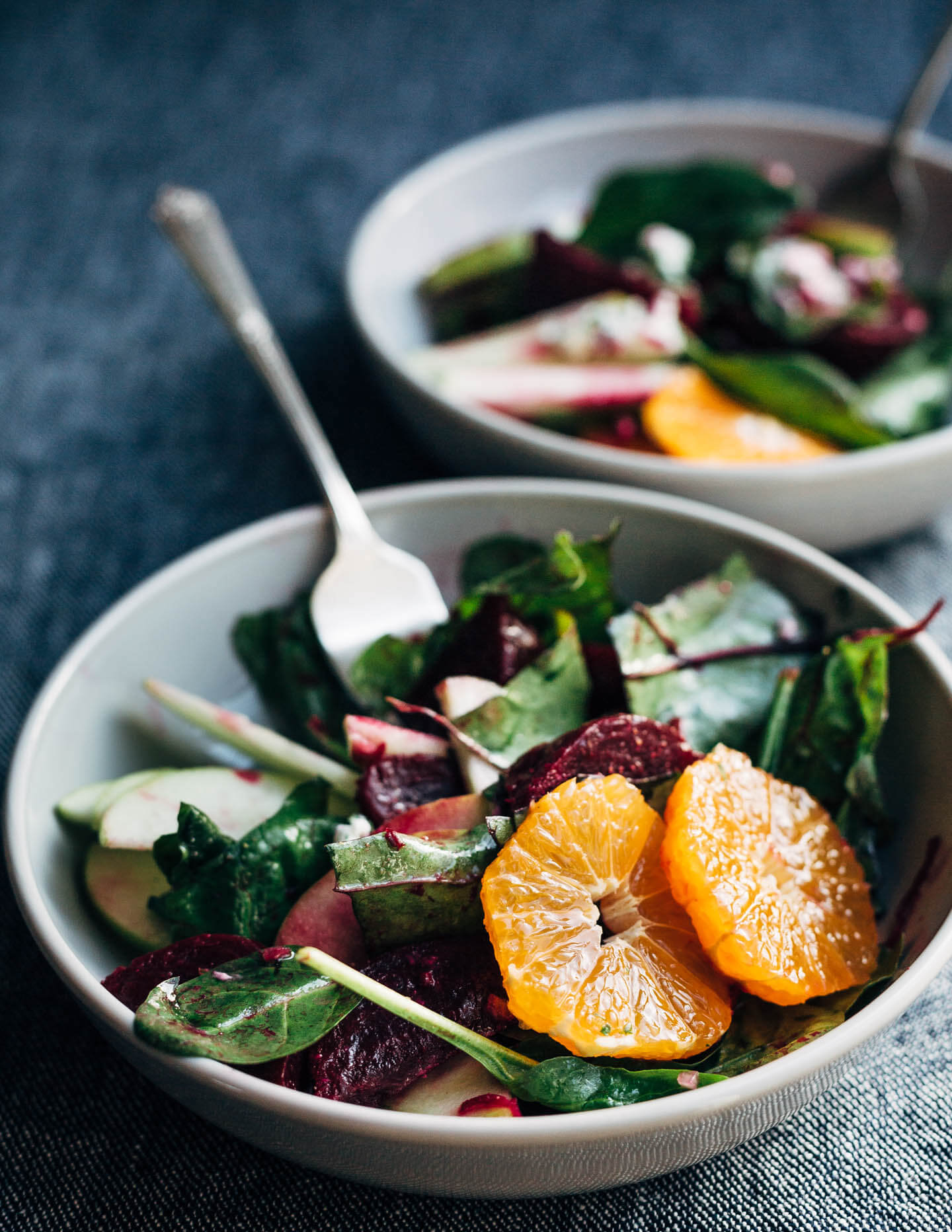 To accompany a cookbook dedicated to seasonal dinners, I though it appropriate to share a recipe perfect for the season at hand. Which is to say, a week where eating vegetables seems more important than ever. This simple salad begins with easy marinated beets. Scrubbed beets are set in a baking dish with water, covered tightly with foil, and baked for an hour. After that, the skins come right off. Next, you just need to slice the beets and toss with shallots and vinegar while you prep the rest of the salad. It's easy and crunchy and bright – the perfect antidote to carb-y feasts and too many cookies.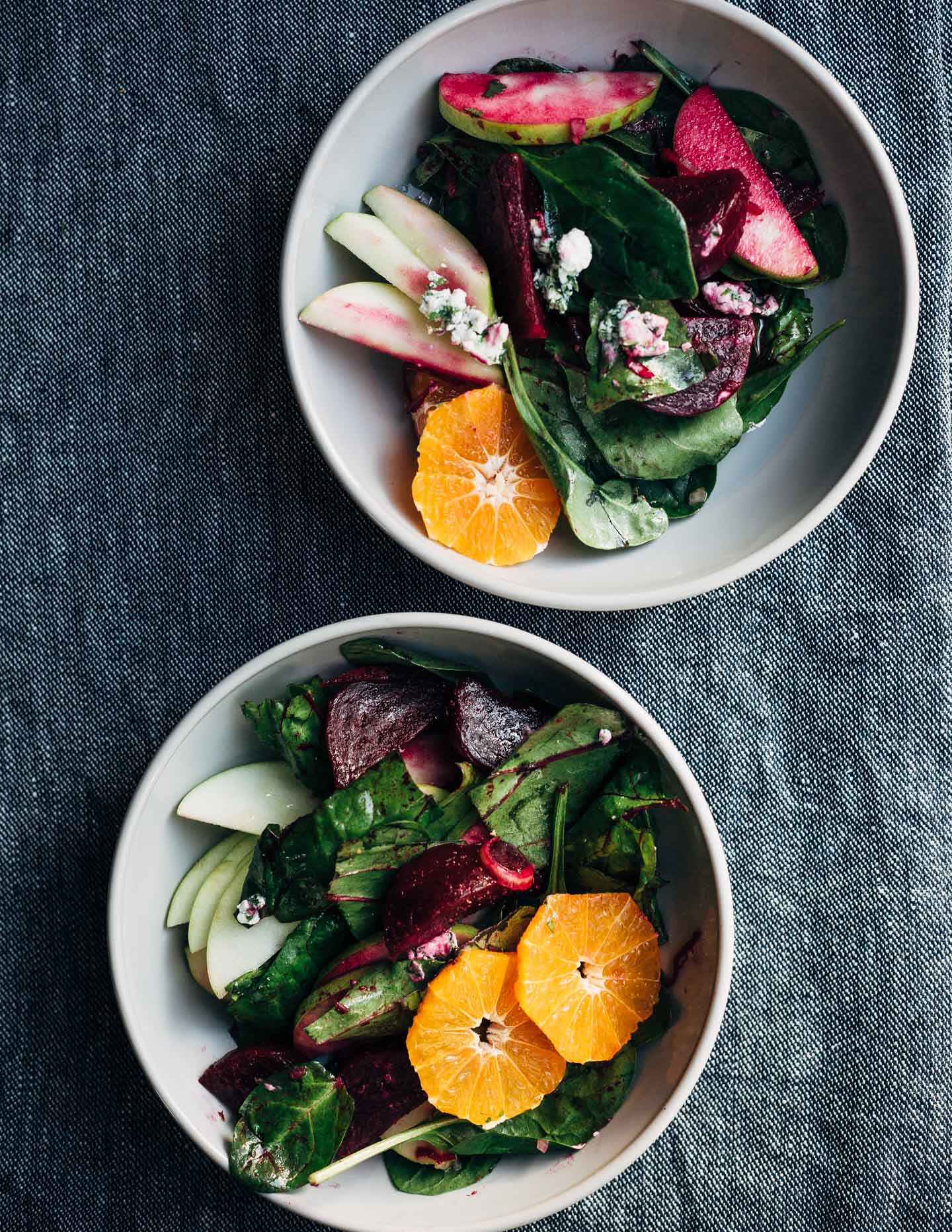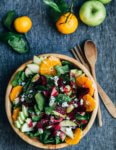 Green Apple and Beet Salad
A bright and crunchy green apple and beet salad recipe featuring sliced green apples, marinated beets tossed with red wine vinegar and shallot, beet greens, spinach, herbed goat cheese crumbles, and a simple vinaigrette.
Ingredients
1

bunch beets

with greens, trimmed and scrubbed

Sea salt

Freshly ground white or black pepper

1

medium shallot,

divided

4

tablespoons

red wine vinegar,

divided

1

teaspoon

Dijon mustard

1

teaspoon

honey

6

tablespoons

extra virgin olive oil

1/4

cup

crumbled chèvre

1/4

cup

minced parsley

2

cups

baby spinach

2

large green apples,

cored and sliced 1/8-inch thick

2

Satsuma mandarins,

peels sliced off and sliced into rounds (optional)
Instructions
Preheat oven to 425 degrees F. Trim greens from beets and set aside. Set scrubbed beets in a baking dish, fill with water to a 1/2-inch depth, cover tightly with foil, and bake for one hour, or until beets are very easily pierced with a fork. Carefully remove foil (steam plume will be very hot), and set aside to cool.

While beets cook, slice shallot in half. Cut one of the halves into paper thin slices; mince the other half. Reserve sliced shallot for beets. To make vinaigrette, toss minced shallot with 2 tablespoons red wine vinegar, Dijon, and a generous pinch of sea salt. Whisk in honey and 6 tablespoons olive oil. Set aside.

In a small bowl, toss chèvre crumbles with 2 tablespoons minced parsley.

When beets are cool enough to handle, slice tops off and use fingertips to remove peel under cold running water. Slice beets into 3/4-inch thick wedges. In a small mixing bowl, toss warm beets with 2 tablespoons red wine vinegar, sliced shallot, a generous pinch sea salt, and several twists of fresh ground pepper. Set in fridge 20 minutes.

Tear reserved beet greens into bite-sized pieces. If stems are too fibrous, discard. Toss beet greens with spinach in a big salad bowl. Drizzle with prepared vinaigrette and add sea salt to taste. Layer in apples and goat cheese. Just before serving, drain marinating liquid from beets. Layer beets on top of the salad, drizzle with a bit more vinaigrette, add a few twists of pepper, and garnish with orange slices and remaining two tablespoons parsley. Serve right away.