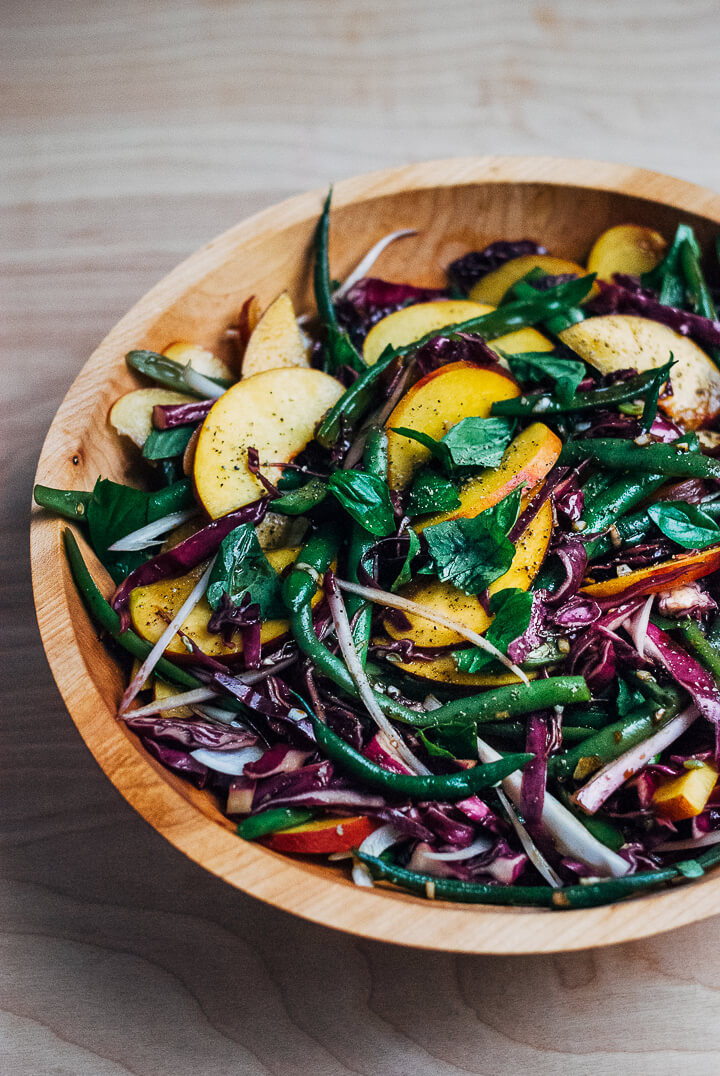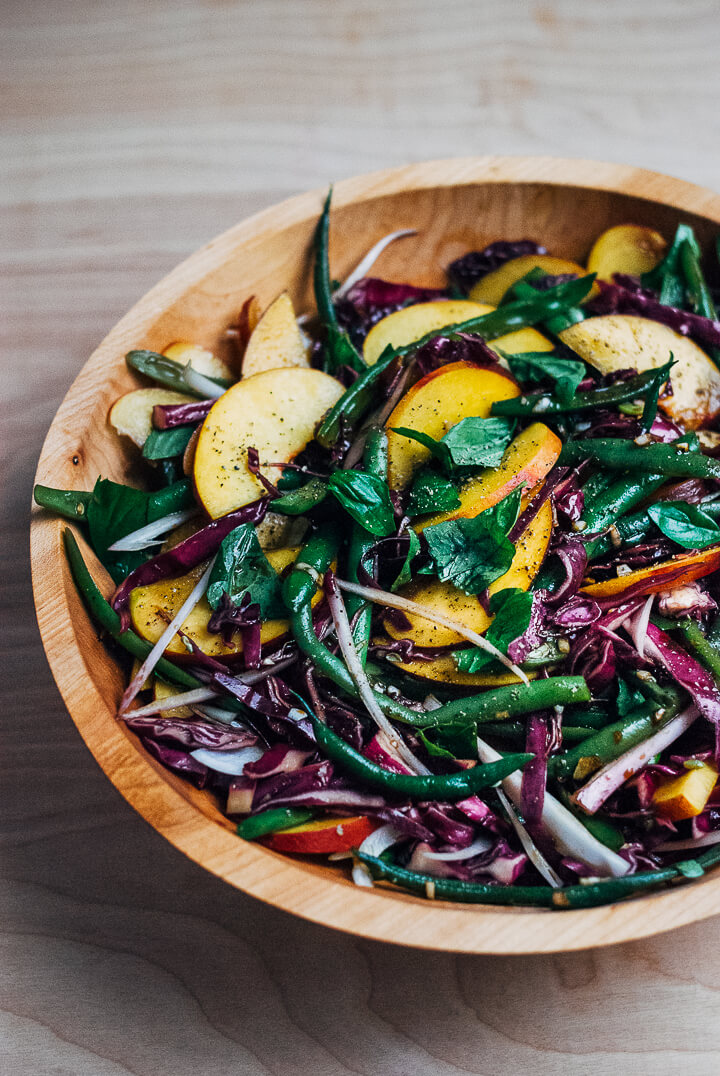 A colorful green bean salad recipe made with purple cabbage, fresh peaches, basil, and a flavorful balsamic bitters vinaigrette. Jump to recipe. 
We're sitting down to dinner late again. The girls are genuinely hungry, not to mention exhausted after staying up late the night before for fireworks. Brian's made flatbread pizzas. Thirty minutes ago, I told him I'd be done taking pictures in 10 minutes, so they're getting cold. Our littlest, still only three, grows restless and jostles my precarious photo setup just as storm clouds rolling in from the west swallow the evening light faster than usual. In these moments, I'm not at my best. Making a living as a blogger means blending real life with work life. Right now, trying to get the shot – holding my breath as the camera shutter opens and closes, begging my three year-old not to touch anything, fretting about a cold dinner – I need my real life to pause. But life with kids (or even without, really), doesn't work that way.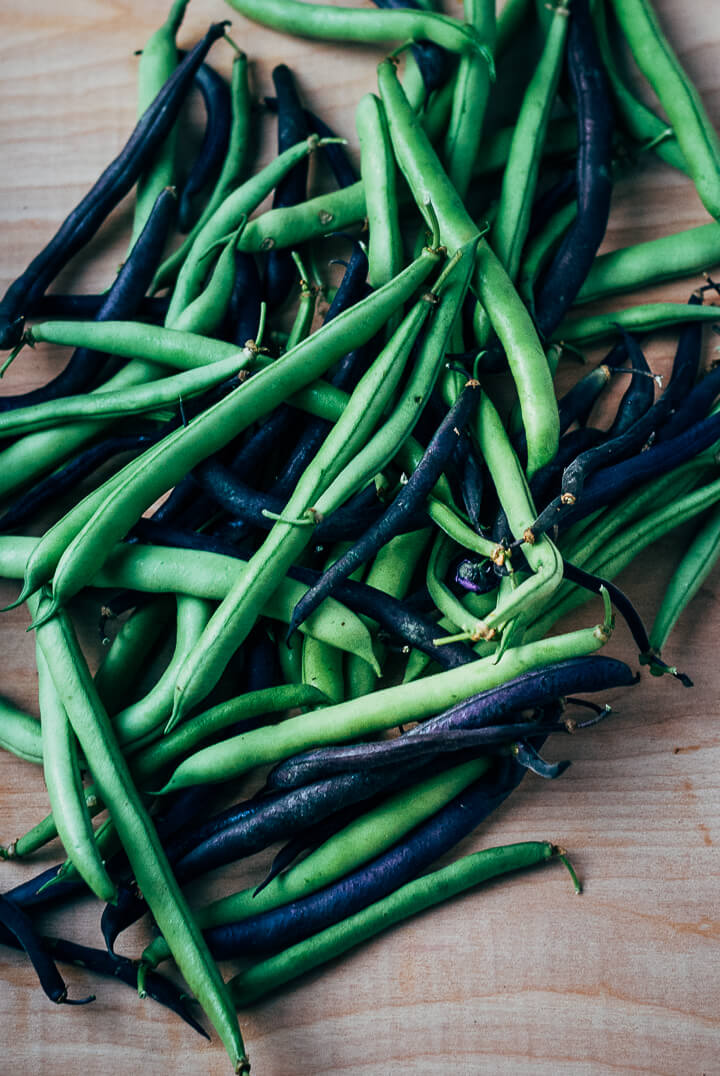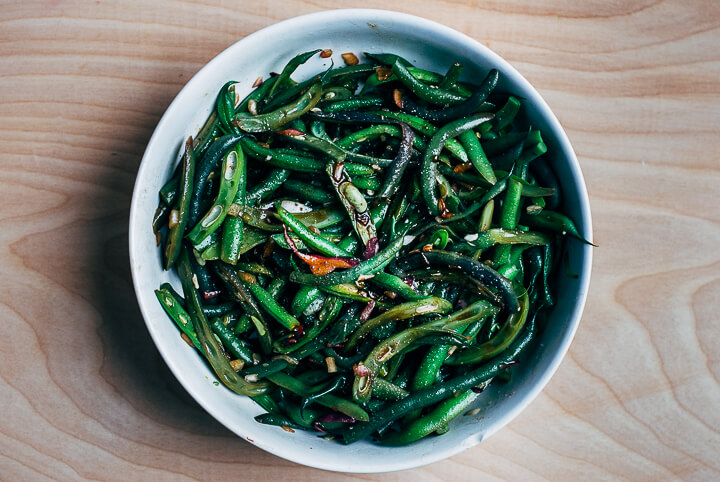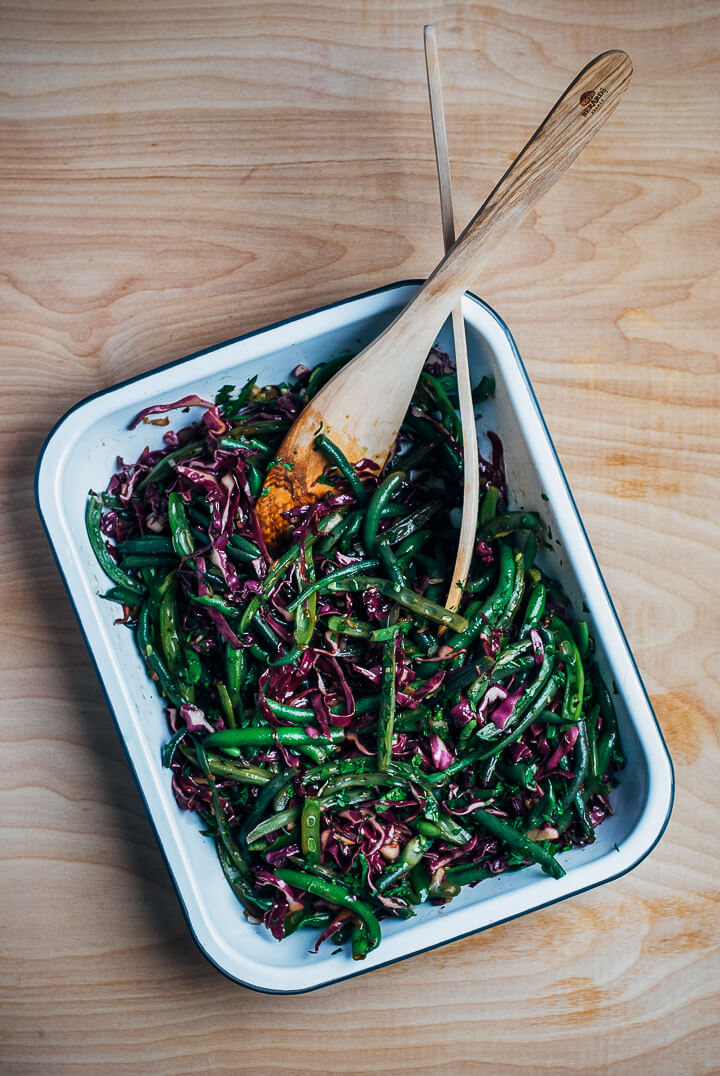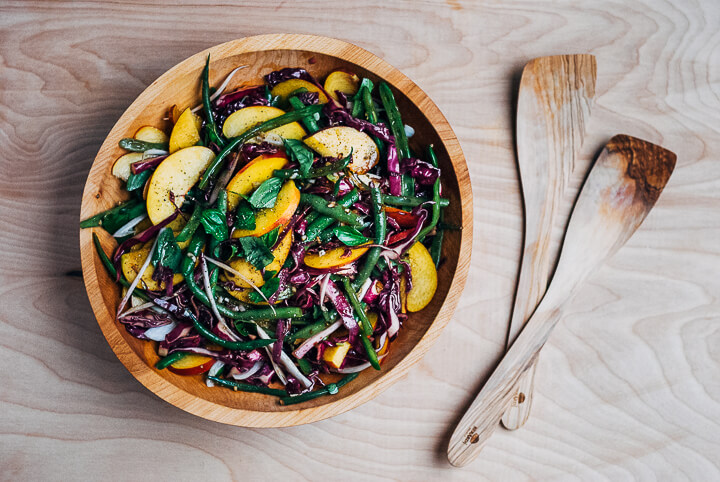 As darkness settled, I finally had my pictures. Dinner was served, delicious despite the waiting. The girls made it through the meal, struggled to get ready for bed, but fell asleep in minutes. A sudden downpour cooled off the evening and we enjoyed the silence that came in its wake. Enjoying those moments when the girls are asleep, the brief period when Brian and I remain coherent and not too tired to converse, is one of the great challenges of parenting. We try to make the best of it – enjoy each other's company as we clean the kitchen or review paperwork. It's easy to overlook, but these mundane moments – frustration with the kids, filling the dishwasher, putting away the leftovers – are every bit as meaningful as epic vacations or world class dinners. I try to remember this as I stumble through. I do my best.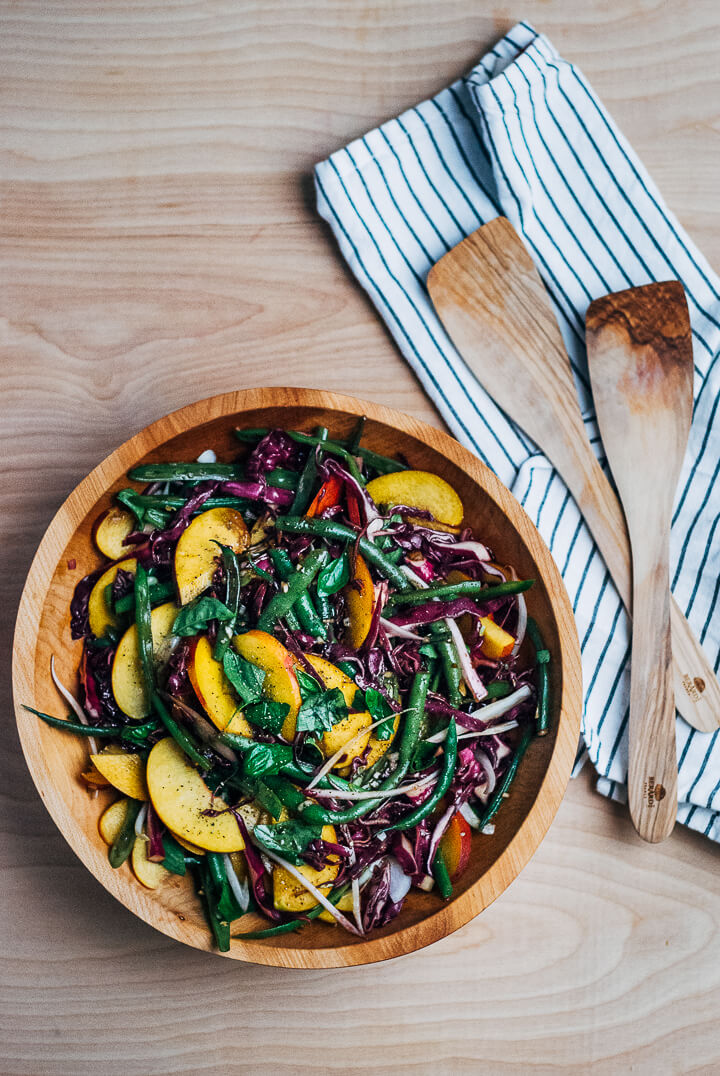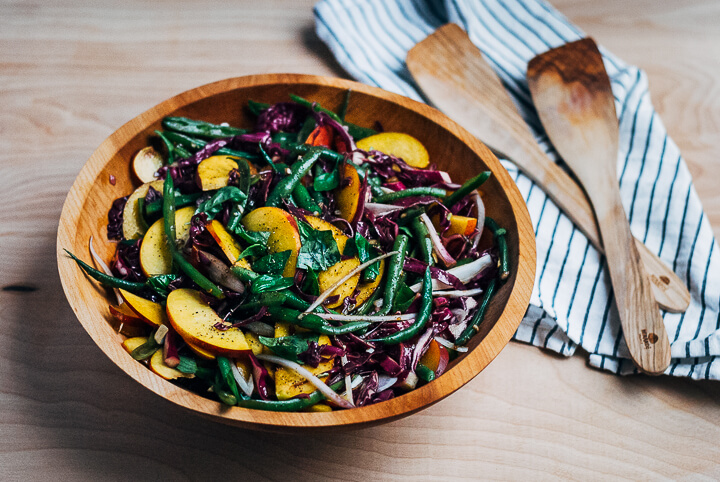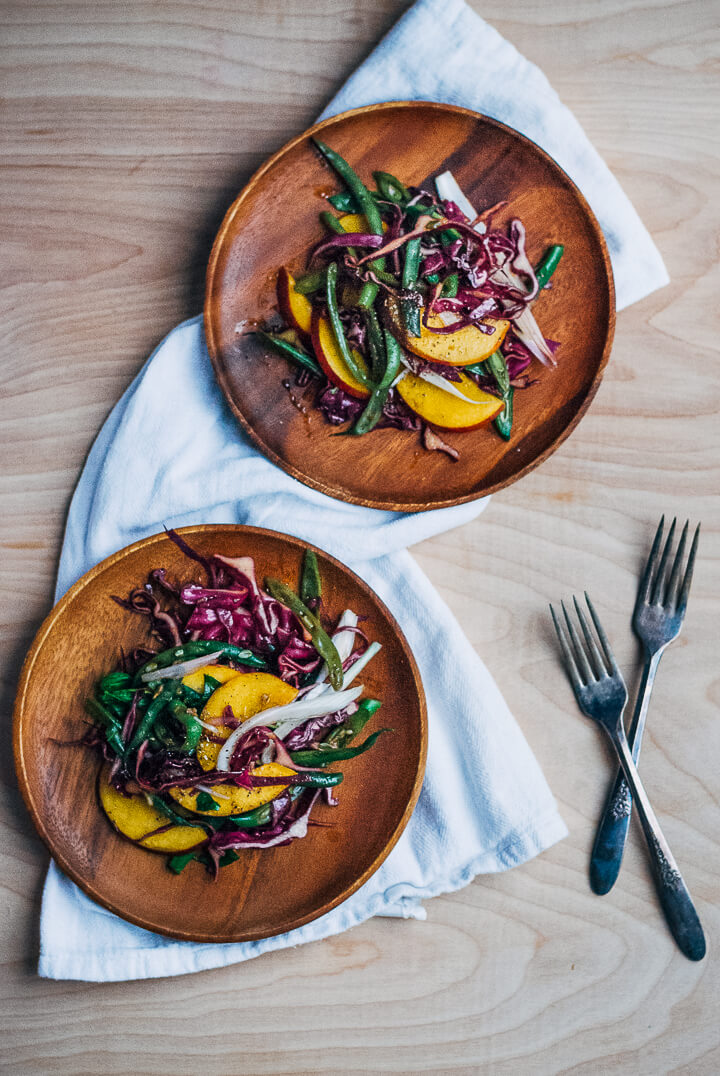 This green bean salad's about little moments, too. It's a summery creation – celebrating ubiquitous ingredients like purple cabbage alongside showier ones like purple and green snap beans, peaches, and just-picked jalapeños. It's a vibrant mix of color and texture, just right for a July dinner. On top of all that lovely produce sits a savory sweet balsamic and bitters dressing. Here, high quality balsamic* gets a wonderful edge from a dash of Fee Brothers bitters. The result is an addictive dressing that you'll want to drizzle on every vegetable in sight.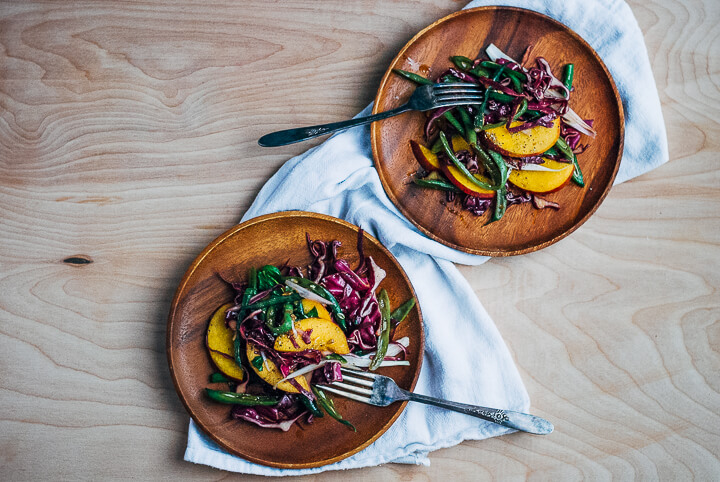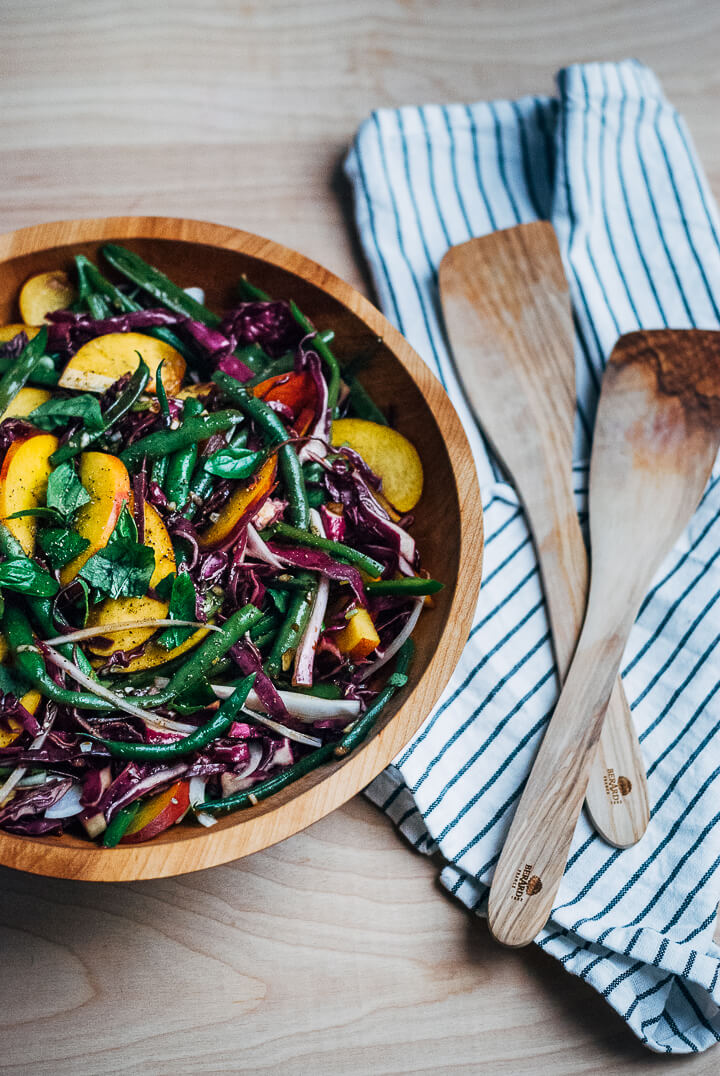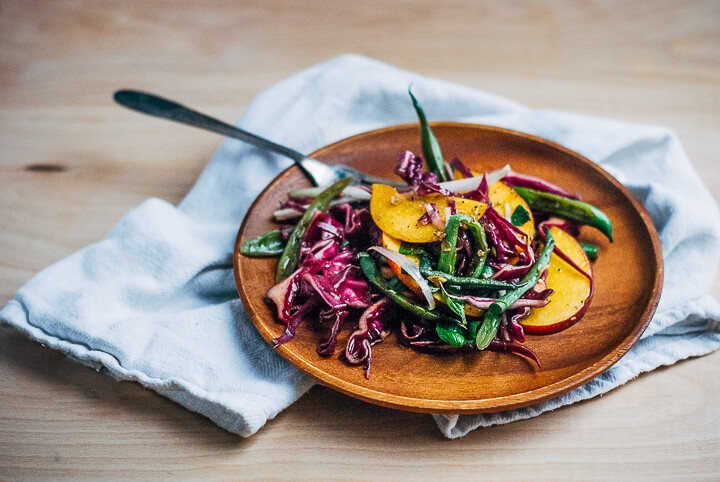 *A few weeks back, an email popped up from Italy, from the Consortium of Producers of Traditional Balsamic Vinegar of Modena, a protected designation of origin. They wondered if they could send samples of their traditionally aged balsamic for me to try. Of course I said yes. I'd saved the vinegar for a few weeks, as I'd wanted to use it with something special. The traditionally aged vinegar is like nothing I've tasted before – it has an incredible depth of flavor as well as a sweet, nearly syrupy texture. It was a lovely complement to this summery salad. In search of your own vinegar, look for Italian balsamic from Modena, bearing the P.D.O. seal.
Traditional aged vinegar is precious and should be savored – just a drizzle to finish. The recipe below calls for a generous amount of balsamic vinegar; if desired, use a standard quality balsamic for the dressing and then finish the salad with a drizzle of aged traditional balsamic.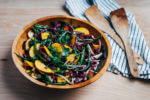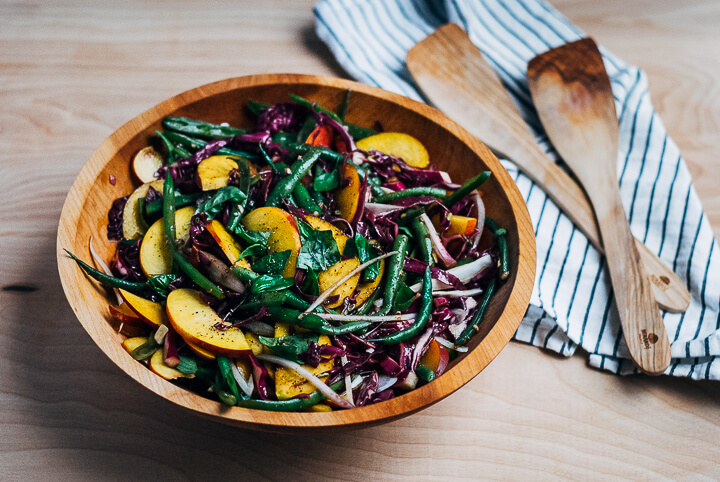 Green Bean Salad with Peaches and Balsamic Bitters Vinaigrette
A colorful green bean salad recipe made with purple cabbage, fresh peaches, basil, and a flavorful balsamic bitters vinaigrette.
Ingredients
4

cups

thinly sliced purple cabbage

(about a quarter of a large head)

sea salt

2

cups

purple and/or green snap beans

(sadly, they don't retain color after cooking), stem end snapped off

1

large or 2 small spring onions

, thinly sliced plus 1 tablespoon, minced

2

jalapeños

, seeded and thinly sliced plus 1 teaspoon, minced

1

clove

garlic

, smashed and minced

3

tablespoons

balsamic vinegar

, plus a drizzle of aged balsamic vinegar (see note above)

3

tablespoons

extra virgin olive oil

1/2

teaspoon

Fee Brothers Whiskey Barrel-Aged or Old Fashion Aromatic bitters

2

peaches

, cut into 1/8-inch slices

2

tablespoons

torn basil leaves

black pepper
Instructions
Set the sliced cabbage in a colander, and sprinkle with 1/2 teaspoon of sea salt. Set aside to drain for 20 minutes or more, turning every so often to release juices.

Next, bring a large pot of cold water to a rapid boil. Add a generous amount of sea salt. Blanch the green beans until vibrant green and just tender (2 - 3 minutes, depending on the size). Drain, immerse cooked green beans in ice water, and drain again. Slice each cooked green bean in half lengthwise.

To make the balsamic and bitters vinaigrette, combine 1 tablespoon minced spring onion, 1 teaspoon minced jalapeño, 1 clove garlic, and a pinch of sea salt. Use a fork to whisk in the balsamic vinegar. Whisking constantly, drizzle in the olive oil until emulsified. Finish by whisking in the bitters.

Set the sliced cabbage in a bowl with remaining spring onion and jalapeño slices. Toss with a third of the vinaigrette. In another bowl, toss the halved green beans with a third of the vinaigrette and several pinches of sea salt, as needed. Allow vegetables and vinaigrette to mingle for 10 minutes.

To assemble the salad, toss the dressed cabbage and green bean mixtures with sliced peaches, torn basil leaves, and the remaining third of the vinaigrette. If using an aged balsamic vinegar, add a generous drizzle to the salad. Finish with ground black pepper to taste.

Salad will keep well sealed in the fridge for 2 days, though the colors and textures are most vibrant just after assembly.
Disclosure: Aside from samples of aged balsamic vinegar, I received no compensation for this post. As always, all opinions are my own.