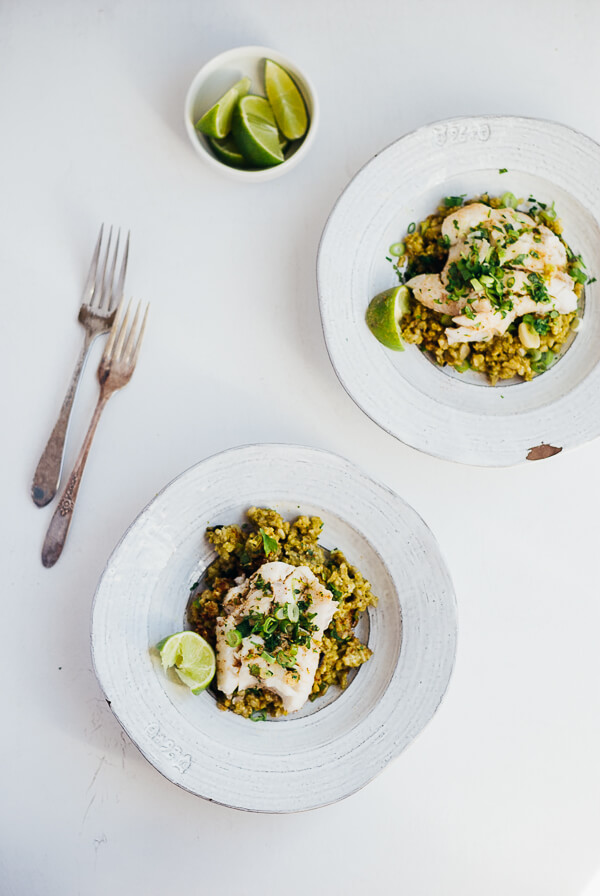 Fish poached in a simple broth with aromatics served over vibrant green rice and topped with herbed brown butter. Jump to recipe.
When I was 5 or 6, I played tee-ball. Coordination was never my strong suit and neither was attentiveness. With this in mind, the coach relegated me to the deep outfield behind third base, where I was left to make clover chains, eat grass stems, and, always, get caught completely off guard when the occasional ball came speeding my way. My outfield technique did have one advantage, at least — everyone moved in when I came to bat, freeing me up to hit the ball right over their unsuspecting heads.
As for the grass stems, a teammate told me the white part at the base of the stem was edible. Secure in this knowledge, I ate the grass. (I don't recommend you do the same.) Outside of my time in the deep outfield, I don't recall looking for grassy snacks, so I'm guessing it wasn't very good. Anyway, I've gone on to seek out far more delicious specimens.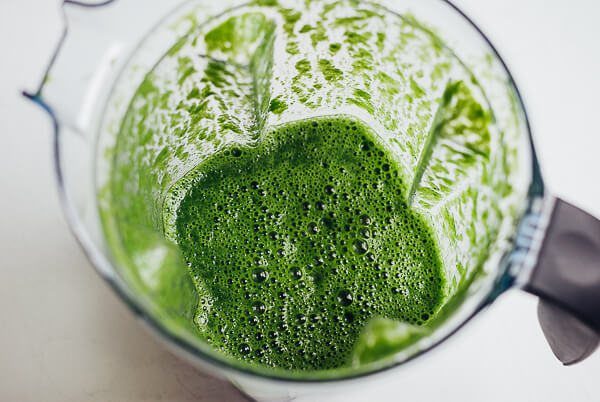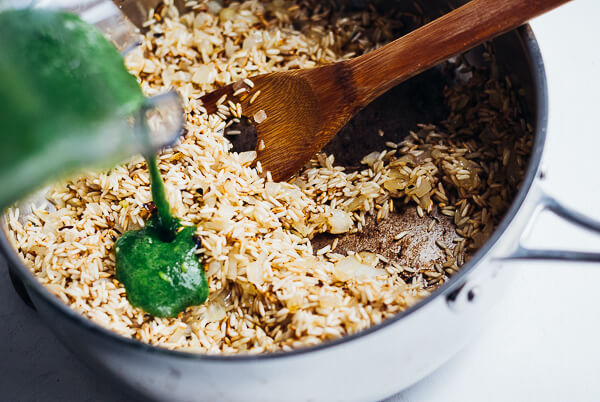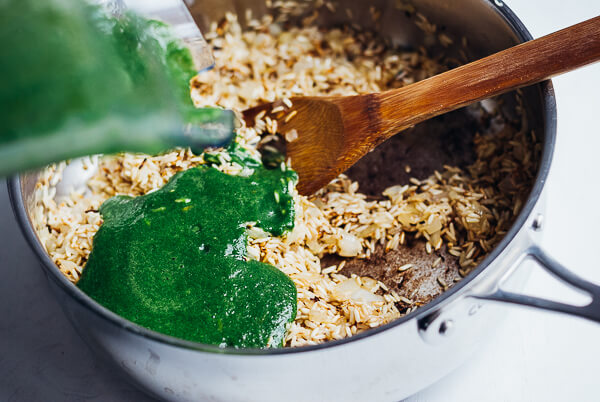 Even if I no longer eat grass, I retain a secret love for stems, and brassicas have the best stems. While prepping florets or tough leafy greens, I cut the edges off the thick stems and chop them up for snacking. No one else in the family shares my predilection, so I keep them for myself. I also find the crunch of parsley stems intoxicating. So much punch! But usually, I skip the snacking and put the parsley stems right into my dish — in braises and stocks, or just a bit of chopped stem tossed along with the more familiar leaves.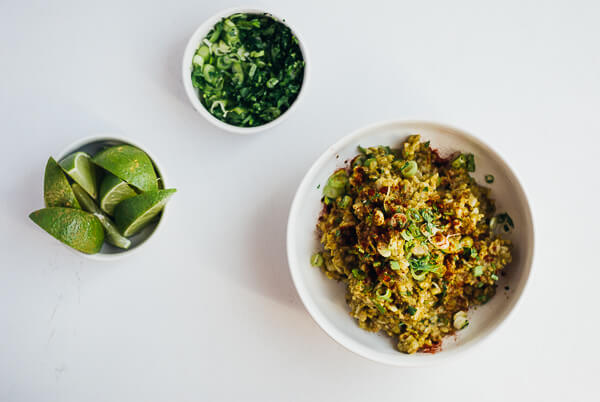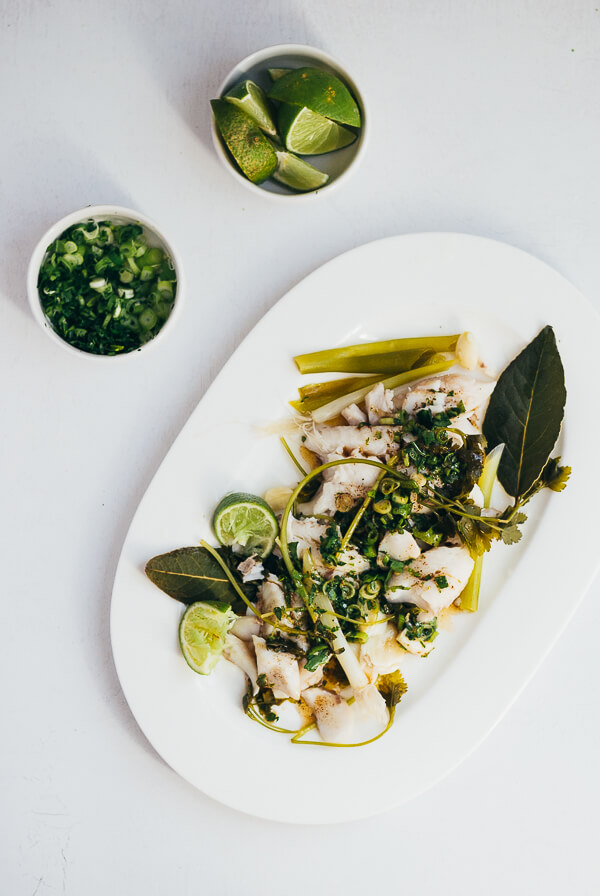 This dish is an ode to the first shoots of spring. Green onions, parsley and cilantro stems, and deep green Tuscan kale all lend spot-on spring flavor — grassy and bright, with a tiny bit of creamy bitterness à la wheat grass — to this celebratory recipe. Toasted brown rice, cooked with a deeply green puree, nearly transforms into a vegetable itself, while a gently-poached pollock filet is imbued with green onions, garlic, bay, and a handful of herbs, stems and all.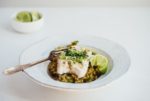 Green Rice with Poached Fish and Herbed Brown Butter
Fish poached in a simple broth with aromatics served over vibrant green rice and topped with herbed brown butter.
Ingredients
For the Green Rice
1

poblano pepper

2

green onions

, chopped

3/4

cup

loosely-packed chopped kale

3/4

cup

chopped parsley

(stems included)

1/2

cup

chopped cilantro

(stems included)

water

1 1/2

cups

brown rice

, rinsed

3

tablespoons

extra virgin olive oil

1

yellow onion

, minced

sea salt

paprika
For the Poached Fish
4

green onions

, cut into fourths

4

cloves

garlic

, smashed and peeled

6

sprigs parsley

2

bay leaves

2

tablespoons

white wine

sea salt

2

pounds

pollock or Pacific cod fillets

(about 1-inch thick), rinsed
For the Herbed Brown Butter
4

tablespoons

unsalted butter

sea salt

black pepper

2

tablespoons

minced green onions

1

tablespoon

minced parsley

1

tablespoon

minced cilantro

1

tablespoons

white wine

4

lime wedges
Instructions
For the Green Rice
In the pitcher of a blender, pulse to combine the poblano, green onions, kale, parsley, cilantro, and one cup water. Blend until mixture is smooth, but not completely pureed. Combine mixture with enough water to balance your rice to water ratio (I used 3 1/2 cups total liquid).

Heat a wide-bottomed sauce pan over medium-high heat. Add the olive oil, and then the onion and rice, along with 1/2 teaspoon sea salt. Sauté, stirring often, until both have a rich golden brown color. Add the garlic and sauté a minute more. Stir in the green liquid, bring to a boil, cover, and turn heat to low. Cook rice for 45 – 55 minutes, or until tender. Fluff, squeeze half a lime over rice, and dust with paprika.

For the Poached Fish
Fill a wide-bottomed, deep skillet with two inches of water and set over medium-high heat. Add green onions, garlic, parsley, and bay. Bring to a boil, add a big pinch of sea salt, then turn down to simmer for 10 minutes. Add the white wine. Turn heat down so the water is just barely bubbling. Carefully slide the fish into the broth. Cook 7 – 10 minutes or until fish is opaque throughout (but just so).

Use a fish spatula to remove fish from broth and set on a platter.

For the Herbed Brown Butter
Set a small saucepan over medium heat. Add butter, and a pinch each sea salt and black pepper. Adjusting heat as needed, cook until butter edges a shade or two darker and brown flecks begin to appear. Swirl pan, and cook butter for just a minute or two more. Add the wine (butter will foam up and spit a little), followed by the green onion and herbs.

Spoon green rice into bowls and top with a nice piece of fish; top with a big squeeze of lime and several spoonfuls herbed brown butter.